Cin7 is a cloud-based inventory management platform with strong embedded tools for retail management. Its integrated retail capabilities are unique in the inventory management space and offer a great advantage for retailers looking to boost their inventory management accuracy and efficiency.
These retail features include e-commerce, POS, and third-party logistics (3PL). Continue reading to learn more about Cin7's benefits, capabilities, and pricing, and to see if it's a fit for your inventory management needs.
---
Who is Cin7 for?
Cin7 inventory management fits businesses of all sizes. It supports startups and SMBs with inventory counts and stock visibility, enabling operators to focus on building their business rather than slogging through manual inventory counting.
Cin7 provides value for growing and established business all the way up to enterprises. Powerful supply chain and internal dropshipping integrations support global businesses selling and transporting goods around the world.
Cin7 solves inventory needs across industries, but its additional retail components make it a great fit for online merchants. Key retail segments that can benefit from Cin7 include apparel and fashion stores, appliances, furniture, and other home goods retailers.
---
Cin7's features
Cin7 offers many features to automate ordering, counting, shipping, tracking, and other inventory management processes.
Inventory management is a retail-focused discipline, and Cin7 capitalizes on that to offer comprehensive retail management capabilities embedded into an already robust inventory management solution.
Such retail management features include POS, payment processing, and e-commerce. These tools provide a valuable and integrated layer of capabilities for the retail-driven space.
Here are five essential Cin7 inventory and retail management capabilities.
Workflow automation
Cin7 provides powerful automations that help your business grow while managing the increasing complexity of your processes. The automations decrease time-consuming manual inventory and order tasks, even with growing sales across intricate workflows and multiple stores and warehouses.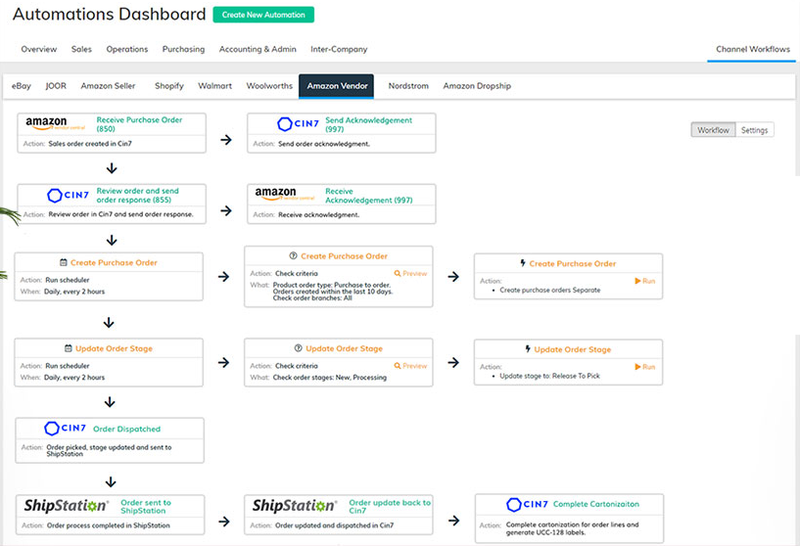 You and your colleagues will have more time to focus on increasing sales while Cin7 gives much needed support with managing online orders, warehouses, and 3PL arrangements.
Automations enable you to program dispatch locations so that orders will be processed and fulfilled from the optimal location considering additional items and proximity to delivering location. Automations also minimize human error risk on repetitive tasks such as data entry, ensuring, among other things, the right products get shipped to the right customers at the correct locations.
Dashboards and insights
The Cin7 dashboard displays everything you need to know at a glance. You can use Cin7's reporting dashboards to put your data to work by making more informed business decisions with easy-to-read, pinpoint insights.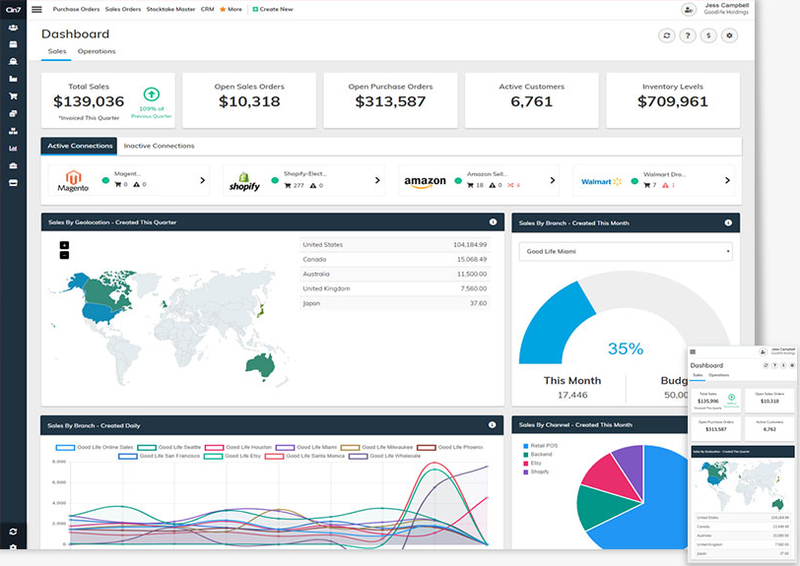 Critical insights include inventory turnover ratios, real-time operational readouts, order statuses, and inventory counts across locations. This data helps you understand sales trends, operations performance, and other KPIs, empowering you to optimize product mix and inventory to reduce costs.
You can employ extensive insights into product mix, channel performance, and sales numbers to optimize your inventory generally and across different store and warehouse locations.
As an obvious example, you may want to house a majority of your bathing suits in your Florida warehouse and keep the bulk of your parkas in your Chicago warehouse.
Point of sale
Cin7 point of sale (POS) is an integrated inventory software feature that empowers your employees to make sales and process payments with cash registers and mobile devices.
While most POS systems provide light, integrated inventory management into their POS, Cin7 users benefit from expanded POS features integrated into a robust inventory management feature set.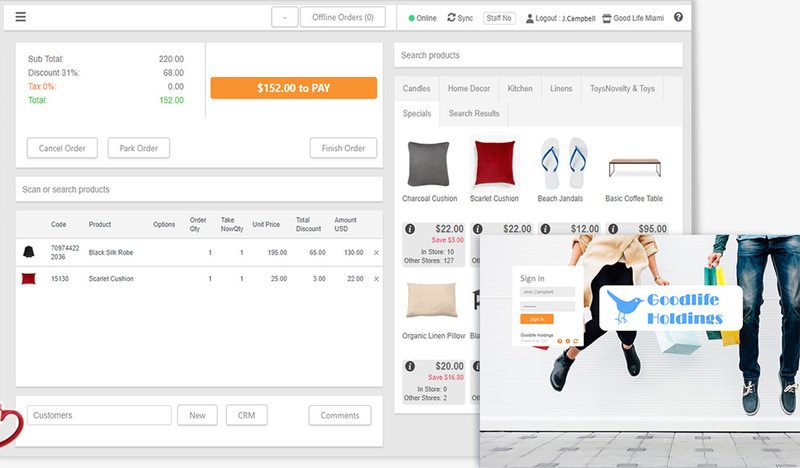 The combination of POS into a massive inventory system enables you to better manage stock levels and order visibility across locations. You can even support product pop-ups with no on-site product supply by routing orders to warehouses for direct customer delivery.
Cin7's POS capabilities extend far beyond inventory management tie-ins. You can launch and manage loyalty programs and a gift card exchange, two practices that drive return visitors.
Warehouse management
The Cin7 warehouse management features provide valuable automations for order management. This includes optimized routing across store and warehouse locations.
The automation capabilities streamline tedious manual processes such as stock picking, item packing, and inventory counting. Built-in and custom workflows allow you to set automations and define processes to best manage repetitive tasks.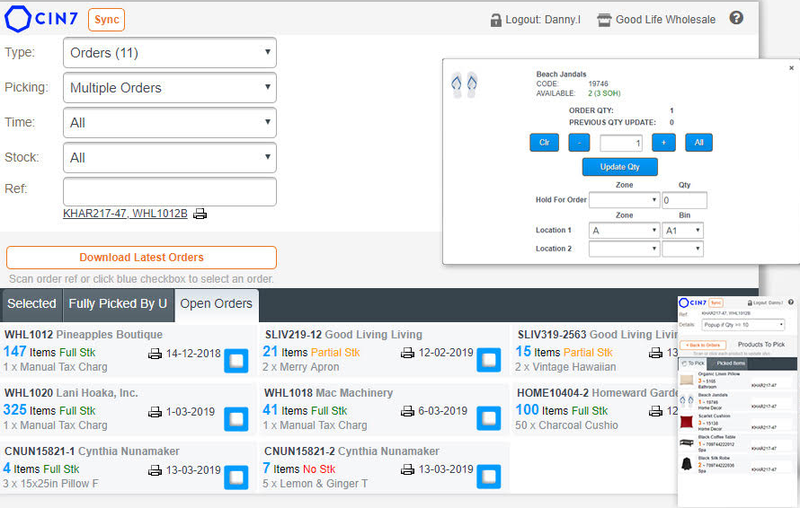 Reducing order fulfillment times is a critical goal of any warehouse management team. You don't want your warehouse to be a bottleneck for the great work being done by your stores and sales staff.
Cin7 offers newfound efficiencies with advanced inventory scanners that can identify, analyze, and save tracking ID information.
You can accept incoming orders and confirm quantities and other product nuances while simultaneously assigning the new products a specified location in the warehouse, or routing, for immediate order fulfillment.
And more advanced warehouse managers can use Cin7 to allocate optimal space for high-margin products, ensuring maximum profits for their warehouse space.
B2B e-commerce connections
Cin7 features built-in e-commerce tools designed specifically for wholesale businesses to sell bulk products to other businesses. These B2B features offer an easy-to-use website that takes no time at all to set up and streamline the bulk order process.
Cin7's B2B e-commerce solution integrates your wholesale inventory information with critical product details to make ordering a breeze for your business customers.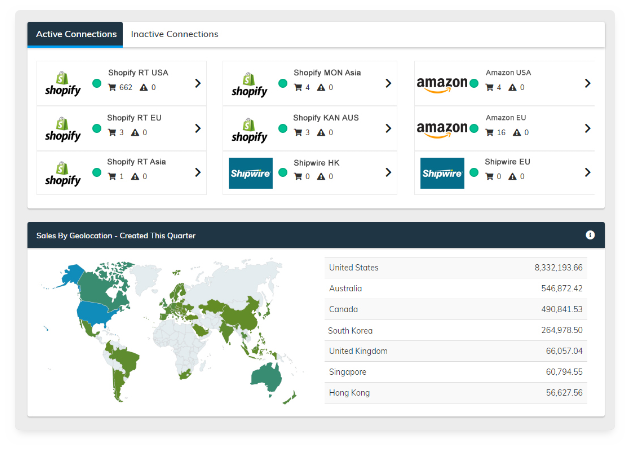 The e-commerce solution gives customers a convenient way to shop your store and restock their own inventory needs. Returning customers can create repeat orders so you can bake that dependability into your inventory ordering and control.
Offloading and automating these repeat orders empowers you and your sales team to focus on acquiring new business and generating larger orders from existing customers. The e-commerce tool even features target pricing and promotional campaigns to help you win deals and close sales.
---
Cin7's ease of use
Cin7 provides a unique feature set with many valuable built-in tools designed for true omnichannel management across sales, inventory, and fulfillment. And the features are very easy to use.
Most essential integrations are embedded into the tool and are just one click away from the home dashboard. Creating automated workflows only requires defining sets and then clicking and dragging to build the optimal process paths.
Managing inventory, the foundational value of Cin7, is a breeze with easy-to-read dashboards that are customizable and flexible.
Adding to Cin7's ease of use is the sheer volume of software platforms it replaces, especially your enterprise resources planning (EPR) platform. You can trust in Cin7 for your inventory control, warehouse management, point of sale, B2B e-commerce, and more.
---
Cin7's pricing
Cin7 pricing is vague as they don't list any public pricing, but it does highlight three tiers with various features. Cin7 informed us that its minimum starting price is $299/month, and it grows from there depending on users, integrations, customizations, and other nuances of your exact inventory needs.
The initial tier, the Starter, is built for small businesses looking to scale by capitalizing on revenue generation and reaching more customers. It includes everything you need for comprehensive inventory management as well as pre-ordering and backorder management. It scales across multiple locations and includes the built-in POS and B2B e-commerce features.
The second tier is the Momentum offering. It's designed for established businesses looking to optimize a brand and extensive product set. In addition to everything on the starter tier, this one offers detailed forecasting, custom 3PL integrations, the robust warehouse management feature set, and a complete Amazon suite for managing orders.
The final tier is the Advanced tier. It builds advanced automations and scale on top of everything else. It includes custom electronic data interchange (EDI) integrations, retailer-specific labeling for optimal organization and fulfillment, and multi-company automations.
---
Cin7's support
Cin7 offers a tiered support approach with standard and priority support and dedicated account managers for larger users. It offers a vast catalog of educational and troubleshooting materials, including a rundown on the Cin7 API and how to use it across your needs.
It offers onboarding and implementation services that begin pre-sale as they work with potential users to analyze needs to ensure the correct customizations. This scoping takes into account the number and location of warehouses and physical stores, the nature of involved supply chains, and more.
Implementation services are recommended as it will be overwhelming to take this all on yourself. The same is true for onboarding because of the steep learning curve with such a system.
Additional Cin7 support includes a dedicated electronic document interchange (EDI) team that ensures all integrations across retailer supply chains are properly established and optimized to satisfy client requirements while maximizing efficiency and profitability for the supplier.
---
Benefits of Cin7
You'll find a lot to like with Cin7. Its massive feature set consolidates disparate software solutions into one cohesive and easy-to-use platform. It does all of this without compromising the core inventory management functionality that's its foundation.
Another valuable benefit of Cin7 is the extensive integration catalog at your disposal. You can access an always growing list of integrations that's currently over 450 connections. You can rely on these integrations to boost sales channels, service offerings, compatible platforms, and more.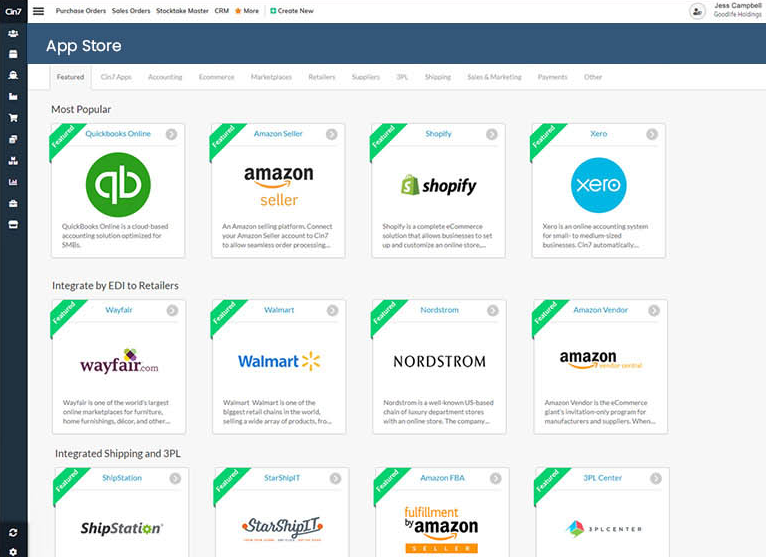 ---
Cin7 is more than a cog in your machine
Cin7 is much much more than a basic inventory management cog in your larger enterprise software machine. It offers the powerful features you expect from an inventory management system, but it goes far beyond that.
It's built to be the foundation on which your product-centric business operates. And everything we've reviewed shows that Cin7 is up for succeeding at that challenge.
---
Frequently Asked Questions
Can Cin7 manage multiple customers?
Yes, Cin7 lets you sell a variety of products to numerous retailers and other customers. It even enables you to optimally allocate inventory for key customers and set stock levels across locations to match customer needs.
The Cin7 POS solution is a web-based app that operates across iOS and Android mobile platforms via online browsers. This eliminates the need for bulky, expensive POS terminals while also setting your business up for success with pop-ups, farmers' markets, trade shows, and outside sales with B2B customers.
Does Cin7 offer a payment portal for invoicing clients and processing bulk orders?
Yes, Cin7 provides a PCI-compliant, fully secure payment portal for your clients to pay invoices.

Cin7 offers a reliable inventory management system and builds on top a massive feature set that consolidates critical platforms into one comprehensive, easy-to-navigate product.
Cin7 offers a reliable inventory management system and builds on top a massive feature set that consolidates critical platforms into one comprehensive, easy-to-navigate product.