No business likes to field complaints, but perhaps it's time for a change in perspective: these are awesome opportunities to win lifetime customers.
The reality is that every business gets complaints, whether you deal with B2B sales or sell directly to consumers. It's just a fact of life in the business world. What matters is how you handle those complaints. If you handle the problem swiftly and thoroughly, your customers' perception of you will actually grow.
One survey found that a whopping 93% of consumers are more likely to be repeat customers at companies with excellent customer service.
Responding properly to a complaint is all about being well-managed. In order to stay on top of these issues when they crop up, you need a good complaint management system. And there are a few software options in particular that do this really well.
Here are the top complaint management software options for your small business:
---
What to look for in a great complaint management software
CRM is often synonymous with the sales cycle, but the truth is right there in the name: customer relationship management. CRM software's most fundamental use is not selling, but making sure you have an excellent relationship with your customers.
If you're looking for a CRM platform that has that kind of focus rather than just on sales management and closing as many deals as possible, here's three characteristics you should look for.
1. Robust contact database
You have no hope of effectively responding to customer complaints if you can't easily track them. To provide effective customer support, you need a robust database that is easy to navigate and allows you to input highly detailed information about that client, such as past history.
A good contact database must go beyond basic contact information to capture the true needs of each individual customer.
2. Case management
You'll need complaint handling software with a case management functionality. This tool will enable you to create a new "case" when a customer logs a complaint, and then your sales team should be able to track it all the way to completion.
Being this organized ensures that you won't allow a complaint to fall by the wayside, earning you a negative review in the process.
3. Activity logging
In order to effectively handle a complaint, you need to understand what has been done to deal with it so far, or you will be lost and your client will be frustrated.
Doing this manually is tedious, so it's a good idea to get a complaint management solution that logs activities such as phone calls or emails automatically as much as possible, freeing up your team to focus on good customer service.
---
Our 5 top picks for the best complaint management software options
Generally, any CRM software option you choose will have some way to manage your customers in a way to help you deal with complaints.
But we identified these five complaint tracking software options as the best to streamline your customer service process — and therefore improve your future customer acquisition — based on how well they met the characteristics above.
---
1. SugarCRM
SugarCRM comes in four versions: Sugar Market, Sugar Sell, Sugar Serve, and Sugar Discover. It's the third of those versions, Sugar Serve, that is completely suited toward making sure you have an excellent relationship with your customers.
This software is aimed at helping you resolve customer inquiries as quickly as possible with self-service portals and simplified dashboards to make things easier for your response team.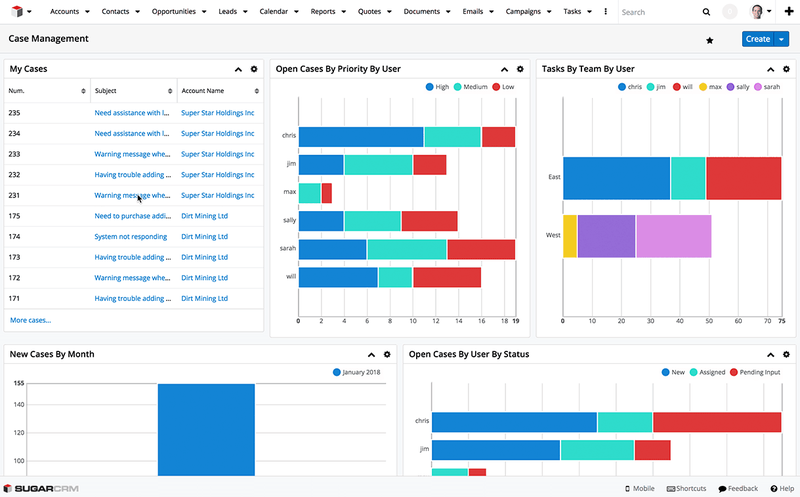 Your customer service will be able to dial up any complaints and open tickets on their dashboards, as well as route calls to the right department.
Additionally, you can create real-time reports monitoring the performance of your team so you can continually improve how well you manage complaints.
Pricing: SugarCRM is highly customizable software, and the pricing structure is a bit daunting for some. It starts at $40/month per user for the Professional version, and goes up to $150 for Ultimate. Specifically, the Sugar Serve solution costs $80/month per user, and you will be billed on an annual basis rather than month-to-month. You'll also need at least 10 users, so this may not be a great option for tiny outfits.
Read The Blueprint's full SugarCRM review
---
2. Salesforce CRM
Salesforce also has excellent features dedicated to helping your customer service team do their jobs better.
Call management allows them to track and manage all conversations, including recording calls and organizing the scripts they use. It also has case management capability that enables them to track any and all customer complaints as they move toward resolution.
Salesforce also offers customers portals so that they can report issues more easily, enabling your team to get a jump on problems, helping reduce the time your customers are waiting for you to resolve the issue.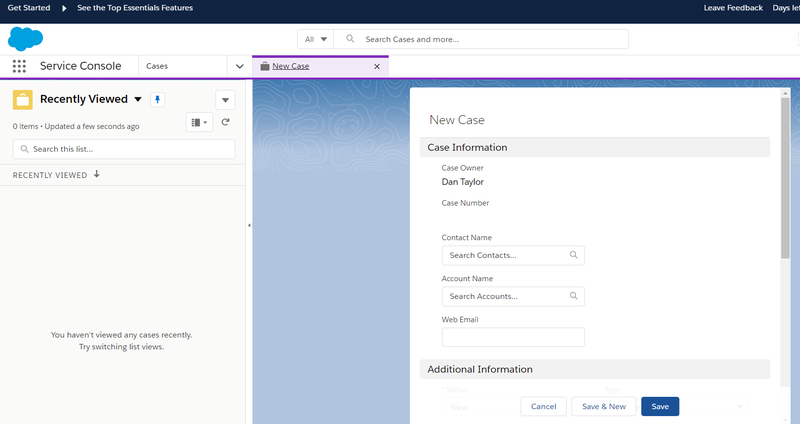 The contact management system will provide a repository of information that your team can dial up at any time if they need to understand more about the customer's needs and situation.
Pricing: Salesforce can get a bit pricey. The most basic version, Essentials, is not too bad at $25/month per user. After that, costs quickly go up: $75 for Professional, $150 for Enterprise, and $300 for Unlimited. But there are also lots of paid add-ons, which means the price can go far above that if there are specific features you need.
Read The Blueprint's full Salesforce CRM review
---
3. Vtiger Sales CRM
Vtiger gets high marks because of its powerful account management and organization features, which help you keep close track of each customer.
The software has customizable fields and sections for notes, which is good for monitoring and handling complaints.
Vtiger also offers web forms so that customers can reach out to you quickly with any issues they have. The quicker you can respond and deal with their problems, the more likely you are to win them over.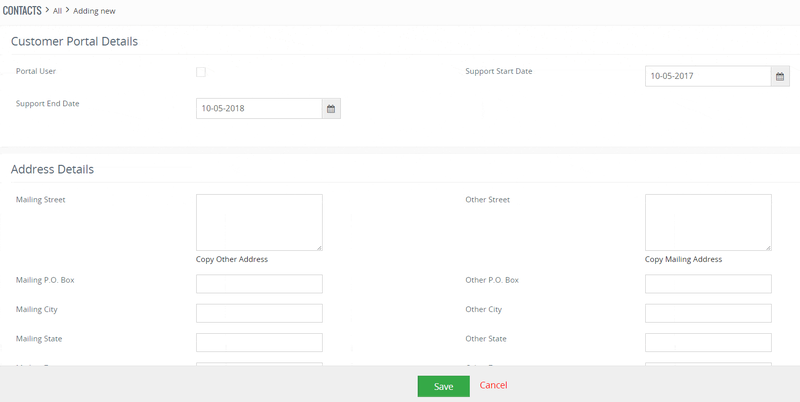 The software includes a click-to-call feature no matter what version you're using, which is helpful for dealing with a large amount of customer service requests.
Pricing: Vtiger gives you a huge discount for signing up for a year rather than month-to-month: $10/month per user at the starter level for the former compared to $14 for the latter. There's a Professional version and an Enterprise version if you're willing to pay a bit more for more features. There is a free trial available.
Read The Blueprint's full Vtiger Sales CRM review
---
4. HubSpot CRM
HubSpot does activity logging well, which is important for effective complaint management. Your team will be able to quickly bring up a customer and see exactly what the complaint is and what steps have been taken to deal with it.
The dashboard makes it easy for the team to visualize customer status, and the software automatically tracks interactions which decreases the likelihood of dropping the ball on a complaint.
Additionally, you can sync it with Outlook and Gmail to do even more interaction tracking.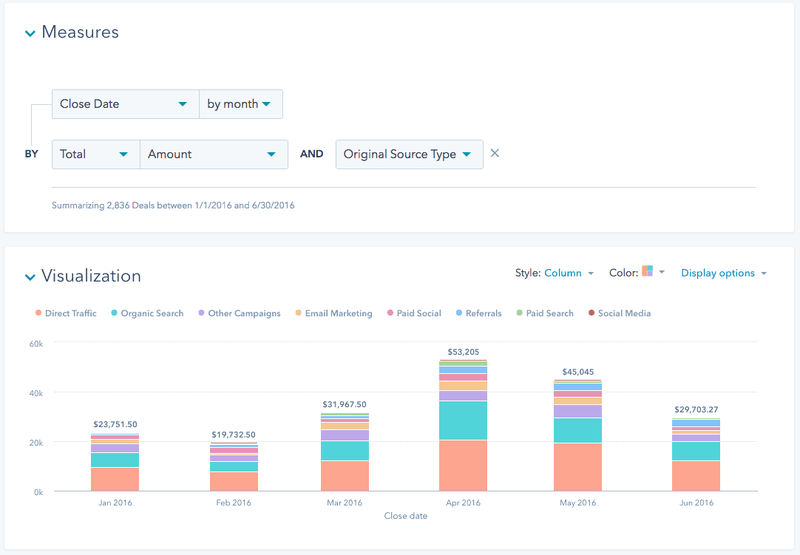 Then there's the real-time chat option, which allows any customers to contact you through their browser. They will be impressed at your response time, which again is very important in complaint management.
Pricing: HubSpot offers a free version of their software, making it super attractive to small businesses. However, the software is somewhat limited, so in order to get access to its more advanced service features, you'll need to upgrade.
It has a number of hubs available, but the one you're probably most concerned about is the Service hub, which is $50-$1,200/month and includes features like ticketing reports, custom reporting, and other tools that will help you manage your relationship with your customers better.
Read The Blueprint's full HubSpot CRM review
---
5. Capsule CRM
Capsule shines in case management. Their software manages your cases like it does with contacts, which means you are able to attach tasks and notes so you always know where you stand on a customer's complaint: history, notes, and anything else that's relevant.
Another thing that makes complaint management better with Capsule compared to most other software options is its ease of use. It's a simple, cloud-based CRM with a straightforward dashboard that will allow you to see any outstanding customer service issues right off the bat.
The contact management system is robust, allowing you to easily bring up customers via search, and all of the vital details on that customer, including any complaints, is stored there.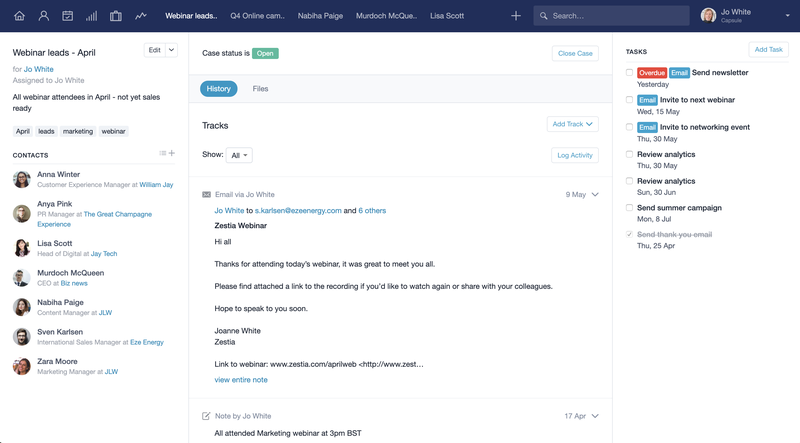 There are reporting functions to help you analyze customer service data, but you will have to upgrade to a paid version to get access to it.
Pricing: Capsule CRM has a free version, but only for two users, and it's limited to just 10 megabytes of storage and 250 contacts. If you're a small outfit, that may be enough.
If you need more than that, you'll have to sign up for the Professional version for $12/month per user, which you can try free for 30 days. This massively increases your storage to two gigs per user and 50,000 contacts.
Read The Blueprint's full Capsule CRM review
---
Now's the time to make big customer service changes
Hopefully these CRM examples have given you some ideas on how you can change your current complaint system into one that quickly and effectively handles customer complaints. Remember that not all of them will suit you, so it's wise to give a few of them a try first.
You can't be a good salesman without being good at client management, so don't expect to thrive as a business if you aren't making customer service a big part of your business going forward. Now's an exciting opportunity to take your company to the next level, so get started right away with making this a part of your sales process going forward.