Imagine going to Starbucks to order your favorite pumpkin spice latte. The barista, without uttering a single word after you ordered, immediately starts tinkering with the espresso machine to prepare what you'd only assume is your latte.
Crickets. It's all you heard after ordering. Not even an "OK, ma'am!" or a "One pumpkin spice latte coming up."
Just plain ol' silence.
If you're like most people, you'd be wondering if the barista ignored you. Or perhaps they did hear you, but heard you wrong since you didn't get any confirmation.
That frustrating feeling of uncertainty and being ignored are the very same feelings your audience have if you don't give them confirmation. If they subscribe to your newsletters, buy a product or service, or send you an inquiry, respond by sending confirmation emails so they know their transactions went through.
Don't leave your customers hanging.
To get better results out of your email marketing strategies, we'll cover several tips and examples on how to create effective confirmation emails.
---
Overview: What is a confirmation email?
A confirmation email is an automatic response message sent to customers after specific conditions are triggered. This includes booking tickets, registering for a webinar, subscribing to a newsletter, placing an order, and other customer actions.
Besides verifying successful customer transactions, confirmation emails are used for upsells and sharing more information, which further bolster your email marketing campaigns.
---
3 types of confirmation emails
Below are three of the most common confirmation emails used with email marketing funnels.
1. Appointment confirmation emails
Send an appointment confirmation email once your customer has booked an appointment with you. The email typically contains the information your customer needs to connect with you during your scheduled meeting. Common information includes the time, date, phone number, the online platform for the meeting, etc.
2. Booking confirmation emails
Use booking confirmation emails to verify your customers' online bookings or to thank them for choosing your business. These online bookings can include flights, restaurant tables, hotel rooms, travel package deals, and more.
3. Order confirmation emails
Send order confirmation emails when your customers complete a purchase. Sending this transactional email verifies the order has been accepted and is being processed.
---
What should be included in your confirmation emails?
Learn the anatomy of an effective confirmation email. Include the points below when creating these emails to get better audience engagement and conversions.
Payment information and billing summary
Include the payment details in your post-purchase confirmation emails. It gives your customers an overview and instant reference of their payment information, such as the credit card they used and the amount they paid. Add a billing summary so your customers know on which credit card billing statement the charges will appear.
Order or confirmation number
Besides including the payment information in your order and event confirmation emails, provide a confirmation or tracking number. Your customers can then monitor the delivery of the product they purchased. Confirmation numbers can also be used as a reference for webinar registrations, refund processing, etc.
Product name and photo
Keep your customers excited while their products are shipped by including the product photo and name in your confirmation emails. The more your customers see the product they purchased, the more dreamy and eager they become. Product names and photos are highly effective email marketing content since they stir excitement and anticipation.
To quickly create confirmation emails with product photos and names, use an email marketing software, such as Benchmark Email. This email marketing tool offers many templates organized by occasion and industry.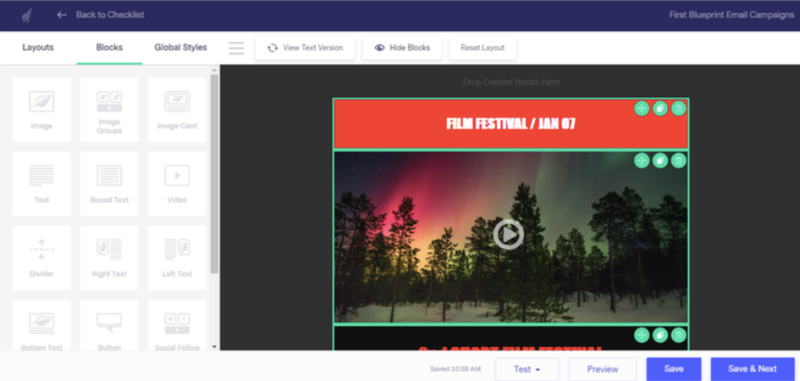 Use the software's fully customizable templates to create confirmation emails by editing, deleting, and moving existing content blocks and adding your product images, descriptions, videos, buttons, and other relevant elements.
Mailing and shipping information
Customers usually want to confirm the mailing and shipping information after completing a purchase, and for good reason. It'd be annoying to pay for a product only for it to be sent to the wrong address.
Showing the mailing information lets your customers verify the details and ensures the product is delivered to the right address.
Essential dates and times
Inform your customers when their orders are due to arrive. This is crucial, especially if customers need to sign to receive the package.

Include other time-relevant information in your confirmation email, such as a projected timeline that shows when the order was received and processed, when the package was shipped, etc.
Business contact details
Whether you send booking, order, or reservation confirmation emails, include your business contact info so they can contact you easily if issues arise. This allows them to reach you immediately instead of going back to your website to get your contact details.
---
3 confirmation email examples
Get inspiration from these engaging and effective confirmation email examples.
1. The Hustle
The Hustle sends automated emails to those who sign up for their newsletters. The confirmation email details what they signed up for so the right expectations are set.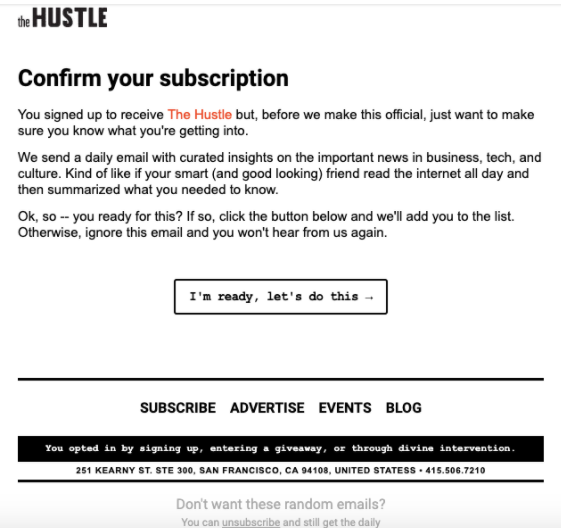 The Hustle's double opt-in process is commendable for the transparency and respect it conveys to its readers. Also, double opt-ins help improve email deliverability, so it's a good practice to adopt.
2. Teespring
Teespring's order confirmation combines creativity and functionality to encourage customers to engage with their content while delivering vital information.
Using a bold, catchy headline that says "Love that shirt!" along with the product image, confirmation number, and delivery date is a great way to catch the recipient's attention while delivering pertinent information.

The brand also leveraged their order confirmation email by offering similar products other customers bought, providing options for customers to ask questions, browse related categories on their store, and more.
3. Webflow
The Webflow account confirmation email is short and clean, yet packed with value. It has a clear call to action asking the email recipients to confirm their email addresses. The video tutorial on how to design using Webflow also helps shorten the learning curve of its users.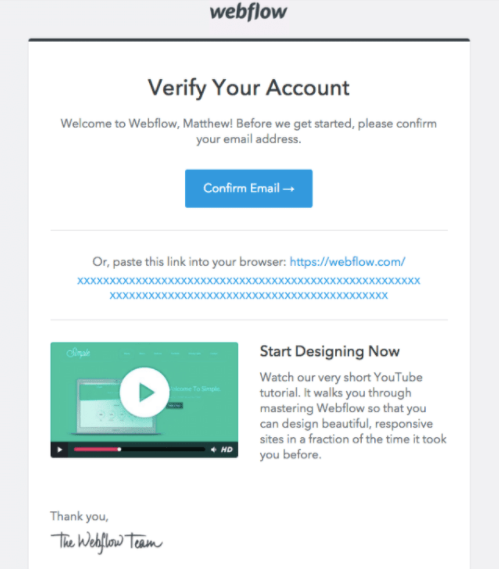 Because Webflow's confirmation email is simple yet information-rich, its recipients are likely to respond to their call to action.
---
Build your confirmation emails today
Plan your email marketing campaigns carefully. Send compelling confirmation emails while testing your email subject lines, content, and offers. Email marketing has proven time and again how much value it brings. If you invest in it while constantly testing and improving your marketing campaigns, you are bound to see great results.