In an overcrowded document management systems market, DocSend stakes its name on ease of use and integration. It's designed to be unobtrusive and work with your existing framework, thanks to its extensions and ability to sync with other software.
It allows you to send documents back and forth to others in your organization. It saves users from taking up too much room on their computers or forcing them to download items unnecessarily, thanks to its cloud-based storage—the fewer files you have to physically save on your desktop, the better.
---
Who is DocSend for?
Docsend helps sales people keep track of sales content and how it is being used. It makes it easy to send documents and data to clients or other salespeople. It lets you see when content is delivered, opened, how long it was viewed, and if it was forwarded to anyone else.
It's also helpful to ensure your salespeople are using presentations and documents to increase efficiency. It's a great way to send pitch presentations. It also tracks marketing documents and files or to make document transmission a seamless and easy experience.
If you're already using external organization apps for tasks, such as Trello, DocSend may help eliminate some of those steps, thanks to its intuitive integrations.
---
DocSend's features
Whether uploading files, sending data, or document archiving, DocSend has many features that make sharing documents online easy and efficient.
Electronic signing
Document sharing often requires more than just sending a file. Sometimes, you need receipt confirmation or a signature. DocSend lets your recipient sign electronically without installing a third-party app. No more signing documents offline, scanning, and resending documents.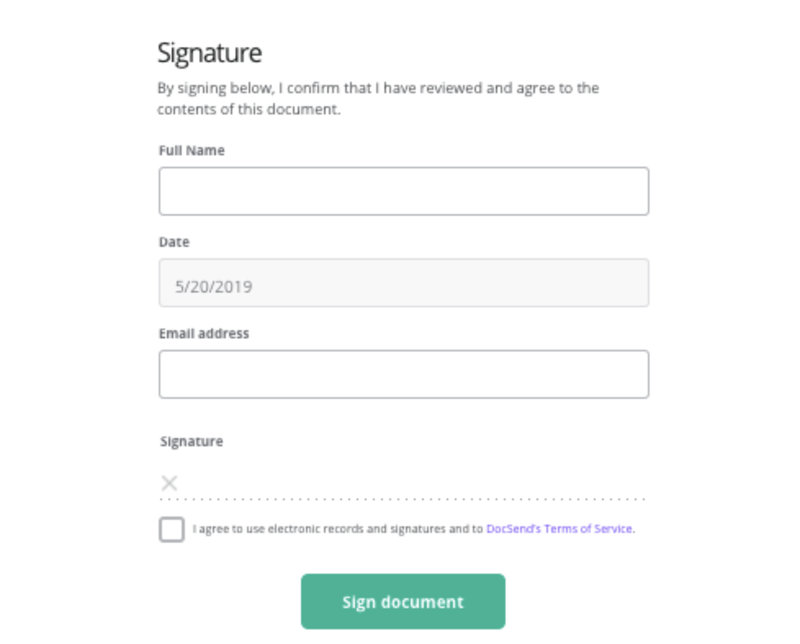 Tracking history and notifications
Docsend also offers a top tier document tracker function, which shows you who has viewed the documents you sent. You can also create custom links that show when someone has opened and viewed a file.
Customizable permissions
Depending on the document's content, you may want to enable and disable specific permissions. You can require email verification, set visibility expirations, and much more.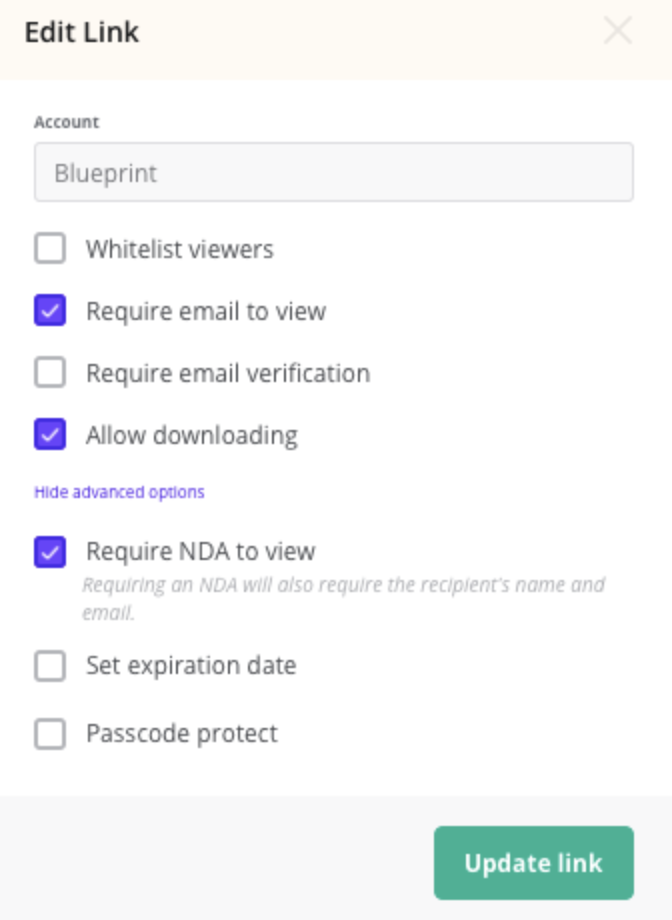 Continuous editing
DocSend lets you update or edit a document even after you've delivered it into a recipient's inbox.
Multiple integrations
Already using Gmail and Chrome? DocSend can function as a Chrome extension, giving you full access to features without having to manually open a browser tab.
You can share large files from your email or Drive, with all the same tracking features available as when you send directly through DocSend.
Similarly, if your company runs on a Microsoft platform, DocSend offers the same integrations with Outlook as it does with Gmail.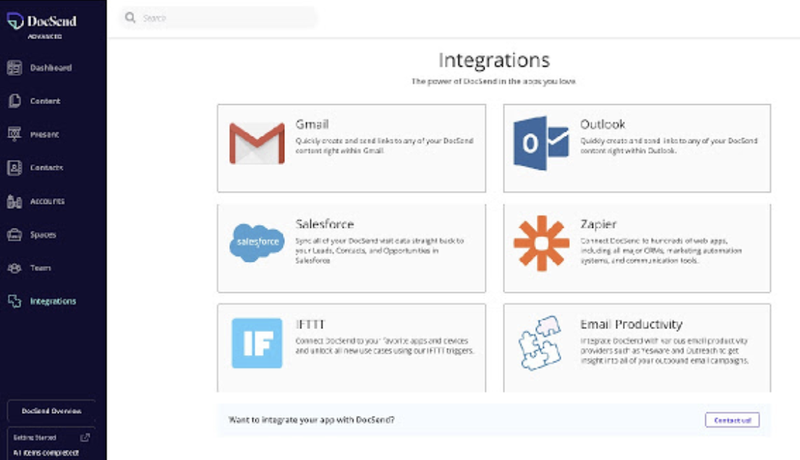 One click NDA
Frequently, you send sensitive information requiring a non-disclosure agreement (NDA). DocSend alleviates some of the NDA signature hassle by turning NDAs into single click documents.
Just like skimming a software agreement, people are much more encouraged to sign something when you make it easy for them.
---
DocSend's ease of use
Going paperless doesn't have to disrupt your office. DocSend is built with regular users in mind and is designed to sync seamlessly into everyday use, so you won't have much of a learning curve. The interface is clean and straightforward, with available options leaving little room for confusion.
Also, because it's designed to work where and how you already work, setup time is very quick and requires little lift on your end, taking the headache out of implementation. And, using DocSend with external apps makes everything easier.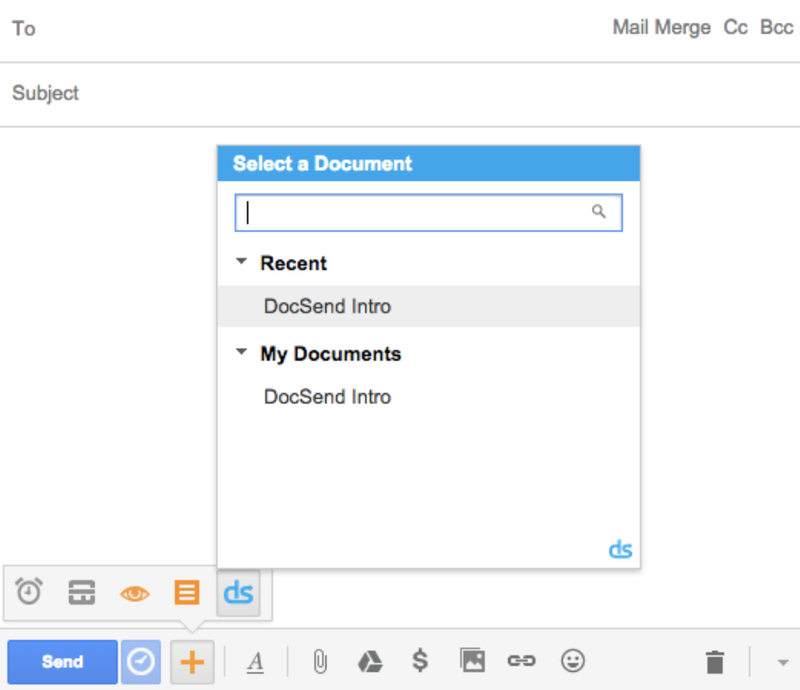 ---
DocSend's pricing
After an initial free trial, you can select a DocSend plan. The personal plan costs $10/month per user if billed annually. Monthly, it rises to $15/month per user.
The personal plan offers many great features, but the standard plan is where businesses begin to see the most value. It includes deeper analytics and enhanced permissions that aren't available at the cheapest tier.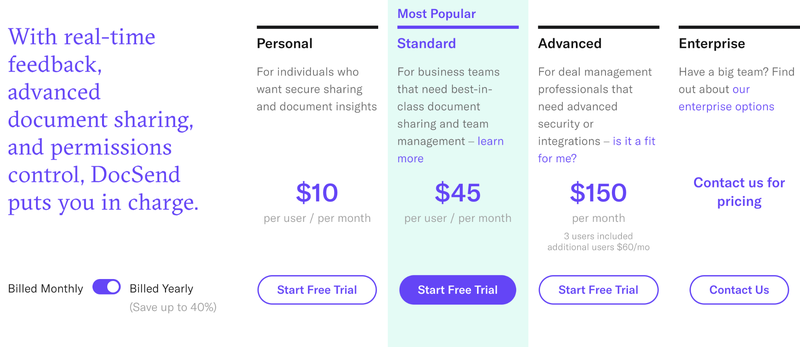 ---
DocSend's support
Many users rave about the timeliness and friendliness of DocSend representatives and their attention to detail.
DocSend offers many troubleshooting resources, but if you need a live agent, it will most likely be a positive, helpful experience. You submit an online support request and you will be contacted by a representative soon after.
DocSend is just as thorough curating resources as it is with its offerings. They categorize content by the newest articles on the resources page and offer many other options to explore information related to your own account or challenge.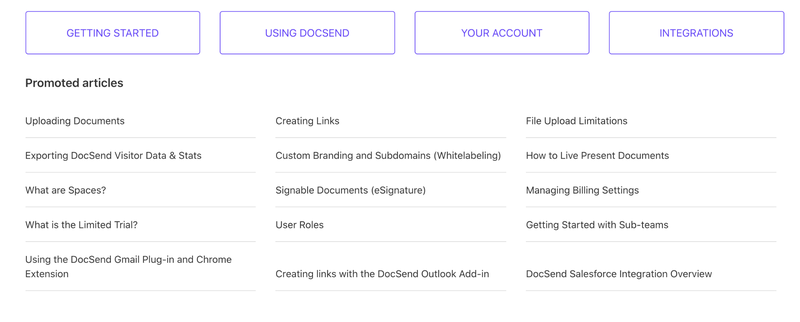 Because of its extensive reporting functions, especially the ability to see who has viewed sent documents, when they were viewed, how many times and when they opened them, and how long they spent on them, DocSend is excellent for tracking time-sensitive documents, such as pitches or proposals.
Sales teams love this. The data is beneficial to marketing team campaigns too, as you can also glean information on location and type of device the recipient is using.
---
A simple, straightforward, time-saving system
Most DocSend clients have few complaints, and that's my experience. The setup is quite minimal, compared to some more intense integrations I've encountered.
Once you're live, you'll have no trouble navigating the interface. And DocSend allows you to use the interface as little as you would like, thanks to those Google integrations. You'll experience minimal disruption to your current way of life, making it ideal for businesses that are already into an established routine.
---
Frequently Asked Questions for DocSend
Can you use DocSend for free?
A free trial period is available, but then you'll pay a monthly user fee. DocSend pricing starts at $10/user per month when billed annually, making it fairly midrange in pricing.
Are files secure with DocSend?
Yes. In addition to basic encryption and security levels, DocSend allows users to opt for extra security when needed, letting you protect some or all documents with additional features such as whitelisting or recipient email verification, so you can feel at ease when you send secure documents.
Is DocSend user friendly?
DocSend is not only easy to set up, it's easy to use. Its interface is straightforward, plus you can use it as an extension of systems you already work with.