Cluttered file cabinets are so yesterday. To keep your organization secure and operating efficiently, you must migrate data and documents online. The right document management system makes all the difference for easy and intuitive document storing, sharing, and editing.
Here are the top picks for the best document management software options:
Our top 6 picks for the best document management software
Like a Cinderella slipper, there is no one-size-fits-all system. You can choose from many excellent document management solutions, each fulfilling different specialties. What will work best for you depends on your business needs, budget, and the features you want.
1. DocSend
DocSend is known for its ease of use and integration capabilities. There's no confusing back end architecture, as DocSend syncs easily into your existing framework. It syncs with other common platforms such as Microsoft Office or Google, so you can use DocSend to share files internally and store data directly from your desktop.
It keeps information secure with customizable permissions. For example, you can require email verification or set visibility access to expire after a certain amount of time.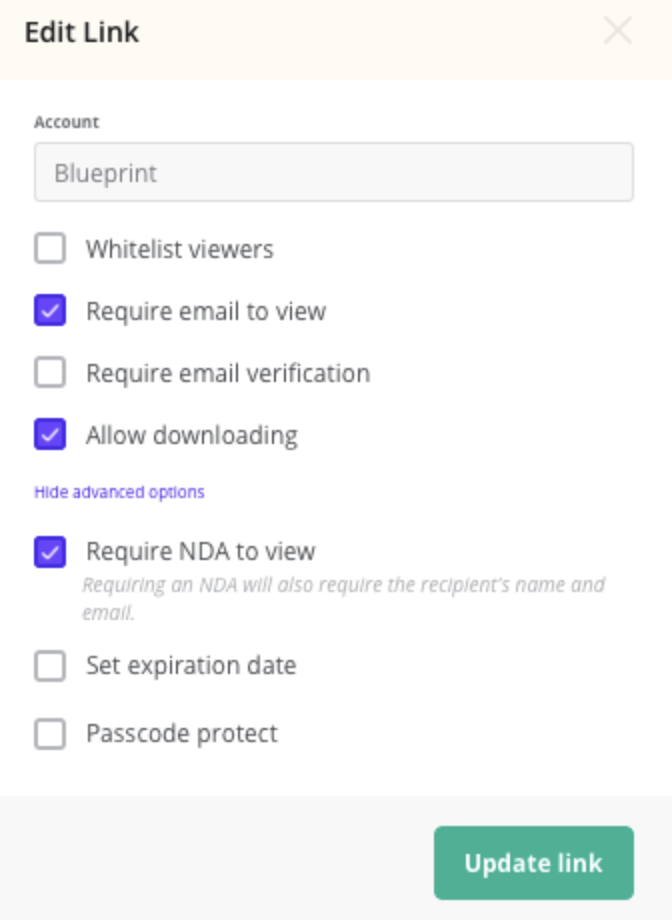 DocSend has a small learning curve. Plans start at $10/month per user, placing DocSend in a mid-range price point compared to other systems.
2. M-Files
M-Files follows a unique, straightforward principle and classifies information by the "what" of its content rather than the "where" of its folder storage, resulting in more intuitive document storage and searching. You are likely to find the document you want much more quickly.
It also uses autosave to ensure that content is not lost as you are updating and editing, and background updates keep everything current.
M-Files centralized storage offers a dynamic view of your entire organization. Content is automatically organized by type and associations, so you can search for what you need with a high-level view into storage.
3. Box (for business)
Box excels at the basics: uploading and sharing documents and editing files online. It sets up basic workflows, much like task managers available in organization apps, so you can track document edits, progress, views, etc.
You can create multiple logins for internal use or share files with external guests. You can extend editing permissions to select guests.
Speaking of sharing, Box makes it easy. Click the dots beside a document's name to access tools to download a document or create a direct link for sharing.
Each link can have customized access, ranging from basic viewing to editing abilities.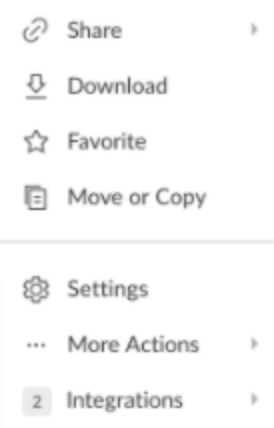 If you want free document management software, Box offers a $0 plan for solo users. From there, the first paid option is still affordable, starting at $5/month per user, for 3-10 users.
4. eFileCabinet
eFileCabinet keys on efficiency, with a streamlined system, focused around a central solution. It is a one-stop-shop for digital document management, providing easy document archiving, data migrations, and ongoing maintenance.
eFileCabinet is an excellent choice for small and medium businesses because of its easy setup and straightforward interface.
eFileCabinet uses an open API (application programming interface), which means you can connect with your current office system, alleviating a lot of integration headaches.
Just drag and drop files from your desktop into the app, and they are automatically uploaded to eFileCabinet's library.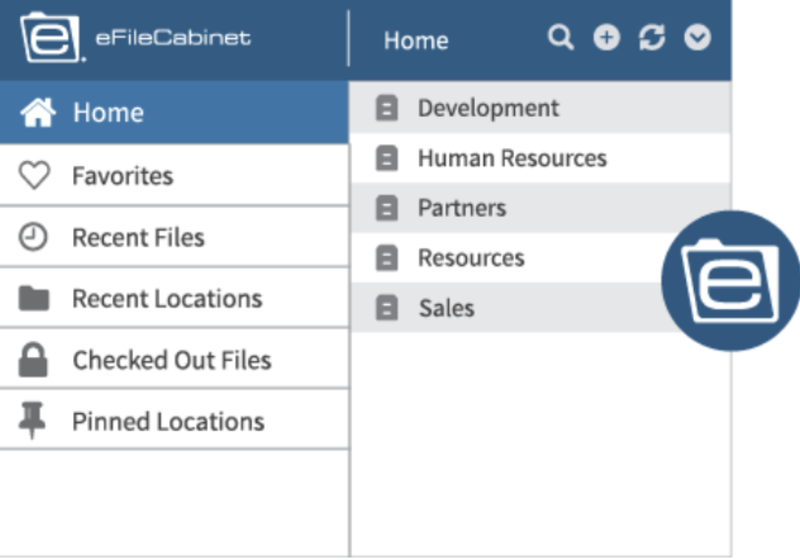 You can also audit a file's history with an open admin view, or create custom links for doc tracking to keep tabs on who has accessed which files and when.
5. Ademero Content Central
Ademero Content Central is a highly customizable platform with many useful features and an easy-to-use interface. Besides handling storing and file sharing basics, Ademero Content Central is known for its zonal recognition capabilities.
It uses optical character recognition (OCR) to scan and populate predetermined areas of documents, saving you a lot of time.
It also developed QCards. QCards are like document cover pages produced internally in Ademero Content Central with barcodes. They are used to quickly identify the document type being created (or uploaded), and the crucial fields a user has added.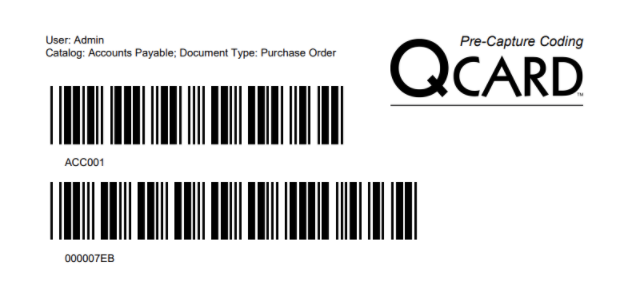 If your system needs to do more than simply store and send out documents, Ademero Content Central has premade templates you can use.
Its centralized storage system searches for documents, both stored (master copies) and edited (revised as a team or by individuals). Pricing starts at $35/month per user.
6. Microsoft SharePoint
Microsoft SharePoint file management software integrates seamlessly with your Microsoft software. You can customize its look and incorporate your company's branding.
SharePoint works well for co-authors, allowing many people to work in a document at once, and you can extend guest access.
Most external links are "view only" shares, but some plans let you offer other abilities to people outside your organization.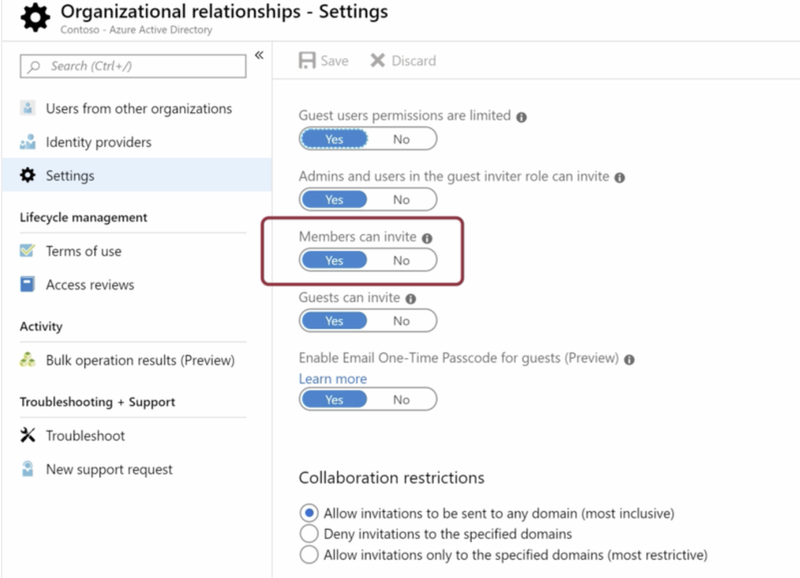 Pricing is reasonable, starting at just $5/month per user and going up to $20/month per user. The base option gives you an ample 1 TB of storage, so you shouldn't run out of space.
What The Blueprint looks for in a great document management software
Each software option must meet a few basic criteria to be considered a top choice.
1. Security
Sensitive information and confidential documents are par for the course with data storage, so every option must be secure. Each software option should be encrypted and have other security options such as assigned permissions, password-protected links, two-factor authentication, etc.
2. Multiple authors
Collaboration is one of main reasons for using document management software. Since files are shared among teams and companies, they must have editing abilities to match.
3. Software integration
A document management system is unsuitable if it can't be integrated with your existing software. A good system fits into the day-to-day of your workforce and makes your life easier, not harder.
How your business can benefit from using document management software
Going digital comes with plenty of benefits that staying offline simply can't provide.
1. Document history
History reporting shows you who accessed files, when they opened them, and what was changed. Looking at revision history protects original data while logs provide user accountability.
2. Streamlined security
With paper files, you risk something being misplaced, stolen, mishandled. Digital files have encrypted security and are much easier to access by those with the right credentials while being hidden from other users.
3. Efficiency
Whether it is a proposal, a contract, or a flyer, if multiple people need to touch a file at some point, it's going to be faster via digital workflows than any other method. With all necessary authors having access in one place, tasks can be completed efficiently.
Document Management Software Frequently Asked Questions
Does it cost anything to implement?
As with many other systems, the answer depends on which software you choose. With free, open-source options, you can use systems as cheap as $5/month per user, up to systems that cost hundreds of dollars a month. It all depends on your needs.
Is it safe to manage files digitally?
As long as you follow document management best practices, It's probably safer in a digital sphere than a physical one, thanks to SSL, encryption, and other security measures. And you can be more purposeful about who has access to content in a cloud-based system.
You'll have a learning curve with any new system. Still, document management solutions fit into daily operational life with minimal disruption. Most integrate directly with existing software solutions, so you have little to learn.