When you start a nonprofit, donations are your organization's lifeblood. Fund development allows you to have the resources needed to carry out your mission. Hiring the right staff, providing services to your beneficiaries, or implementing an advocacy program all rely on monetary support.
If you find yourself constantly chasing one-time donations to make ends meet, you not only add stress to your team but also may not be able to sustainably work toward your nonprofit's vision.
Strategic planning for nonprofits must include donor stewardship. Donor stewardship is what can move your nonprofit away from a mindset of scarcity and toward one of abundance. While creating an effective stewardship plan can take some time, it will pay off in the ability to cultivate lifelong champions for your cause.
---
Overview: What is donor stewardship?
Donor stewardship is an element of fundraising for nonprofits. It's focused on building relationships to bring in new donors and turn one-time donors into recurring supporters.
Effective stewardship involves a variety of activities that keep donors engaged with your nonprofit's work and lets them know how valuable their contributions are for making that work possible. These activities build a sense of community around your nonprofit, which can encourage more and larger gifts to your cause.
By building relationships, you improve your donor retention rate by increasing supporters' sense of investment in your work.
---
How to create a donor stewardship program
While you established your organization as not for profit, that doesn't mean you get a pass on many of the same funding issues for-profit companies must consider. A development plan is at the core of a nonprofit business plan because it ensures you have the resources needed to work toward your goals and be accountable to your stakeholders.
Stewarding should be one of the first development components you consider as a new nonprofit. People who take an early interest in helping establish your organization are prime examples of those who can turn into lifelong supporters if you continue to nurture the relationships. These steps can get you started.
1. Segment supporters into different levels
Stewardship fundraising will look different depending on a supporter's current relationship with your nonprofit.
For example, if you have a donor who gives $20,000 to your nonprofit every year, you might consider planning an in-person check-in with them over lunch. On the other hand, if you have a person whose only connection to your nonprofit is from registering for your 5k fun run, an in-person luncheon isn't quite in line with the return. For that donor, your stewardship might include an email thanking them for participating, along with a few quick highlights of your work and how they can continue to help.
Donor relations typically fall into these four buckets:
Prospective donors: This group could include volunteers. It could also include people you've met in the community who have shown an interest in your cause. This group hasn't given a monetary donation to your nonprofit before but has characteristics that, with the right marketing and relationship building, could potentially lead to one.
First-time donors or event attendees: This group includes anyone who gives a monetary donation to your nonprofit for the first time. This could be through an event registration fee, a friend's birthday fundraiser or other peer-to-peer campaign, or a direct mailing. The goal here is to turn that one-time donation into a second donation, and, ultimately, more.
Loyal or recurring donors: This group includes supporters who have an automatic monthly donation set up. It also includes those who donate every year on Giving Tuesday or who have consistently replied to each of your fundraising campaigns. Stewarding this group aims to continue that relationship.
Major donors: This group is small but mighty when it comes to donations. These supporters are the type who give large gifts, typically in the thousands. Their donations are big enough to fund new programs or capital campaigns. These donors are the type to have buildings named after them. Your goal with stewardship here is to demonstrate your gratitude and prove that they can trust you with another large donation for your next big initiative.
2. Document stewardship activities
Once you know which bucket your donors fall into, you'll need to consider which stewardship opportunities would be most appropriate for each. Remember that these activities should aim to make your donors feel appreciated and like they're a treasured part of your community.
Some stewardship activities could include:
Handwritten thank you letters
Invitations to special events
Cards for holidays, birthdays, or anniversaries
Opportunities to offer feedback through a survey
Annual donor appreciation awards
One-on-one meetings with board members or the development team
Hardcopies of your nonprofit annual report
Quarterly newsletters or email blasts
Social media shoutouts
Personalized video messages
Once your development team has figured out which stewardship activities to focus on, create a chart that matches which activities correspond to which donor levels.

3. Determine which staff are responsible for different stewardship tasks
A good deployment plan for your stewardship goals needs to define who will be responsible for which activities. It may make sense to have an intern or more entry-level staff member write the copy for thank you emails and ensure your system is set up to send those automatically after online donations.
However, if you're sending a handwritten birthday card to a major donor, it probably carries more weight if you have your executive director or development director send that.
4. Establish a stewardship timeline
In addition to knowing who to engage and how, an important element of stewardship is timing. Make sure your development team knows your standards for how quickly thank you letters need to be sent, how often major donors will get a phone call, how many months you need to plan for your annual donor recognition luncheon, and timing for other key activities.
Customer relationship management (CRM) software can help your team keep track of your stewardship timeline across different activities and donors. For example, you can use it to store data on your donors' birthdays and then have it remind your team when to mail a handwritten birthday card to a major donor or set it to automatically send happy birthday emails to prospective donors.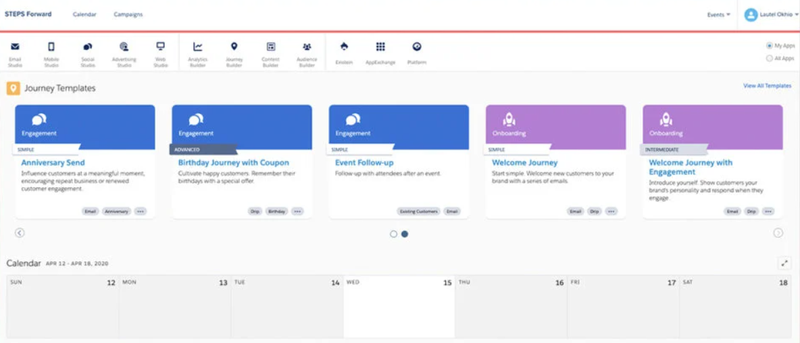 5. Educate your entire team on the stewardship process
People often think of fundraising as an activity done by a nonprofit's executive director or development team. While these staff members do play lead roles, effective stewardship efforts involve your entire team, from your nonprofit accounting department to your direct services staff.
Once you've created a donor stewardship program, educate your board members and entire staff on the process. Let them know how, why, and when you may call on them for additional support. Remind them that every interaction they have with a current or prospective donor is also a stewardship point, an opportunity to further build that person's relationship with the nonprofit.
---
3 tips for developing your donor stewardship strategy
While your donor stewardship strategy may be unique depending on donor types, timelines, and activities, there are a few tips that can improve any plan.
1. Have an attitude of gratitude
Authentic gratitude is probably the most important element of any donor stewardship program. Your supporters want to know that you appreciate their gift. And they want to know why you appreciate it, what it will help you achieve. Send thank-yous early and often, and think creatively about how you can communicate your appreciation.
You should send donation receipts with thank yous within 48 hours of receiving the gift. You may also want to have an option on your online campaign pages for donors to have their names listed on a live recognition wall. You can also use your nonprofit social media to tag supporters and publicly thank them.
In all of your donor interactions, whether online, in person, or by email, approach with an attitude of gratitude. Ask yourself how each donor touchpoint can be an opportunity to express your thanks.
2. Tell your nonprofit's story
Rather than simply state your cause, tell your story. A donor might be interested in giving to a hunger relief program, but simply asking them to donate to end hunger in their community doesn't offer much of an emotional hook.
Instead, tell them about a kid in your program who was able to do better in school once her family had access to healthy meals. Provide data that show the full extent of hunger issues in your county and how you've made progress toward reducing them.
Connecting with donors in a way that builds relationships means bringing them into the essence of your work. Help them see who they're helping with their gift by telling them stories about your nonprofit.
3. Evaluate your stewardship plan on an ongoing basis
Donor stewardship programs should evolve over time to better meet the needs of your supporters.
If you're an environmental nonprofit and you receive feedback from donors that they don't like receiving so much mail that they end up throwing away, reconsider your communication channels.
If you learn that a large segment of your donor base uses Instagram, consider creating an account so you can share updates about your work and upcoming events with them there.
Throughout the year, remain curious about your donor stewardship activities. Be willing to pivot or try new things.
It can also be helpful to send out an annual survey to ask your supporters a few questions about how they like to engage with you. This provides both useful data for future stewardship and serves as its own stewardship touchpoint.
By asking for their feedback, you show your supporters you value their opinions and that they are an important element of your growth and success.
---
Create a donor stewardship program to cultivate lifelong supporters
Donor stewardship is all about building relationships that last a lifetime. Through the right activities, your donors become partners in your ongoing work. Create a plan to cultivate those relationships and establish a secure, sustainable donor base.