DreamHost is potentially one of the best web hosting companies for its price point and target niche. It delivers on high quality while keeping its monthly rates low for shared hosting plans, hitting the often hard-to-find sweet spot. There are enough features and potential upgrade avenues to meet all your hosting needs as your business grows without being too overwhelming at the start, making it both flexible and user-friendly.
Website accessibility is not a problem for your audience since DreamHost's servers are almost spookily reliable, clocking an impressive 100%, or 99.99%, uptime nearly every month. Each plan also comes with unlimited bandwidth and storage, a free SSL certificate, unlimited email, and so much more.
---
Who is DreamHost for?
DreamHost is especially well-suited for smaller business sites because it presents a compact and streamlined solution that never gets too confusing. While it does have the ability to grow and scale, it lacks some more advanced features that super techy developers may miss.
Since all its physical servers are located in the U.S., it's a better bet for domestic companies than ones with international reach.
---
DreamHost's features
Out of the box, DreamHost has several concise, useful features that can enhance your website and make the next step in the process (hosting) easy and intuitive. Managing your site is less stressful, while scaling your business is also a top priority.
Free domain
All DreamHost plans come with a free domain name. Plus, if you ever need to host your site elsewhere or incorporate a content delivery network, you can update and change your DreamHost name servers.

Free SSL certificate
Never fear about data breaches and customer worry because you get a free SSL certificate with every site hosted.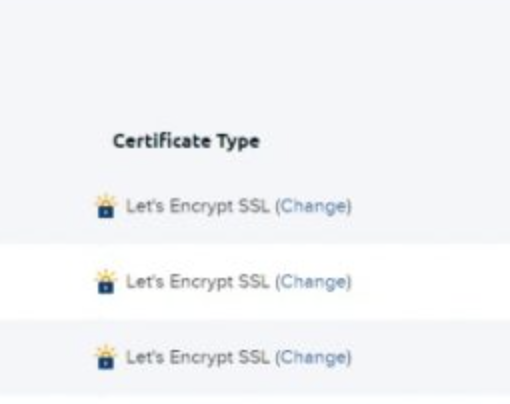 Unlimited storage, bandwidth, and email
Unlimited means unlimited, with DreamHost putting no caps on your internal storage or website bandwidth. DreamHost email even comes unlimited and standard with every plan.
Website builder
If you haven't already selected your small business site builder, DreamHost does have an internal tool for managing content. Its Remix website builder comes preloaded with many themes to customize your site and features easy drag-and-drop usability.
One-click installation
Thanks to various app integrations and easy migration, you can get started with DreamHost in one click.
WordPress sync
As one of the leading open source content management systems, it's incredibly easy to sync DreamHost to your existing WordPress site. DreamHost FTP (File Transfer Protocol) is part of its one-click installer to migrate content instantly.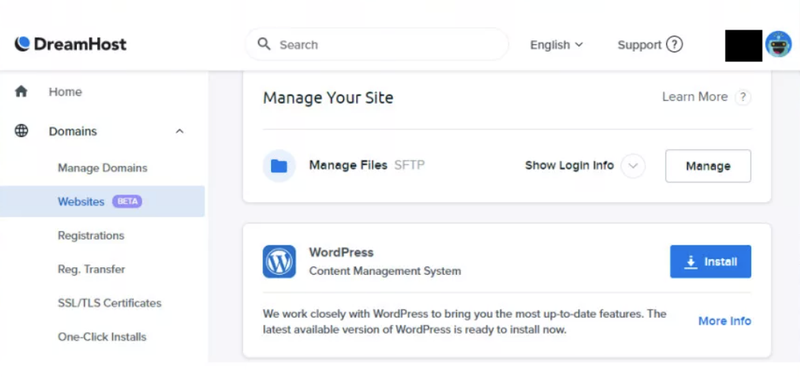 Auto backups
Never worry about losing website data since DreamHost automatically backs up your site every day while giving you insight into your site data.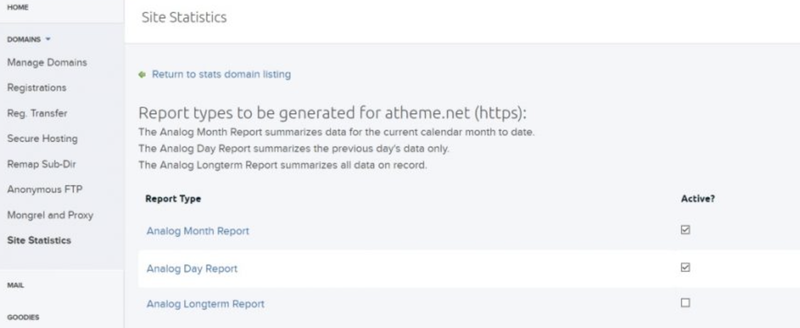 ---
DreamHost's ease of use
The DreamHost interface is simple and easy to use, with a clean layout and intuitive navigation setup. The software opts for navigation trees, which does a lot to keep the dashboard free of clutter and icons. It's easy to find whatever you're looking for — account settings, integrations, and domains — with a clutter-free dashboard.
Getting started is pretty simple, too, as DreamHost boasts a one-click installation process. There's an administrator dashboard rather than a super customizable DreamHost cPanel, which actually helps to make things easier by removing unneeded, complicated additions and eliminating the tech version of decision paralysis.
---
DreamHost's pricing
DreamHost's pricing can be broken down in myriad ways. For starters, you can choose from five different hosting options that all have levels within them: Shared, VPS, Managed WordPress, Dedicated, and Cloud. Most small businesses will likely opt for the Shared hosting plan since it's the most affordable and most direct, while still packing a big punch.
For Shared hosting, there are two options, Starter and Unlimited, and you can opt to pay monthly, annually, or for three years. The cost breakdown for monthly paid plans comes to $4.95/month and $10.95/month, respectively. Annual costs $3.95/month and $4.95/month, while the three-year option comes out to be $2.59/month and $4.95/month.
The Starter plan gives you hosting capabilities for one website, while Unlimited gives you (not surprisingly) unlimited sites.
What's really nice, too, is that there's no price hike at renewal or hidden upcharges.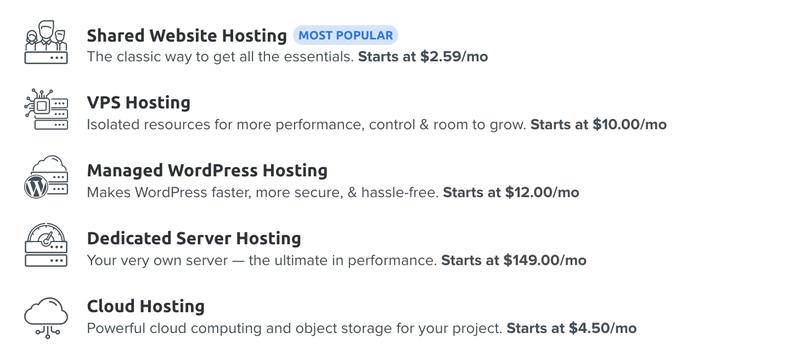 ---
DreamHost's support
DreamHost has a very well-stocked resource library that's easily searchable by keyword, or you can browse through by topic or questions. You can also submit support requests via email or ticketing. The response times are pretty fast, and every DreamHost help representative is well-informed and helpful.
DreamHost live chat support is 24/7, although it's not always actually live support since it's only available from 5:30 a.m. to 9 p.m. PST. After hours, you interact in the chat with a bot. While sometimes those prompts are helpful, it could be frustrating to be unable to connect with a real person if you have a real problem.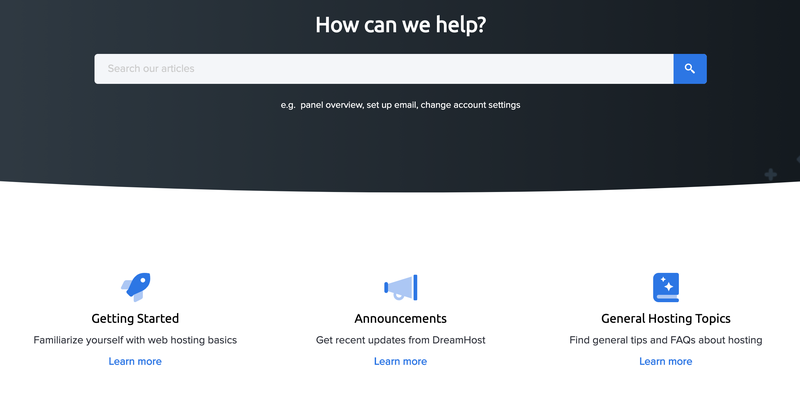 ---
Benefits of DreamHost
For starters, DreamHost sites stay up a remarkable amount of time. Because hosting on servers that don't crash is pretty much the main event when it comes to hosting, DreamHost's nearly 100% uptime record over the years is a big draw.
DreamHost also has a very good money-back guarantee, with 97 days as its term period. From initial signup, you have that long to cancel and get a refund if you find it's just not working for you. Most other hosts cap the money-back period at 15 or 30 days, so this is an exceptional amount of time.
---
A reliable, high-functioning host
Overall, it's hard to go really wrong with DreamHost. For a relatively low monthly price, you're guaranteed excellent security and uptime on an interface built to be easy to use. Generally having unlimited storage and bandwidth is also a major perk since you don't have to stress about throttled sites.
---
Frequently Asked Questions for DreamHost
No, but it does have a remarkable 97-day, money-back guarantee period.
Yes, it is pretty secure. Free with every site comes a DreamHost SSL certificate.
Is DreamHost easy to use?
Yes, it's effortless to use and manage. It's definitely built to be straightforward and for more small businesses and projects, so it doesn't overwhelm or have unnecessary customization complications.

Given its budget-friendly pricing and almost perfect uptimes, DreamHost is worth a try. If you change your mind, take advantage of the 97-day, money-back guarantee.
Given its budget-friendly pricing and almost perfect uptimes, DreamHost is worth a try. If you change your mind, take advantage of the 97-day, money-back guarantee.
The Motley Fool has a Disclosure Policy. The Author and/or The Motley Fool may have an interest in companies mentioned.