Two titans of the CMS industry, Drupal and WordPress, have both been around for some time now. While they have some similarities, mainly based on their free, open-source nature, they do diverge along the way. Of course, you want the best CMS, but what does that mean to you?
---
Drupal vs. WordPress CMS: An overview
Drupal is open-source, like WordPress, but is it better than WordPress? Or will you find more value in the latter? Where similarities end, specific differences really do take shape.
In deciding between the two, a lot of your decision will come down to your intent and your needs, as Drupal tends to be a lot more complex in terms of setting up and maintaining. However, this sets it up well for large bandwidth enterprises.
WordPress, on the other hand, can be as easy or complicated as you like: you can go super multi-functional with a developer, or you can keep it simple, setting it up yourself.
Who is Drupal for?
Setting up Drupal is a little bit more complicated than other CMS options, so if you are doing the back end, be sure you have a comprehensive understanding of coding, or be prepared to hire a developer.
Once Drupal is set up, it's great for sites needing a lot of multi-functionality, customization, high bandwidth, etc. Larger enterprises, from economic institutions to the White House, favor it.
Who is WordPress CMS for?
Before evolving outward, WordPress was one of the first, and best, blogging platforms. While it does much more than that now, it still boasts user-friendly blogging features and page editing, making for straightforward website management.
WordPress can work for a variety of industries of all sizes, thanks to the over 50,000 customizable integrations that can make it an ideal CMS for any need from e-commerce to blogging, to business sites, and beyond.
---
Drupal vs. WordPress CMS: Features
From website marketing to sales, form building, and creating great content marketing examples, it's the extra capabilities these systems offer that makes them tick.
What Drupal offers
After getting the back end set up, editing pages in Drupal is simple and easy. With an intuitive design, editing natively in the sections is simple and straightforward.
You can even customize fields for commenting, giving you extra control. And when you are building pages, you can use Drupal's handy drag-and-drop feature.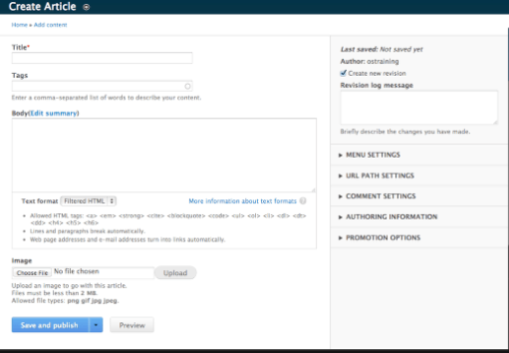 Drupal also values security, as security updates are regularly installed and problems fixed quickly. Because of this, Drupal sites are often considered safer and harder to hack, which is why government organizations often favor this CMS.
Further, Drupal sites are reliable and have a history of consistent uptime with minimal crashing. If all that's not enough, Drupal also offers around 16,000 optional integrations to bump up and customize your site's features.
What WordPress CMS offers
Features are second nature to WordPress. From functionality to website upgrades, WordPress probably has something to make it happen.
WordPress offers some of the easiest multimedia management, with a library that saves your files for however long you need them.
Plus, you can upload all your necessary items via drag-and-drop, which is efficient and saves you from having to come up with creative or descriptive temporary file names.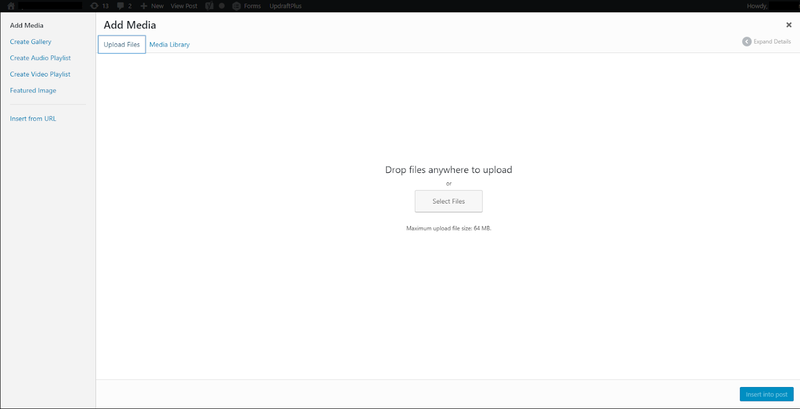 WordPress also nails user management, allowing you to have various users with multiple permission levels. They are Admin, with full access, Author, who can only write posts, Editor, who can access content and pages, and Subscriber, who can only manage personal profiles.
WordPress also comes SEO ready, with features to help you rank higher in search engines by automatically creating proper HTML, offering keyword suggestions, creating permalinks, etc.
Where WordPress really shines is with its 50,000+ integrations that basically means your WordPress site can have almost any feature you want.
Want to create killer landing pages? Need to set up payment gateways? How about integrating social media? Anything you need, WordPress can pretty much do via a plug-in.
Results
Winner: WordPress
We've got to give it to WordPress. It's hard to compete against the tens of thousands of plug-ins so that just about any feature you can think of pretty much exists within this Drupal alternative.
---
Drupal vs. WordPress CMS: Support
You don't want to go it alone, especially when you get in a tight spot, which is why support and resources are essential.
What Drupal offers
Being open-source and free, you don't have that account manager or customer service representative lifeline. However, Drupal's user community and developers have nailed the external support field.
With coders that work quickly to address situations and a developer Slack channel, you aren't left on your own. In addition, you have access to documents and online resources that cover a lot of topics and problems.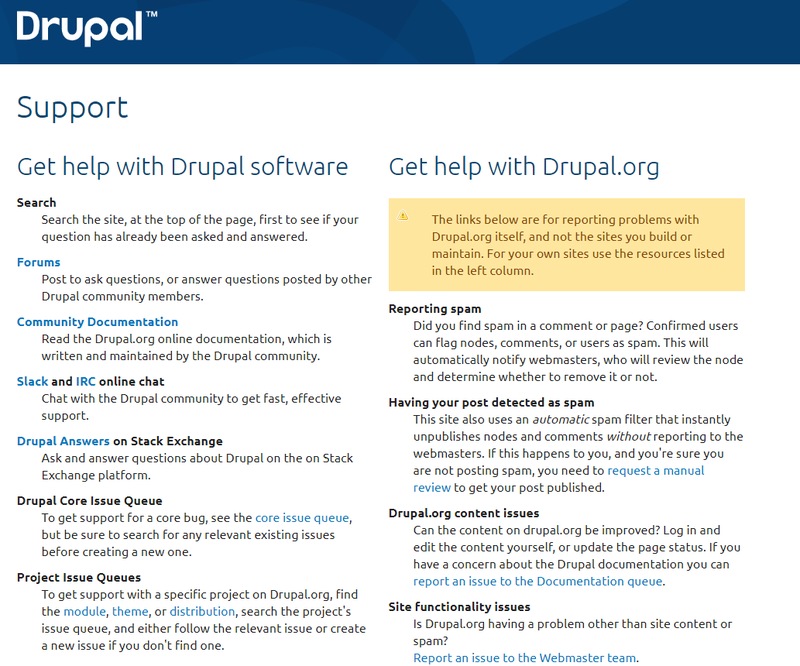 What WordPress CMS offers
While traditional support isn't an option, WordPress does have a lot of online resources, including community forums, videos, articles, instructions, etc. If you can't solve a problem yourself, the community forums are a great place to search for an answer.
The downside of open-source, though, is the lack of a customer representative response, so you can feel a bit overwhelmed.
Results
Winner: Drupal
Since both systems are open-source, neither has dedicated support in the traditional sense. Still, Drupal's army of coders, working to address security issues in real time, push them ahead just a bit to win this round.
---
Drupal vs. WordPress CMS: Ease of use
If using a system causes you endless frustration, then what's the use? Being user friendly is essential to good user experience.
What Drupal offers
First things first: Drupal is a lot to set up. The technicality and details in back end coding are not for beginners. Plus, once Drupal is set up, the maintenance doesn't go away, and you will still need to have that web development know-how throughout.
The actual dashboard, though, is pretty easy. And once set up, using it is not a frustrating process. The dashboard is well labeled, and the editing tools intuitive. As long as you aren't touching development or maintenance, you'll have an easy enough time.
What WordPress CMS offers
WordPress was built for bloggers initially, and that idea of being user friendly carries on.
The home dashboard and toolbar is easy to understand and use, the pages are simple to edit, and updates are easy to install. Plus, WordPress notifies you when updates are needed.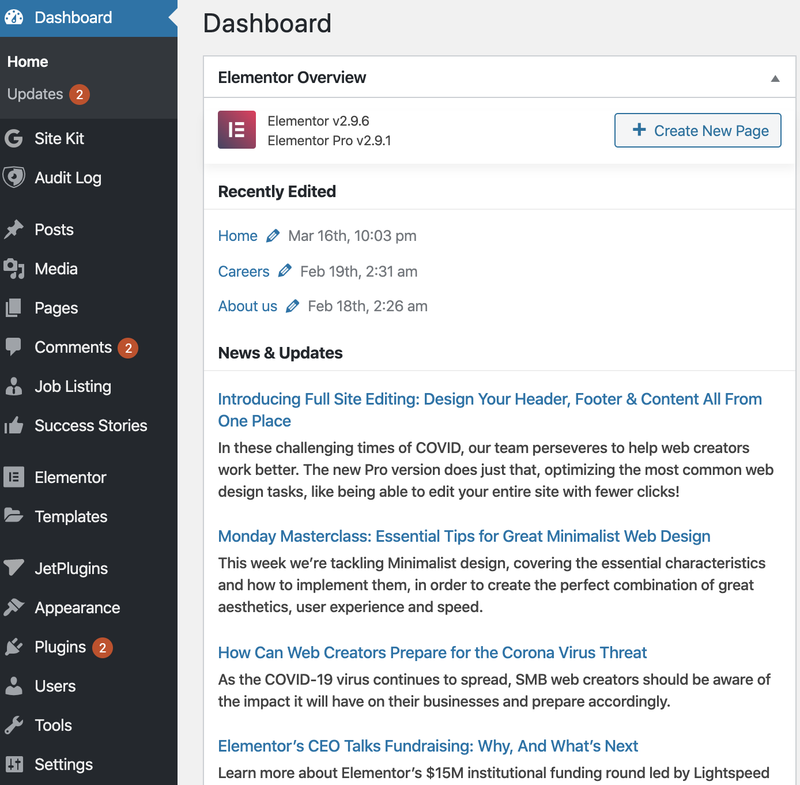 The layout itself is clean and straightforward, with intuitive tools.
Results
Winner: WordPress
Thanks to a streamlined user experience and a setup that's just a bit easier, WordPress wins this round for ease of use.
---
Drupal vs. WordPress CMS: Pricing
Both WordPress and Drupal are open-source, so they're both technically free, but which zero-down upfront is more worth it?
What Drupal offers
Drupal is free, and that free entry point gives you access to a sophisticated framework. It is, though, mostly a framework, with its out-of-the-box components a bit sparse.
You will need several add-ons, such as most of the themes and templates, to get your site as functional as you want, meaning a good bit of extra cash. You will also need to pay externally to host your website.
What WordPress CMS offers
At first glance, WordPress is technically free, meaning you pay nothing to download, install, and use it. However, like Drupal, you will need to host externally, which costs you.
Also, individual additional costs, including maintenance, plug-ins, etc. can add up. Still, though, for a base free price, WordPress has a lot to offer.
Results
Winner: WordPress
They both cost nothing to download, but charge for extras. However, WordPress wins this round since it has fewer costs, it's easier to install, and most of its plug-ins are free.
---
Drupal vs. WordPress CMS: Integration with other software
The beauty of open-source software is the number and variety of developer plug-ins. What that guarantees is that WordPress and Drupal alike have several well-developed and multi-channel software integration options.
What Drupal offers
Since Drupal is open-source, it means there are a ton of third-party integrations out there to link to it. From marketing options to financial and accounting applications, there are both free apps and integrations that come with a price tag.
There are not quite 50,000+ options, like WordPress, but Drupal does boast around 16,000 plug-ins.
What WordPress CMS offers
WordPress works with a large number of add-ons and other software vendors. You just need to look at the plug-in library to see tens of thousands of apps that integrate directly with WordPress, and these plug-ins are all-encompassing.
Say, for example, you are switching your email marketing software. WordPress has interactions set up with pretty much every marketing software so that you can transition with ease.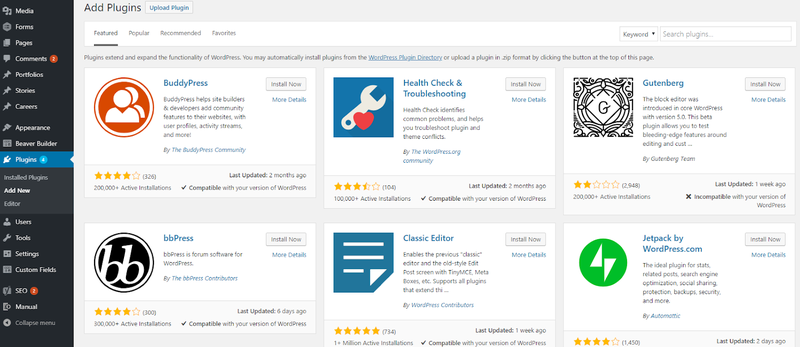 Results
Winner: WordPress
Though again, both have a lot of well-oiled integrations, WordPress wins this in the numbers game: 50,000 is just more than 16,000.
---
Drupal vs. WordPress CMS: E-commerce capabilities
Your site's #1 job is to sell. To do that, you will need e-commerce capabilities.
What Drupal offers
Drupal Commerce is Drupal's answer to making sales. This extension allows you to build and design an online storefront, however big or small you need. It's easy to install and integrates with your regular Drupal site.
What WordPress CMS offers
WordPress also has its own e-commerce extension, WooCommerce. It feels almost like using WordPress itself (editing products is just like editing pages). It is both easy to install and easy to use, boasting essential abilities such as dynamic pricing and payment options.
Results
Winner: Tie
It's our first tie between these two. Both e-commerce options, WooCommerce and Drupal Commerce, are very similar in intention and integrate with their parent programs with ease.
---
Drupal vs. WordPress CMS: Software vs. Hardware
| | Drupal | WordPress |
| --- | --- | --- |
| Features | | |
| Support | | |
| Ease of use | | |
| Pricing | | |
| Software integration | | |
| E-Commerce capability | | |
---
Who wins in the Drupal versus WordPress faceoff?
As two of the oldest Wix alternatives, WordPress and Drupal have both proven their staying power. Overall, it's just hard to beat the capabilities and history of WordPress.
The fact that it's flexible and intuitive enough for all sizes of businesses and content managers, too, gives it a bit of an edge. Plus, with over 50,000 integrations, you can build almost any type of site you want.
However, if you have a larger enterprise, you may find Drupal a sophisticated best match, provided you have the resources to set it up and maintain the back end.