Company leaders spend a lot of time, energy, and financial resources trying to woo new customers to their brand. Bringing in new shoppers is an important part of the business cycle. However, retaining loyal shoppers is more powerful and offers a greater financial return.
Multiple studies have shown that the cost of acquisition is higher than retention, with some estimates claiming it costs five to 25 times more to convert new customers compared to increasing sales with existing buyers. That makes engaging with customers a critical part of success.
Every step of the customer communication process should be carefully planned. Leaving a customer engagement strategy to chance or happenstance means you could be missing sales opportunities.
---
Overview: What is an engagement model?
A client engagement model is the way in which you interact with customers. It begins at customer acquisition and continues through to the post-sales stage with the ultimate goal of building long-term loyalty. Creating a customer support model helps ensure buyers stick with your products and services rather than drifting toward a competitor.
---
3 benefits of creating an engagement model
Strategizing over an engagement model may feel like just another item on your long to-do list. But taking the time to coordinate meaningful interactions with customers returns dividends. Here are just three benefits to using a customer engagement model.
Introduction
Customers who don't know about you won't buy from you. One of the most important benefits of planning out an engagement model is that it will help you connect with buyers who may be unaware you exist, or who may have heard of you, but never made a purchase.
Improved efficiency
Marketing efforts are measured by return on investment. Uncoordinated efforts can mean pouring money into a strategy that doesn't work. Planning an engagement model means looking at the big picture and every step of the customer journey to achieve shorter sales cycles and build brand loyalty.
Brand recognition
Standing out from the crowd is increasingly important as competitors continue to pop up in all industries. Price is only one driver in helping customers make decisions; many times they are also looking for how a brand or company is different from its competitors.
Customer engagement contributes to higher customer service standards. Positive interactions leave long-lasting impressions that drive repeat sales.
---
5 types of engagement models for customer success
The type of business you're engaged in ultimately determines the best customer engagement model for your company. These are five options to consider when looking for opportunities to engage customers.
1. Make it feel real
People prefer products and companies that make them feel like they understand their individual, unique needs. Lifestyle brands — fashion, beauty, pets, and more — find it easy to establish common ground between a company and its customer. Part of that is accomplished in marketing images and messaging with authentic subjects and content that feel like talking to a friend with shared interests.
Service-based companies or B2Bs have a bit more work to do in order to make that human connection with customers. Find someone on staff who shares that same passion and let them become the "face" of that product line to help bring a human element to the transaction.
2. Show, don't tell
A sale checked out at the cash register or online is often seen as the last step in the customer interaction cycle. Instead, it's a prime opportunity to keep customers connected to your brand. Videos, especially tutorials, that offer step-by-step demonstrations on how to use the product in daily life is a powerful way to communicate with customers after a purchase.
3. Interact
Love it or hate it, social media plays a critical role in interacting with customers before, during, and after the sales process. Followers can quickly share their feedback, ask questions, and even express complaints, which gives your customer service team an opportunity to respond and demonstrate your commitment to the customer.
Electronic newsletters, direct mailings, and marketing text messages are also options for interacting with shoppers throughout the process. Customer service software simplifies the process by automating messages and creating personalized messages based on customer data.
Customer service technology like chatbots and help desks are also options for engaging customers at multiple points of their shopping experience. Help desk best practices ensure that you've got the right staff and procedures in place to be effective.
4. Memberships
Ulta Beauty is a leader in using memberships to drive customer engagement. In 2018, more than 95% of its sales ran through its Ultamate Rewards Loyalty Program, which includes more than 30 million members. Combining personalization with online and offline channels for shoppers to interact with the brand has resulted in tremendous profitability.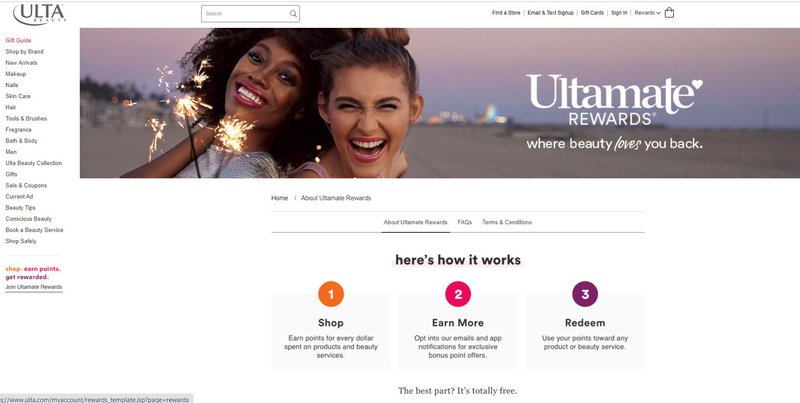 With 98.5 million members (according to its 2019 Annual Report), Costco is another powerful example. When executed strategically, memberships that offer exclusive benefits, or discounts, are a powerful customer engagement tool.
5. Hybrid approach
Chances are you'll choose more than one engagement strategy to connect with customers and develop long-term relationships. Choose an option that you can execute well with the staff on hand, or be prepared to invest in software, training, or hiring new employees to make sure the efforts are rewarded with sales.
Make sure that staff at each step of the customer engagement process have the right customer service training. Unprepared staff can frustrate and disappoint customers, undoing the efforts of any engagement model.
Part of what you'll need to decide is if you will use a high-touch, low-touch, or a combination of the two. A high-touch approach is often better suited to higher cost items as it often includes prolonged, interactive experiences that are part of the value of the product, or service purchased. Conversely, a low-touch model typically has limited one-on-one interactions and is often conducted with automated resources.
---
Analyze it
If you're struggling with customer acquisition or retention, it's time to take a closer look at your engagement model. If you don't have a plan for interacting with customers, or think your current model isn't effective, testing a new approach can allow you an opportunity to try new ideas. It is also a good way to learn more about your customer's journey.
Don't make it complicated. The simpler the test run, the clearer the results will be as to what your next steps should be. Include staff from your marketing team, help desk, and customer service staff to hear what they see from their perspective.
Once you've conducted your test run, step back and analyze how your engagement model is working. You should have all the necessary insights to determine if it's better to continue with what you have or develop a new approach. The longer you wait, the more customers you risk losing, so don't put off this critical piece of your business.