Your nonprofit has tried out a silent auction. It has done traditional direct mailers. It has even organized a fun run or two. Now you're looking for a new way to spice things up and quickly raise a few thousand dollars to support your team. It's time you met the envelope fundraiser.
---
Overview: What is an envelope fundraiser?
Fundraising for nonprofits requires creativity. You want to find engaging ways to ask your supporters for donations, and an envelope challenge is a great way to do so. It's also particularly appealing to the arts and crafts fans in your circle (guilty as charged).
In short, an envelope fundraiser involves a series of envelopes that represent different donation amounts. Supporters select an envelope of their desired gift size, put their money in it, and return it to your nonprofit. It's sort of like a fundraiser meets adorable game you'd play at your 8-year-old niece's birthday party.
---
How does envelope fundraising work?
The standard envelope fundraiser uses 100 fundraising envelopes. Each envelope in the series represents a donation amount. So, your first envelope is available for a $1 donation, your 33rd envelope is available for a $33 donation, your 99th envelope is available for a $99 donation, and so on. In total, if you get a supporter for each of your 100 envelopes, you will raise $5,050. Not too shabby.
Envelope fundraisers can be altered slightly depending on your organization's needs and the characteristics of your audience. For example, if you know your participants have greater giving capacity, you can consider starting your envelopes at $100 and going up to $200 from there. If you need to raise more than $5,050 but want to keep accessible donation levels as an option, you can consider adding an extra 100 envelopes to the campaign, for a total of 200.
Envelope fundraising can also be done by not for profit organizations or individuals looking to crowdfund for a cause or project.
Here are some examples of when you might want to use an envelope fundraiser:
Your nonprofit is hosting its annual gala. Your event space has a blank wall near where you plan to have a photo booth. You can decorate that wall with an envelope fundraiser. This gives attendees another encouragement to donate to your cause while at the gala. Since it's located in a high traffic area, your supporters are also more likely to see it and engage with it.
You're the organizer of a local volleyball club. You want to create T-shirts for the different teams to wear during your upcoming playoffs. You partner with your local gym to let you put up an envelope fundraiser in their lobby to support the effort.
You've been running a volunteer women's wilderness group for the past year and you want to start a nonprofit to further the effort. You create a digital envelope fundraiser to crowdfund the money you need to file your incorporation paperwork.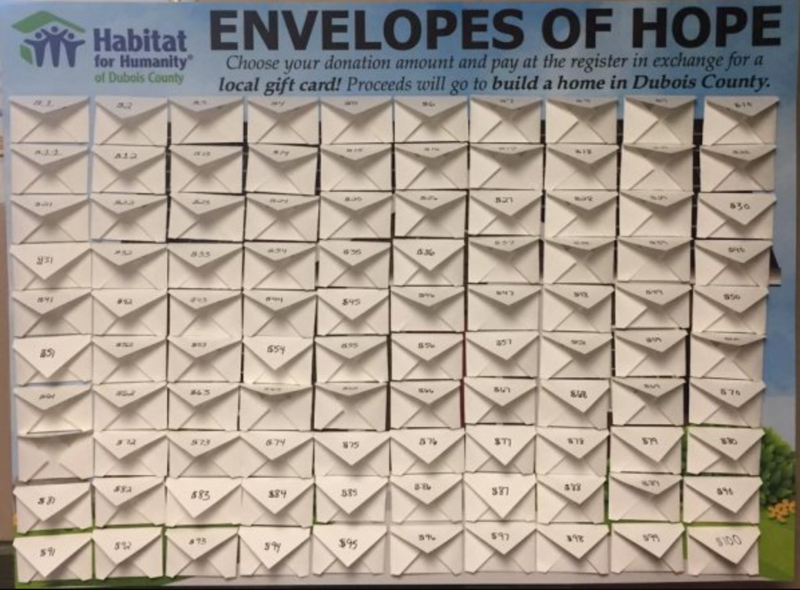 ---
5 benefits of doing an envelope fundraiser
Nonprofits have a variety of fundraising methods they can choose from. Fun, one-time efforts like an envelope fundraiser come with important benefits to consider.
1. Requires minimal planning and overhead costs
A nonprofit business plan is always concerned with how to decrease overhead costs to be able to channel more funding toward mission-related activities. An envelope fundraiser is a good option for fund development because it requires relatively little labor and material costs to implement. You basically just need a wall, some envelopes, a marker, and someone to deposit your money afterward.
2. Provides unrestricted funds for administrative costs and small projects
Using campaign donation envelopes is an excellent way to gather unrestricted funds. Oftentimes when nonprofits rely on grants or donations from major donors, those dollars come with specific rules on what they can be spent on.
When reviewing your fund accounting, you may notice how challenging it can be to raise money for the administrative costs you need to keep your basic processes operating. Envelope fundraisers collect general donations, so you're free to put that money toward whatever your nonprofit most needs.
3. Leverages the goal proximity effect
Research shows that people are more likely to donate when they know you are close to meeting your goal. One study compared giving rates for when a fundraiser was 0-33% of the way toward its fundraising goal to when it was 33-66% or 66-100% of the way there. It found that rates increased substantially the closer the percentage was to the goal.
Envelope fundraisers offer a visual for your supporters to see just how close you are to filling all of them. Thanks to the goal proximity effect, you'll be more likely to fill those final few envelopes on the wall when people see that they can be the deciding factor for whether you complete your challenge.
4. Offers accessible donation amounts
With donation amounts traditionally starting at just $1, envelope fundraisers are accessible to all levels of supporters. Even those who give a smaller amount can feel like they're contributing toward a much larger outcome. For larger envelope amounts, friends can also pool their resources to provide the full amount.
5. Creates an adorably fun, hands-on activity
Fundraising for money can get a little dry, and asking for money can make people feel uncomfortable. The bottom line is that envelope fundraisers are pretty cute. By creating a hands-on activity, your fundraiser becomes more of a lighthearted game than a high-stakes donor campaign. It's a great way to loosen up the funding conversation with your supporters and introduce prospective donors to your cause.
---
How to create an envelope fundraiser for your nonprofit
Now that you know the benefits of an envelope fundraiser, you're likely jonesing to get yours organized. The steps to do so are simple.
1. Gather your envelopes
Decide how many envelopes you want to have in total. As mentioned previously, 100 is the standard, but if you're having a really big event, maybe you want to create a massive wall of 300 envelopes. How many you choose and at what donation levels will depend on your organization's goals and what you know about your participants.
If you're not able to use a community gathering space or leverage an in-person event for your envelope fundraiser, never fear. There are a variety of companies that offer digital versions of envelope fundraisers, such as MyCreativeShop. You can share links to these fundraisers on your nonprofit's social media or through an e-newsletter and potentially reach an even larger audience of supporters.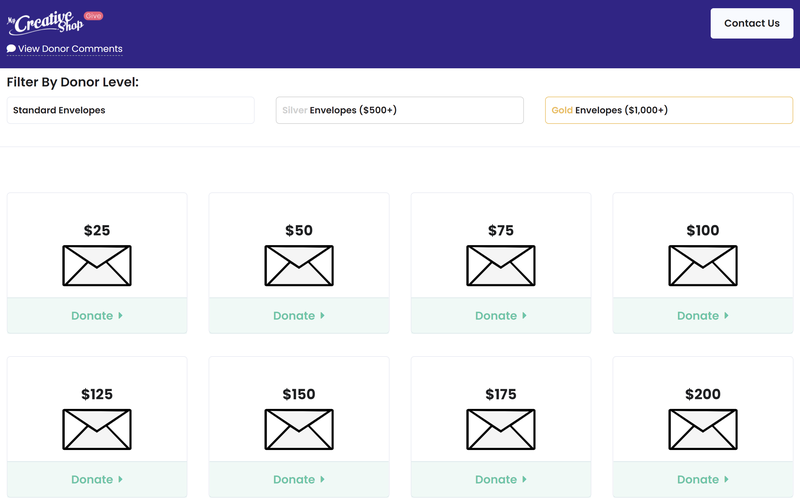 2. Label envelopes with donation amounts
Each envelope should clearly state its donation amount. One option for this is to take a permanent marker and simply scrawl "$1" on the front of the envelope. But, remember earlier how we mentioned this was a great fundraising option for the arts and crafts folks in your crowd? Well, time to get crafty!
Especially if you plan to display the envelopes at one of your nonprofit's events, decorating them or simply choosing fun colors for the envelopes can help draw attention to the campaign. Doing so also adds to the campaign's fun factor, as supporters can partake in some playful sparring over who gets the envelope covered in rainbow glitter.
Decorating your envelopes can also be an opportunity to display your brand in a meaningful way. For example, if you're raising money to support an after-school program for at-risk youth, consider having each envelope decorated by a different kid in your program. This adds an emotional hook that humanizes your fundraiser.
3. Place envelopes on a community wall
Unless you're doing a digital envelope fundraiser, you'll want to consider a good community wall on which to tape your envelopes. Depending on your situation, this could include the:
Lobby of your nonprofit's office space
Entryway of a local store you partner with
Social area at your annual gala event
Make sure the wall you select gets high traffic and the envelopes are placed at heights that are easy to reach.
4. Explain the activity to supporters
Include a simple explanation of the activity to supporters, both in promotional materials and on a printout next to your envelope wall. Ensure donors know who to give their envelope to and the timeline for doing so.
5. Collect donations and rejoice
As supporters deliver their envelopes to you with their donations, remember to thank them and let them know how their money will help you meet your mission. Consider having a marketing brochure or branded swag to hand out when you collect the envelopes.
---
Organize an envelope fundraiser for a fun and quick way to collect donations
A money envelope fundraiser doesn't take much time or resources to pull off. Given its ease, it's a fun approach to quickly collect donations to support your cause. If you're looking to spice up your fundraising approach, consider organizing one for your next event.