It's not enough to just deliver a product or service and be done with it. In today's marketplace, the consumer expects to have an excellent customer experience.
The whole process dictates if they will be a repeat customer, recommend you, or be a detractor. Great customer service is not limited to "above and beyond" interactions anymore.
Check out our top five examples of good customer service:
Personalized email and chat
Streamlined self-help options
A speedy response time
Loyalty rewards
Omnichannel support
---
Characteristics of the best customer service teams
Excellent customer service teams have a few things in common, such as proper customer service training and good policies set in place. Let's explore what other essential qualities can help your staff keep customers happy in your small business.
1. Customer-motivated actions
Some of the best customer service skills are not so much skills as they are a mindset. When it comes to hiring customer representatives or implementing a new customer service process, you should always come back to one main question: Is this action customer-motivated?
The best teams look at situations through a lens of what is more efficient for a customer and what will make their interactions with a company more pleasant.
2. Easy-to-implement strategies
While there are many areas of customer service, any new processes or ideas you implement should be quickly adopted. There's nothing more likely to discourage a new directive than it being too complicated to implement into a daily routine. Little changes make it easier to achieve anything.
3. Create cohesion
Whether you implement customer service software or employ a team of representatives, your customer experience plan should always mesh with your brand and existing programs.
The skills for customer service are easily applied to various circumstances. That said, a good customer service team should see how a new customer experience fits into the existing plan.
---
Five examples of good customer service to inspire your business
Though actual systems and plans may vary from business to business, excellent customer service examples tend to include at least one of these practices outlined below.
1. Personalized email and chat
Whenever a customer reaches out, be it to sign up for a trial or ask a question or even to bring up a problem, this is the time to personalize the conversation and make the customer feel valued.
It can be accomplished by using their name in an email, in a chat, or on the phone, and making the conversation genuinely about them.
Something as simple as using their name instills the confidence that you are prepared with their account information, and the time has been taken by the rep to familiarize themselves with the account.
Personalization also encourages people to respond and even open an email or a chat in the first place. But it goes beyond that single open. Be sure to train your team to use a name-based greeting at every touchpoint, including phone calls, emails, etc.
For example, Apple thinks so highly of this tactic that the A in the Apple acronym for customer service even stands for "approach customers with a personalized, warm welcome."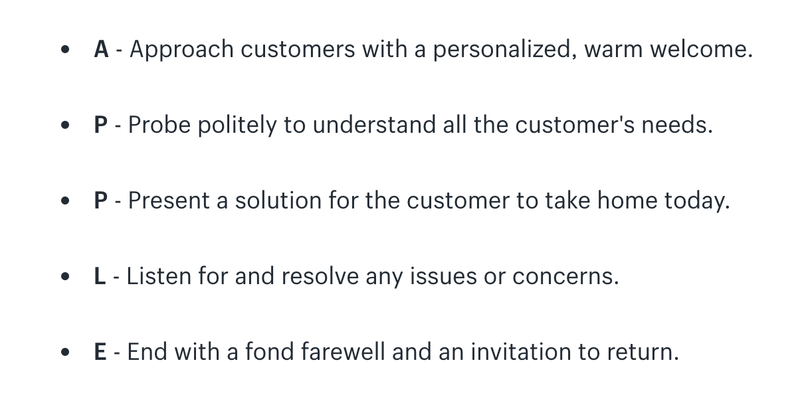 This personalization also goes both ways, and you should encourage a familiar experience by also having reps using their own names. Customer service associates could sign off chats and emails with their own names, or email from personalized email addresses to encourage a personal experience.
2. Streamlined self-help options
While this example may seem like the opposite of the above in supplying customer service, some consumers prefer being able to figure out stuff on their own without having to go through customer support.
By proactively offering a transparent, efficient self-help option, you create an experience in which a customer doesn't feel that things have gotten so complicated they need to contact you.
That self-sufficiency allows smaller problems to be solved without tying up your representatives while also giving your consumers a sense of freedom and control. You can accomplish this by structuring an in-depth FAQ page and creating a variety of resources to read, watch, or download.
You should also do customer research to determine the most common pain points and questions, and build your knowledge base around that data.
A support chatbot can also be an excellent way to offer self-help support options that are tailored to keywords customers enter. It eliminates the need for one-on-one access and streamlines the customer's ability to solve their own problem.
3. A speedy response time
As Ricky Bobby once said in the film Talladega Nights: The Ballad of Ricky Bobby: "If you ain't first, you're last." That ideology applies exceptionally well to the customer service world. Customers are expecting a fast response from companies; they want to be heard and acknowledged.
If a customer doesn't feel you value their time, they will be less receptive to communication when it does come.
Efficiency and a streamlined workflow should be top priority. Most companies have customer care teams where every representative juggles multiple chats at once but has an expected response time to acknowledge each one.
A process of escalation is also essential to support different functions. Software such as a helpdesk can automate several steps in the acknowledgment process. It frees associates to talk through real problems while customers still feel attended to.
4. Loyalty rewards
A step beyond personalization is the human search for a rewards system. Customers are always looking to develop brand loyalty, but they need to feel that their dedication is appreciated and rewarded. A little incentive to keep them coming back makes them feel part of the brand family.
Rewards and loyalty programs go a long way toward creating the experience customers are looking for. Personalize programs to match shopping habits and consumer spending tastes, and consider offering personalized cards and accounts.
Offering options of redeemable rewards (free products, discounts, customized products, etc.) can go a long way to making customers feel like they have a say in their experience.
5. Omnichannel support
Just like customers look for speedy responses, they also want that contact to be easy. Your customers shouldn't have to search forever to figure out how to get in touch with your company.
To make it as easy as possible, you should offer multiple contact channels: email, phone, chat, social media, etc. The more options you have, the less of a headache it is for customers to get a hold of you, and the less frustrated they'll feel before starting the conversation.
Research to see where your customers are most active or where they prefer to interact, be it on the phone, via Facebook, or in person at stores. Make sure you can be contacted in those ways. Have a presence and an experience strategy in place on those channels.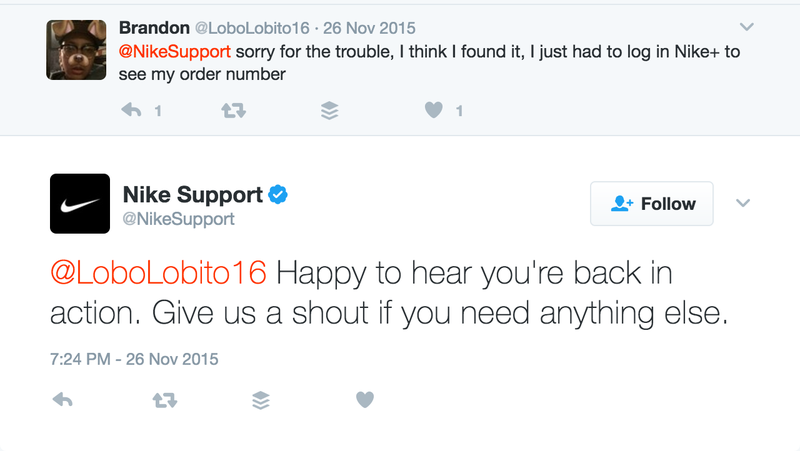 How easy is it for your customers to contact you? One of software as a service (SaaS) customers' most common complaints is that getting in touch with support — particularly a real, live person — can take days, after which they've already searched and found an answer to their question or canceled the service.
---
Good customer service puts you worlds ahead
Customers are looking for personalization and for a tailored experience rather than a basic store.
Providing a customized experience and presenting a human touch as a brand also instills a feeling of connection with your customers, making them more likely to be receptive to working out problems as they arise.
Customers don't like the idea of being just another number, so providing excellent customer service is key to creating a loyal base.