Free money to help you start or grow your business? What could be better! Each year thousands of small business owners across the country secure funding through government federal grant programs.
Even though federal grants don't require you to pay back any funds you get, the process of finding, prepping, and applying for these grants is time-consuming.
To succeed during the process, it helps to have a plan in place. That way, you can move through the process much more efficiently and turn your grant-finding operation into a well-oiled machine.
Here's what you need to know as you start applying for grants from the federal government.
---
Overview: What is a federal grant?
With a grant, the federal government provides funds for your small business. These grants support a range of programs for business owners who have ideas and projects that provide a benefit for the public and help improve the economy.
You might be surprised to learn that grants are open to businesses of every size and type. There are grants for high-tech, science-focused research as well as assistance for individuals working on artistic projects. There are also grants out there that focus on providing funds to underrepresented groups, such as businesses owned by veterans, women, and people of color.
On the federal level, there are over two dozen agencies that give out grants. Farmers can find grants for rural small businesses awarded by the U.S. Department of Agriculture, and high-tech companies can apply for funding from the Department of Defense.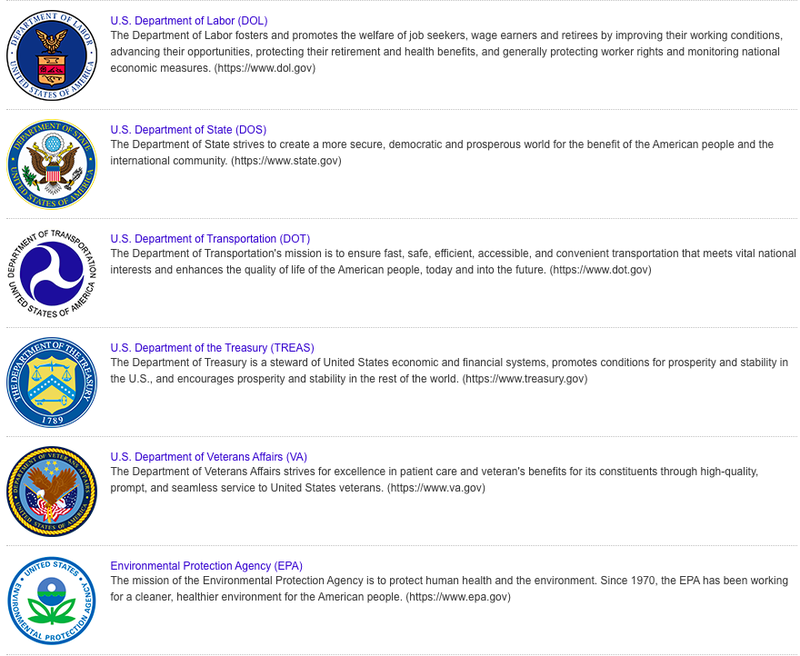 The grant process has a three-stage lifecycle, with the timelines and duration of each stage depending on the grant. However, any federal government grant will follow this lifecycle:
Pre-Award stage: Here, the grant-funding organization announces the opportunity, and you can research opportunities and submit your application.
Award stage: If you're selected, this stage is where you'll get a notice of award and the funds will be distributed.
Post-Award stage: During this stage, you'll submit any required reports to the granting organization to prove you used the funds appropriately.
If you want to explore other avenues for funding, there are plenty of government loan opportunities — including options for small business loans.
The Small Business Administration (SBA) is one of the most popular places business owners turn to for loans. SBA loan programs range from express loans for quick cash flow to more substantial SBA 7(a) loans for real estate acquisitions.
---
3 types of federal grants
There are hundreds of grant programs within the government established through the grant-making organizations. These programs are broken down into over two-dozen categories ranging from agriculture to housing and community development.
However, as you can probably imagine, the process of getting grants approved by the government is a long and involved one. Due to that, there are only a handful of grant types authorized by the government.
1. Conditional (or categorical) grants
The vast majority of grants offered by the government fall under this classification. These grants are conditional because they have specifically defined purposes. A grant that must be used by the Department of Transportation for highway improvement after a natural disaster would be one example.
2. Block grants
These grants typically cover large chunks — or blocks — of funding sent from the federal government to local and state governments. Usually, block grants have a much broader general purpose and are intended to help the local community.
3. Earmark grants
These grants are appropriated into the budget each year by Congress and designated for particular purposes.
---
How to get a federal grant for your business
Getting a grant for your business takes organization and patience. You'll often be competing against similar companies, so you want to do what you can to improve your chances.
Here are the basics of the application process:
1. Do your pre-application homework
Before you apply for any federal grant, make sure you are grant-ready. That means having a project in mind, knowing how much funding you need, creating a list of grants that fit your needs, and ensuring you qualify.
While it may be tempting to apply for anything and everything out there, the reality is you want to look for a narrow list of grants that fall into your wheelhouse. For example, if you're a sole business owner, it might make sense to focus on government grants for individuals versus those that will attract much bigger companies.
Applying for grants is a time-consuming process that can often take weeks, if not months. Any preparation you do to get yourself ready is going to help you stay ahead of the curve.
2. Go to grants.gov
Once you're ready to start digging into the grants available, your best first stop is grants.gov. It is a searchable database that lists all of the opportunities from the 26 federal grant-making agencies.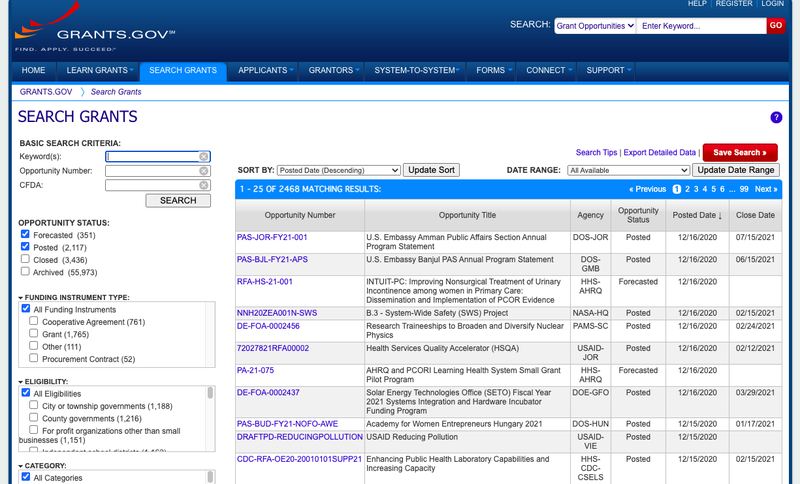 At any given time, it will have hundreds or thousands of opportunities listed. You can search and sort by eligibility, category, and agency.
3. Create your application and read everything twice
As you create your application, it's critical to follow directions. Grants from the government usually come with many hoops to jump through and a long list of qualifications and rules. Miss any of those in your application and you will not get the benefit of the doubt; you'll have to re-submit or start over.
This part of the process is also where you want to create a grant proposal that shines. It will be the meat of your application where you will want to highlight your business goals, how you plan to use the funds, and how you will track everything.
Once you finish your application, submit it before the deadline.
---
5 best practices when applying for a federal grant
Grants typically involve a lot of paperwork and are time-consuming, so getting focused and having a plan can come in handy. Otherwise, it's easy to get overwhelmed and not apply to anything at all.
Here are some tips to help you start.
1. Get organized
The more organized and detail-oriented you can be at the start of the process, the better. It will help you ensure you have all the documents you need and you meet your deadlines.
2. Ask around
Never discount your network as a potential resource for information on grants and funding. You might find someone in a professional organization you belong to has had success with federal grants. Reach out to pick their brain for advice.
3. Look for specialty grants
These grants are often small in number, but you might find grants that you qualify for over others if you have a unique skillset or are from a historically underrepresented group. Keep an eye out for them.
4. Remember the grantor's priorities
One of the best ways to stand out with your application is to align the granting organization's priorities with your goals for using the funds.
5. Take advantages of government resources
The SBA has a ton of free resources for small business owners, including programs, classes, and mentors to help you find and apply for grants.
---
Now you're ready — go forth and find your federal grants
Hopefully, you feel a bit more familiar with the process of applying for federal grants. While it can feel like a frustrating process at the time, being awarded a grant and helping your community is often worth it in the end.
There are millions of dollars available in funds for small businesses just like yours; all you have to do is go out and get it.