Freelancing has its pros and cons, but it's seeing increased demand around the world. The coronavirus pandemic has accelerated its growth by turning millions of people into virtual workers doing remote jobs for the first time.
A recent Upwork study found that:
Thirty-three percent of the U.S. workforce "freelanced even amid the COVID-19 pandemic," contributing $1.2 trillion to the economy in terms of annual earnings.
Younger, highly skilled professionals are turning to freelancing, with 36% of the Gen Z workforce (ages 18 to 22) starting "since the onset of COVID-19."
Three out of four freelancers say their freelance gigs allow them to earn the same or more than in a previous traditional job.
Fifty-eight percent of non-freelancers (those working remotely because of the pandemic) will consider freelancing in the future.
Bottom line, more skilled professionals are embracing freelancing, and the numbers are expected to rise post-COVID-19 as more companies look to hiring freelancers to meet job demands.
If you're new to freelancing, one of the first questions you're likely to ask is where to find freelance work. In this guide, we'll talk about the different ways to land freelance jobs. If you've been around and are looking for tips to stay afloat during COVID-19, this guide has something for you, too.
7 best ways to find freelance jobs:
Search freelance websites
Join social media groups
Check career sections
Send cold emails
Ask your friends, clients, and connections
Create your own website
Write guest posts
---
1. Search freelance websites
There are countless freelance sites and remote job boards you can use to land either a short-term gig or a long-term remote position. Examples include:
Niche job boards you can peruse also abound, such as:
---
2. Join social media groups
Social media websites aren't just for connecting with friends or meeting like-minded people. You can also join groups where members share freelance job opportunities.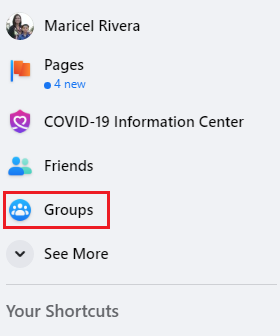 Facebook
To find relevant Facebook groups, do the following:
Click on the "Groups" icon on the left-hand panel of the Facebook home screen.
In the search bar, enter the type of job groups you're looking for. For example, you might choose "marketing jobs."
Click on a group and ask to join.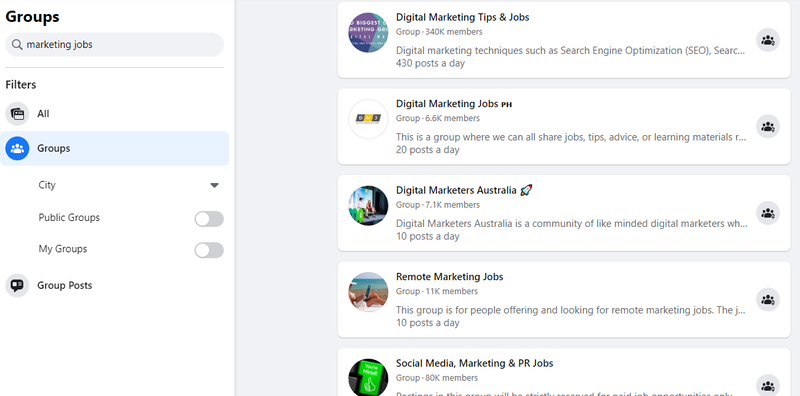 Some Facebook groups to consider joining include:
Remember, only join groups that are active and that make sense to you. But sometimes you won't know for sure if they're related to your career interests until you've actually joined. If the information the group shares doesn't suit your needs, leave the group so you don't get spammed or inundated with irrelevant notifications.
LinkedIn
There are multiple ways to search for groups on LinkedIn.
By group name or keyword:
On the LinkedIn search bar on the top left-hand side of the home page, type a keyword (for example, "project management," or "IT jobs") or the name of a group and then click on the "Groups" filter.
LinkedIn's recommendations:
On the top right-hand side of your screen, click on the "Work" icon to the right of your profile picture and then click on "Groups."
Scroll down and click on the "Search" link at the bottom of the page. The results page will show you a list of LinkedIn groups that may interest you based on the attributes you share with the other members of the groups, such as schools, industries, and companies.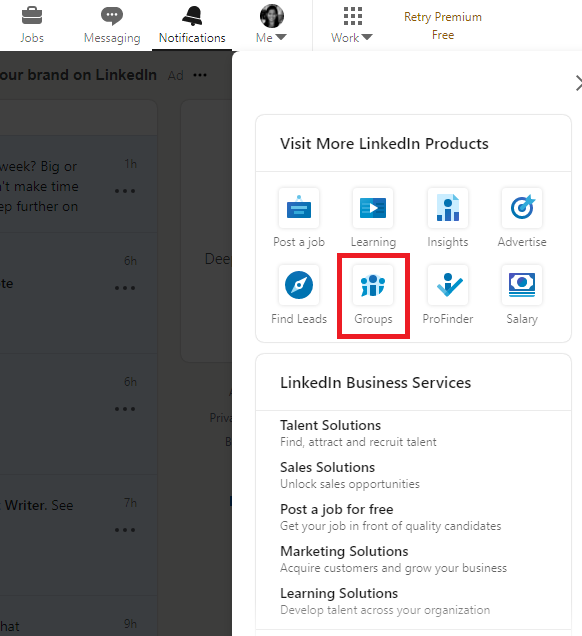 ---
3. Check career sections
Visiting the careers page of a website in your industry or one you're interested in exploring is another way to find freelance jobs. For example, The Motley Fool's "Join The Motley Fool Team" page lists all currently open positions across the company, including contract and freelance jobs.
The location will vary, but typically links to such pages are in the website's footer with the words "Careers," "We're Hiring," "Join Us," or "Work With Us," as in the example below. You may also find them in the site's main navigation bar or listed as a clickable link in a drop-down menu often named "About Us," "Resources," or, in some cases, "Culture."

---
4. Send cold emails
Sending an email to someone you don't necessarily know that talks about yourself and then asks them for a favor is probably the last thing you would do when job hunting. After all, rejection — or, more likely, not hearing back — can bruise the ego.
But cold-emailing prospective employers, when done right, can lead to meaningful connections and possible job opportunities. As for rejection, it's all part of the game and will get easier with time. Plus, it isn't all that bad, especially if you learn a thing or two from the experience.
Follow these tips when sending a cold email for a job:
Identify the right contact person: Do this by checking the company's website and social pages. Businesses usually publish the email addresses or social media profiles of senior executives on their websites.
Use an appropriate subject line: According to

OptinMonster

, 69% of recipients send an email to the spam folder because of the subject line, while 47% open emails "based on the subject line alone." Therefore, keep your subject lines professional, short, and specific, and be sure they indicate the reason you're writing. Some examples: "Jane, Paula Stewart recommended I reach out to you!," if you have a common connection, or, "Content Manager With 10+ Years of Digital Marketing Experience Looking to Help Your Team," to give them a glimpse of the value you can offer.
State the purpose of your email: Introduce yourself and your qualifications, how you obtained their information, and why you're interested in their organization.
Personalize your message: Find anything relevant to mention in your email, such as a mutual connection or a shared interest. This will require some research on the person you're contacting.
Emphasize your strengths: But make sure those strengths are relevant to the position you're after, such as related work or specific projects you've done in the same area or field. Provide just enough detail to get them to want to know more.
Follow up if needed: Send a follow-up email if you don't hear back after a week. It's likely that the executive you cold-emailed is extremely busy and has to attend to more pressing duties.
---
5. Ask your friends, clients, and connections
Get the word out to friends, former clients, and your social networks that you're available for job opportunities. Some established freelancers may have to decline work they can no longer handle, and if you have the qualifications, they just might recommend you to their own clients. If you do good work, your former clients may even refer you to their friends and social circles.
---
6. Create your own website
Freelancing is a business, and you need a marketing plan to make people aware of the services you offer and for your dream clients to find you. One way to do that is by setting up a freelancer portfolio website.
There are several reasons why freelancers should have a website:
Look legit: As a consumer, you'd first check out a company before you conduct business with them. You don't want to become a victim of any fly-by-night scams. Clients looking to add freelancers to their teams do pretty much the same thing. A website adds credibility and signals to prospective clients that you mean business.
Stand out: With a website, you can position yourself as an expert in your chosen field or niche. Freelancing can be competitive, given the millions of independent workers now seeing it as a viable alternative to traditional work. As such, you have to stand out, and that's what a website can do for you.
Showcase your portfolio of work and the services you offer: Before they hire you, clients will want to make sure you're the right fit. Samples of past work showcase the projects you've completed and demonstrate your expertise and skills. Upload articles if you're a writer, a portfolio of design projects if you're a designer, videos if you're a video editor, or case studies if you're a marketing director.
Display client testimonials: If a potential client doesn't know you, one way to get them to notice — and subsequently hire you — is through social proof. Ask for testimonials from your best clients to display on your website.
Grow your freelance business: Having a website means not limiting yourself to job boards and freelance platforms to find jobs. You can even use your website to build an email list, particularly if you plan to expand to offering digital products in the future, such as courses or e-books.
---
7. Write guest posts
Another freelancer marketing technique worth mentioning is guest posting. This means becoming a guest author on someone else's blog or website.
Reasons to guest post include:
Reach a wider audience: If the website you're writing a guest post for already has an established following, you're able to showcase your skills and expertise to an audience you would otherwise not be able to reach on your own.
Increase traffic to your website: If people like what you write, chances are they'd be curious to know what else you've written. Guest posting is an opportunity to bring more qualified traffic to your website.
Get hired: More qualified traffic on your website means more chances of getting hired by your ideal client. Or, if you're building an email list, it means more chances of people subscribing to it.
Increase your social media following: Content that resonates with people usually gets more shares on social media. And, if you're smart about your Facebook and Twitter marketing strategy, that one piece of content can boost your social media following.
---
Find a freelance job that works for you
The freelance market is expected to continue its upward trajectory for many obvious reasons — you can augment your main source of income, choose the projects you work on and the people you work with, plan your own hours, work anywhere, and so on. If you're just starting out, these tips on finding freelance jobs should help you get your foot in the door.