There are many benefits to freelancing. For starters, you get to be your own boss. That means choosing what type of work to do, whom to work with, when, and where — in a quaint cafe, a camper parked by a picturesque lake, or snuggled up in bed. It's this level of freedom that draws so many people into this style of work.
Most importantly, freelancing allows you to broaden your skillset, allowing your work to grow and evolve to new levels. In comparison, it isn't always easy to branch out into different avenues or to ramp up your earnings with a regular, full-time job.
If you're completely new to freelancing, or are still in the daydreaming phase, that's OK. Everyone has to start somewhere. We've got some great tips on where to find relevant gigs, as well as how to successfully market yourself.
Ready to dive in? Let's do this.
---
More people are looking to freelance now than ever
Once COVID-19 hit, the world of freelancing exploded. Suddenly a huge portion of formerly in-person jobs moved to the virtual domain. With that came more freelancing opportunities.
In fact, a recent survey conducted by Upwork found that 61.9% of respondents said they were planning to incorporate and create more remote opportunities in their workforce — all as a direct response to COVID-19. Seriously, this is an excellent time to launch your freelancing career.
For freelancers who have been negatively impacted, there are ways to keep afloat during COVID-19, such as improving your tech situation and reaching out to past clients.
For example, having the most up-to-date version of Zoom is extremely helpful as the world turns to more virtual meetings and interviews. A past client might suddenly be looking to revamp their website to include pandemic-related changes — and you're just the writer to do it!
In a nutshell, devoting time to starting or ramping up a freelance career is a smart move, enabling you to have some portable income during a time of economic uncertainty.
---
Where can you find your first freelancing gig?
Whether you're looking for work as a writer, graphic designer, data analyst, or software developer, there's something for everyone out there. And the easiest place to find such jobs is on a dedicated freelancer platform.
One advantage to using these platforms is that clients can post public reviews of your work, which helps to build your reputation and reliability as a freelancer.
One downside is that most freelancer platforms take a commission from each project. This fee usually comes out of your final pay, which means you get slightly less than the agreed-upon rate. Many freelancers account for this by raising their project fees by an extra 10-20%.
Even though the commission fees hurt, it's still worth it. The freelancer platforms curate a list specifically tailored to your skills and talents, saving hours of search time on your end.
Here are the platforms and angles we're going to discuss:
Upwork
Fiverr
Freelancer
Social media
Free work
1. Upwork
Summary: Upwork is a popular online marketplace connecting freelancers with a wide range of businesses.
Whom it's for: There are hundreds of categories, such as software development, engineering, writing, translation, graphic design, video production, data entry, accounting, and more.
Expertise level: Anyone can join, including complete beginners. The jobs are listed in three tiers: entry level, intermediate, and expert.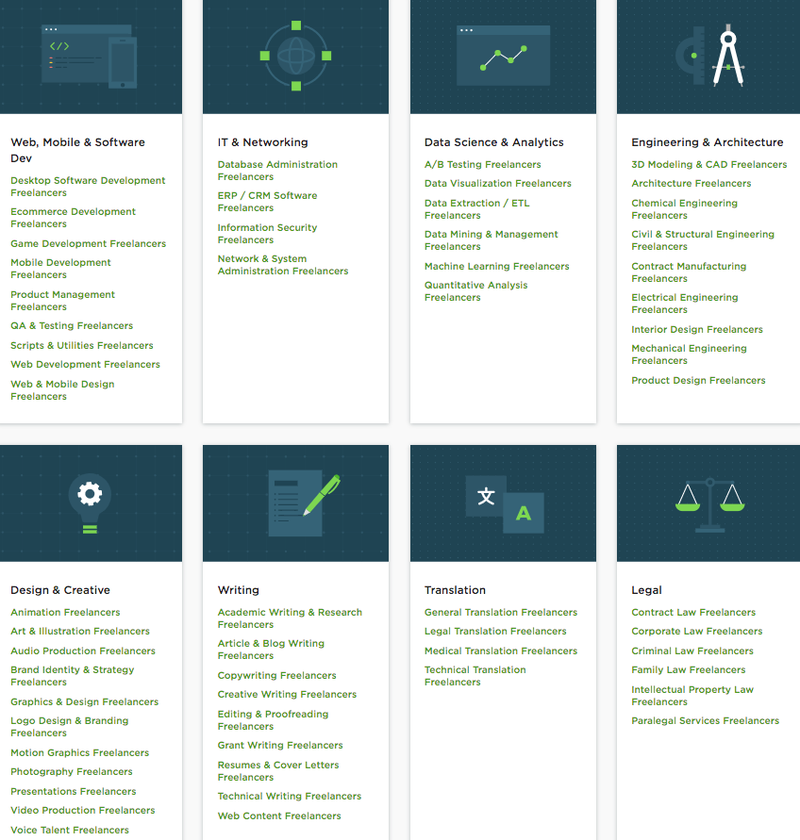 Upwork is an excellent place to launch your freelance career. It's easy to jump right in, with a majority of entry-level jobs not requiring a portfolio. In fact, I landed my very first freelance gig through Upwork. It was a basic article about rowing machines and paid a mere $15 — which was only $12 once Upwork took its 20% cut. But, as I've noted, we all have to start somewhere.
We highly suggest taking advantage of Upwork's free webinars and events, with informative sessions about growing and upscaling your freelance business. As the leading marketplace for freelancers, they know their stuff.
Here's a breakdown of Upwork's fees:
20% on earnings up to $500
10% on earnings between $500.01 and $10,000
5% on earnings that exceed $10,000
Keep in mind that the above structure refers to work with each specific client. For example, if you do a series of logos for Joe's Locksmith, Upwork will take 20% until Joe has paid you more than $500. At that time, Upwork's fee will drop to 10%. However, if you've just started work for a new client, that fee will start at 20%. Check out Upwork's fee structure if you need more details.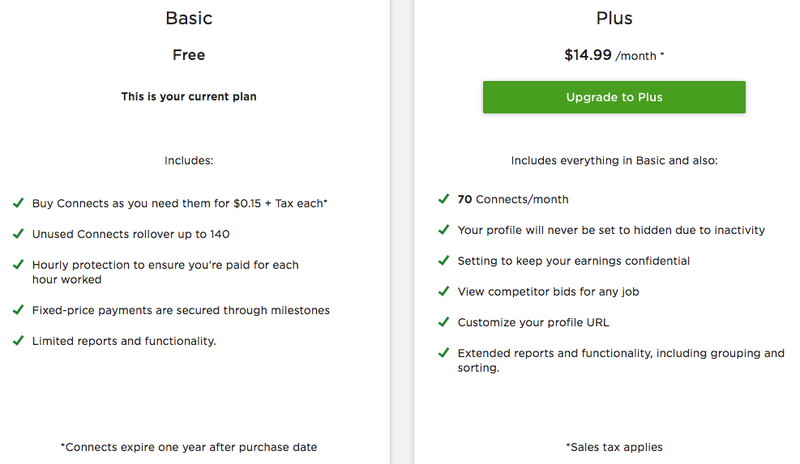 Freelancers have a choice of two plans when signing up for Upwork. The basic plan is technically free, but you have to buy Connects in order to apply or bid for jobs. A single Connect isn't expensive, just a mere $0.15 plus tax, but it does make you think twice before applying for jobs. The connects roll over up to 140, and they expire after one year.
Alternatively, you can sign up for Upwork's Plus plan at $14.99 per month. With this plan, you'll receive 70 Connects each month, plus you get access to extended reports, the ability to see competitors' bids for jobs, and more. See the chart above for the full details.
Bottom line: Upwork's fees and membership plans are downsides, but it's definitely the leading platform for finding freelance jobs in a variety of fields. With enough persistence and dedication, you can land some satisfying, long-term, high-paying jobs. Make sure to take advantage of their free webinars!
2. Fiverr
Summary: Fiverr is an online freelancer platform connecting those with a range of skills to meet practically every business need.
Whom it's for: Anyone can join. Their most popular services are web and mobile design, WordPress, and logo design.
Expertise level: Every level of job is offered, from entry-level to expert.

Fiverr originally started off by offering work at $5 per project — hence the name. Needless to say, it was a great way to step right into freelance work with minimal experience. That is, if you were willing to work for $5!
In 2014, Fiverr removed the $5 price tag. However, many jobs still go at the same shockingly low rate, but more of them are moving into more realistic pricing.
Similar to Upwork, Fiverr takes a 20% cut from every transaction. However, there's no sliding fee structure for ongoing work with the same client.
Here are five steps to sign up as a Fiverr seller:
Create a seller's profile
List a specific gig, such as doing voice-overs or photography
Include a video introduction
Offer a package (this is an excellent way to enhance your earnings)
List extras for your gig
The first two steps are required. The last three steps are optional, but they will help boost your profile and draw more attention. We suggest making your profile stand out as much as possible because Fiverr is definitely a competitive market.
Bottom line: Fiverr is a great platform to land quick and easy jobs, thus building your portfolio. However, it's not the best option for ongoing work since the 20% fee remains the same, even after long-term work with the same client.
3. Freelancer
Summary: Similar to Upwork, Freelancer is a popular site offering a variety of jobs.
Whom it's for: Anyone looking for freelance gigs, from delivery to website development.
Expertise level: Entry level to highly experienced.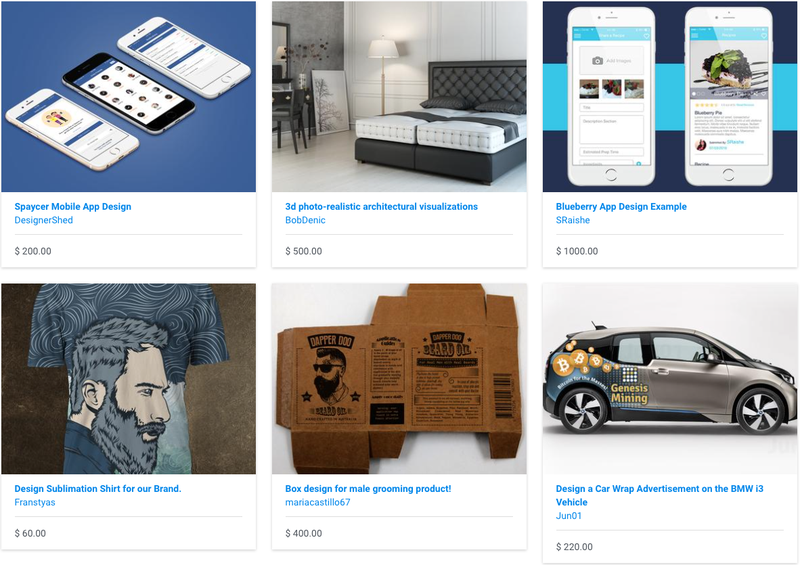 Freelancer is right up there with Upwork and Fiverr. It's connected millions of freelancers with savvy business owners and has seen more than 12 million jobs completed. If you want to boost your portfolio, this is an excellent place to start.
The jobs range from article writing to graphic design, software development to finance, and much more.
Freelancer currently has five plans available. Each offers a range of features, but the most relevant one is the number of bids you're able to make. Remember that it's bidding on jobs that puts you in the game. If you can afford it, upgrade to a level that allows more bids.
The five Freelancer plans:
Intro: Up to 15 bids per month. Free!
Basic: Up to 50 bids per month. $4.95 monthly fee.
Plus: Up to 100 bids per month. $9.95 monthly fee.
Professional: Up to 300 bids per month. $29.95 monthly fee.
Premier: Up to 700 bids per month. $69.95 monthly fee.
In addition to paying for plans, there's a 10% commission, or $5 per project, whichever is greater. There's no sliding fee.
Here's how to get started with Freelancer:
Create a polished profile
Browse relevant jobs
Write up your best bid
Wait for your bid to be awarded and start earning
Bottom line: Freelancer's free plan is more than adequate to get going, and the commission fee is ultimately less than Upwork's. It's an excellent option for jumpstarting your freelance career and has potential for long-term work.
4. Social media
Summary: More businesses are turning to social media to search for freelancers.
Whom it's for: Anyone with a social media account.
Expertise level: Entry level to highly experienced.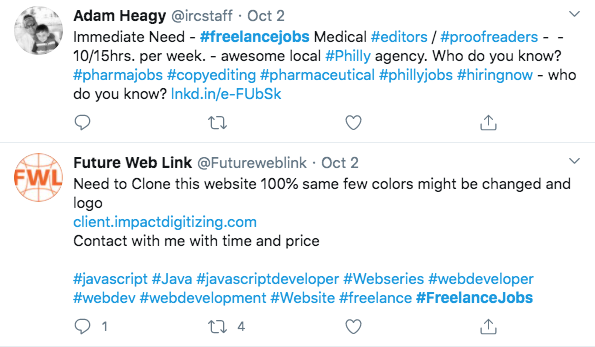 It's common knowledge that a solid presence on social media can help boost business — regardless of the size, field, or type of business. If you're a freelancer, it's even more important to stay up to date with the social media scene.
You can boost your online presence by including effective hashtags on your social media posts, such as #freelancewriter, #contentmarketing, #businessphotographer, or whatever field you're in. Automate the whole process by using social media software, such as Hootsuite. Also, use hashtags to find relevant job listings. For example, #freelancejobs on Twitter is a gold mine.
There are even specific Facebook groups dedicated to sharing freelance work. The Freelance Content Marketing Writer Facebook group is an excellent forum for freelance writers to gain ideas and techniques, post questions, and learn about new jobs and opportunities.
If you're a graphic designer, check out the Binders Full of Graphic Designers and Illustrators. This group is specifically created for designers, as well as those requiring their services. It's a free way to promote yourself, meet and connect with colleagues, and land gigs.
Bottom line: Spend time digging around on social media to find relevant hashtags, groups, and forums that are in alignment with your field of work. It's free and easy!
5. Free work
Summary: If you're struggling to land paid gigs, try expanding your portfolio by doing some pro bono work.
Whom it's for: Anyone with a skill to share.
Expertise level: Usually entry-level.
It may feel wrong to do work for free, but sometimes it's necessary. Maybe you're completely new to freelancing, or you're shifting your career in a new direction. Whatever the case, it's OK to do some free work for the sake of building up your portfolio.
Start by creating a website to showcase your work. Whether you're a writer, graphic artist, or budding software developer, this is an excellent way for potential clients to see your talent with a quick click. If you're feeling stuck, take advantage of the GoDaddy website builder. It's perfect for novices, plus they have excellent free support.
You can even boost your online income stream by signing up for affiliate selling, such as becoming an Amazon Associate. When it comes to blogging, write about the stuff that will (hopefully) lead toward paid jobs. For example, if you want to land a gig in the field of personal finance, start your own personal finance blog. A high-quality, well-researched blog can help you stand out from the crowd when applying for future jobs.
Finally, reach out to non-profits and local businesses, as well as friends and family. Ask people if they need any volunteer work done in exchange for leaving you a good review or sharing your freelancer website.
For example, a writer can offer to put together a few engaging email newsletters for a local business. Photographers can offer to do a few free family shoots in exchange for spreading their name all over social media. And graphic designers can whip up a few free logos for prominent businesses, adding those names and work samples to their portfolio.
Bottom line: You don't want to give away your services forever. However, doing a few free gigs for the sake of building your portfolio is a smart move. Make sure to create your own website to showcase your work.
---
Benefits of online freelancer marketplaces
Once you're more established in the freelance world, you can search for jobs by cold-calling businesses or scouring through LinkedIn. But for starting out, we recommend sticking to the freelancer platforms.
Here's an overview of the main benefits:
Competitive rates: When working with a freelancer website, you'll see what similar jobs are going for, as well as what other freelancers are bidding (depending on your membership plan). This allows you to stay aligned with the industry standard.
Inspiration: The platforms allow you to view other freelancers' profiles. You can see who's getting tons of gigs and study what they're doing on their profile.
Reviews: All the freelancer platforms have a review feature. This can help your profile stand out.
Payment protection: You don't want to get scammed. Sticking to a reputable platform keeps payments on track.
Even with the fees involved, you really can't go wrong using a freelancer platform. It's a great place to get started, making the jobs easy to find and accessible, and with plenty of support along the way.
Don't forget to connect on social media. I've seen plenty of freelancers land jobs via Twitter. Also, don't be afraid to do some free work, especially if it's for a prominent company. You want that portfolio to stand out!
Once your freelance business is up and running, you can sit back and relax a bit. It's good to know you've got a steady income stream, no matter where your adventures may take you.