I first reviewed GetResponse in August 2019. I was impressed with what I saw, especially its approach to adapting its software to fit the way marketers work.
Its marketing funnel approach, where you can select a purpose or goal and then follow the automated steps to create a campaign, was unique in the market.
However, GetResponse could be confusing and overwhelming at times. Having recently reviewed GetResponse again, I found that the company had worked on usability.
That said, there are still issues that could put some email marketers off and make them seek an alternative.
Here are the top alternatives to GetResponse as an email marketing software:
---
What to look for in a great GetResponse alternative
GetResponse email marketing solution is an all-arounder: It has a ton of features, great usability, and 24/7 support. But it's not perfect. There are reasons why it might not be the right option for your business. Here's what the GetResponse alternatives below will bring to the table.
1. Easy-to-use autoresponder builder
GetResponse has excellent functionality that allows you to build complex and highly effective automated email sequences. However, the GetResponse automation builder is a complicated tool and could prove overwhelming for novice marketers. It takes a while to understand and get comfortable using it.
There are alternatives to GetResponse that have simple autoresponder builders.
2. Free plan
If you're on a tight budget, or you use email marketing software on an infrequent basis, then you'll likely be looking for a free plan. GetResponse's pricing is very reasonable — the Basic plan starts at $15/month — for a ton of functionality, but it doesn't have a free plan. It offers only a 30-day free trial.
If you're just dipping your toe into the world of email marketing then look for software that has a free plan. We'll provide some free alternatives to GetResponse below.
3. Advanced reporting functionality
GetResponse has significantly improved its reporting capabilities since we first reviewed it, but its analytics are still lacking compared to other email marketing platforms. For example, there is no option to export your reports as Excel spreadsheets. It also lacks transactional analytics that can help you tie your email campaigns to revenue.
---
Our top 5 picks for GetResponse alternatives
If you're not sure whether GetResponse is right for you, here are five other email marketing options that offer what GetResponse lacks.
---
1. Mailchimp
In our GetResponse vs Mailchimp side-by-side comparison, it was the Chimp that came out on top. Mailchimp has a free plan, easy-to-use autoresponder builder, and transactional analytics, all of which are missing in GetResponse.
Mailchimp allows you to track the number of orders, average order revenue, and total revenue. This allows you to see which campaigns have made an impact, rather than tracking vanity metrics that haven't brought in revenue.
Mailchimp also tracks and provides reports for:
A map of "opens" according to location
Subscribers who open your email the most
The performance of your email in its first 24 hours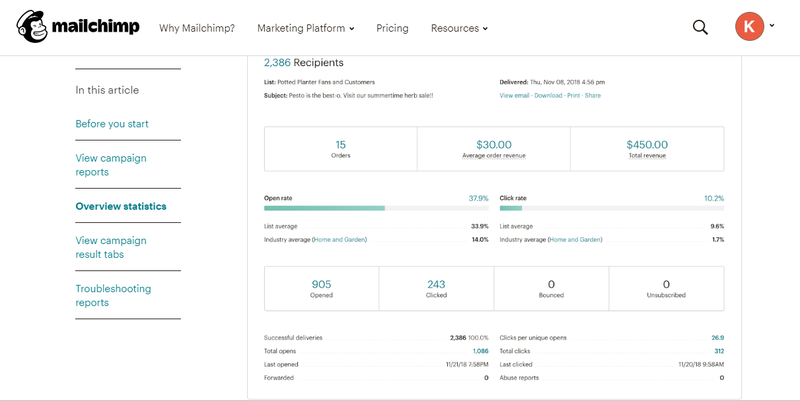 Mailchimp provides templates for autoresponders, which extend beyond customer acquisition to customer loyalty and transactional emails and notifications. This includes order notifications and purchase follow-up.
Read The Blueprint's full Mailchimp review
---
2. Zoho Campaigns
The Zoho Campaigns free plan — which allows you to send up to 12,000 emails per month to 2,000 contacts — has a ton of useful features. It includes:
Zoho Campaigns provides reports on a per-campaign or per-list basis. The campaign reports provide detailed analytics about performance and insights into recently sent campaigns, the five most successful campaigns you've sent, and monthly and yearly statistics. It's easy to compare campaigns side-by-side.
The metrics you can track include:
Opens (number and percentage)
Clicks (number and percentage)
Opens by location, device, and email client
Performance over a certain period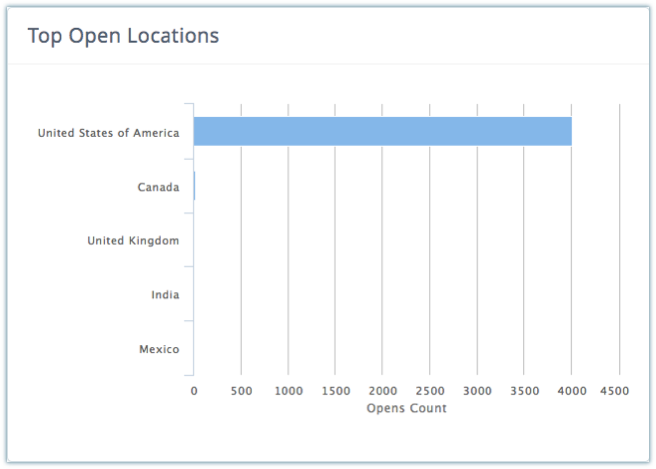 Read The Blueprint's Zoho Campaigns review
---
3. HubSpot Marketing Hub
HubSpot Marketing Hub helps take the heavy lifting out of creating automated sequences of emails. You can use one of its built-in autoresponder templates to get your sequence off the ground, or you can create a sequence yourself using its straightforward automation builder.
HubSpot Marketing Hub's automated series of emails can be activated by a variety of triggers, such as:
Customer list sign-up
Email and ad interaction
Website visits
Product page views
HubSpot Marketing Hub lets you set several different triggers before the email sequence begins, such as when a customer signs up to your email list or visits specific product pages. You can set the autoresponders to run for a specific period or to only run during certain campaigns.
You can also set goals for your autoresponders, such as a website visit or email open, and remove your customers from the series when they take this action.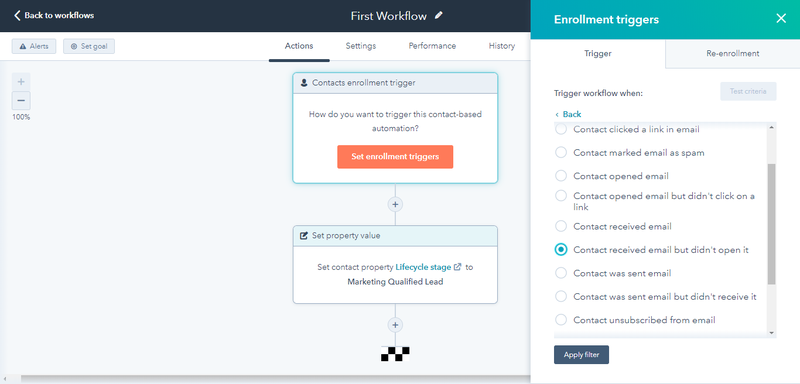 Read The Blueprint's full HubSpot Marketing Hub review
---
4. Sendinblue
Sendiblue's free plan allows you to manage an unlimited number of contacts, which is almost unheard-of in the email marketing industry. Most other platforms limit the number of contacts you can manage. It also lets you send up to 300 emails a day.
The free plan includes:
Advanced segmentation
Customizable sign-up forms
Automation builder
Real-time reporting
Sendinblue's automation builder allows you to select an entry point (i.e., the first action a user takes) and then select which actions should be automatically taken after this entry point based on customer behavior.
For example, if a customer subscribes to your email list (the entry point), you can specify that Sendinblue automatically sends them a confirmation email, and then, if the customer opens that email, two days later, it sends them an email with new product lines or bestsellers.
Sendinblue also lets you optimize these workflows by A/B testing different paths side by side to see which one gives you the best results.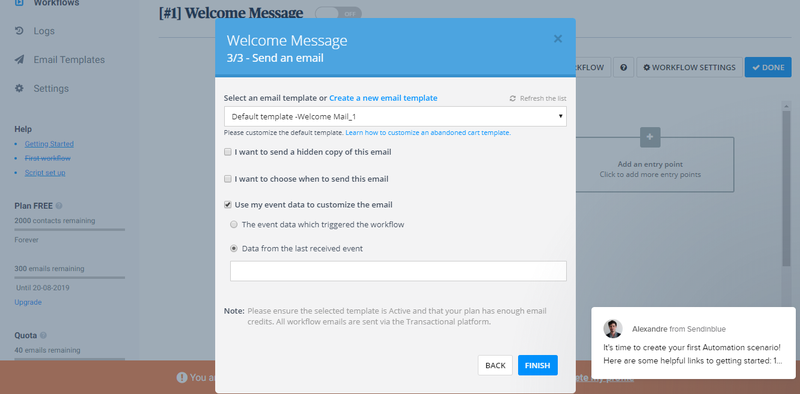 Read The Blueprint's full Sendinblue review
---
5. Mailigen
Mailigen goes the extra mile when it comes to creating automated sequences of emails. It provides templates to help you get started. Some of the templates include:
Welcome campaign
Winback campaign
Cart abandonment campaign
What's useful is that, unlike other email marketing software, Mailigen creates the emails within each template, and all you have to do is make edits and customize or personalize them according to your brand and style.
You can also access analytics for each email in the series, including the number of emails opened and clicked as well as overall reports for each automated series of emails.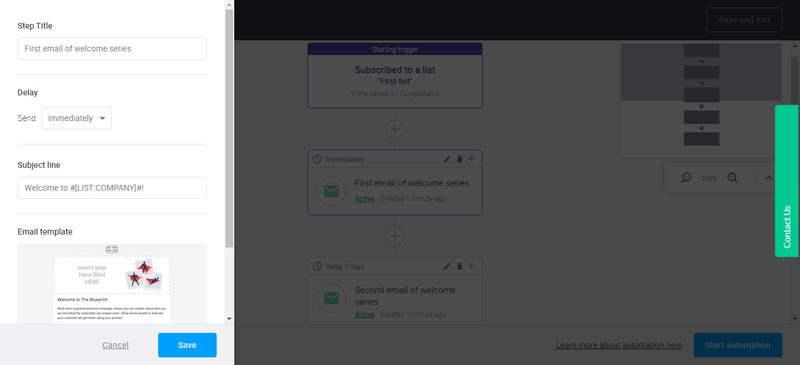 Read The Blueprint's full Mailigen review
---
Always consider alternatives
GetResponse is one of our top-rated email marketing platforms. In our review, we could find little to fault with the software. But that doesn't mean it's right for all businesses.
No matter how good an email marketing tool appears to be, there are always a few aspects where it falls short in comparison to its competitors. These aspects could be must-have features for your business. That's why it's important to consider the alternatives.