How did Google become so powerful? The superior search engine, of course, but that was not enough. What filled Google's pockets was its perfected advertising engine for search results.
When Google adopted the auction model for advertising and placed ads at the top of search results, it laid the groundwork for huge success. And when the quality score innovation was added, the blueprint for business advertising on the internet was complete.
Quality score is a mechanism by which ads with a better fit to keywords are favored and irrelevant ads are penalized. The resulting system is a win-win-win solution, as users see more relevant ads, advertisers receive better traffic for their budget, and Google earns more money with its ad inventory.
---
Overview: What is Google Ads?
When Google came out of beta, it launched two types of ads. The first was a premium display ad above the search results. This advertising solution was based on the CPM model, cost per mille, where you pay for visibility. The other type was AdWords, three distinct ads on the right column of search results. These were based on the CPC model, cost per click.
This ideal solution for online business was the original Pay Per Click (PPC). The name has stuck until today. PPC is synonymous with paid search for many. So we call a Google Ads campaign a PPC campaign.
Today, Google AdWords has changed its name to Google Ads and incorporates a much wider range of ad types:
Search campaigns on Google Search and the Google Search Network
Display campaigns on the Google Display Network
Shopping campaigns via a product feed in Google Shopping
Video campaigns on YouTube
Smart campaigns across the entire spectrum
Discovery Ads beneath the Google search field on smartphones
In local campaigns, it's also possible to appear on Google Maps.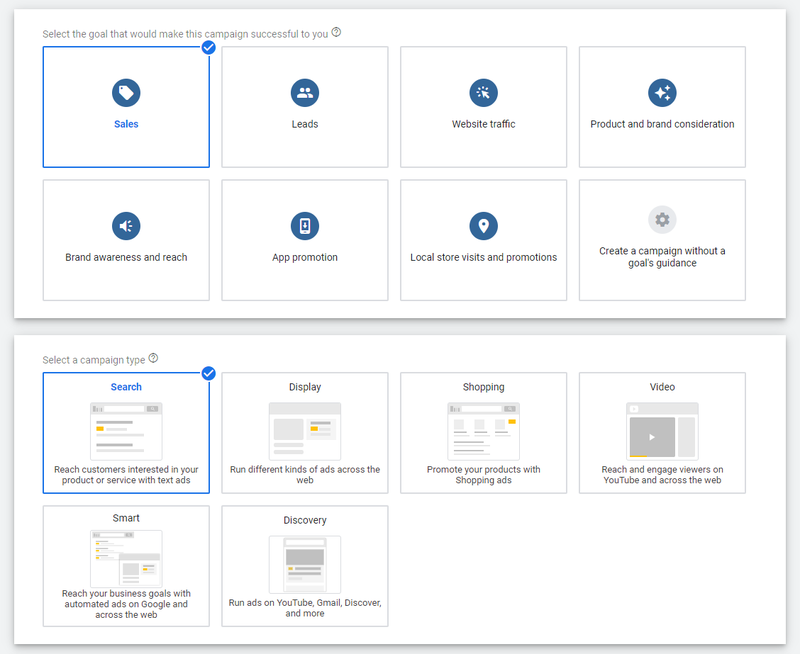 ---
Benefits of using Google Ads to market your business
Google Ads is one of the most powerful advertising engines on the internet. It enables users to plug into a wide array of media types, letting them apply a number of different targeting and optimization mechanisms. Let's look at some of the benefits of Google Ads.
Access to all types of campaigns
You have access to advertising campaigns targeting users at any stage in the customer journey via one Google Ads interface. Buy and place video and display ads for awareness, search campaigns for consideration, shopping campaigns for purchase, and local campaigns for driving footfall. Google Ads can indeed be the ad engine for all your business communication requirements.
Relevant traffic
The original promise of search advertising is still very evident in Google Ads. The ads in Google search are highly relevant to the keywords they target and the resulting traffic is of high quality. The traffic generated from display ads is not as qualified. These ads are powered by Google AdSense, an advertising affiliate network serving display ads.
Get started quickly
The Google Ads interface is well structured and provides a great user experience with small tutorials for each step of the setup. You can also go back and forth in your campaign until you are ready to launch, as long as you nailed the campaign goal in the beginning. You could be up and running quite fast if you stick to text ads and don't need advanced tracking to be set up by others.
No minimum requirements
Google Ads gives limitless flexibility to stop and restart ads. With no minimum spend, all you have to be careful about is the way budgets are fixed monthly rather than daily. Want to start with $10 per day. Fine. It's a good idea to be prudent if you haven't run Google Ads before.
Learn as you go
Once you launch your campaign, you can still twist, tweak, and improve as you learn from the data and see what keywords or ads drive traffic. You can also run your campaigns as Smart campaigns and have the system take over all the optimization for you, but you may not learn much from that.
The best way to improve your knowledge is to study for a Google Ads Certification while you launch your campaign and pursue it as your campaign evolves. It's free and the learning interface is easy to use. By the end of your training, you'll be able to do a PPC audit on any type of campaign.
---
How to use Google Ads to promote your small business
Search engines are one of the best ways to generate traffic on your website. You can get results in two ways: You can use search engine optimization to rank in Google Search, or you can run PPC campaigns, or both.
The Google Ads platform can be a little overwhelming due to its many possibilities. The steps below represent one possible path to campaign launch, but a number of combinations are possible.
You don't have to stick with these steps, and you shouldn't hesitate to stop along the way to prepare the elements you need outside of the interface. Pay attention to detail, and remember, you will be paying for the attention people give to the ads you launch.
1. Open your account
Many people already have a Google account either via Gmail or YouTube. That means all you have to do is to select the Google Ads application in your account. If you don't have one, it's easy to set up.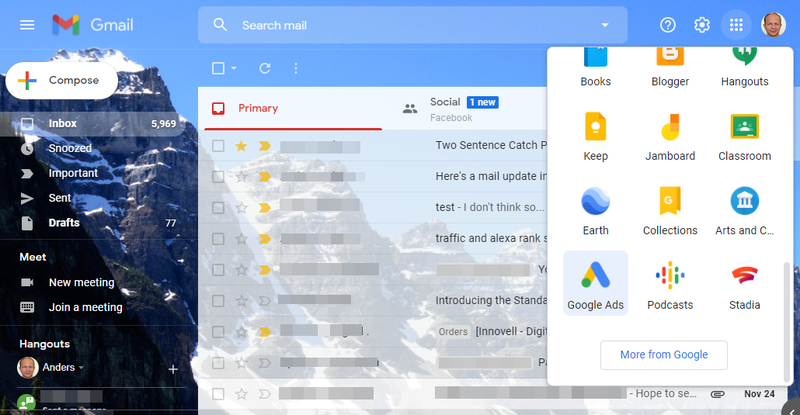 2. Settings for a new campaign
When you arrive in Google Ads, click New campaign, then follow the instructions. You will be asked to define your campaign goal, campaign type, and goal metric.
Even though your overall marketing goal is to generate more sales, individual campaigns can have partial goals feeding into it. In Google Ads, you can choose among a wide list of campaign goals: sales, leads, website traffic, product and brand consideration, brand awareness and reach, app promotion, local store visits, and promotions. You can also choose to run your campaigns with no goal.
Your second setting is to define the campaign: For a sales goal, you can choose among the following: search, display, shopping, smart campaigns, and video. Search and shopping are best for this, but smart campaigns might surprise you by adding relevant touchpoints into the mix.
Finally, choose the metric you want to use or gauge performance against: website visits, phone calls, store visits, app downloads. If you want to track conversions, you need to install additional tracking on your website where the conversion is confirmed.
3. Targeting and audiences
In this step, you will define geographic and audience targeting for your campaign. You can choose your level of geographic location: countries, regions, or cities. You can also decide whether the location should be targeted as a location the user is physically in, or as a location the user has expressed an interest in. You can also exclude locations.
You also define the languages you wish to target: Add all the languages you want to be available to readers. In most cases, you should stick to the languages used in your ads.
Now, define your audiences. This is an area where Google gets better and better at defining coherent segments of users based on behavioral data and machine learning. You can choose from Detailed demographics, Affinity audiences, and In-market audiences.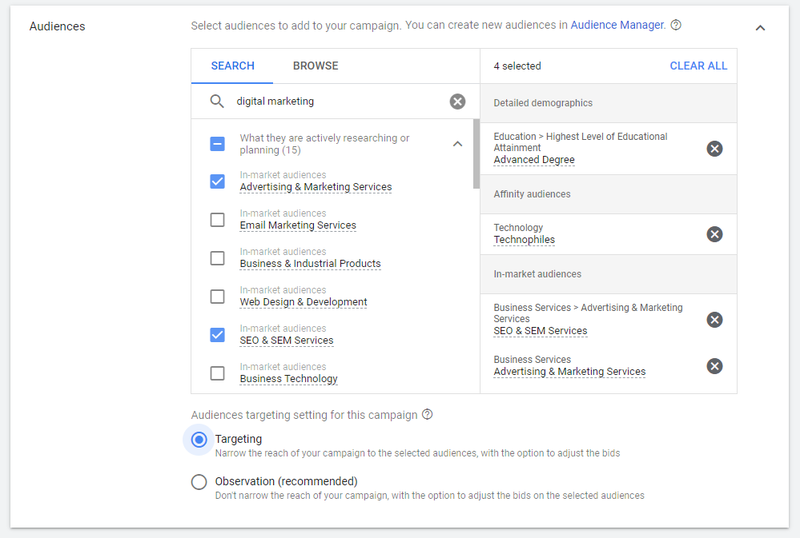 4. Keywords
After you enter a URL and a title, Google can provide you with more recommendations. If you want to push further, open the Google Keyword Planner in the Tools menu to do proper keyword research. If you want to push your keyword research even further, many search marketing tools have advanced keyword research capabilities.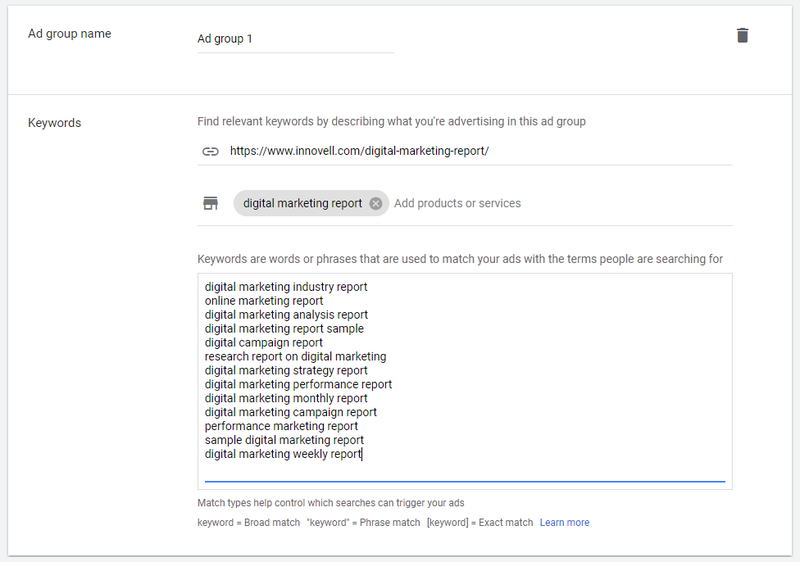 5. Create ads
By default, Google now proposes that you use an automated ad type called responsive search ads. Google will compose the ad on the basis of a number of ad variations you enter. You enter at least 20 titles composed of 30 characters and a number of 90-character descriptions.
Once you have entered the first titles, Google will even suggest descriptions based on the content of the URL you entered as a target for the ad. You can also switch back to text ads, which many will be more comfortable with, as you enter a few title variations and associate them with a two-line description yourself.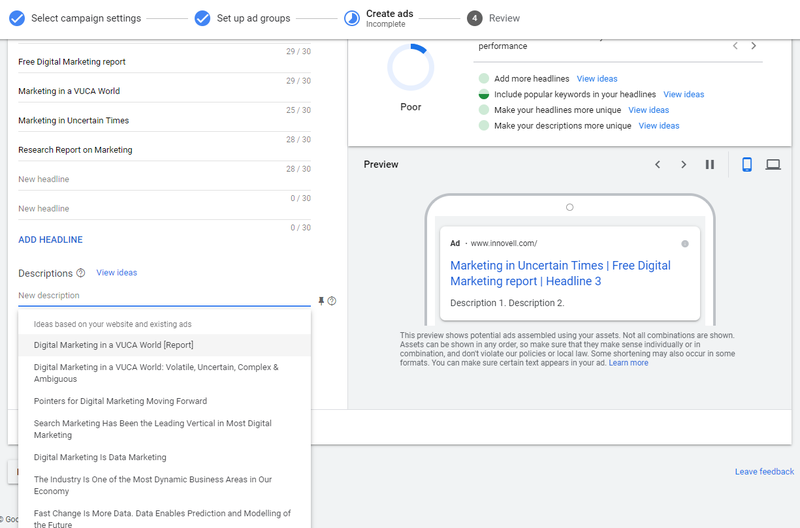 6. Publish campaign
You can now publish the campaign. Google will provide alerts on the status of your campaign. If it has detected an improvement such as the addition of 3 ads in the campaign, and a certain level of ad strength to reach, notifications are shown above the campaign summary. Publishing the campaign doesn't mean it goes live straight away. You still need to enter your payment information.
---
5 minutes and a credit card, and you are up on Google Ads
The original promise of Google AdWords many years ago was that all you needed to do search advertising was five minutes and a credit card. If you use all the automated solutions Google provides in the ad interface, you can surely achieve that. But you'll get better results if you spend more time on your settings, your targeting, your keywords, and your ads before launching your campaign.
And when all that's done, your digital marketing work has just begun. Now you need to continuously learn, tweak, and improve your campaign to make it successful. Take five minutes to get started, yes, but devote five weeks to get everything in a state that will get results.