There are a million different ways to grow sales. Some, like a one-time promotion, will put a few extra bucks in your pocket during a slow season. Other tactics, such as launching a website, generate revenue throughout the year. To create a sustainable business, you need a bit of both. Learn how to increase restaurant sales with these tips.
---
1. Deliver experiences guests want
Expanding options and giving guests more ways to order, pay, and receive food and beverages are key to building restaurant sales. After all, your guests want two things: convenience and choice. These two things also give people control over their experience.
Pre-pandemic, the National Restaurant Association reported, "Approximately 60% of restaurant occasions are now off-premises across all forms, including drive-thru, takeout, and delivery." Of course, this figure jumped during COVID-19. Although people are anxious to return to in-person experiences, off-premise dining will remain popular.
For each of the following experiences, ask yourself if you make it easy and give customers multiple ways to do it:
Order food and drinks: Deliver frictionless experiences via mobile and online ordering platforms, train staff to take phone orders, and improve in-house ordering experiences.
Pay for meals: Accept various payments, including credit cards, cash, gift cards, and mobile or contactless payment methods, such as Apple Pay or PayPal.
Get food: Give people more ways to enjoy your cuisine by offering curbside delivery, home delivery, in-store pickup, dine-in, drive-through, outdoor dining, and pop-up events.
---
2. Invest in your staff
Customers see your restaurant crew when they walk in the door. Callers talk to a member of your team for orders, reservations, complaints, or simple questions. And as your guests walk out the door, it's your staff they'll come into contact with last.
Your employee's words, actions, and facial expressions affect restaurant customer service in each case. Help staff boost sales by providing:
General phone scripts to guide less-experienced workers through calls
Servers with short tip sheets showing natural ways to upsell food or beverages
Point-of-sale (POS) reminders, like a brief list of items to recommend
Private feedback that focuses on actionable suggestions, not what they're doing wrong
Timeframes for reference, such as "Check back after two bites or five minutes"
Incentives for upselling by tracking sales by employees and products in your POS system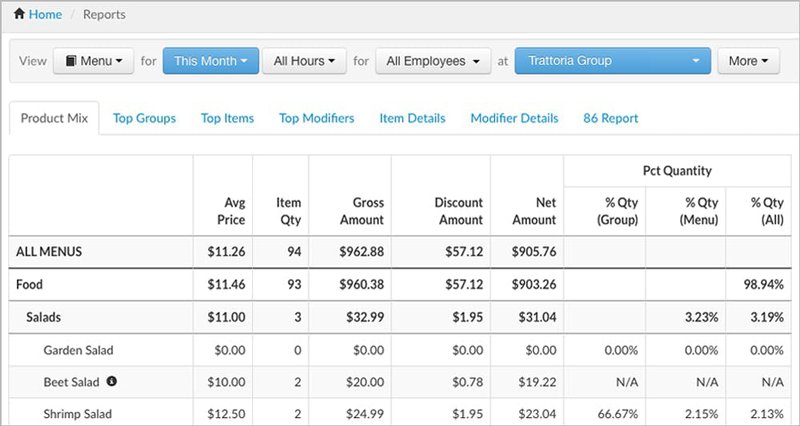 ---
3. Leverage free marketing tools
Although advertising can increase sales, it's expensive. And few businesses can afford to boost their ad budgets when facing pandemic restrictions or financial problems. However, you can learn how to improve restaurant sales without advertising.
Start by reviewing your current restaurant marketing plan and identifying areas for improvement. Can you enhance engagement rates on certain platforms or take advantage of free tools provided by vendors or third-party services?
Consider investing time in:
Google My Business (GMB): According to

BrightLocal

, on average, 398 people per month take action while viewing a typical restaurant's GMB page. Increase sales by ensuring your information is updated while frequently adding photos and encouraging reviews.
Yelp: People turn to Yelp to read reviews and find places to eat. Besides maintaining your business listing, you can boost sales by responding to reviews and rewarding guests with a

special offer

when they check-in on Yelp.
Facebook: It's hard to increase organic reach on Facebook, but that doesn't mean you should give up. Instead, keep your business page updated, add a menu, respond to reviews, and develop a consistent posting schedule promoting high-profit items.
Instagram: As with Facebook, organic reach is tough on Instagram. Yet, people love food pictures, especially when they're hungry. Post high-quality images at lunchtime and between 7 p.m. and 9 p.m. to capture attention.
---
4. Put technology to work
According to the National Restaurant Association, "Customers are most receptive to consumer-facing technologies such as drive-thru enhancements, order accuracy tracking, and frictionless mobile ordering."
Your restaurant software, when used properly, can increase sales. A point-of-sale (POS) system offers reports highlighting peak hours, top-selling food and drink items, and insights into staff performance. This data helps you design promotions and menus that give guests want they want while ensuring profits.
Furthermore, simple tech tools, like in-store digital menu displays, make it easier to upsell menu items at your restaurant. Sales-building ideas, like adding televisions with enticing food images and limited-time specials, capture diners' attention.
---
5. Use a multichannel approach to loyalty marketing
Your restaurant guests appreciate rewards, especially those seeking added value. Using a loyalty program is one of the top ways to increase sales in a restaurant. Boost your loyalty subscriber list by:
Devising loyalty campaigns throughout the year to increase sign-ups
Sharing testimonials and incentive screenshots on social media
Sending promo coupons to mobile phones via text messaging
Training guest-facing staff to spread awareness and get sign-ups
Adding table tents displaying benefits of your loyalty program
Encouraging loyalty members to share email promotions with friends and family
---
6. Develop repeatable systems
Consistency is crucial to your business. But maintaining consistent service and food are common restaurant business challenges. The best way to ensure guests can depend on your company to deliver excellent experiences every time is by developing systems.
Improve restaurant sales by standardizing your:
Training framework: While every customer-facing team member has their own personality, it's important to create service standards and develop an ongoing training blueprint around these standards.
Follow-up plan: Owners and management must connect with guests after negative experiences or hosted events. Devise a timeline for following up, list outreach platforms, and track responses in your customer relationship management (CRM) system.
Review strategy: Responding to reviews shows you care about customer service. Create a list of review channels, develop customizable response templates, and set a weekly reminder to check and respond to reviews.
Restaurant marketing: You want folks to be familiar with your brand, so it stays top of mind. Ensure awareness by developing brand guidelines that specify your colors, fonts, and tone.
Kitchen: When people know what to expect, your sales increase. Keep experiences consistent by controlling portion sizes and recipes. Plus, encourage quality checks by staff and management.
---
7. Make your website stand out
Although websites are standard for many food and beverage businesses, small companies with strong local sales may not have spent time and money on restaurant website creation. However, the pandemic highlighted the importance of a digital presence.
Put your site to work and start building restaurant sales by designing a mobile-responsive website. Restaurant owners can:
Take advantage of website services provided by your POS system, such as a

mojoPOS

site
Use services like ChowNow, which provides an optimized site and online ordering capabilities
Boost sales by using pop-ups and banners promoting your latest food special
Add a plugin like

RestroPress

to your WordPress site to accept online orders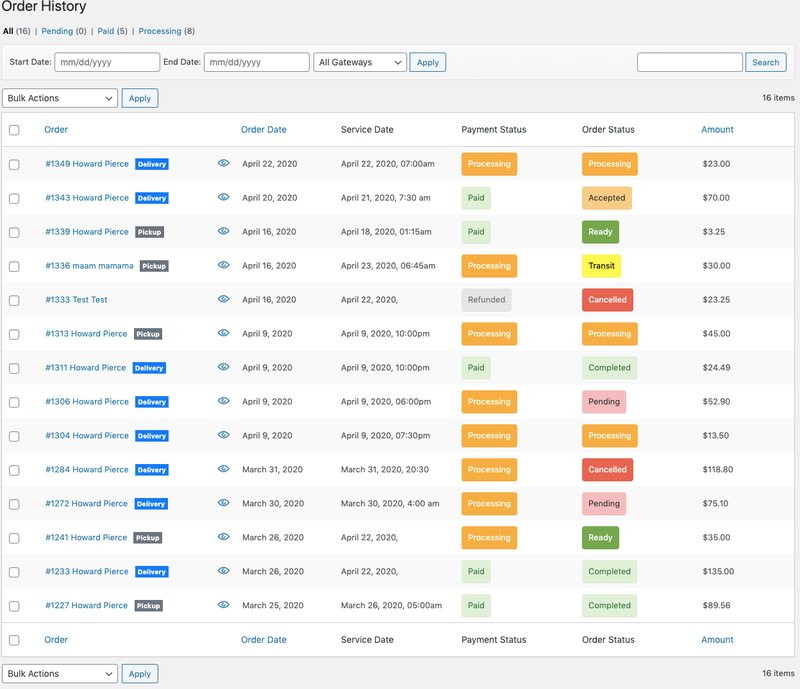 ---
Meet and exceed guest expectations
There are hundreds of tactics you can use to increase sales at your restaurant. But managing customer expectations and delivering on those every single time will provide a high return. Satisfied guests recommend your business, they spend more money, and they come back again and again.
Unfortunately, some restaurants fail because customers don't see any reason to pick your establishment over local competitors. Combat this by clearly defining what distinguishes your restaurant and consistently delivering on those expectations.
---
Create a plan to increase restaurant sales
Whether you diversify your income streams or leverage customer loyalty, strategies to increase sales in a restaurant should balance customer needs with your budget. A one-time marketing ploy won't have the same lasting results as ongoing multichannel efforts designed to boost sales and drive brand awareness.