The most interesting thing about reviews is that most people are unwilling to go through the effort to commend a business for a positive experience. In most cases, and I am guilty of this as well, customers only leave a review when the service wasn't to their liking. It would be nice to get more customer reviews from those without an ax to grind, but that's not the world we live in.
Since negative customer reviews are a natural part of doing business, it's important you learn how to deal with them. The wrong reaction can easily send potential customers into the arms of your competitors, but the right response shows your business is receptive and accommodating.
That's why I've put together a list of steps for responding to bad reviews, a few tips for dealing with unhappy customers, and some examples of good customer service.
5 steps for responding to negative reviews:
Acknowledge the problem
Apologize for what went wrong
Offer a fix for the problem
Compensate the customer if the problem isn't fixed
Offer an avenue for further discussion
---
1. Acknowledge the problem
Acknowledgment is the first step in remedying any negative experience with your customers. Simply leaving negative feedback unaddressed on any major website is not a strategy for winning over new customers.
The truth is over 50% of online shoppers read reviews before making a purchase, and over 80% of them look specifically for negative testimonials so they are aware of any downsides to making a purchase. If those shoppers are seeing negative reviews for your product or service without any acknowledgment and response from you, then that review will stick in their minds.
You may not know the full context of the negative review, perhaps because the details were scarce or the customer didn't leave any feedback at all outside of a low star rating, but it's essential you respond to the review and try to gather more information about the problem.
Additionally, publicly acknowledging the problem shows you are a business that cares about customer satisfaction and that you're willing to do something about it. No one likes to deal with a company that takes its customer base for granted.
---
2. Apologize for what went wrong
If you're sure the fault lies with your business, then the next logical step is to apologize for what went wrong. Even if you think the issue is all a big misunderstanding or due to user error, an initial apology is still the best policy. If you think this might be a misunderstanding, apologize and ask to speak about the issue with the customer, something like the following: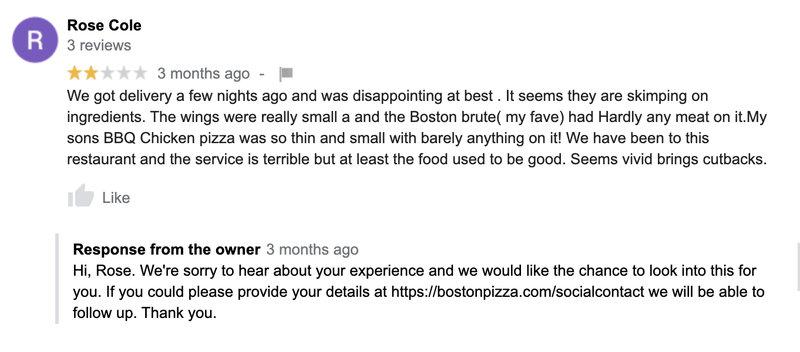 An apology is a great way to break the ice and show this customer and any others who come across the review that you take their concerns seriously. This brings us to our next step in dealing with a negative review.
---
3. Offer a fix for the problem
If you know exactly where the problem lies, and you don't need to investigate further, then it's best to offer a fix immediately. If possible, doing so publicly will give you the opportunity to show your willingness to make your customers happy.
For instance, I ordered a phone case from Kasemakers and after I posted a review about the case detailing an issue I had with it, they reached out to me to try to resolve the issue with a new case: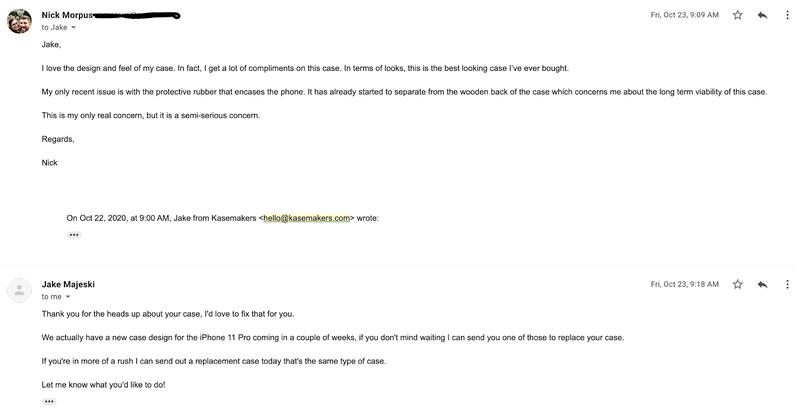 Of course, you don't have to make your fix public. Sometimes a user posting a follow-up edit to their review detailing what you've done carries more weight than your company signaling how great you are to your customers. I know once I receive my new case, I'll be more than happy to update my review because Kasemakers earned it.
---
4. Compensate the customer if the problem isn't fixed
Sometimes there's no fix for the customer's issue. At that point, the only thing you can do is offer some kind of compensation. Usually that takes the form of a refund or credit towards a future purchase.
If you've reached this point, chances are the customer is frustrated that their issue can't be fixed, but hopefully they're understanding. This is where your people skills come into play. Lean into your empathic side and convey your sincere apologies to the customer and let them know you want to do whatever you can to make this right for them.
---
5. Offer an avenue for further discussion
You've done everything in your power to make the situation right for the customer. If they still aren't satisfied, you can either accept the situation or escalate it to a higher-up.
Once you've received the go-ahead from your manager or whoever is in charge, you can pass along contact information so the customer can engage in further discussion to find a resolution. Most interactions luckily never make it this far, but you need to be ready in case it happens. The key is to make sure you never lose your patience with the customer and use your conflict resolution skills.
---
Tips for handling an unsatisfied customer
Once you've made contact with the customer, keep these pointers in mind for working through negative feedback response. If you want to learn more about dealing with unhappy customers, be sure to read my comprehensive guide.
1. Use empathy
As I mentioned in the fourth step, it's important to lean into your empathetic side and remember: don't lose your patience. Empathy is the cornerstone of customer communication since most customers will respond well to a positive and helpful tone. The truth is, all they want is to fix their problem. And in most cases, they aren't out to make your life difficult.
2. Remain objective
When someone reaches out to your company with a negative review, they're likely in an emotionally driven state. While sometimes the problem is 100% on your company, you'll encounter situations where the story has two sides.
Maybe a customer was rude to your staff, and your staff reacted in an unpleasant way. Whatever the situation, it's unwise to get into a back and forth on your Google Reviews or Yelp page. Once you've made contact with the customer, it's important to remain objective. Gather all the facts before making a judgment call because the only responses you want on your review pages are positive ones.
3. Acknowledge any positive feedback
Not all bad reviews are 100% negative. Some feedback is positive with a dose of constructive criticism, so make sure you lean into the positives while acknowledging the shortcomings they bring up. Remaining positive is the key to building a good relationship with your customers, and acknowledging customer satisfaction is an easy way to build trust with your community.
4. Seek out feedback once you've fixed the problem
The key to growing your business is to always be looking for ways to improve your service. Once you've fixed a problem for a customer, politely ask them to provide feedback about the process either through a customer satisfaction survey or through additional addendums to their existing review. Just remember not to be too pushy otherwise you might turn the relationship sour again.
---
With the right tools, you won't have to go searching for feedback
Many customer service software options allow you to consolidate all your feedback avenues to one convenient location, from your own on-site review forms to Google Reviews. This way, you'll never be blindsided by a bad review long after it was posted since you will see them all as they come in. You'll know when a review is posted and its contents so you can craft a response as quickly as possible.
If you don't know where to start, then we at The Blueprint have all the resources you need to make the right software choice for your business. We offer lots of reviews, comparisons, and articles so you have all the information you need to make the smart choice the first time around. If you want to stay up to date with all of the latest information, make sure you subscribe to our newsletter.