In 2017, Earl McCoy took a chance.
McCoy's wife, Penny, was a photographer, while McCoy worked in corporate finance. McCoy's job was enough to support the family, but they wanted more autonomy and to spend more time together, even if it meant giving up some security.
"The summer and the fall are really pretty times in Minneapolis," McCoy says. "We want to be outside during the summer, spring, and the fall, but we were running into this unfortunate window of time where she was busy Friday through Sunday, and I was busy Monday through Friday. So we never saw each other."
So McCoy decided to join his wife in their business, Penny Photographics. Leaving corporate America to go off on his own is still the scariest professional thing McCoy has faced, but COVID-19 is a close second. When the panic hit, many of the weddings that the McCoys had been booked to shoot were moved to 2021. McCoy said one client has rescheduled more than once.
"We started to feel the effects around March and April, as far as clients being worried about their May, June, and July weddings," McCoy says.
The pandemic forced the couple to add new products and stay very flexible. They couldn't have done any of this without several software tools to survive.
---
Prioritizing communication and payment plans
When the pandemic started, the McCoys prioritized communication with clients through emails every couple of weeks. As local and state authorities were changing their guidance on COVID, the photographers would let couples know how their events might be affected.
The McCoys also tapped into different kinds of financial assistance, such as the Paycheck Protection Program, Small Business Administration loans, and Pandemic Unemployment Assistance grants for the self-employed.
They also needed to check in with their lawyer regularly.
The McCoys' contracts stated that if a couple were to move their wedding date to another time, any funds paid were nonrefundable. Still, they never expected a global pandemic.
"We had to work with the lawyer to get our language a little bit tighter as far as what a pandemic would look like," McCoy says.
When a couple signs for the McCoys to shoot their wedding, they pay 50%. The clients then pay the remaining 50% two weeks before their wedding date. Even though many clients moved their actual events back, they still paid the remaining 50% due before their original wedding date, which helped the photographers with cash flow.
"We didn't bat a thousand on that, but the majority did pay," McCoy says. "A lot of clients have said that we were one of the few vendors to be very open and honest with them at the beginning [of the pandemic]. That made them OK with keeping their original payment structure," McCoy says.
The McCoys also allowed clients to transfer all funds paid to their new wedding date. "We've had clients, unfortunately, who have had to reschedule three times," McCoy says.
---
New wedding safety practices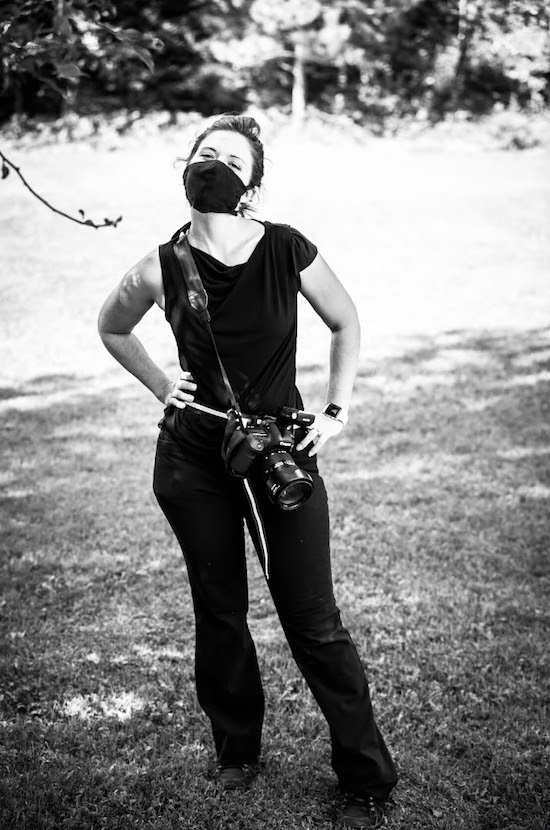 While couples who want larger weddings are moving their entire event to 2021, that is far from universal. Many are still having a small ceremony with 10 to 20 immediate family members this year and planning a larger gathering for 2021.
Even if the guest lists are smaller, the McCoys have helped include people who aren't at weddings through video conferencing tools like Facebook Live or YouTube. The photographers don't charge for this service.
"We've offered to set up a phone that is streaming," McCoy says. "It's their [the couple's] phone, but we will use our stand."
When they film a wedding, the McCoys have a preparedness plan that explains that they will sanitize any gear that is handled or touched by anyone else and wear personal protective equipment. They also promote open communication about masks.
"We communicate with our clients that if they don't feel comfortable wearing a mask that they need to have a discussion with whomever they're going to partner up for group formal pictures," McCoy says. "We're not going to put those wedding guests in an awkward situation where we ask them to take off their mask or not observe a six-foot distance between people."
So far, they haven't had any issues. "Our clients have communicated to their families about what they want to do," McCoy says. "People are trying to make the best of it, and they're having a little fun with a wedding mask for the groom or the bride."
---
Creating revenue with new products
To reach new customers, McCoys pay to be on The Knot, which is a one-stop-shop for couples looking for wedding vendors. But SEO, including optimizing their site for target keywords, is also a considerable part of their strategy.
"We create blogs for almost any event that we do, and we're using smart keywords," McCoy says.
Even with those efforts, COVID has pushed their leads down year over year. But they have found revenue with new products.
"We're solely a wedding photography business," McCoy says. "We don't do portraits unless it's a past client that's had a child or something to that effect."
As they've tried to generate revenue in 2020, though, the McCoys have reached out to past clients to see if they're interested in portraits. While portraits haven't taken off, some customers were interested in purchasing albums from past events.
"They're buying a wedding album from their past weddings or buying a large print to go in their home, which is phenomenal for us," McCoy says. "It allows us not to have to worry about any social distancing, but we can still create revenue."
---
Relying on tech
As album sales grew more popular during the pandemic, the McCoys used QuickTime from Apple to connect via video with customers and software called AlbumPrüfr to build the album.
"We will build a mock," McCoy says. "Then we will go on the screen and explain how we built the album and why we chose the photos that we did. And then we will send that entire video via YouTube through a private link to the client. Then they'll be able to see the mock."
McCoy says this system is user-friendly, which has helped him generate revenue. "We've noticed there has been a huge uptick in our album sales because it's so much less daunting than having 800 photos," McCoy says. "It is allowing them to see what's possible or what we think a good album might look like."
The McCoys also used AlbumPrüfr to pass notes back and forth with clients. When clients are ready to buy, the McCoys rely on Stripe via the 17hats customer relationship management software as their point of sale platform. But that's not all.
"Being able to give prospective clients options on how to connect with us via our calendar app, Calendly, has also been appreciated, as some people are not comfortable meeting in person," McCoy says. "The ability to have consultations over Zoom has been absolutely critical for us."
Add all of this together, and software has helped Penny Photographics continue to operate through the pandemic.
"As the holidays approach, we will continue to build out wedding albums for past clients using QuickTime to screen record, AlbumPrüfr to build the album and YouTube to share the mock," McCoy says.
---
Conclusion and takeaways
By relying on a number of different software systems to help with album sales, firm social distancing practices, and a well-defined payment plan, the McCoys were able to generate revenue during the pandemic.
Takeaway No. 1: Use multiple software solutions to help generate revenue
During the pandemic, the McCoys were able to boost their revenue through sales of wedding albums to previous customers. To produce the albums and make the sales, the couple relied on a number of software tools, including AlbumPrüfr, QuickTime, and YouTube. To complete the purchase, they use Stripe as their point of sale system and 17hats as customer relationship management software.
Takeaway No. 2: Make clients comfortable at in-person events
Even though many weddings were postponed, some smaller ones moved forward. When the McCoys photographed those ceremonies, they communicated safety guidelines, used PPE, and asked their clients to set clear ground rules regarding masks.
Takeaway No. 3: Check with your lawyer
The McCoys ask their clients to pay half their fee upon signing a contract and the other half before the wedding. When COVID began postponing weddings, the McCoys checked in with their attorneys to tighten their contract language and protect their revenue. They found that most clients would still pay before their original wedding date, even if they had to move the event back.
---
Creative thinking and safety measures outsmarted COVID
As a wedding photography business, Penny Photographics relied entirely on in-person events to generate revenue. When COVID postponed so many wedding plans, Earl and Penny McCoy pivoted. They added personal protective equipment and took precautions for the weddings that did go forward, but they also added revenue by using a number of software systems to generate sales of albums, portraits, and large prints.