HubSpot has grown into a full-service sales and marketing platform, with solutions including sales hub, service hub, and CRM. The marketing hub houses the marketing automation tools HubSpot has built their brand on.
HubSpot empowers all sizes and types of businesses to execute common and complex marketing plans, turning site visitors into leads and nurturing them into new customers. Unlock newfound efficiencies with automation tools such as lead flows, email marketing, testing, attribution, and more.
Pricing options are incredibly dynamic, varying greatly depending on the feature set and number of contacts in your database. The wide range of features and prices provides an entry point that businesses of all sizes can afford.
Continue reading to learn more about HubSpot's marketing automation capabilities.
---
Who is HubSpot Marketing Automation for?
HubSpot is a fit for businesses of all shapes and sizes, and it's ideal for companies that are implementing and prioritizing inbound strategies across marketing channels.
The tool is designed to spur growth by increasing site traffic, optimizing your engagement marketing to this new traffic, and converting traffic into leads and eventual sales.
If you're a new business looking to grow, or if you're taking over the marketing reigns of a stagnant company, HubSpot is a fit for you.
---
HubSpot Marketing Automation's features
HubSpot provides tons of features to automate marketing efforts. Capabilities such as automating emails through HubSpot workflows that map to the marketing funnel enable you to do more with less.
Built-in testing tools empower you to learn best practices and optimize your content. And attribution and analytics enable you to tie exact website marketing efforts to real revenue.
Here's a rundown of the features in HubSpot's marketing hub.
Attribution and analytics
Unlock multiple attribution measures with HubSpot's reporting and analytics capabilities. You'll be able to build an accurate understanding of the direct impact your marketing and sales efforts have on your revenue with multi-touch revenue attribution.
You can harness powerful reporting and analytics to monitor the influence that individual marketing campaigns have over your targeted contacts, allowing you to pinpoint what's working and do more of it.
Take advantage of pre-built analytics or customize reports by filtering performance data and qualifiers by dates, deal type, deal amount, campaigns, and more. Hubspot allows you to create dashboards with the customized reports that mean the most to your business.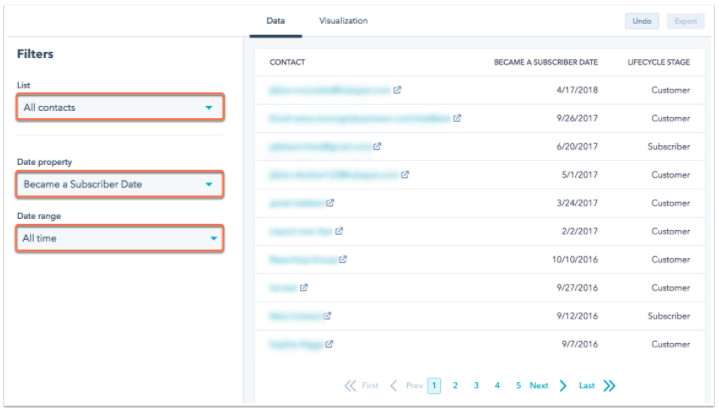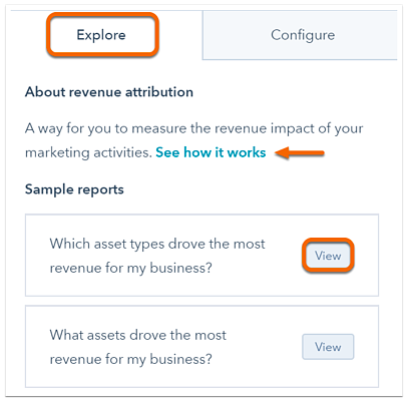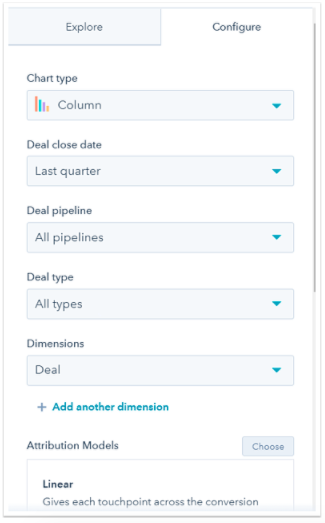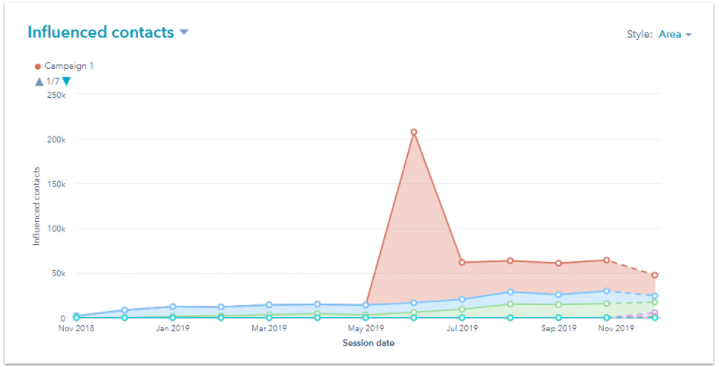 Blog tool
Create, edit, optimize, publish, and analyze blogs directly from HubSpot using the platform's blog tool. HubSpot's blog dashboard allows you to manage blog posts, switch between different blog pages, review drafts, schedule publishing dates, and more.
You'll be able to build content templates that you and your team can work within so that formatting stays consistent between pieces and you can expedite the creation of new content.
Critical details such as the URL slug, post title, meta title, tags, and author are easily managed, and you can use HubSpot's SEO recommendations to ensure each blog follows best practices for the SEO strategy you've defined.
Hubspot allows you to embed videos, Google Analytics, and other key components to maximize engagement and ensure accurate attribution.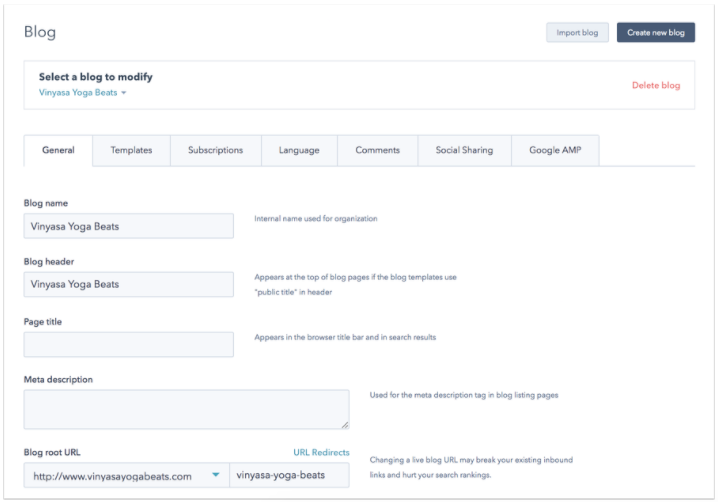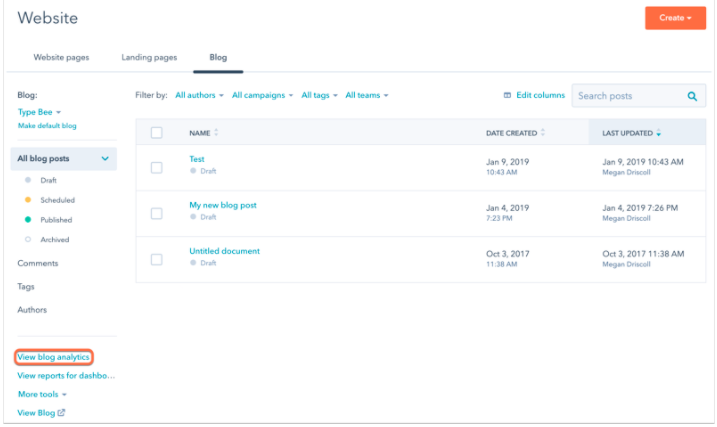 Customer relationship management
HubSpot's free CRM is the foundation on which its solutions are built. The CRM provides all the sales automations and lead management for the marketing hub, giving you full visibility and real-time status on funnel health, pipeline volume, and individual lead status.
Monitor sales activity, efficiency, and performance with customizable dashboards and detailed sales reports.
You can enrich your contact information with critical information from over 20 million businesses, which HubSpot automatically updates.
If you set up immediate notifications for sales team members, they'll know when a prospect takes a designated action such as opening an email or visiting a particular page on your site. The platform also offers multiple lead outreach tools including live chat, templated emails, and a meeting scheduler.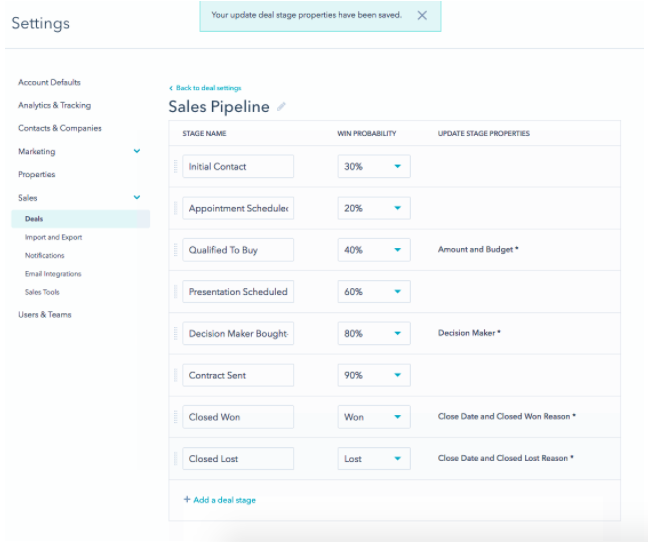 Digital advertising management
With Hubspot, you can centralize your digital advertising efforts and increase the precision and efficiency of your advertisements across Google, Facebook, and LinkedIn Ads by building targeted audiences.
You can create new audience segments directly in HubSpot using key indicators such as known site visitors and different contact groups, and then sync these audiences from HubSpot to the respective ad platform.
You can even launch ad campaigns and then monitor and analyze ad performance from the ads dashboard.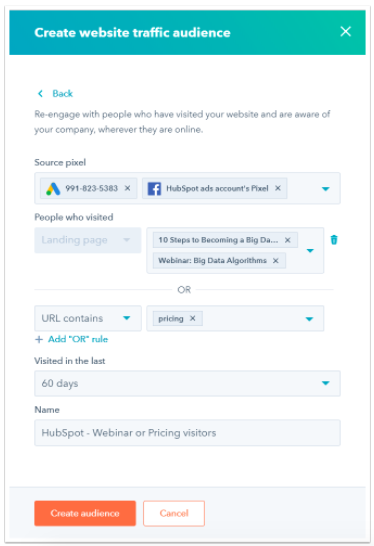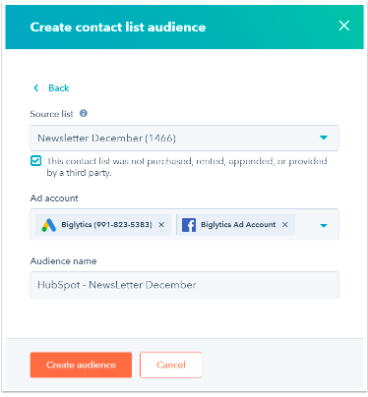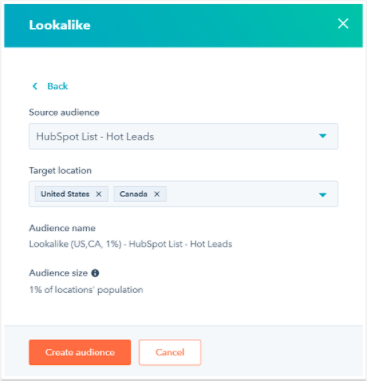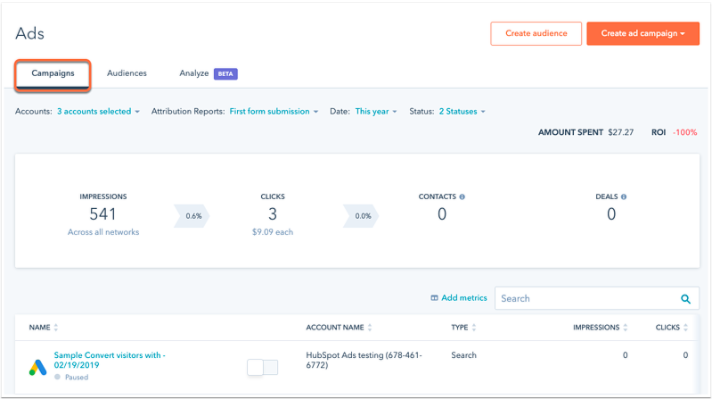 Email marketing
Manage all your email activity with the HubSpot marketing hub. You can use existing templates, drag-and-drop builders, or import HTML to create emails. Import targeted contact lists, email individual contacts, or designate audience segments as recipients for your email campaigns.
With Hubspot, you can set mandatory reminders for final email reviews before launching campaigns and conduct A/B testing to quantify which email assets resonate more with your targeted audiences.
HubSpot makes recommendations for email optimization to improve send times, content, and list deliverability. You can also analyze key email performance metrics such as open and click rates, deliverability, most clicked links, HTML heat maps, and more.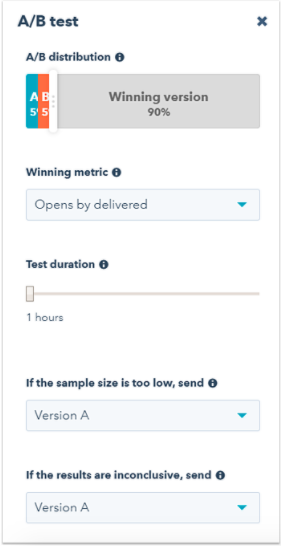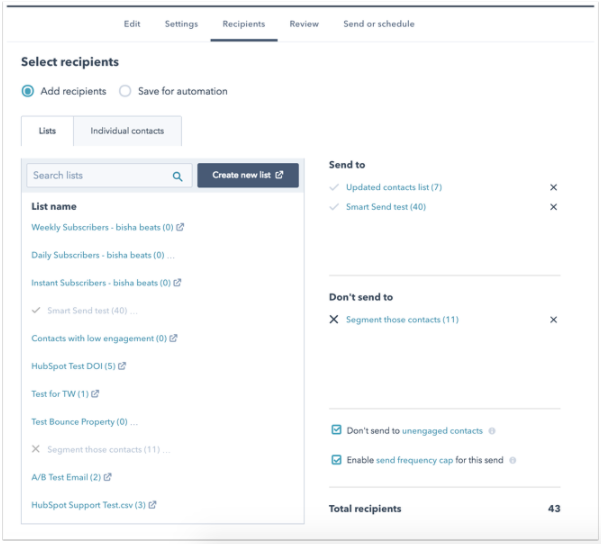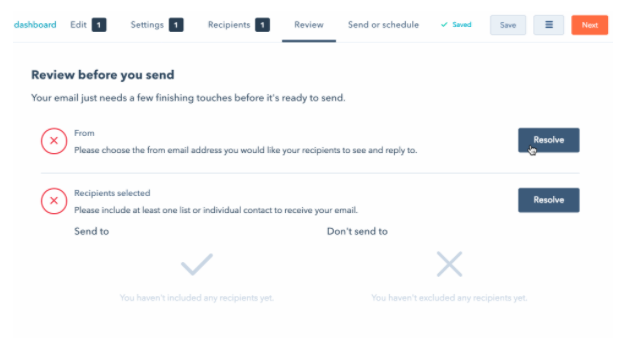 Landing pages and forms
Create landing pages and forms using HubSpot's simple and dynamic content builders.
Building and launching landing pages is a quick process using pre-built templates that are included with HubSpot, and you'll be able to tweak designs and aesthetics to match your brand without being bogged down by full page creation.
Simply drag and drop different horizontal and vertical content blocks to design the page the way you want it to look.
HubSpot offers different forms, including smart forms and pop-up forms, for you to take advantage of.
Harness the dynamic optimization of smart forms to personalize designs and form fields based on known lifecycle stage, referral source, inclusion in specific contact groups, geo-location and language, and more.
And use pop-up forms across core pages and high-traffic content to capture new leads. You'll be able to preview what the pop-up forms will look like on top of the page to ensure fidelity before launching.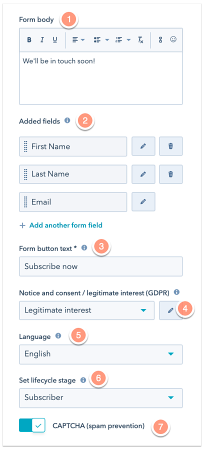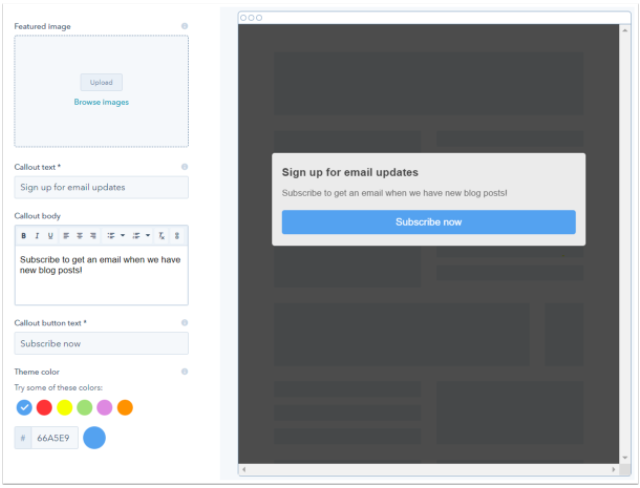 Predictive lead scoring
HubSpot's predictive lead scoring provides probability scores for open contacts turning into customers within 90 days.
Employ predictive machine learning algorithms to analyze existing customers against current leads to assign scores and to review individual lead actions, behavior data, company information, and offline engagements.
Prioritize your leads based on these probabilities to maximize the return on investment (ROI) for your sales and marketing efforts.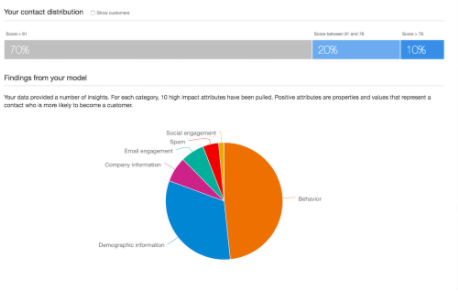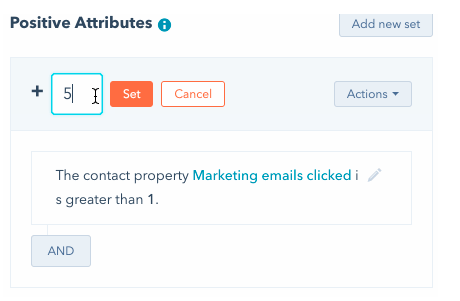 Search tracking and SEO content strategy
Search engine optimization is a critical strategy for improving key metrics and increasing organic traffic across your website, especially blog content. Improving SEO boosts the likelihood that your site and content will rank highly for targeted keywords in Google search results.
HubSpot can scan your website domain and all your subdomains to spot opportunities for SEO optimization, even if you manage your website through a separate content management system.
These recommendations include relevant search queries that pages are ranking for, keyword density and other on-page optimizations, inbound link analysis, and internal site linking analysis.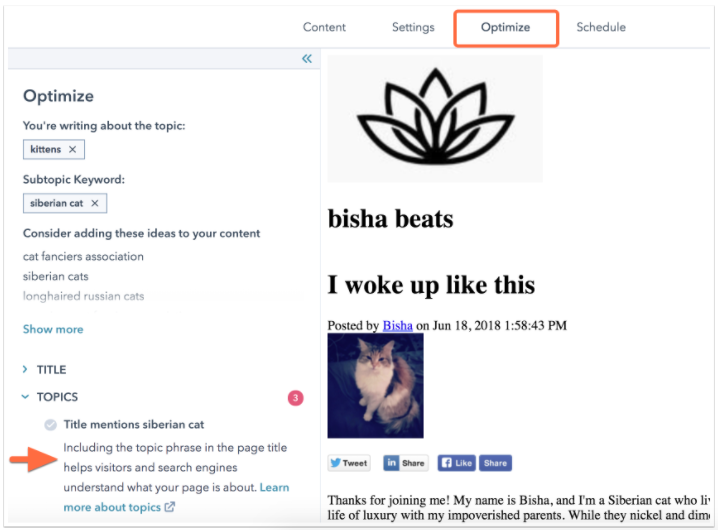 Workflow builder
Take advantage of Hubspot's journey-building capabilities, which they refer to as workflows, to design automated engagement plans for all types of contacts.
You'll be able to create detailed if/then–based journeys with triggered responses to behaviors, as well as design multi-branching journeys to account for possible outcomes and your optimized response.
The ability to set automatic communications allows internal stakeholders to be alerted when a lead moves through the workflow and down the sales funnel. You can also test workflows to ensure triggered events fire as designed.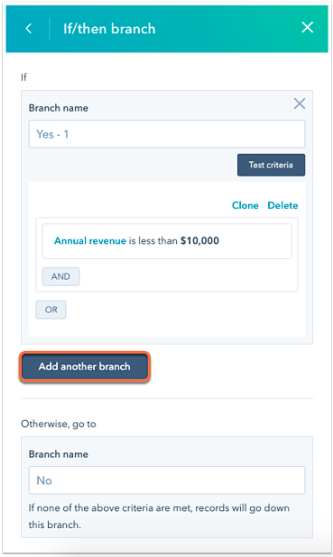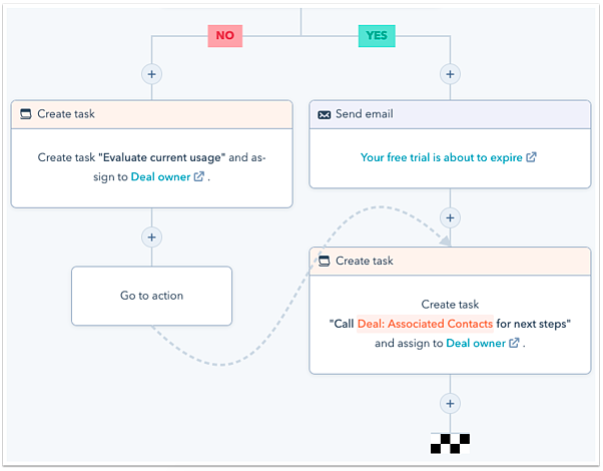 ---
HubSpot Marketing Automation's ease of use
HubSpot centralizes typically disparate sales and marketing solutions into one seamless platform.
There's a definite ease in staying within the same solution to design customer journeys, build landing pages and smart forms, create and publish blogs, launch social and email promotions, and analyze performance.
Customizations across email and webpage design can be limited, requiring you to create outside HubSpot and then upload HTML as a new template rather than editing within the system.
There's definitely a learning curve with such a robust solution. It will feel overwhelming if you're unfamiliar with HubSpot or marketing automation solutions.
While it is expansive, HubSpot offers plenty of training and onboarding support to bring you up to speed. As for the actual user experience, capabilities are conveniently organized to be hidden until needed.
The features are broken into their high-level function and laid out in a drop-down header toolbar for easy access whenever you need them.
---
HubSpot Marketing Automation's pricing
There are three pricing tiers as well as a free option for HubSpot. The free option includes the same foundational CRM components of the paid options with essential marketing automation tools, including email marketing, ad management, forms, reporting dashboards, and more.
Paid options begin with the Starter tier followed by Professional and then Enterprise. Starter is priced at $50 per month for 1,000 contacts. Professional jumps to $800 per month for 1,000 contacts and additional features.
Enterprise rounds out the tiers at $3,200 per month for 10,000 contacts and all the features in the HubSpot marketing hub universe.
---
HubSpot Marketing Automation's support
HubSpot support varies based on your package. Free users of HubSpot CRM and basic marketing have the community forum to turn to for support. Starter package users get email and chat support in addition to the community forum.
And the Professional and Enterprise tiers receive all the prior options as well as phone support.
You can also lean on a robust knowledge base that HubSpot manages to troubleshoot issues and learn about best practices. The highest-rated articles in the knowledge base include connecting personal email accounts to the solution and importing contacts.
HubSpot also offers HubSpot Academy for users to watch training videos and receive documented certifications.
---
Benefits of HubSpot Marketing Automation
HubSpot offers the depth and breadth to be anything to anyone looking for sales and marketing help. The marketing automation components are vast and relatively easy to use.
Attribution and predictive scoring are powerful tools that can truly have a positive impact on marketing performance. Centralizing your email, social, blog, and web page creation under one roof can be incredibly convenient.
But it can create its own set of problems, especially if you rely on flexibility in creativity and designs.
The "forever-free" options are great for startups and small business marketing efforts. They offer much-needed capabilities while also allowing users to get acquainted with HubSpot for potential scaling down the road.
More established businesses may be scared away by HubSpot prices for the Professional and Enterprise tier, but the dynamic nature of the pricing models provides an entry point for most any business to adopt the solution.
---
HubSpot brings it all
HubSpot is a vast and powerful tool with solutions and pricing options that can fit almost any budget. The marketing hub provides everything your business needs to acquire new contacts, convert them into leads, and nurture them into sales.
The solution is designed as the literal hub for all your sales and marketing activity, replacing the need for a CRM, CMS, promotional tool, and more. It can be overwhelming and gets expensive quickly, but there's seemingly endless marketing potential with HubSpot as your platform.
---
Frequently Asked Questions for HubSpot Marketing Automation
Are there limits to how many emails an account can send?
HubSpot users can send unlimited emails. The limits on your account are placed on the total numbers of contacts in your database.
Do I have to centralize everything into HubSpot?
No. While HubSpot does offer blog/site, email, and social media management, you can integrate existing systems into HubSpot. Integrations may limit full HubSpot features, though.
Is HubSpot Marketing Automation free?
HubSpot Marketing Automation is a paid solution. There are marketing components offered in the always-free HubSpot options, but the full marketing hub features require one of three paid packages.

HubSpot can fit into any size or type business, become a catalyst for growth, and then scale capabilities to tomorrow's business needs.
HubSpot can fit into any size or type business, become a catalyst for growth, and then scale capabilities to tomorrow's business needs.
---
How HubSpot Marketing Automation Compares
The Motley Fool has a Disclosure Policy. The Author and/or The Motley Fool may have an interest in companies mentioned. Click here for more information.
Suzanne Frey, an executive at Alphabet, is a member of The Motley Fool's board of directors. Teresa Kersten, an employee of LinkedIn, a Microsoft subsidiary, is a member of The Motley Fool's board of directors. Randi Zuckerberg, a former director of market development and spokeswoman for Facebook and sister to its CEO, Mark Zuckerberg, is a member of The Motley Fool's board of directors. The Motley Fool owns shares of and recommends Alphabet (A shares), Facebook, HubSpot, and Microsoft. The Motley Fool has a disclosure policy.