Intuit Field Service Management is a field service management software program that offers a range of functions, from scheduling, to invoicing and billing, to recording job history.
Like much of the other software within this market, Intuit's version primarily focuses on organizing the necessary administrative tasks that support the actual field service work.
Intuit Field Service Management syncs with QuickBooks which, given QuickBooks' prevalence among small businesses, is often a selling point for field service businesses.
---
Who is Intuit Field Service Management for?
Intuit Field Service Management is a field service management program that helps field service companies such as electricians, HVAC repair, plumbers, locksmiths, etc. manage their workloads.
Businesses that want to use software to issue work orders and send employees into the field, will find this program useful. The program is designed to be useful across a wide range of field service verticals.
Intuit originally designed the program for the mid-market field, but the program's popularity has spread its reach from small to enterprise-size businesses.
---
Intuit Field Service Management's features
Intuit Field Service Management's features empower field service companies to manage their work, from quote to completion. The program offers features that help with administrative duties like scheduling, invoicing and accounting.
The software also has functionalities that help both management and field workers individually, such as a mobile app, dispatching and routing with GPS, and inventory management.
Billing and invoicing
With Intuit Field Service, the invoicing feature is organized by work order. Click on an invoice, and you'll be able to see basic information like client name and address.
You can also break down the invoice by labor, parts, or miscellaneous, and list amounts per item. There's also the ability to note whether each item is taxed, and add sales tax and potential discounts.
Invoicing and billing are organized by work order. To start an invoice, a technician clicks on a work order. From within that work order, a technician clicks on "Invoice Total." That opens another drop-down menu, from which the technician can choose "add item."
From there, the item you're looking for will pop up once you start typing it, if you've added it to your inventory list.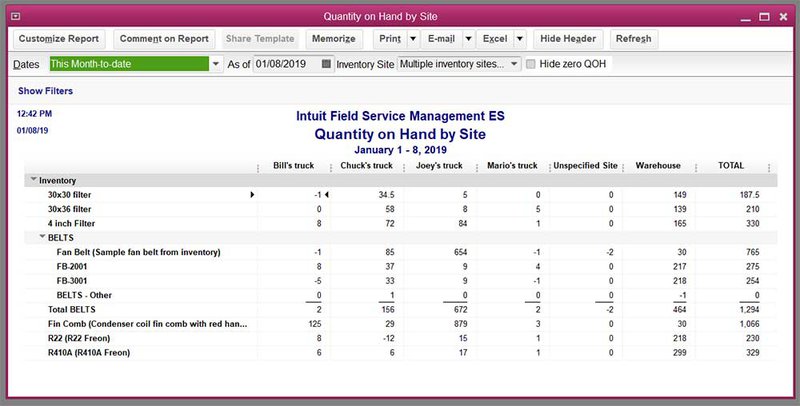 While a billing and invoicing feature is common to most field service management programs, Intuit Field Service's version is unique because it syncs up directly with QuickBooks.
If you already use QuickBooks, as many small and medium businesses do, you're less likely to run into problems if you want to connect your field service management software to your accounting and payroll software. Integration between the two is built-in. This also is a great incentive to start using Intuit's field service product if you're looking for both types of software and want an easily integratable solution.
Customer database
Intuit Field Service's customer database is organized similarly to the Work Order database.
Here, you'll find customers arranged by name, address, city, and work zone. This customer view is simple and allows you to easily view all client information at once.
Mobile app
Intuit Field Service offers apps for both Apple iOS and Android devices.
The strength of Intuit Field Service's app is its simplicity. As the adoption of new technology is oftentimes one of the biggest hurdles to successful use of software, the simple nature of Intuit's app can alleviate a technician's hesitancy to utilize this new solution.
Other benefits for technicians in the field include the option to accept payment and the ability to read work history from past jobs. This last one is especially helpful, particularly for new technicians who may not know the particular problems with a finicky piece of equipment.
Work order management
Intuit Field Service's work order list view displays your company's work orders in a simple row-and-column spreadsheet, with columns for features like work order number, customer, technician assigned, and customer address.
Clicking on customer or work order gives you more information about either. You can filter the field of work orders by date, whether the order is open or closed, skills needed, and work order type.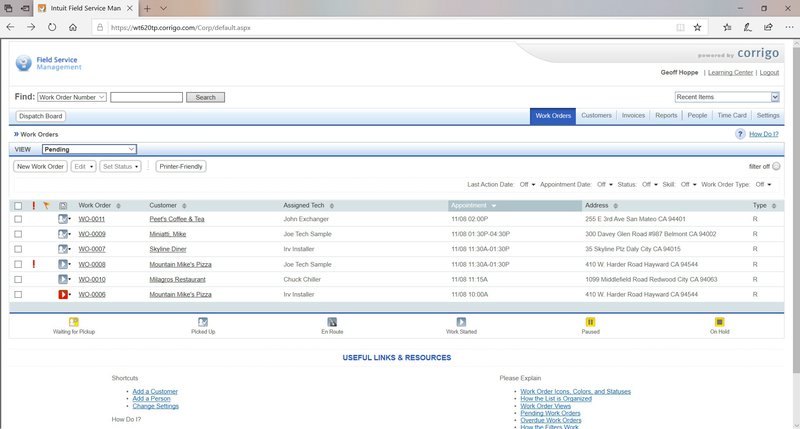 Field technicians get a different view on the Intuit Field Service Review mobile app. They'll see the tasks they've been assigned, listed in chronological order.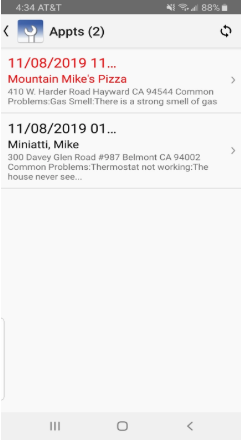 Clicking on a task gives further information, like customer contact information, information about the job, job status (pending/started/finished), and how much the job's invoice is.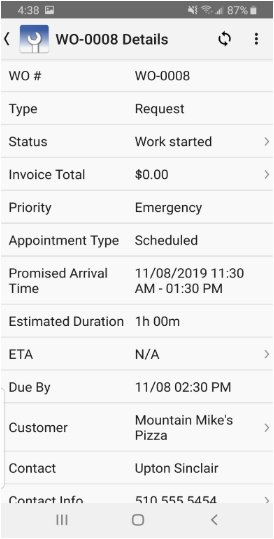 Routing
Intuit Field Service offers a routing feature that works similarly to Google Maps on your phone. You can check on the best possible routes for a technician to take to a job, and give them directions.
Intuit Field Service Management also offers a feature called Bread Crumbs. This feature tracks where your technicians have been, so you can keep an eye on their progress.
If you're interested in whether your techs are taking the recommended routes the office provides them, this can be a helpful feature.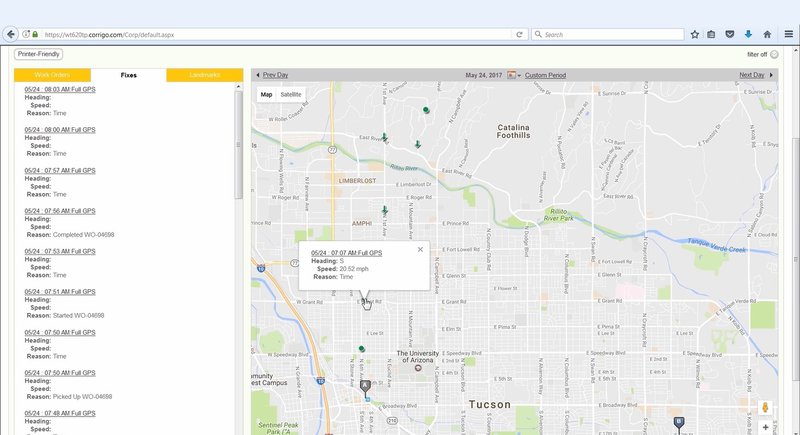 Scheduling and dispatching
Intuit Field Service's dispatch board shows you a daily schedule, divided into rows, by technician. It also lets you drag and drop appointments into the right technician's row.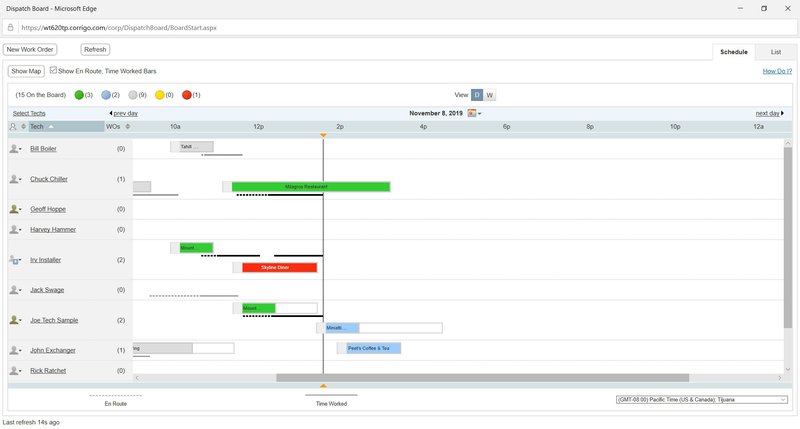 Work orders can be color coded by type, also, so you can more easily match the right task to the right technician. If you hover over a work order, you'll be shown basic information about it. You can also filter by availability, skills, and even teams.
---
Intuit Field Service Management's ease of use
Even if you find technology a bit challenging, you'll be able to get used to Intuit Field Service Management pretty easily, thanks to the program's very straightforward UI.
Everything from work orders to customers is laid out in the same list format. If you've ever worked with a paper checklist on a clipboard, you'll be able to use Intuit.
If you want more information about a client, clicking on their name or address will take you to their file. It's basically just an electronic version of an address book or paper file on a customer, but that can be a plus if you prefer a simple layout.
---
Intuit Field Service Management's pricing
Intuit Field Service Management's pricing is offered in both yearly, and month-by-month, subscriptions. If you go for the annual option, you're locked in for all 12 months. There is no free/"freemium" option.

When you consider that the average hourly pay for a field service technician in the U.S. is about $20, Intuit Field Service's price per month is reasonable. In less than two hours of the 173 billable hours you likely work in a month, you'll make back what you get from the program.
Intuit Field Service Management also offers two add-on packages: the Time Card Add-On Module, and the Preventative Maintenance/Service Agreement Add-On Module. Pricing for both is by number of employees, as with the regular subscription to Field Service Management.
The Time Card Module automatically imports data from Intuit Field Service Management, into the QuickBooks Weekly Timesheet program.
The Preventative Maintenance add-on module takes care of recurring work orders and also automates invoices for those regular customers.
Both features will eliminate a lot of data entry that otherwise ties up your staff. If you use QuickBooks' Weekly Timesheet, for instance, the Time Card Module removes the need for technicians, or office staff, to enter when an employee worked.
Similarly, the Preventative Maintenance add-on will do away with the need to enter data about your most valuable, regular customers.
The pricing for both add-ons is the same:

Consider, again, that $20 per hour figure for the average field service technician. Splitting the monthly fee, $15 per month, across the hundred or more jobs a technician does, works out to less than a few cents per job, to automate time-consuming data entry work.
---
Intuit Field Service Management's support
Many users have taken issue with Intuit Field Service Management's customer support.
If you call Intuit's customer service, be ready to wait. I reached out to the number listed on the main page for Intuit Field Service Management, and it was about 20 minutes before I reached anyone.
They do offer a feature where you can leave your number, and they'll call you back. However, that isn't much help if you've got a technician trying to troubleshoot a fast-moving problem in the field.
When I finally reached a customer support person, I asked whether he knew anything about Intuit's specific field service offering. He wasn't sure about that product's details but said he'd check to see if there were a specific Intuit Field Service Management support team. Finally, he emailed me a few articles from Intuit's help page.
While the person I spoke to was helpful, it took 45 minutes to be directed to an article.
This is all to say, if you need quick help navigating Intuit Field Service Management, and you aren't particularly tech-savvy, you may be out of luck.
---
Benefits of Intuit Field Service Management
Organization is one of Intuit Field Service Management biggest benefits.
Most field service technicians, and managers, are used to the endless paperwork that comes with field service work. They're used to keeping up, or trying to, with days, or even weeks worth of work orders and invoices. That's a pain, and even talented administrators can struggle to keep up.
Field service management software programs like Intuit's reduce the struggle, and the paperwork. Instead of a pile of papers and an hour of data entry, your information is organized in an app you can access anywhere, from your smartphone.
Is your company facing the "gray-out" that's threatening field service companies? If so, Intuit Field Service Management is a good choice.
The ability to save job history information will provide you with an archive of information from technicians who may be retiring in the next few years.
That way, when the more experienced members of your company leave, their knowledge is still there for new employees to use. Moreover, that knowledge is stored in the same app they use to get their work done.
Instead of having to save a packet of papers with information about the Johnson family's finicky AC unit, that asset's info will be on their smartphone.
---
Organize your business with Intuit Field Service Management
If you're a field service business looking to streamline your operations, you should look into Intuit Field Service Management.
The features are basic, so they'll suit a range of different field service businesses. If you're looking for software with industry-specific features, for instance for landscaping- or HVAC-only businesses, Intuit Field Service may not be for you.
But, if all you want is a solid version of the basics, Intuit might be a good choice.
---
Frequently Asked Questions
How much does Intuit Field Service Management cost for a small company?
If you only have 1-10 users, Intuit Field Service Management is $35 per user/per month. If you expand the number of users to the 11-40 range, your price drops to $31 per user/per month.
What is Intuit Field Service Management?
Intuit Field Service Management is a software program that makes it easier to run your field service business. It offers easy ways to do everything from billing and invoicing, to choosing the best routes for your technicians.
Does Intuit Field Service Management have a mobile app?
Yes, Intuit Field Service Management offers a mobile app that makes it easy for field technicians to use the program on the fly.

Use Intuit Field Service Management to manage workloads and streamline your operations process.
Use Intuit Field Service Management to manage workloads and streamline your operations process.
---
How Intuit Field Service Management Compares
The Motley Fool has a Disclosure Policy. The Author and/or The Motley Fool may have an interest in companies mentioned.