As you begin to build and manage your website, you'll be looking at the pros and cons of many content management tools. Factoring in features, functionality, budget-friendliness, and more, we compare two main contenders: WordPress and Joomla.
---
Joomla vs. WordPress: An overview
On the surface, there are many similarities between WordPress and Joomla. However, diving into their usability, one stands above the other in the matchup of Joomla versus WordPress.
Who is Joomla for?
The Joomla platform is a multi-use one, with its background in blogging and publishing articles. It is more concerned with function than form, so it's best for sites that are more straightforward in nature and not as concerned with deep aesthetics. It isn't so complicated as to be daunting, but it's also got a bit of a learning curve that may deter beginners.
There isn't a specific industry Joomla aims for, and it works well for generic small businesses and even corporations. As it's nothing flashy, Joomla is often used by low-traffic static websites or informational ones that don't prioritize SEO or advanced features.
Who is WordPress for?
WordPress started way back when as a system built for blogging, but has since expanded to all sorts of industries and sites for business owners. With an ever-expanding amount of features and an extensive network of developers, it is exceptionally well suited for small businesses, online stores, blogs, and other enterprises.
---
Joomla vs. WordPress: Features
The ability to perform above standards and basic functionality is essential for content management systems, greatly affecting your site performance and capabilities. Here's a look at how these two platforms measure up.
What Joomla offers
Joomla is a bit more limited than WordPress, as it prioritizes the basics and doing those basics well. That said, it does offer some reliable capabilities. Its extensions have a two-step process to load, making them relatively easy to get started.
It also has a decent global footprint, which is vital for international sites or companies angling for international traffic, as it is well-used outside the U.S. Because of this, it supports a large number of languages and translations.
Joomla also allows for multiple users, with different permission settings available for each user. The administrator can control levels of permission and add new people.
Without all those extra uploaded features, though, Joomla doesn't offer much on its own.
What WordPress offers
With over 50,000 plug-ins, there's almost no feature WordPress doesn't have. Even at its raw state, it lets you add and edit multiple users, as well as upload, store, and use media. Plus, WordPress comes SEO-ready, populating HTML headings, tags, metadata, and more in its premade themes.
You can also use those 50,000 plug-ins to fine-tune your website's needs. You can safely store your data with WordPress backups, add tools to monitor marketing analytics, post on social media, set up automation, and much more.
Results
There's no competing with WordPress' extensive library and its well-stocked basics; it wins this round.
---
Joomla vs. WordPress: Support
We all need some support, especially if you're entering the unfamiliar world of website building. As questions start to arise, you'll want options for troubleshooting and solving problems as soon as they appear.
What Joomla offers
Since Joomla is an open-source software, it is a pro bono network of developers creating the system, and therefore lacks a traditional sales or account management structure.
Despite that, its length of time in business means there is a large and robust following, with many developers and knowledgeable users running community forums on Joomla. There you can find resources, answer pages, directories, and even user events.
What WordPress offers
Similar to Joomla, WordPress is also an open-source software, meaning you have no dedicated support team.
But WordPress is such a major player in the CMS world that there is very little lacking in resources. The WordPress online resource library itself is extensive, including instructions, videos, FAQs, and more.
There is also a community forum where you can ask questions, and WordPress developers can answer if they see them.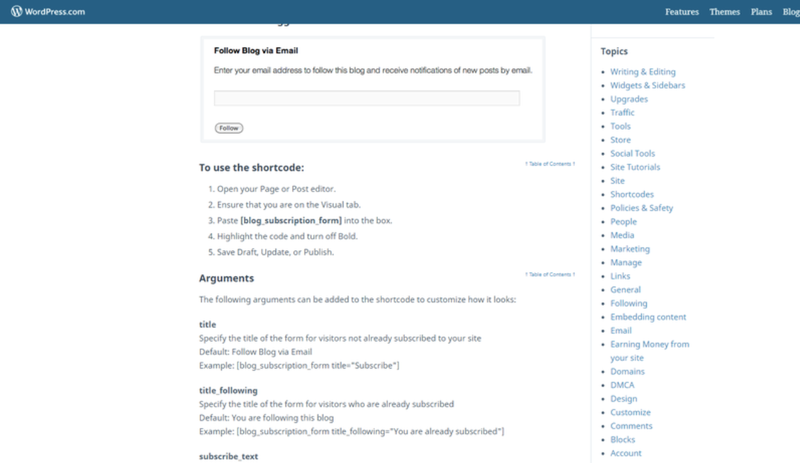 Results
Though both systems seem to be on an even playing field, WordPress has more active users responding to questions in community forums and a more comprehensive resource library, so it wins.
---
Joomla vs. WordPress: Ease of use
If you struggle to use a CMS software efficiently, it's not actually adding value to your site goals. So which is easier to use, WordPress or Joomla?
What Joomla offers
Joomla scales with you, so while it starts with bare-bones basic features, it can be developed to be more complex. However, just looking at the basics, it is pretty straightforward.
Navigation is "point and click," with categories that are easy to understand. Navigating, editing, and publishing work in a linear fashion, as long as your needs are simple. When you need to incorporate SEO, extensions, or customizations, it gets trickier.
The extensions require a bit of work. You need to download them manually then go through a few steps to upload, often with buggy results. You most likely will need some sort of extension added, since the out-of-the-box options for things like themes are very limited.

What WordPress offers
Like Joomla, WordPress' ease of use can be as simple or complex as you make it. Unlike Joomla, though, it is easier to use out of the box and a bit more intuitive. It also allows you to make customizations within themes with ease and without having to jump through hoops.
With a comprehensive toolbar and dashboard navigation that just makes sense, even newbies can quickly become comfortable using WordPress. It has a logical layout and intuitive tools and lets you know when easy-to-install updates are available.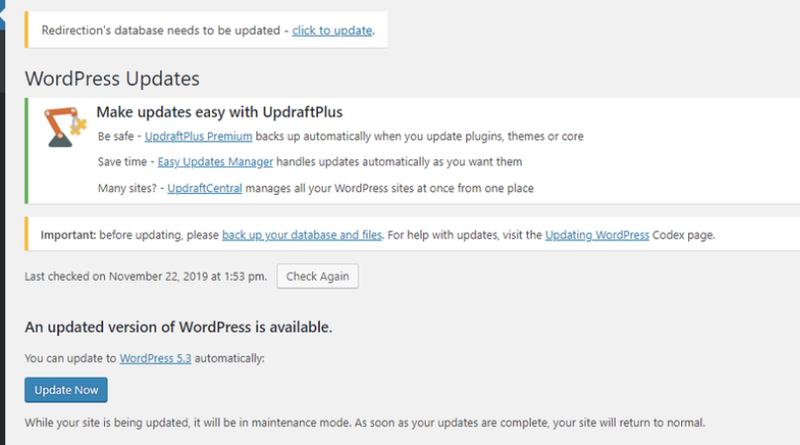 Building a WordPress site does require a little bit of lift, but the daily maintenance and usage are quite simple.
Results
WordPress wins since it is by far way more intuitive than Joomla and much easier to use.
---
Joomla vs. WordPress: Pricing
The WordPress website costs, when compared to Joomla cost's, is an important aspect to consider for budgeting.
What Joomla offers
Joomla is an open-source and free system, which means it is free to download and use. You can own and operate your site for free, without licensing fees, and use its open-source code.
What WordPress offers
WordPress is also open source, and so that means it is also free. You can download, use, maintain and update it for free forever.
Results
With both being free content management systems, it's a flat out tie. Though you will likely need to pay external fees for hosting or expanded plug-ins, those are additional costs that can come with both.
---
Joomla vs. WordPress: Integration with other software
What makes a CMS whole and good is its ability to play well with other software tools.
What Joomla offers
Joomla does offer a decent number of extensions, including SEO add-ons, reviews, the ability to like posts, etc., which does expand its capabilities. However, the options are somewhat limited, and there is some work to get them uploaded.
What WordPress offers
WordPress, on the other hand, has an integration for just about every software out there.
Whether optimizing SEO for search engines, syncing with social sites like Facebook, integrating with your CRM, and more, there's not much WordPress can't handle.
It's a library of 50,000 add-ons; you can hook up WordPress to just about anything.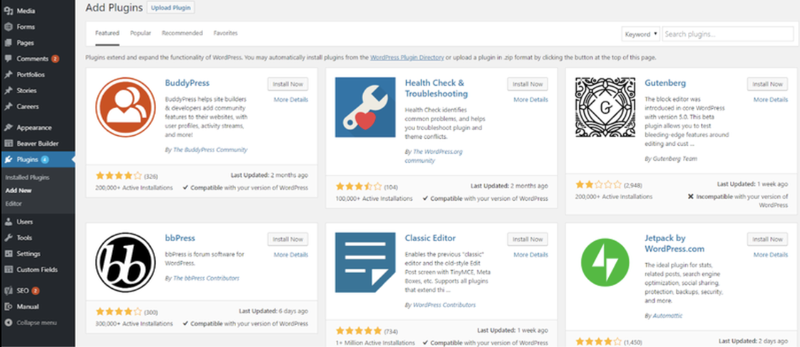 Results
The sum of WordPress' parts is far greater than the whole, making it the winner in this round.
---
Joomla vs. WordPress: Security
Your website should be kept safe and secure so that visitors feel comfortable browsing and subscribing to lead magnets on your website.
What Joomla offers
One of the downsides to being open source is that there isn't a dedicated security team nor automatic updates. You can maintain site security, but keep in mind that you will have to download another extension, upload it properly, and update and manage it independently.
What WordPress offers
Since it is also open-source, WordPress also does not do automatic security checks. However, it does have high performing cybersecurity plug-ins and automated notifications of when updates are ready. Because WordPress is so widely used, it has to offer good security options.
Results
Due to its more streamlined and expansive approach, WordPress security is a bit better.
---
How They Compare: Joomla vs. WordPress
| | Joomla | WordPress |
| --- | --- | --- |
| Features | | |
| Support | | |
| Ease of use | | |
| Pricing | | |
| Software integration | | |
| Security | | |
---
The winner? WordPress by a good chunk
WordPress is used by millions of people for a reason. It has thousands of extensions that can take it from a simple site to a comprehensive and robust CMS.
At its core, WordPress is still easy enough to use and intuitive for small businesses. It is an excellent choice for a small business that needs an easy to manage CMS and beats out Joomla in almost every category.