It's hard to be everything to everyone. In most cases those who try will fail miserably and yet, LiveAgent is one of the few platforms that pulls it off. I came off of a rough review before moving onto LiveAgent so at the start of this process my expectations were, to be frank, in the toilet.
Maybe it's those low expectations that led to this amazing experience but even after taking some time to read this piece over, I was reinforced in my thoughts about LiveAgent.
I try not to fawn over the platforms that I review but no matter how hard I tried I couldn't find a serious issue with it. As you can imagine, this made my "three things I don't like" hard to finish.
There is no getting around it. LiveAgent is an all-around solid customer service experience manager, chat software, and issue tracker.
---
Who is LiveAgent for?
LiveAgent is the kind of platform that does pretty much everything right. The features list is full, the user interface is attractive, the ease of use is accessible, and the pricing is just right for what it offers.
On top of it all, it even has a free option for those looking to try out the platform beyond the free trial. It's reasonably priced for small businesses and is powerful enough to meet the needs of enterprise users. It's an all-around fantastic customer service software solution for all kinds of users.
---
LiveAgent's features
Issue tracking
Issue management: LiveAgent gives you the ability to view, search, update, and interact with issue task cards.
Email to ticket: LiveAgent converts issue and request email submissions into support tickets.
Service desk
Self-service portal: Lets end users access their own support tickets to track solutions progress and check for outages and other updates.
Live website chat: LiveAgent will help you manage all live chats with end users so you can provide quick solutions without relying on the formal ticket submission system.
Call management: Make and track your service calls (voice or video) within the LiveAgent platform.
Content management
Knowledge base management: Manage all support articles and release notes through LiveAgent.
Monitoring
Reporting and analytics: Track and measure support success through the many reporting and analytics tools offered by LiveAgent.
Dashboards: Track service desk activity in real time using LiveAgent's detailed dashboards.
Additional features
Ticket auto-assign: LiveAgent automatically assigns tickets to available technicians using your own preferred routing method.
Custom email request templates: Use standard request templates or create your own custom form to deal with any need or issue.
---
LiveAgent's ease of use
In terms of functionality, ease of use, and originality, LiveAgent nearly takes the cake as one of the best customer service desk platforms I've ever used. LiveAgent offers nearly every feature you could ask for and then some to create a stellar user experience.
Starting off, I love the clean and modern user interface. LiveAgent's developers really took their time to create an attractive and easy-to-navigate platform. In fact, they even included the task tabs design idea that I praised Zendesk for. These are the kinds of navigation and task management features I love to see.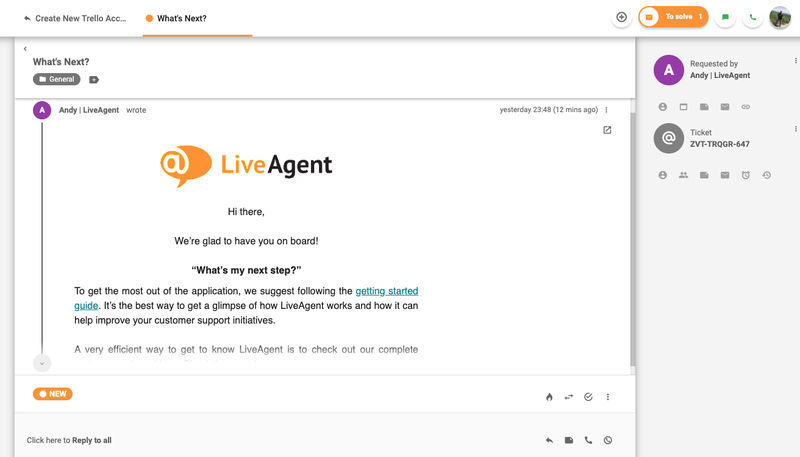 Everything about LiveAgent is centered around making it easier to provide customer service, manage your IT team requests, track progress, and build your knowledge base. They even included features I've only seen in robust CRM platforms, such as voice and video call management.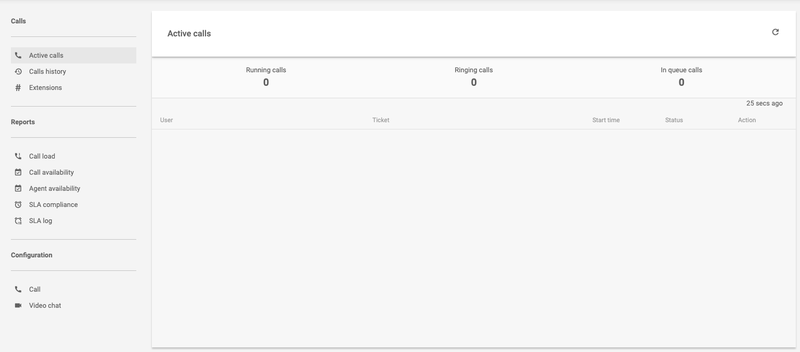 If you integrate your phone or video chat software with LiveAgent, you can make calls through the platform. You can even choose to display whether these devices are active in case you're not available to take or make calls at any particular time.
I love these kinds of innovative features. Sure, they aren't revolutionary since they exist on other types of software but to see them incorporated into a customer service desk platform is fantastic.
This streamlined user experience doesn't end there. I was particularly impressed with LiveAgent's live chat system. They give you everything you'll need from agent availability reports to SLA compliance.
They even provide you with code for tracking the country, time, IP address, and referral location of your live chat end users.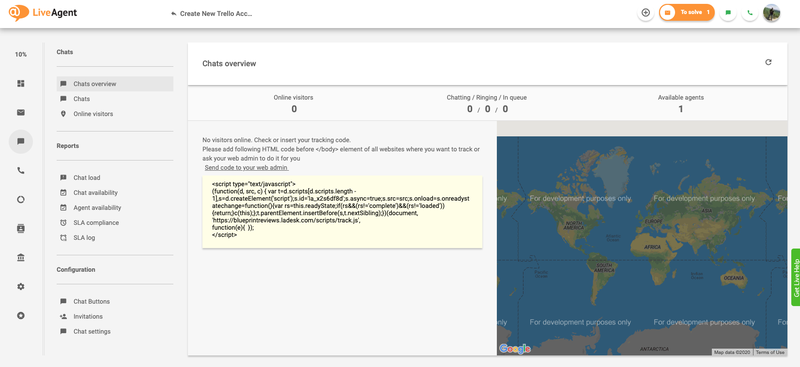 Every feature is easy to find and use thanks to the simple side menu navigation. Each function is clearly laid out on this menu so you'll never have to go hunting for anything you need.
There aren't any unique terms for common functions or hidden features, so you shouldn't have any issues onboarding your team onto this platform.
LiveAgent is an extremely refreshing experience after my last product review. This platform succeeds in nearly every way that platform fails. It is clean, easy to use, powerful, and versatile.
---
LiveAgent's pricing
LiveAgent's pricing is not only available on their website (transparency on pricing is becoming an issue in my opinion) but it's also surprisingly affordable considering how powerful this platform is.
What's more, LiveAgent even offers a generous free option, which is fantastic for users with smaller needs and even smaller budgets.
Free - Seven-day ticket history, one email address, one live chat service button for your website, one support phone number, contact forms, ticket merging, ticket splitting, custom email templates, mass actions, ticket exporting, email notifications, custom ticket fields, internal tickets, spam filters, attachments, reporting, knowledge base, customer forum, a self-service portal, 24/7 support
Ticket (no live chat or call center): $15/agent/month - Unlimited ticket history, unlimited email addresses, all previous features, templated ticket responses, departments, advanced reporting, SLAs, multi-brand support, contacts, integrations
Ticket+Chat (no call center): $29/agent/month - All previous features, real-time visitor monitor, chat invitations, chat satisfaction surveys, social media integration ($39/month/account)
All-Inclusive: $39/agent/month - All previous features, call center, video calls, call routing/transfers, unlimited call storage, gamification, social media integration (no fee), time tracking, audit log
---
LiveAgent's support
LiveAgent provides all of the customer support you will need and then some. This platform offers phone and email support, a FAQ page, video tutorials, user forums, integration guides, a knowledge base, a change log, and a performance status page.
There is almost no way your question or issue won't be resolved when using LiveAgent.
---
Benefits of LiveAgent
The greatest benefit of LiveAgent is just how intuitive and innovative this platform is. Everything about it is user friendly and purpose driven, making it a near-perfect option for almost any user. LiveAgent covers all of your service desk software needs with its attractive user interface.
The second benefit of LiveAgent is pricing. Not only are all tiers reasonably priced considering all of the features included but LiveAgent even offers a generous free option which includes scaled-back versions of all of its features, including free web chat and video calls.
This is a fantastic way to give smaller businesses the opportunity to learn everything they can about the platform before they commit to a paid option.
---
LiveAgent is a refreshing and powerful tool
Sometimes I review software platforms and find myself wondering why some vendors even bother pushing some of their products. Many platforms are lazy, basic, and extremely derivative of other products in their space.
LiveAgent is a rare example of a vendor that understands exactly what their customers need and want. They built a customer service platform that covers all of the bases and then some.
I love when I can tell a vendor cares about their product and their customers, which makes LiveAgent an exemplary option to choose out of the numerous competitors.
---
Frequently Asked Questions for LiveAgent
Is there a free version of LiveAgent?
Yes, and it's an extremely generous free version to boot. LiveAgent's free tier gives you access to nearly all of the core features of the full platform with a few limitations, such as the number of support email addresses and live chat buttons on your website.
Is LiveAgent suited for less experienced software users?
Absolutely. LiveAgent is very easy to learn and navigate even for less experienced users thanks to its intuitive interface. You won't have to worry about extremely long onboarding times with multiple training sessions. Give it a couple of hours and your team will get the hang of most of the core features without any issues.
What kind of customer support does LiveAgent offer?
LiveAgent offers all kinds of customer support, including phone and email support, a FAQ page, video tutorials, user forums, integration guides, a knowledge base, a change log, and a performance status page.

If you're looking for the whole customer service experience be sure to try LiveAgent today.
If you're looking for the whole customer service experience be sure to try LiveAgent today.
The Motley Fool has a Disclosure Policy. The Author and/or The Motley Fool may have an interest in companies mentioned.