Mailchimp tries to be everything to everyone. It is constantly updating its solution, adding new features, expanding its reach, and working on usability. Mailchimp is an intuitive solution that holds your hand as you get up to speed. It also has an impressive feature set that's only going to continue growing.
But what if you don't want all of the bells and whistles, and you're worried that Mailchimp provides too much?
Enter MailerLite. As it is aimed at small businesses and solopreneurs, it doesn't try to pack in too many features, and it has an affordable price tag to match.
Will this be enough to knock Mailchimp off its perch and cement MailerLite's reputation as one of the leading Mailchimp alternatives?
Read our MailerLite vs Mailchimp comparison to find out.
---
MailerLite vs. Mailchimp: An overview
Who is MailerLite for?
As MailerLite has a solid free plan, a step-by-step approach to completing tasks, and an abundance of in-app help and digital marketing tips, it's a good option for solopreneurs and small businesses.
It also has enough features for businesses that prioritize email marketing and want to create complex campaigns to drive significant return on investment (ROI).
Who is Mailchimp for?
Mailchimp is for marketers who love data. Its analytics-driven approach combined with its machine-learning algorithms for functionality such as segment creation mean marketers can get deep insight into their audiences.
Mailchimp's ease of use also means marketers of all experience levels can quickly get up to speed with even the more complex features.
---
MailerLite vs. Mailchimp: Features
One of the main benefits of email marketing software is that it saves you time and effort by automating manual processes. The more automation, the better.
What MailerLite offers
MailerLite's easy-to-use editor lets you create a regular email newsletter as well as A/B test messages and send your RSS feed as an email.
You can also send auto-resend messages to people who didn't open them the first time with a different subject line, new content, or an added personal message.
One drawback is that it doesn't include any templates with its free plan, so you have to spend more time designing and laying out your emails.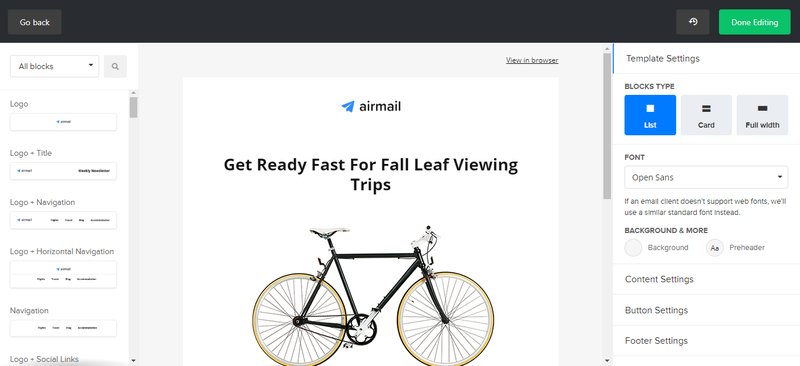 MailerLite also has excellent segmentation options, allowing you to tailor your messaging according to a wide range of criteria. These include:
Sign-up date
Sign-up source
Campaign
Time inactive
MailerLite's form-building capabilities are particularly useful because they allow you to pick when a popup or embedded form appears (after a user scrolls or at a timed interval), how long to show the forms, and whether you want to show them only on certain webpages or devices.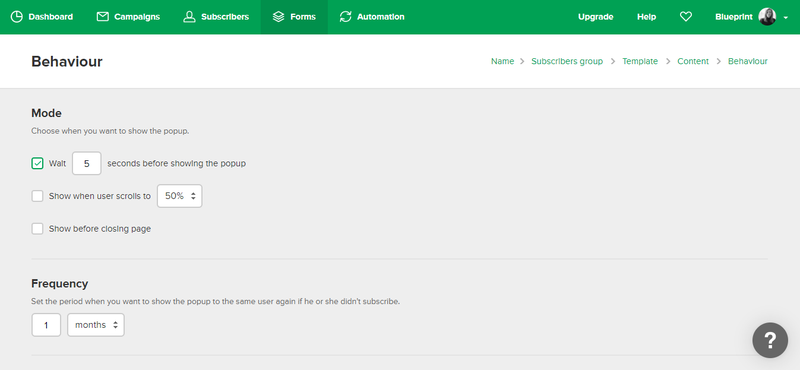 However, once you've used forms to generate more sign-ups, MailerLite's subscriber management features are basic. All you can do is add or remove recipients and search for subscribers.
What Mailchimp offers
There are two words I'd use to sum up Mailchimp's features: analytics and automations.
Mailchimp is the only email marketing software I've come across that directly ties campaign performance to revenue. It gives you insight into the number of orders, average order revenue, and total revenue for each campaign.
You can also compare these metrics with different campaigns to see which have been most effective when it comes to generating ROI.
Mailchimp also lets you harness the power of your data when it comes to building segments.
While you can choose to use your own criteria to build segments, Mailchimp also uses a machine-learning algorithm to build segments for you. This algorithm predicts how likely a customer is to shop with you again, and how much that customer is likely to spend.
Mailchimp also provides templates for your autoresponders, which are automated sequences of emails triggered by customer behavior.
Again, instead of having to build your own manually, you can use Mailchimp's targeted templates to create autoresponders for a welcome campaign email series or an abandoned cart series.
Results: Mailchimp wins
Mailchimp is tough to beat when it comes to features. Its automatic segment builder and autoresponder templates specifically help it emerge victorious in this round.
---
MailerLite vs. Mailchimp: Support
Having self-service support is important for today's workforce, who don't want to spend hours being trained on how to use email marketing software or have to read a long manual.
Both MailerLite and Mailchimp prioritize self-service support.
What MailerLite offers
MailerLite has a comprehensive bank of content within its Help Center, with tons of articles that can help you understand how to better use the software. It also has a "suggested for you" option, which displays knowledge base content relevant to the feature you're using.
MailerLite's range of industry insight content is akin to having a Marketing 101 Guide available right within the software. However, you have to search for articles within its Help Center before you can contact a real person.
MailerLite's free plan gives you access to email support. All of MailerLite's paid plans give you access to 24/7 live chat support.
If that isn't enough support, you can pay an extra $100 per month for a dedicated account manager and the ability to move to the front of the queue for live chat support.
What Mailchimp offers
It's machine before humans when it comes to Mailchimp's support options.
Just like MailerLite, Mailchimp makes you search its guides and tutorials before you can contact support. Mailchimp also provides excellent self-service support options, with articles full of screenshots and videos to help you solve your problem yourself.
Mailchimp makes it difficult to contact its support team, even if you need to report a bug or have an urgent problem. You have to scroll to the bottom of a guide or tutorial to find contact details.
Mailchimp provides live chat support from Monday through Friday for all paid plans and phone support Monday through Friday for the Premium (most expensive) plan.
Results: MailerLite snatches victory
MailerLite and Mailchimp have very similar support options, but MailerLite snatches the victory by the smallest of margins because it provides 24/7 live chat support, while Mailchimp only provides live chat help Monday through Friday.
---
MailerLite vs. Mailchimp: Ease of use
MailerLite and Mailchimp look very different. Mailchimp has a slick user interface that's easy on the eyes. MailerLite looks dated. But it's what's under the hood that counts.
What MailerLite offers
MailerLite is one of the only email marketing solutions that requires you to be approved by the company before you can start sending emails. This can take several days and does slow the process, but once it's out of the way, you can dive right in.
We don't want to give MailerLite image issues, but it's not an attractive solution. The user interface is dated, and its color scheme (dark green and white) makes it look more at home in the 90s.
However, if you can look past all of that green, you'll find a user-friendly solution ready to serve.
MailerLite doesn't mess around with jargon and complex organization; its user interface is refreshingly straightforward, with four main menus: Campaigns, Subscribers, Forms, and Automation, along with the main dashboard.
If you're new to email marketing, MailerLite saves you the time of having to wade through lots of guides and tutorials by providing a sentence of explanation or instruction within the features themselves to help you understand them.
What Mailchimp offers
Mailchimp has prioritized usability, and it shows.
From its quirky graphics to its succinct copy, Mailchimp has created a winning user experience. Mailchimp also provides a lot of personalized in-app support.
When you first start using the software, it asks you what kind of website you run and the goal of your email campaigns (selling products online, making appointments with customers, etc.). It then personalizes the advice it provides within the software.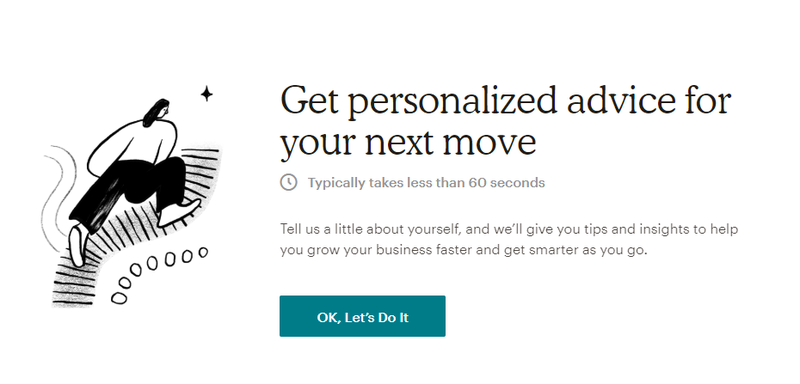 Mailchimp's in-app messages appear as you are using each feature to help direct you to different options and show you how to use each element of the feature.
Take the email editor as an example. When you click on a content block, a message appears telling you that you can edit each block in the Style and Settings menu.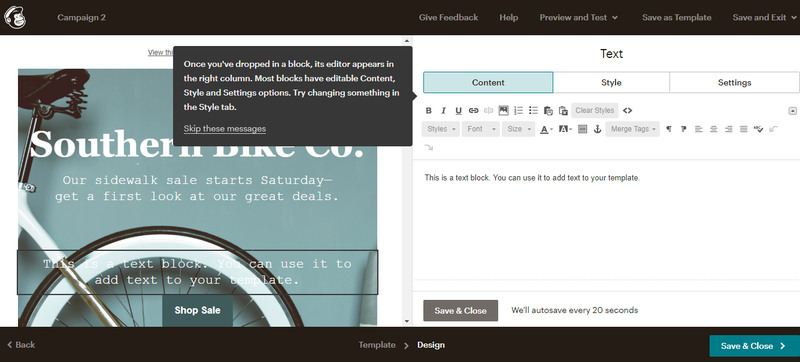 Results: Mailchimp triumphs
Mailchimp's personalized in-app messaging and tips make even the most complex of functionality seem easy to use.
---
MailerLite vs. Mailchimp: Pricing
Free plans are a good way to try out software on a longer-term basis. Both MailerLite and Mailchimp offer free plans.
What MailerLite offers
MailerLite's free plan is excellent. It offers almost all the same features as the paid plans, with the exception of:
MailerLite logo on all emails
No templates
Limited analytics, with no ability to see a heat map of clicks or opens by location
Basic scheduling capabilities, with no ability to schedule emails by time zone
No live support
You can send 12,000 emails per month to up to 1,000 subscribers, and you can use the full segmentation, subscriber management, form building, and autoresponder functionality.
MailerLite only provides one paid price plan. The price depends on the number of subscribers. You can also get a 14-day free trial of its Premium plan. The prices are as follows:
1–1,000 subscribers for $10/month
1,001–2,500 subscribers for $15/month
2,501–5,000 subscribers for $30/month
5,001–10,000 subscribers for $50/month
What Mailchimp offers
Mailchimp also has a good free plan. You can send up to 10,000 emails per month to up to 2,000 contacts.
The free plan only includes basic templates, doesn't let you build Mailchimp landing pages, adds a Mailchimp footer on each email, and doesn't let you schedule emails by time zone. It also doesn't come with A/B testing or allow you to compare the performance of different email campaigns.
Mailchimp's pricing is more complicated than MailerLite's. Mailchimp provides three paid price plans.
Each plan offers a different range of features, and the cost depends on the number of contacts you have on your email list. The price goes up steeply as you add more contacts. For example, the Essentials plan, which is the least expensive paid option, costs:
$9.99 for up to 500 contacts
$29.99 per month for up to 2,500 contacts
$49.99 per month for up to 5,000 contacts
$74.99 for up to 10,000 contacts
Results: MailerLite takes it
MailerLite's great free plan, along with its straightforward pricing and affordability, mean it takes this round.
---
MailerLite vs. Mailchimp: Integration with other software
One of the most important aspects of software integration is the ability to sync with the most commonly used business software rather than more obscure, niche options. Both MailerLite and Mailchimp do just that.
What MailerLite offers
MailerLite provides detailed instructions on how to integrate with each different solution, as it notes that all integrations work slightly differently. MailerLite integrates with a lot of different popular software products, although the list of native integrations sits at under 100. This compares with Mailchimp's more than 200 native integrations.
Here are some of the more popular MailerLite integrations:
Facebook
Stripe
Intercom
PayPal
MailerLite also offers an API, which allows you to build your own integrations with any software not on the list, and it provides extensive documentation to help you do that.
What Mailchimp offers
Mailchimp's integrations allow you to extend its functionality by syncing with different business software and enabling data to flow seamlessly between the different solutions.
For example, its integration with Square allows you to sell products directly from the landing pages you create within Mailchimp.
Other useful software integrations include:
Canva
Facebook
WooCommerce
Eventbrite
ShopSync
Acuity Scheduling
Chargify
Google Analytics
PayPal
Mailchimp also provides an API to allow you to build integrations yourself with any software that isn't on the list.
The only downside is that Mailchimp doesn't provide support for those using its API or building their own integrations. You have to contact a third-party specialist to get help.
Results: Mailchimp wins by a nose
Mailchimp provides double the amount of native integrations that MailerLite offers — it's that simple.
---
How They Compare: MailerLite vs. Mailchimp
| | MailerLite | Mailchimp |
| --- | --- | --- |
| Free trial | | |
| Revenue-driven analytics | | |
| API | | |
| Advanced segmentation | | |
| Autoresponder templates | | |
| A/B testing | | |
| Drag-and-drop email editor | | |
| Landing page builder | | |
---
Mailchimp: The monkey comes out on top (again)
It's yet another victory for Mailchimp in our series of head-to-head email marketing software contests.
It's not that MailerLite is a bad option; it has a lot going for it. MailerLite has advanced segmentation options, an easy-to-use email editor, and great form-building capabilities. It's a straightforward solution with a solid free trial. Its pricing structure is also much easier to understand, and it works out to be a better value for your money overall.
However, MailerLite has no answer for Mailchimp's automatic segment build, autoresponder templates, and personalized in-app support. There's a good reason Mailchimp is a market leader: Its feature set and usability are simply tough to beat.