Email has been around for what seems like forever. That lovely dial-up sound has come and gone, but email has held its own like a cockroach after the apocalypse. With roughly 306.4 billion emails sent and received each day in 2020 and an expected increase to over 361.6 billion daily emails in 2024, email marketing for nonprofits is essential to nonprofit marketing efforts.
As someone who has managed email and nonprofit social media campaigns for organizations of all sizes, I've learned a few things along the way when it comes to making sure your messaging and mission stand out from the crowd. Take a look to see whether your nonprofit organization is following these 13 email best practices when sending emails to your supporters.
---
1. Plan ahead
There are some nonprofit organizations I've seen that start a newsletter with no plan in place. Subject matter is oftentimes all over the place, emails aren't delivered on a consistent basis, and oftentimes I'm not sure why an organization sent an email in the first place. Having a plan in place presents your organization in a great light to potential donors.
When that happens, they pay attention, and when they pay attention, you increase the likelihood that they'll support your cause! Having a plan builds trust with your donors, which is definitely a good thing.
To keep your supporters informed, follow the steps below.
Create a calendar: Take a look at upcoming events that relate to your organization, think about special observations that relate to your cause, and consider the cadence (e.g. weekly, biweekly, or monthly?) of your email marketing efforts. When dates/observances have been agreed upon, add it to a shared content/editorial calendar. This will help keep everyone within your organization on the same page.
Choose email marketing software: You have options when it comes to email marketing for nonprofits (some even offer discounts for charitable causes). Don't be the nonprofit organization that cc's its donors using an AOL address. You want all communications that come from your nonprofit to have a consistent look, and email marketing software can be a huge help.
Design the email: If you're already using email in your nonprofit marketing efforts, is it working for or against your efforts? If you're breaking any of these email design best practices, adjust and improve.
Design not your thing? That's okay! I'd be willing to bet that you're already subscribed to a variety of newsletters, right? Use those email marketing examples to help get the creative juices flowing. Most email marketing programs offer easy-to-use templates to make things easier.
---
2. Keep it simple
You're a nonprofit professional who has a lot on your plate. If you think the creation of an email newsletter needs to be complicated, it doesn't. Here's how to simplify the process.
Limit the number of colors used in your emails: Your nonprofit isn't Skittles; too many colors can be distracting. Keep it simple by using the colors of your logo in your email communications. If you're not sure what colors are used, try contacting the person who originally designed it. If you can find them, they'll usually have all the color codes that comprise your logo, and you can use those in your emails.
Keep it short: Your supporters know your nonprofit is doing great work, so tell them in a way that gets your nonprofit's message across quickly. Don't overwhelm your audience by sharing too much in one email.
Be careful with images: Unless an image is crucial to the email you're sending, consider posting the image(s) elsewhere and providing a link within the email. Images can take a long time to load, and with most people checking emails on mobile devices, it's imperative that messages load quickly. If load times are too long, your audience will simply close the email and move on to the next one.
---
3. Be human
Take a walk in the shoes of your audience. Talk to them like you'd talk to a friend. Use personal pronouns. If it fits your organization, be informal. Share a personal story. Talk about a current event that relates to your mission. Send a birthday greeting to your top donors.
Be human.
---
4. Grab their attention so they open your email
Email subject lines are important. When you look at your own email, all you see are subject lines screaming, "Open me!" Out of those emails, which ones do you open? When you understand why you're opening emails, this will help you create your own subject lines that your supporters will open, too.
If your email subject lines usually contain numerous emojis, all caps, or multiple marks of punctuation, be aware that because of spam filters, the email may not even make it to the inbox, which leads me to…
---
5. Ask readers to move emails from your nonprofit to their primary folder
If your readers use Gmail, sometimes emails automatically end up in the "Promotions" tab. If you're concerned that this is happening to your email communications, politely ask your email subscribers to move your nonprofit emails to the "Primary" tab. To be on the safe side, you can also ask your audience to add your nonprofit's email to their contact list.
And since you're asking your list to add an email to their contact list…
---
6. Always send email marketing from the same email address
The people in your email list know your email address. Whether it's info@[your nonprofit].org or newsletter@[your nonprofit].org, when your supporters see that email address, they know it's a legitimate email coming from your nonprofit. If you want the email to look like it's coming from different people in the organization, you can easily change the sender's name in your email marketing software preferences.
---
7. Check and answer your emails
Believe it or not, there will be times when someone will respond to your email newsletter. This is great! A response could mean someone has a question about your mission, how they can donate, or how they can volunteer. Responding to email inquiries in a timely manner is important. If you haven't assigned someone who will check and respond to inquiries each day, then you could be missing out on new opportunities.
---
8. Make it easy to subscribe
Make the process quick and painless. Asking for first name, last name, and email address is usually enough. A complicated process will deter readers from signing up, so make sure you're only asking for necessary information. If there are other bits of information you need to capture, feel free to add that, too. Most email marketing software will walk you through the process.
After that, hold on to your subscribers by making sure your emails resonate with them. Most email marketing software includes helpful reports that track things like click and open rates. With this added knowledge, you can tweak your communications and make sure you're maximizing your efforts.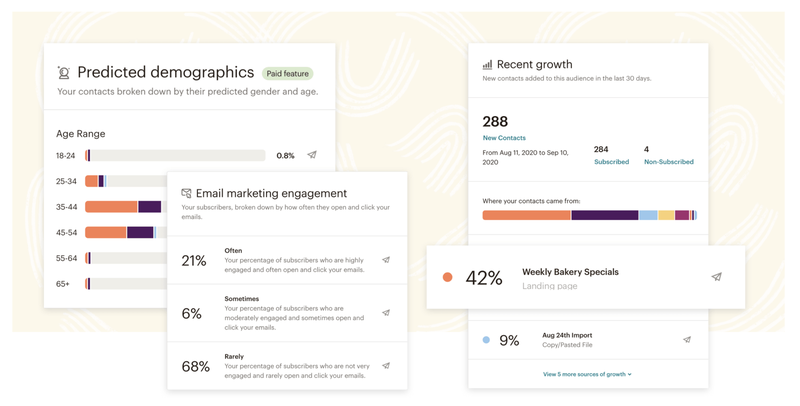 ---
9. Make it personal
Use first names whenever possible. If you've already started your email list and didn't ask for first names, then you can use something like "friend" or a simple "hello." The more steps you take to personalize the experience for your readers, the more they'll feel connected to the mission of your nonprofit.
---
10. Time it right
You have probably heard that emails are best sent on Tuesday, Wednesday, or Thursday, but this can vary. Most email marketing programs provide an analytics dashboard that will help you decide which days and times are best for your specific audience(s). These dashboards are a great place to start and give helpful insights about when your readers consume your content.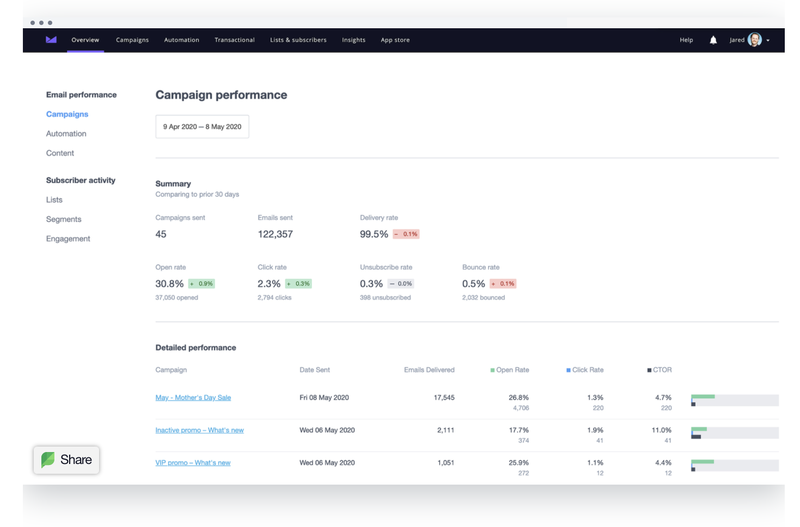 ---
11. Give thanks
Your supporters love your mission, and you love your supporters. Get creative in thinking about ways you can show your appreciation for their support, or get email ideas from other organizations. Show you're thankful by trying one of the following.
When someone subscribes, thank them! You may not think much of it, but you'd be surprised by how many nonprofit organizations forget this very important step in building relationships with supporters.
People love to be recognized. Make your supporters feel great about supporting your cause by highlighting them in your newsletter. Think about ways you can put the spotlight on them because their support helps your nonprofit continue to fulfill its mission to the community.
There are endless opportunities to show appreciation, so make sure to include this as part of your overall strategy.
---
12. Socialize it
Link to your social media accounts. Add a link to sign up for your newsletter on your Facebook page. Think about utilizing the social media integrations within your email marketing program. Encourage your readers to share your email with their friends and family and have them sign up too.
---
13. Always include a call to action
Your readers need direction. CTAs (calls to action) move your supporters to get involved, so be sure to be explicit in what you want them to do. I'm sure you've seen CTAs in the wild, but in case you haven't, they look like some of these examples:
Subscribe now
Click here to donate
Watch our video
You know the drill.
If you don't currently work for a nonprofit organization but this post has piqued your interest, great! Learn more about how to run a nonprofit and nonprofit software to help you on your journey as your purpose-driven mission comes to life.
---
Final thought
Email marketing is an important part of your overall communications strategy for a nonprofit organization. Taking the time to be thoughtful has the potential to yield great results in your efforts. Your supporters want to know about the mission of your nonprofit, and following these best practices is a great way to start.