The path to e-commerce success goes straight through inventory and shipping management. Businesses that can implement, automate, and optimize their stock-keeping and order fulfillment are set up for retail success.
Ordoro functions as a one-stop shop for everything businesses need to manage inventory and shipping. The platform unlocks newfound efficiencies with the automations it provides. And it empowers managers to monitor all parts of their moving business from a single, fully integrated platform.
Continue reading to see if Ordoro is right for your business and if its feature set matches your needs.
---
Who is Ordoro for?
Ordoro is designed to be the entire back-end platform for e-commerce merchants and other high-inventory and inventory-adject businesses such as Ordoro dropshipping, warehouse managers, and more.
Its ease of use and vast feature set makes it a great fit for both first-time inventory software users as well as advanced users. And the platform serves small businesses through large businesses doing millions in annual sales.
Ordoro's featured integrations and open API gives it the flexibility to work with the most popular business systems used today.
---
Ordoro's features
Ordoro provides essential and advanced features for managing, automating, and optimizing inventory and shipping needs.
The inventory management feature set empowers merchants and online retailers to integrate with e-commerce platforms such as Shopify, Bigcommerce, and Magento as well as marketplaces such as Amazon, eBay, and more. It also integrates with popular shipping carriers, including UPS and FedEx, to connect accounts and manage commercial shipping tools and specialized rates.
Take a deeper dive into the core features of Ordoro and see if it addresses your current pain points while also solving for your future needs.
Inventory management
Ordoro centralizes everything you need for executing on all inventory functions. You can integrate your sales channels and marketplaces, product suppliers and shipping partners, and more all into a single inventory control system.
Ordoro enables you to track, monitor, and manage multiple warehouses. This not only includes your own warehouses but also any dropshipping inventory management and other third-party logistics partners.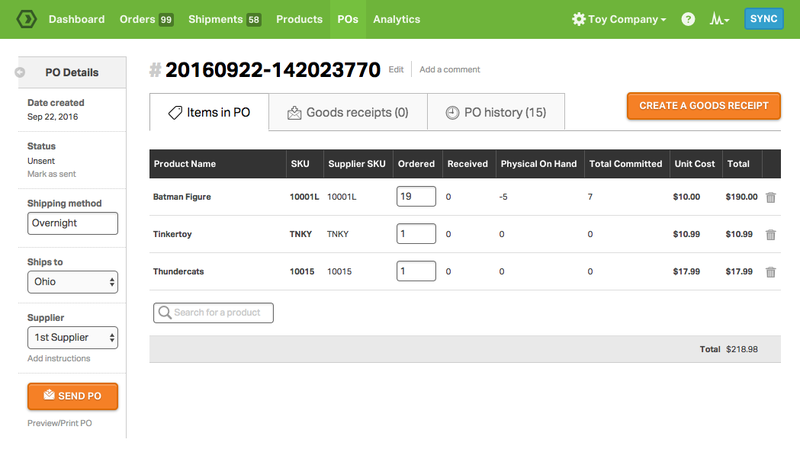 A key inventory management feature of Ordoro is its purchase ordering capabilities. You can ensure that your product reorders are precise and always timely. And with Ordoro, you can navigate overselling and back ordering so that you never have to take items off your site because of low inventory.
Shipping management
Ordoro shipping management offers critical controls and automations for managing shipments and order fulfillment. The shipping management tools help you tag items and orders so that you can search and view order statuses and fulfillment progress.
These additional details enable you to see the activity of every shipment, whether it's just been input, still being pulled, in route, or delivered. You can monitor these statuses and updates within a single shipping management interface.
Ordoro's shipping management also provides auto-audits so that you can get detailed insights into your shipping performance and efficiency. This auditing manages most any metric you can think of, from shipping postage, timelines, and more.
Shipping methods are critical and always changing for e-commerce businesses. Ordoro provides everything you need to execute shipping across all major carries, including USPS, UPS, FedEx, DHL International, and more.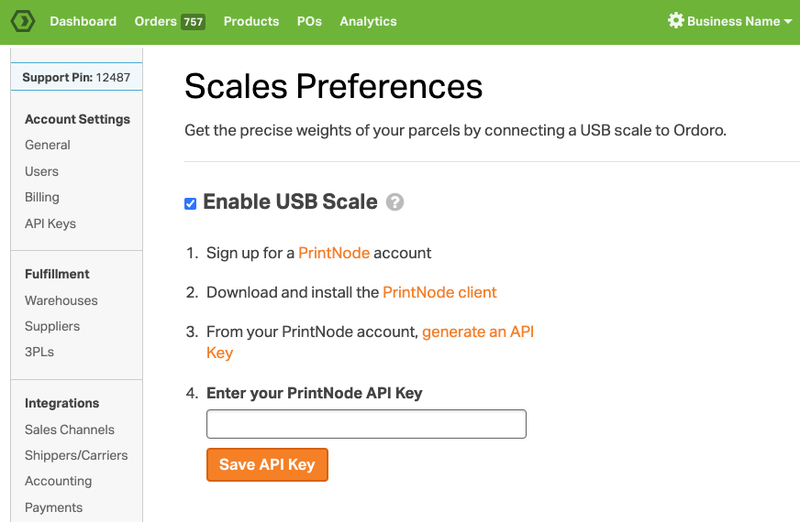 Ordoro also provides a scale for measuring the weight of your packages. This allows you to estimate more accurate shipping rates and also ensure you're appropriately charging customers for their shipment orders.
Built-in automations
Automations are an essential component of inventory management apps, and Ordoro delivers an abundance of them.
The simplest of Ordoro's automations is the auto-sync tool. Ordoro allows you to go about your business while it maintains tabs and counts on all your products in the background. You can set thresholds for products so that Ordoro automatically reorders inventory once a stock count dips below the designated number.
Ordoro's automations extend beyond inventory. The platform provides valuable automations for processing and configuring shipping and order fulfillment workflows. This is especially useful when tied in with Ordoro's barcode printing and labeling.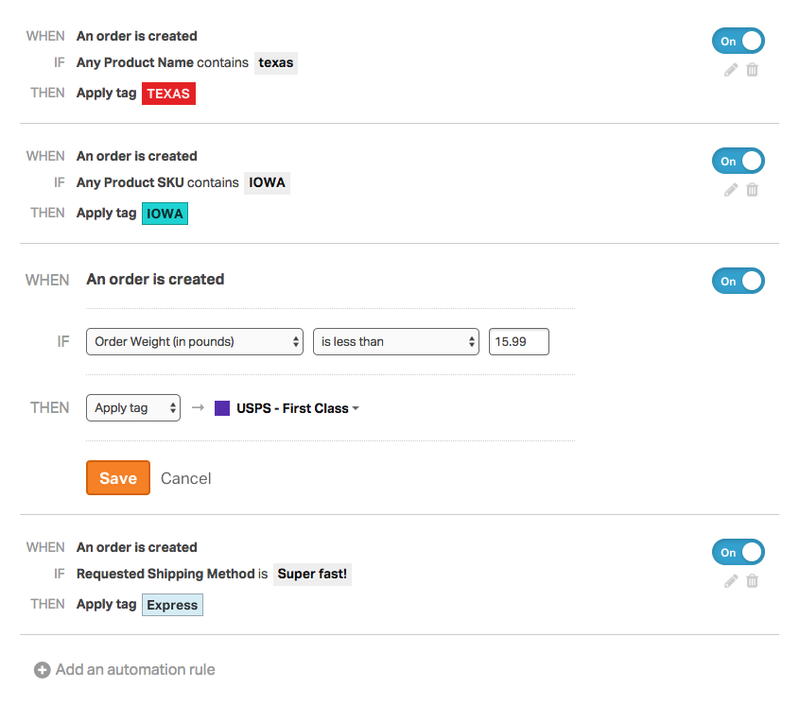 You can set rules for the platform to essentially add a shipping tag to all the items in an order. This streamlines the process of pulling one-off or kitted orders and getting them shipped to their final destination.
Multichannel management
The ever-increasing number of sales channels requires e-commerce operators to master a multichannel approach to their business. While this is one thing on the front-end with setting up stores and such, it's a completely different task to unify orders across all your channels into a single back-end system.
Ordoro's multichannel management tools support you in your mission to centralize sales channels. Ordoro combines supported sales channels, API-integrated channels, and even uploaded CSV order files.
Ordoro syncs all these incoming sales and then also manages multiple warehouses, supply lines, and shipping and third-party logistics providers. It then provides a connection back from the shipping and fulfillment lines through to the sales channel to update customers about their order status.
Barcode scanning and labelling
Another core function of Ordoro is its labeling and barcode scanning capabilities.
Barcode scanning is an essential efficiency booster for inventory and shipping management. And Ordoro makes it easy to generate and print unique barcode labels for individual inventory as well as for kitted products and for customer orders.
Ordoro supports UPC barcodes so that you can scan and search codes for SKUs. You can use this to add additional information, such as the warehouse location of items to expedite the pulling and shipping process.
Bundle and kit management
A result of Ordoro's core features is the ability to organize individual products into a bundle or kit. This feature is essential for most e-commerce businesses looking to package multiple products into bundles for a great margin or to conduct promotions ... still with a great margin.
Ordoro provides the tools to efficiently complete this task. You can use Ordoro to maintain an individual item's unique SKU while also creating another coding on top of it for the kit.
Where things often get tricky is when you have multiple kits bundled into one. This is not the case with Ordoro. You can create kits and then bundle them together into another kit just as if they were individual products.
Kit components spread throughout multiple warehouses are tracked to ensure an accurate quantity of total kits available in each warehouse and the sum on hand across all of them.
A more complex version of varying quantity kits, fractional kits contain fractional quantities, like pounds or gallons, of multiple products.
Inventory and shipping analytics
Rounding out Ordoro's feature set is a robust reporting and analytics module that extends beyond basic inventory counts. Ordoro unlocks a complete look into the health of your business.
Inventory analytics provide readouts on the resources you have tied up in your inventory, including money and warehouse space. You can break down your on-hand inventory by the supplier. And you can monitor your inventory turnover ratio, or how long it takes you to turn over your products.
The inventory turnover ratio is a critical metric when considered with the value of each item. It lets you know how much money you have on your shelves as well as how long it takes to see a return on the investment in those products.
Ordoro's shipping analytics provide insights on shipping costs across all shipments as well as breakdowns by products and carriers. You can also dive into the efficiency of your dropshippers and other shipping partners to determine true value. Ordoro also highlights the efficiency with which you and your partners process, pull, and pack an order and get it shipped.
---
Ordoro's ease of use
Ordoro provides an easy-to-navigate interface with most all of the essential components only a few clicks away from the main screen. Its feature sets are vast and all are sensically set up and easy to run through. And the open APIs and integrations make it easy to work with numerous other business software.
Ordoro's analytics tools make it easy to monitor and adjust your inventory and shipping performance. This is in part due to the centralization capabilities that give you a full snapshot of your business across inventory on hand, shipping, and other financial metrics.
---
Ordoro's pricing
Ordoro pricing includes three tiers to accommodate all types of businesses.
Ordoro's first tier, Express, is a highly stripped-down version of its full feature set. It includes discounted USPS shipping rates, some automation capabilities, and barcode scanning. This is $59 per month.
The upgrade to the next pricing tier is a massive price increase, but it corresponds with tons of additional features. The Pro pricing tier provides all the features highlighted in the features section above. This price is set at $499 per month, which is steep but does provide everything you need to manage your inventory, shipping, and more.
The final tier is a negotiable Enterprise tier that adds on even more features. The price is left to be worked out when you call in to negotiate.
---
Ordoro's support
Ordoro provides support by phone and email. Its support team is available to answer questions and troubleshoot all problems you have.
Along with phone and email, Ordoro's support center includes a massive knowledge database of articles, videos, and tutorials for getting started and troubleshooting everything you need to optimize your Ordoro usage.
---
Benefits of Ordoro
Ordoro unlocks unbelievable efficiencies for users to automate and optimize inventory and shipping components of their business. E-commerce operators can trust in the centralization of sales input across multiple sales channels. And the same centralizations boost the backend of Ordoro so that users can monitor key insights on their inventory, shipping, and general business health.
---
Ordoro comes at a cost but packs a punch
Don't mistake Ordoro for an affordable inventory system. While the entry price point is only $59 per month, it's pretty limited relative to all the features that the $499-per-month tier provides. If you can afford the upgrade to the Pro tier, you'll have an incredibly powerful and reasonably priced inventory optimization tool at your disposal.
---
Frequently Asked Questions for Ordoro
Does Ordoro offer robust integrations?
Yes, Ordoro empowers users to integrate with e-commerce platforms, such as Shopify, Bigcommerce, Amazon, and more. It also features shipping integrations such as UPS and FedEx.
How does Ordoro support dropshipping?
Ordoro allows you to create customized workflows for your unique fulfillment needs. You can designate whichever vendors require notification for shipping and fulfillment and ensure that customers receive the order as needed.
Does Ordoro feature an open API?
Ordoro does feature an open API for users to integrate with new and custom-built channels and platforms.

Ordoro is a feature-rich and easy-to-use inventory management system that offers a wide array of capabilities. Unlocking all the benefits of Ordoro requires an upgrade to their $499-per-month Pro package, but the features provided unlock untold efficiencies for your operations.
Ordoro is a feature-rich and easy-to-use inventory management system that offers a wide array of capabilities. Unlocking all the benefits of Ordoro requires an upgrade to their $499-per-month Pro package, but the features provided unlock untold efficiencies for your operations.
The Motley Fool has a Disclosure Policy. The Author and/or The Motley Fool may have an interest in companies mentioned.