Project planning is a key element of project management. Sure, you can start your project without a plan, but it'll be more difficult to achieve your goals, meet deadlines, and stay within budget.
Your project plan is a step-by-step guide that includes details on the scope of your project, your schedule, resources, deliverables, budget, and how you will measure success.
It's such an important element to get right, that investing in a project planning tool to do all the heavy lifting is a good idea.
Here are our top picks for the best project planning tools for small businesses:
---
What to consider when choosing a project planning tool
Before diving into the software selection process, you first need to take care of some preliminary work and make some considerations.
1. Project stakeholders and team members
Consider the characteristics of your team and stakeholders before begin your search for a project planning tool. Think about how many people will be using the software, where they're located, whether they're full-time employees or contractors, and whether you need to give access to clients or partners.
Another key area to consider is access rights. Will you need to lock down certain areas of the project and give only limited access to external users? Make sure you choose software that has different levels of access rights so you can keep sensitive information secure.
2. Existing workflows
Project plan tools aren't used in isolation by just one team; they're used by all stakeholders involved in a project. This means they either need to fit with your existing workflows and methodologies, or this should serve as a prompt to implement new flows.
For example, do you subscribe to the agile project management methodology, where you plan throughout the lifecycle of the project? In this method, requirements and tasks change and emerge as the project goes along, incorporating feedback from past iterations.
Or are you a waterfall aficionado, planning each stage of the project before it begins, with a stage only beginning once the previous one has been completed?
This is also a good time to consider whether you can automate other workflows or replace existing software with a project planning tool.
For example, you might decide to choose a project management tool that also has task management and invoicing capabilities, meaning you can retire your existing software for these functions.
3. Ease of implementation
If you're able to get a free trial of a project management app, then one of the key aspects you'll assess is its usability. It's important to consider how long it will take to get your project team fully up and running.
You also need to look at the implementation, because if this goes wrong, it'll delay the start of the project, increase costs, and frustrate your project team.
If you're moving from another project management solution, or from one of the many free planning tools on the market, do you need to migrate data into your new tool? Do you have to set up integrations? What customizations do you need to make? How will you train the team? What will the go-live date be?
---
5 best project planning tools for small business
Once you've established your requirements, it's time to research the available tools.
---
1. monday.com
monday.com not only helps you plan for your upcoming projects, it also helps you create plans for projects you plan to execute later this month or this year. To get started, you can import an Excel spreadsheet and turn this into a board.
monday.com organizes all aspects of your projects into different boards, and users who are subscribed to that board can see everything that's happening on the board.
This helps you scope all the work a well as break tasks down into smaller, manageable components. Once you've broken the tasks down, you can assign owners and schedule them.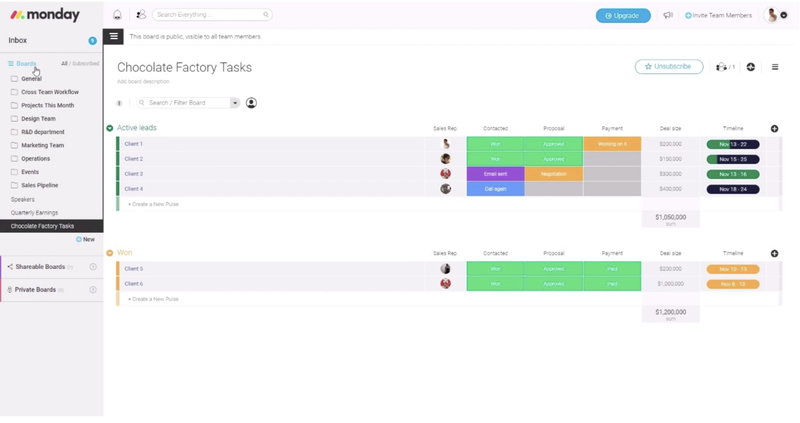 monday.com is one of the best visual planning tools out there. Every member of your project team can choose which way they'd like to visualize the board, making it easy for them to understand the project plan and identify the tasks they'll be involved in.
Read The Blueprint's full monday.com review
---
2. TeamGantt
TeamGantt makes it easy to plan out all of your project management steps as well as create a schedule for your entire project. This project management software's shared team calendar displays the duration of all tasks from start to finish.
Its Gantt charts are clear, concise, and don't require a lot of technical knowledge to master.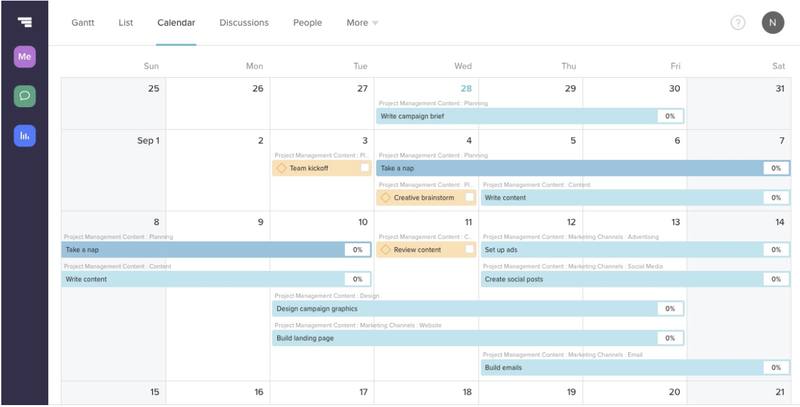 When you start the planning process, this software's Gantt charts, time tracking, task dependencies, and due dates enable you to use the critical path method (CPM) to determine the duration of your project during the planning stage.
CPM is a well-known project management technique that evaluates and identifies the critical steps you have to take to determine the duration of a project.
TeamGantt also offers multiple project planning templates ready for use right out of the box, which means you don't have to start a new project from scratch. Whether you use a template or not, you can group certain tasks together to keep your project organized as well as add milestones or convert tasks into milestones.
TeamGantt's project communication management capabilities help you create a plan that aligns with your team by providing the ability to comment on tasks.
Read The Blueprint's full TeamGantt review
---
3. Wrike
Wrike provides a number of handy tools, namely Gantt charts, resource allocation functionality, and templates to help you become a champion project planner.
The software's Gantt charts let you visualize every project management step, create tasks, link each task using dependencies that have to be completed before the next one can begin, and track their progress against deadlines and milestones you've already set.
When it comes to resource management and allocation, Wrike's drag-and-drop interface lets you assign tasks based on team workload over the entire project timeline. This feature also helps you prioritize tasks based on the available resources and capacity across your team.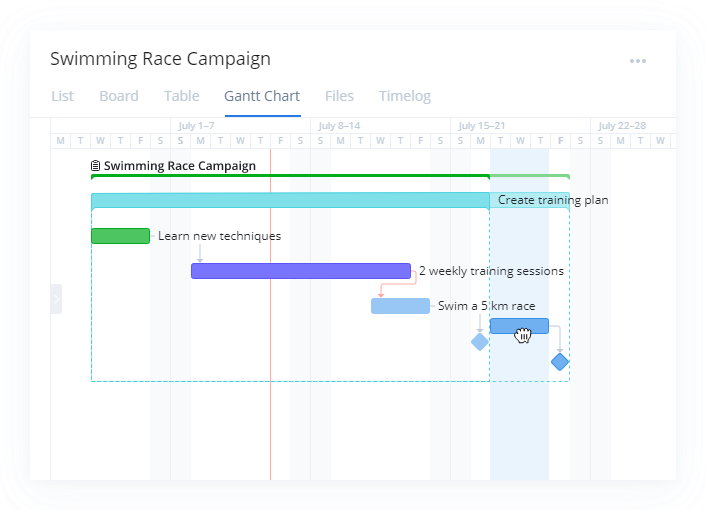 To save you time in the future, you can create project planning templates to standardize project processes while creating custom workflows you can use to form the basis of each plan.
If you make changes to deadlines, Wrike's dynamic timeline automatically adjusts everything around your changes and shares the updates with your project team.
Read The Blueprint's full Wrike review
---
4. Asana
Asana's online planning tools track resource capacity, automate common tasks to speed up the creation of project plans, and put together a feasible schedule that takes into account the resources available.
You can designate dependencies so users know that you won't start certain tasks until others have been completed. This helps you build out a realistic project timeline and allows you to get a better understanding of the resources needed during different stages of the project.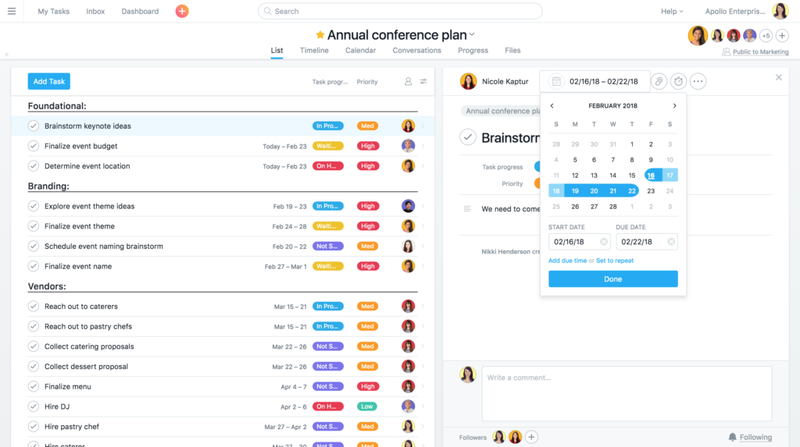 You can also arrange and group tasks into different sections by deadline, workflow stage, or timeframe.
The different workflow views provide all stakeholders and employees with a visual way to keep track of your plan, easily spot any issues, and ensure everything is on track.
Read The Blueprint's full Asana review
---
5. Scoro
Scoro packs a whole lot of features into one solution. It includes everything you need for the project planning phase, proposals, execution, and even invoice collection.
Its dashboard reflects that, with a seemingly neverending number of options and a huge amount of data stored and displayed in one place. The planning element gets its own entry in the main menu.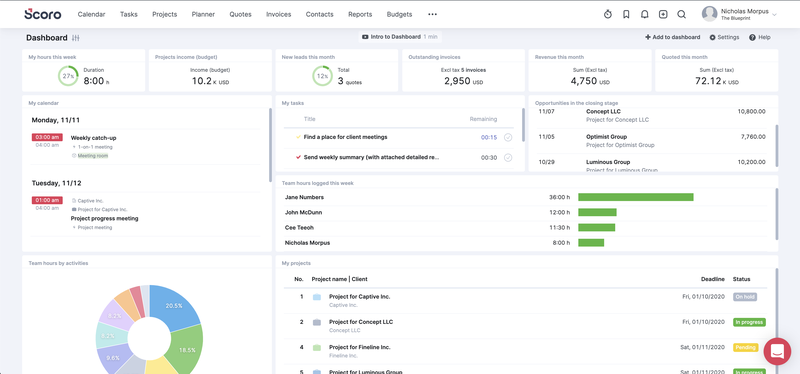 Scoro has an impressive range of project planning features. You can create an unlimited number of projects as well as manage the budgets and schedule of each project.
You can also choose your own schedule, planning projects on an hour-by-hour basis. Scoro provides an overview of how much time is scheduled or left unscheduled.
In terms of permissions and locking down areas you don't want contractors or customers to access, Scoro lets you set roles for each team member. You can customize each role and its corresponding access rights.
Read The Blueprint's full Scoro review
---
From planning to execution
Even the best-laid plans go awry. Though you might think you have an airtight plan, you might need to pivot mid-plan if you want to meet your goals and deliver on time and within budget. Or you might need to draw up a new plan altogether.
Remember to check in regularly to see if you're on the right track when it comes to schedule, whether you have adequate resources to complete tasks, and whether you're heading toward the finish line.