Running a food and beverage company is more than a full-time job. It's a lifestyle. Yet it's easy to get overwhelmed when facing restaurant business challenges from all sides, including employee turnover, budget constraints, and fickle consumers. Tackle one issue at a time using your available resources and investing in solutions that make a difference.
---
8 challenges restaurant owners face and how to tackle them:
Ongoing labor woes
Crushing operating and variable costs
Changing consumer behaviors
Time-consuming restaurant marketing tactics
Services eating away at profits
Meeting diverse training needs
Ineffective management
Unengaged customers
---
1. Ongoing labor woes
Sure, it's important to hire people with the right skills for the job. But it's vital not to overlook soft skills that translate into satisfying customer experiences. Find the right people first, then build on their skills.
Solutions to hiring and turnover problems include:
Reducing turnover: Promote from within while encouraging peer-to-peer mentoring to increase employee retention.
Asking your staff: Build an employee referral program with rewards for quality hires.
Always accepting applications: Offer all application materials in a mobile-friendly format.
Practicing interviewing skills: Develop interview questions to gauge soft skills and cultural fit.
Employing flexible scheduling: Use a scheduling app to make it easy for staff to customize their availability.
Using social media to attract employees: Share photos and videos of your team in action online and encourage social shares.
---
2. Crushing operating and variable costs
Profit margins are notoriously slim for restaurants, and higher minimum wages are making it difficult to balance profit-and-loss statements. Either you need to be a math whiz, excel at spreadsheets, or integrate your technologies to get a clear view of your costs.
If the thought of more spreadsheets isn't appealing, turn to your point of sale (POS) software, accounting, and scheduling platforms to develop insightful labor and sales reports.
Solve financial restaurant challenges by:
Adding new income streams: Look for ways to increase revenue with do-it-yourself (DIY) meal kits, catering, or branded products.
Optimizing your menu: Ask food suppliers for free help with developing a menu that places high-margin items front and center.
Reducing your inventory: Engineer your menu items to decrease the total number of ingredients needed.
Making condiments optional: Train staff to ask if takeout or delivery orders need sauces or silverware instead of automatically including them.
Controlling portions: Use a scale to prep ingredients so cooks aren't inadvertently over-portioning dishes.
Measuring prime costs weekly: Know where you stand with a weekly report outlining beverage, food, and labor costs.
Using tip credits to your advantage: Bolster wages of support staff by sharing a percentage of tips with hosts, bartenders, and bussers.
Recovering extra charges: Pass credit card transaction fees on tips to servers, charge for extra sauces, and add delivery or takeout fees.
Leveraging real-time data: Adjust promotions based on fluctuating food costs or inventory availability for improved operating cash flow.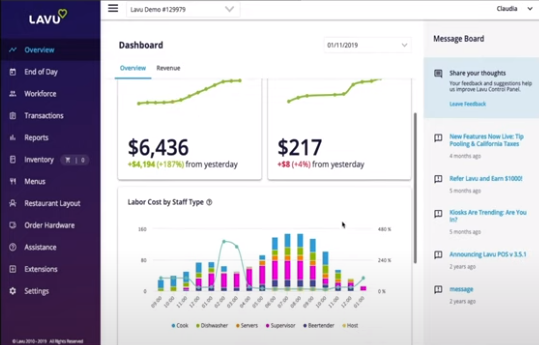 ---
3. Changing consumer behaviors
Staying relevant and profitable requires more than following the latest food and beverage trends. Restaurateurs who understand their target market, including evolving preferences for ordering, payment, and add-on services, increase profits.
Along with your restaurant POS system and loyalty reporting data, get input directly from consumers. Use online polls, fun quizzes, and feedback forms to test ideas or estimate perceived value.
Adjust your offerings by exploring:
In-home experiences: Provide convenience by promoting lunch specials to remote workers, upselling grocery items, or delivering bundled family meals.
Partnerships: Delight guests by partnering with local businesses, such as health and wellness centers, to offer post-workout drinks and snacks.
Mobile experiences: Support digital-savvy customers by making sure your website and loyalty program give an optimal mobile experience.
---
4. Time-consuming restaurant marketing tactics
It's not easy to put on your marketing cap every single day. However, it's not something you can ignore without consequences. Certain things, such as social media marketing, are greatly affected when you don't post for days.
The best way to deal with this is to plan out an editorial calendar for social media and do a bunch of similar tasks at once, such as creating dozens of Facebook images. Then use software like Hootsuite or Buffer to automate your posting schedule.
You also have other things to do, such as talking to fans online, monitoring reviews, and planning upcoming promotions. Tackle your restaurant marketing challenges by:
Making a list of restaurant marketing duties
Prioritizing promotional channels
Noting the frequency of tasks
Delegating some oversight to management
Turning your big responsibilities into bite-sized jobs
Creating daily, weekly, and monthly marketing lists
Developing goals for promotional activities
Doing one to five small tasks every day
---
5. Services eating away at profits
Complete an audit of the software as a service (SaaS) fees you pay monthly. Look at your cost and return on investment (ROI) to make sure each solution is worth it. While you can't drop many services without severe consequences to your customer experience, you can look for alternatives.
For example, consider bundled options through your POS providers. Toast offers integrated online ordering and loyalty programs. Providers such as Square and Clover include payment processing systems.
Unlock answers to your restaurant business challenges by optimizing your software use with:
Third-party delivery services: Modify delivery service menu pricing to reflect your fees or charge a service fee.
Loyalty programs: Get a higher ROI by tracking key metrics, training staff to secure sign-ups, and using software that suits your demographics.
POS software: Ease of use and integrations are essential. Consider switching systems to increase productivity in both front-of-house and back-of-house operations.
Credit card processing: Review transaction fees to ensure they're in line with industry standards, and don't be afraid to negotiate.
Online ordering: Reduce expenses by buying a POS system with integrated online ordering, then encourage guests to save money by using your system instead of GrubHub.
Payroll systems: Look for bundled software services that include restaurant payroll, scheduling, and accounting or inventory.
---
6. Meeting diverse training needs
Training is more than putting together an employee handbook and putting the new hire alongside a crew member for a few shifts. While real-life practice on the floor or kitchen is essential to your training program, it's equally important to address specific restaurant industry challenges.
For starters, consider the demographics of your crew and preferred learning styles. The easiest way to reach a broad range of employees is to use software designed for training, such as ExpandShare or Wisetail.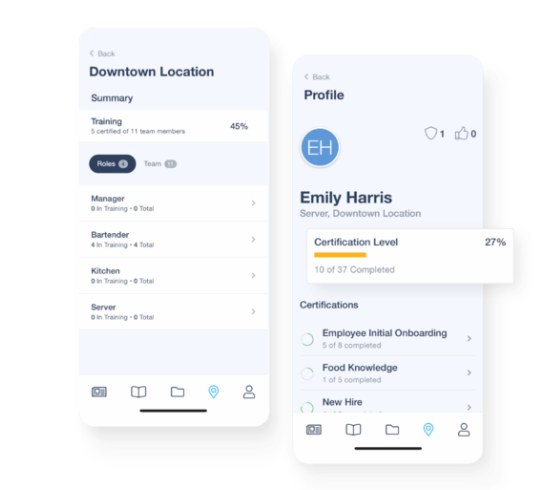 However, smaller businesses may prefer to develop their own training assets. Get ideas from free Procter & Gamble materials. Plus, ask your vendors if they offer tailored programs for software. Then turn your existing training guides into short videos, slide shows, and mobile-accessible online quizzes.
---
7. Ineffective management
Restaurant management is a tough job because it's a balancing act between staff, business owners, and customers. They're often the most visually prominent person in your restaurant. Yet managers must also oversee back-office duties such as inventory management, labor, and scheduling.
Invest in your managers by offering extra training while taking actions to improve operations such as:
Empowering management: List job responsibilities and allow managers to take action without worrying that they're overstepping.
Driving accountability: Teach supervisors to use POS reporting data during shifts, like real-time labor costs, and motivate them by setting goals.
Improving communications: Work with your managers to convey rules and information to the staff so you present a united front.
---
8. Unengaged customers
Guest retention stems from more than great food and excellent restaurant customer service. Engaged customers talk about your brand, click on your emails, and use your text coupons.
According to a survey by the restaurant marketing agency MGH, "Of respondents who actively follow and engage with restaurants on social media, 74% say they are more likely to visit or order food from those establishments."
Build relationships with your guests by:
Investing in loyalty: Choose a reward platform that uses SMS or text messaging and email to reach a broader audience.
Personalizing your communications: Segment mailing lists to send targeted offers, such as family meals rather than portions for two.
Offering self-service options: Include frequently asked questions on your website so guests can learn about your food ingredients online.
Interacting on social media: Reply promptly to mentions or comments, and thank fans who share your posts.
Asking for support: People want to help small businesses succeed. Tell them how to do it by including a call to action in all of your communications.
---
Overcome your restaurant business challenges
Regardless of your restaurant's size, the industry presents hurdles at every turn. Navigate your restaurant business challenges by incorporating the right technologies while building reliable systems and efficient workflows.