Food fads change yearly. However, the 2020 pandemic altered the way people dine, work, and live. As a result, we see several restaurant trends that may be here to stay.
Although big brands can quickly adjust to changes, it's harder for resource-strapped small businesses. Fortunately, there are ways you can take advantage of nine current trends in the restaurant industry to reduce your costs while navigating a challenging environment.
---
1. Emphasize comfort and health
Healthy lifestyles aren't new, nor is serving chicken noodle soup when someone gets sick. Yet the emphasis on "underlying conditions" in 2020 made many people reflect on their food choices.
While small restaurant owners aren't racing to design new menus, they're finding ways to market comfort foods and healthy versions of traditional favorites. For example, grandma's chicken noodle soup gets the tagline "rich with collagen," while a side of coleslaw "supports gut health via fermentation."
It's still important to offer gluten-free and vegan alternatives. But restaurants should also look for ways to market existing meals or create new versions of familiar foods.
Google Trends shows an increase in searches for:
Vegan comfort food: Up 130%
Comfort food dinner ideas: Up 80%
Comfort food delivery: Up 200%
Fall comfort foods: Up 350%
Healthy comfort food recipes: Up 50%
---
2. Prioritize technology investments
Although restaurant point of sale (POS) systems are standard technology investments, the introduction of contactless everything won't be going away anytime soon. The newest restaurant trends focus on technologies that seamlessly deliver safe, convenient, and frictionless experiences.
Ways to boost digital integration at your restaurant include:
Offering contactless payments: Mobile payment options, such as Apple Pay, Google Pay, Samsung Pay, and Fitbit Pay, give diners more ways to pay for meals.
Providing dine-in ordering options: Guests use their cell phones to scan a quick response (QR) code, order, and pay from their table, limiting contact with employees.
Using handheld devices: Servers arrive at tables with portable tablets to quickly input orders or loyalty information to streamline the guest experience.
Boosting your loyalty program: Consumers want value, and loyalty programs increase value perception while driving guests to your website.
---
3. Devise new ways to satisfy off-premise diners
A recent Deloitte report looks at future restaurant trends and suggests, "The massive shift we've seen in 2020 to takeout, delivery, and drive-through is likely to be 'sticky' in the longer term."
This means that pandemic-related offerings, such as curbside delivery, will stay attractive long after the health crisis ends.
Even if you took temporary measures, it's time to evaluate your methods and determine which ones you'll continue next year. Popular ideas that won't lose traction anytime soon are:
Dedicated curbside spots for food pick-up
Website, phone, and app-based ordering options
Prepackaged grab-and-go options for quick ready-to-heat meals
Self-serve pick-up options for pre-paid orders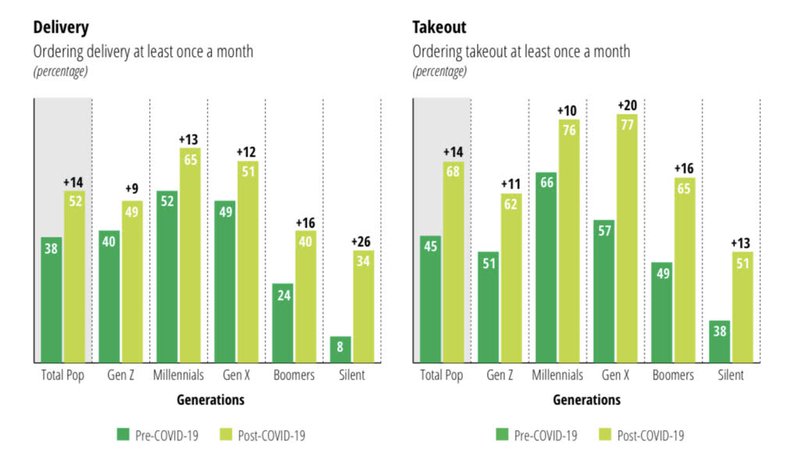 ---
4. Reflect customer lifestyle changes
The sudden shift to remote work reduced the need for a morning bagel and coffee or that midday snack with co-workers. Although many people will return to their offices next year, restaurateurs can modify their approach by figuring out how their meals fit into a work-from-home lifestyle.
For instance, many restaurants deliver breakfast or snack boxes, which are perfect for busy parents working from home alongside their virtually schooled children. Others anticipate a need for individually packaged snack trays for office environments.
As people adapt to new routines, your restaurant can support them with personalized messages touting value and convenience while showing customers how your off-premise options improve their day.
---
5. Pivot to a bodega model
For the past few years, restaurants have seen increased competition from gas stations, convenience, and grocery stores offering ready-to-eat meals and snacks. However, pandemic-related supply chain problems led to customers searching for staples.
To meet this demand, restaurants provided staff and customers with the basics using the bodega concept. This works well if you can incorporate items that don't add extra inventory costs or that help you move time-sensitive items, such as fresh foods.
Consider using a restaurant marketing campaign that encourages customers to grab a meal to go while picking up a few items for breakfast, lunch, or tomorrow's dinner, such as:
Fresh vegetables or fruits
Onions or potatoes
Eggs
Milk
Olive oil or butter
Various fresh or dried herbs
---
6. Offer at-home cooking experiences
The desire for in-home experiences led to a jump in do-it-yourself (DIY) projects, including family cooking or baking options. It's a result of more people being at home and tighter budgets.
Restaurants, bakeries, and cafes can get on board by:
Selling DIY kits: Bakeries offer unfrosted cookies, icing, and sprinkles in a Christmas cookie kit, while restaurants provide ready-to-cook meals.
Promoting value: Restaurants produce the main dish then upsell ingredients for quick side dish options to feed a family.
Exploring virtual dining: From chef-led cooking sessions to small group wine tastings, restaurants can safely connect people online.
Offering tasting menus to go: People look for memorable experiences, and combining a tasting menu with an online presentation is a great way to satisfy those cravings.
---
7. Add ghost kitchens or pop-ups
Restaurant real estate isn't cheap, and operating costs continue to remain on the list of top restaurant business challenges. To overcome these obstacles, many restaurateurs look for buildings with a smaller footprint.
New locations may feature smaller dining rooms with adaptable outdoor spaces or pick-up window areas. Or, to embrace the delivery experience and extend their reach, business owners may consider:
Leasing shared kitchen spaces used as delivery distribution points
Using ghost kitchens to reduce delivery times, or offer self-serve pick-up counters
Boosting profits via exclusive pop-up restaurants targeting specific customers
---
8. Trim restaurant menus
Restaurants of all sizes reduced menus in 2020, including McDonald's, Denny's, and IHOP. Smaller menus help restaurants pare down food costs, simplify inventory management, reduce food waste, and increase efficiency.
Going forward, you can expect to see restaurateurs focusing on zero-waste items, offering different menus throughout the day, and improving food quality by focusing on a limited menu.
---
9. Emphasize authenticity and transparency
Today''s diners want brands to do more than sell great food. Customers expect honest communication about your safety measures and how you treat your staff. Restaurant market trends point to a need for businesses to:
Show a connection between the restaurant's core values and mission to its offerings, such as dine-in or delivery.
List the origin of certain foods, emphasize local food sourcing, and highlight nutritional facts or guidelines.
Share behind-the-scenes views of your restaurant demonstrating safety practices or how you're adapting to support guests.
Express concern and participate in community-wide events to show how you give back or what role you play in a local area.
Train staff to respond to pandemic-related concerns while prioritizing restaurant customer service.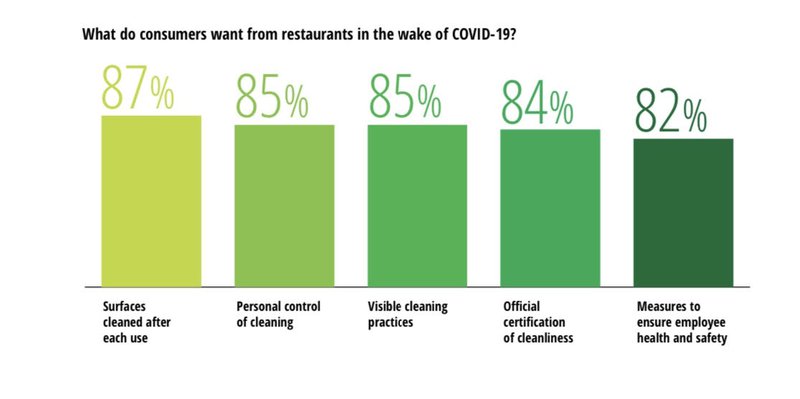 ---
Stay agile by watching for current restaurant trends
As restaurant industry trends change to reflect consumer behavior and lifestyle changes, you can keep your business in the spotlight by improving your online presence and building a frictionless experience on your restaurant website.
Fads come and go, but the desire for value and convenience is here to stay. Embracing DIY kits and food delivery while designing marketing campaigns that show folks how to recreate their favorite meals are some great ways to stay relevant in the days to come.