The 2020 Coronavirus Aid, Relief, and Economic Security (CARES) Act provided funds to help small businesses through the COVID-19 crisis. Unfortunately, the pandemic outlasted many of the CARES programs.
The Economic Injury Disaster Loans (EIDL) program is a prime example. The U.S. Small Business Administration (SBA) awarded EIDL grants of up to $10,000 to small businesses in disaster areas to offset economic losses from the pandemic. Funds for SBA EIDL grants ran out in July 2020, but EIDL loans are still available.
The SBA continually offers fresh small business grants and loans at sba.gov. SBA grants are particularly valuable because the terms are better than other loans and grants for small businesses.
All too often, small business owners miss out on these opportunities, relying on their personal finances to weather financial storms. The Federal Reserve Bank's most recent Small Business Credit Survey found that two-thirds of small businesses face financial challenges, and more than half rely on funds from personal savings, friends, or family to pull them through.
Relying on personal assets to fund your operations limits your ability to grow and develop your business. Adding SBA loans and grants to your funding mix can enhance your financial security and strengthen your business.
Let's take a look at the benefits of each federal funding type and how to apply for SBA grants.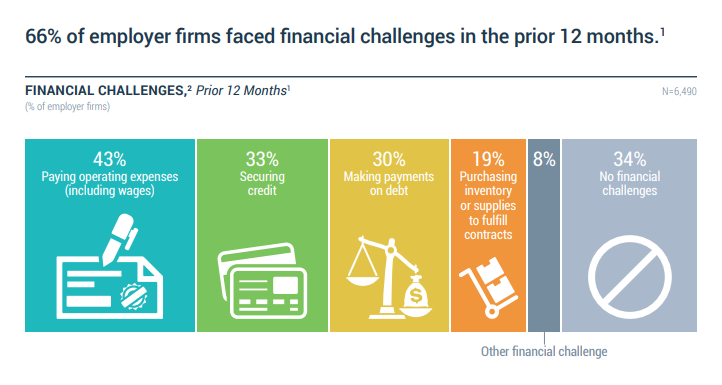 ---
Overview: What is an SBA grant?
An SBA grant is federal funding given to a business through a program administered by the SBA. Unlike loans, grants are not repaid.
The SBA doesn't provide grants directly to business owners. Instead, the agency administers a host of funding opportunities through other federal agencies and programs.
In fact, you should beware of anyone contacting you uninvited with an offer of SBA loans or grants. As the agency notes on its scams and fraud alerts page, "If you are proactively contacted by someone claiming to be from the SBA, suspect fraud."
---
What's the difference between SBA grants and loans?
Here are the key differences between SBA grants and loans.
Grants can go beyond cash
Unlike loans, grant awards can consist of anything of value. This includes training, invitations to events, merchandise, coaching, reference materials, and other resources.
Grants are not repaid
Business loans must generally be repaid, while grants, such as the SBA 10K grant, are outright gifts of cash or other awards. SBA grants are therefore much more valuable than SBA loans.
SBA loans are still better than private loans because they're guaranteed by the SBA. That means very advantageous terms, such as low interest rates and long repayment periods.
Sometimes SBA loans are forgiven, meaning they don't have to be paid back. Loans with forgiveness yield the same bottom-line benefits as grants.
An example is SBA's Paycheck Protection Program (PPP), which offered loans to help small businesses maintain payroll through the pandemic. Participants could request forgiveness of the principal portion of loan proceeds used to cover payroll, rent, utilities, mortgage interest, and other necessary expenses. The PPP grant program closed in August 2020.
Grants are highly competitive
Because grants are simple gifts of cash or benefits, the competition for them tends to be fierce.
Grants are more restrictive
Grants generally have more detailed application requirements than loans because they're awarded for specific purposes. While lenders usually want evidence that you're eligible for a loan and are able to repay it, grant-makers may want to see evidence of your ability to achieve specific outcomes, such as completing a project or meeting operational goals.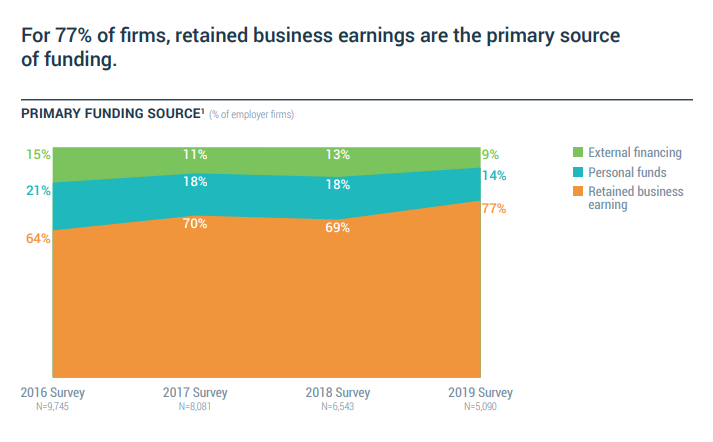 ---
4 benefits of securing an SBA grant
An SBA grant is a direct boost to your company's bottom line. Here are a few benefits of securing an SBA grant.
1. Provides cash
Any grant instantly lifts your company financially by providing cash or benefits with no corresponding debt. This gives you working capital to invest in your operations and position your company for growth.
2. Carries low or no fees
Government grants are free to apply for because they're funded by your tax dollars. The terms of SBA funds are usually far more generous than anything you'll find on the private market.
3. Comes with built-in support
The SBA provides ample resources to help you find funding to build your business. That includes financial counseling, business coaching, and help with finding the right grant and loan programs for your needs. The SBA will even help you complete the applications. This makes applying for funding much easier and increases your odds of success.
To get help, reach out to the SBA small business district center nearest you.
4. Targets disadvantaged groups
The SBA's entire mission is to level the playing field for businesses with less access to working capital, human resources, and other advantages. That commitment extends beyond small businesses to those owned by women, minorities, and veterans.
---
The requirements needed to secure an SBA grant
So how can you tap into the wealth of federal small business grants available through SBA?
Be an SBA small business
To qualify for SBA funds, your business must meet SBA's definition of a small business. This generally includes those businesses:
Operated for profit
With no more than 500 employees, including affiliates
Operating primarily in the U.S., or contributing significantly to the U.S. economy
With a place of business in the U.S.
Organized as a sole proprietorship, limited liability company, partnership, corporation, association, trust, cooperative, or joint venture majority-owned by a U.S. citizen
Meet program requirements
Each SBA grant or loan program has unique eligibility requirements. It's important to read the program guidelines carefully before delving into any grant or loan application. If you're unsure about any requirements, talk to an SBA representative to make sure you're a viable candidate for the program you're interested in.
Complete your application
Depending on the program, the application process for an SBA loan or grant might be fast and relatively simple. Disaster relief programs, such as the COVID-19 small business grants, employed online applications to help business owners get assistance quickly.
However, applications for ongoing grant programs have a much lengthier and more complex application process to navigate. They may require detailed business plans, budgets, and financial projections.
As part of your application, you will likely need an employer identification number (EIN), as well as other basic information about your business.
---
2 SBA grants you can apply for today
If you're doing original research or developing technological solutions to challenges in your field, you can apply for these SBA grants.
Some of the grants are awarded as research contracts. These are very similar to grants, but the research is specified by the awarding agency, which contracts out its fulfillment to the small business.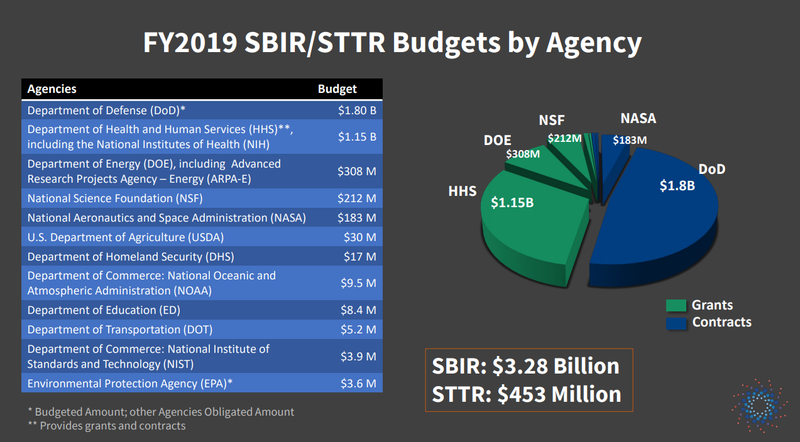 1. SBIR grants
The Small Business Innovation Research (SBIR) program sets aside billions in research and development (R&D) funds from a dozen participating federal agencies. The goal of the program is to promote innovation and help small businesses commercialize their original R&D.
The grants cover a broad range of subjects from medicine and environmental science to economics and behavioral science. If you're doing any kind of scientific research or developing innovative technology, you should search SBIR grant opportunities.
There are currently more than 182 open SBIR grant solicitations online.
2. STTR grants
The Small Business Technology Transfer (STTR) program has similar goals to SBIR, but STTR provides grants to small businesses partnering with universities or other nonprofit institutions. This opens up R&D funds to a wider range of small businesses.
Five agencies participate in STTR: the Department of Defense, Department of Energy, Department of Health and Human Services, National Aeronautics and Space Administration, and National Science Foundation.
There are currently 58 STTR opportunities listed in the SBIR/STTR database. Each year, more than 5,000 grants and research contracts are awarded through SBIR and STTR.
---
6 tips for writing an SBA grant proposal
Before you start, it will help to be familiar with the fundamentals of writing grant proposals and business proposals. In addition to those best practices, consider these tips to succeed with your SBA grant application.
1. Read instructions carefully
Any time you're looking at government grants, you'll want to read all instructions carefully to ensure that you're eligible for the grant and you meet all project criteria. With SBA grants, you have two sets of requirements to consider: the SBA's and the granting agency's. Work through them in that order to be sure you qualify before putting pen to paper.
2. Talk to agency representatives
If you find a good match, contact your SBA representative to discuss it. The SBA rep can verify your research and confirm whether you're a viable contender for the funds. Your rep may also give you tips for moving on to the proposal phase.
Once you've talked to the SBA, you should also reach out to the awarding agency. Make sure you meet specific project goals, walk through the submission requirements and timeline, and get tips for submitting a winning proposal.
3. Examine past success stories
Most grant sites publish past success stories. These aren't promotional fluff; they're a road map for your submission. See what prior grantees did to stand out from the crowd. Look for clues about why a certain proposal or business was chosen. Use that intelligence to guide your own proposal.
4. Focus on criteria and how you meet them
Once you've done all the background research, create a chart of each section of your proposal and the elements or criteria the agency is looking for. Then map out what you can include to satisfy each element. The more you align your proposal with the grant criteria, the better your chance of success.
5. Get expert feedback
When your proposal is as good as you can make it, it's time to get a final read from someone with experience in the type of grant you're applying for. Once again, the SBA is a great resource for you. Your SBA district office should be able to connect you to someone who can review your proposal and provide feedback.
6. Apply again
Grants are highly competitive, so it's best to approach the application process as a numbers game. Don't let a rejection discourage you. Learn what you can from any feedback you receive and move on to apply to the next program. While it does take time to apply, you'll find that the process gets faster and easier with each grant proposal you submit.
---
Your business needs money to grow
Tapping your personal assets to fund your business limits your personal and business opportunities. By applying for SBA grants and loans, you can free yourself financially and give your business the stable funding base it needs to succeed and grow.