There are many web hosting services out there, but SiteGround, founded in 2004, has many dedicated fans for good reason. Its websites load fast with almost no downtime, there are no limits on traffic, and it offers excellent website accessibility. It costs a little more than some other options, but it delivers a quality product that takes security and reliability seriously.
SiteGround understands that small-business needs are different from those of larger enterprises, so it has a system designed to be easy to use for newbies while also being scalable for more experienced developers. It works smoothly with pretty much any content management system you have used to create your website, so going live is pretty simple.
If you run into trouble, its support is excellent. The support knowledge base holds a ton of helpful content, such as articles, videos, and even podcasts, while the support reps themselves are top-notch.
---
Who is SiteGround for?
SiteGround is great for small- to medium-sized businesses and larger brands looking to host their business sites with easy maintenance and excellent uptime. It can be as uncomplicated or as customized as you like and are comfortable with.
Beginners can easily integrate SiteGround with a website builder, especially WordPress, so you don't even need a developer to help you get started. If you are a developer, though, you can jazz it up as you like on larger plans, with multiple programming languages available.
---
SiteGround's features
SiteGround's features are important, not only for providing a good user experience but in helping justify their slightly more expensive pricing when compared to others.
99.99% uptime guaranteed
SiteGround makes a very bold guarantee of constant 99.99% uptime, which is a huge weight off the shoulders of your content manager when doing site management and maintenance.
It takes this guarantee seriously, including it in its Service Level Agreement, so you get compensated with free hosting months if it ever dips below that 99.99% threshold.
Included email
SiteGround email comes included with your plan. You can create an unlimited amount of email accounts with your domain name. Plus, it has spam blocking preinstalled.
Single-stop domain management
Once you're set up, you can manage both your site and domain all from one place for maximum convenience.
Fast page loading
Not only does SiteGround have great uptime, but it also has a reputation for fast page-loading speeds, which helps raise your ranking in search engine algorithms.
Free SSL
SiteGround hosting comes with free SSL, so you know your site is secure, and your customers' data is safe.
WordPress integration
If you're already using WordPress for your content management needs, you're in luck. The SiteGround WordPress integration makes syncing easy. It even has a unique, free migration plug-in to make the transition upload super smooth.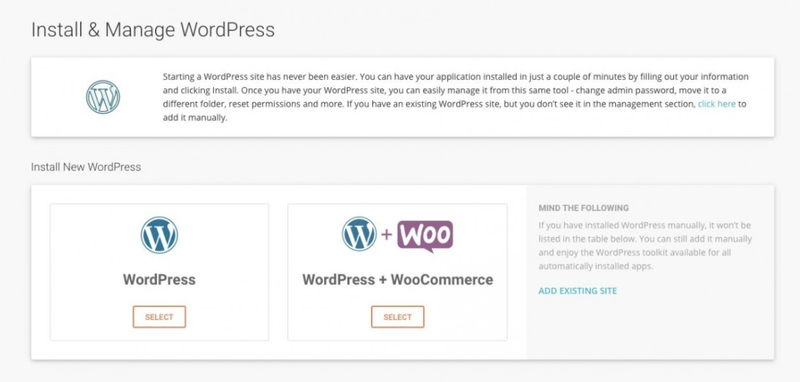 Multiple permissions
You can have multiple users keyed into your back end, but not all of them need the same level of access. With SiteGround, you're able to add people from your organization as needed and assign them different permissions.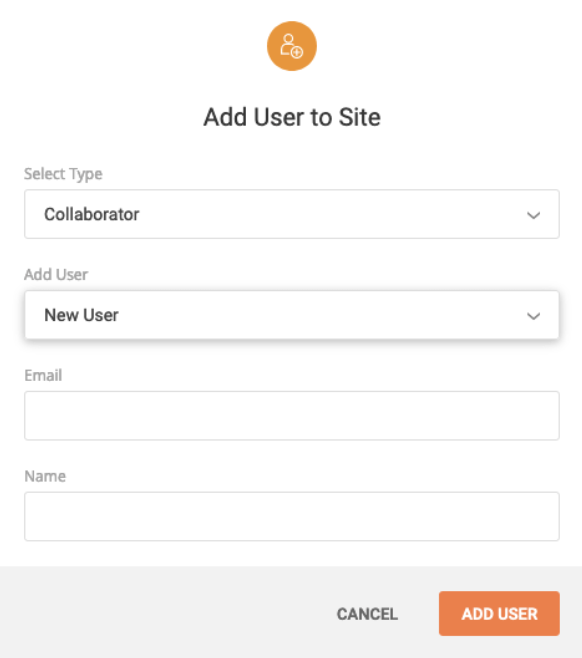 ---
SiteGround's ease of use
The Siteground dashboard and back end are straightforward to navigate. Up until 2019, it utilized a SiteGround cPanel, but has since taken a more modern approach to admin management. With this new addition, you can easily navigate around the entire dashboard without getting overwhelmed. If you are running more than one site, each one has its own unique admin panel.
Getting set up is simple, too. You can easily migrate an existing site built on another CMS over to SiteGround for hosting, so you can rock and roll quickly. Plus, if you ever do feel overwhelmed, there is a carefully curated library of SiteGround knowledge.
---
SiteGround's pricing
Siteground pricing for web hosting comes in three tiers:
StartUp: It's best for beginners and single-site small businesses. The plan starts at $6.99/month, though after the introductory period, that rises to $14.99/month.
GrowBig: A good plan for small- to medium-sized companies. The special introductory pricing is $9.99/month; then it drastically increases to $24.99/month after the first year.
GoGeek: This plan is best suited for large businesses or those with customization needs. The discounted price offer is $14.99/month. After the first year, GoGeek's pricing shoots up from its introductory $14.99/month to $39.99/month.
It is best to choose the longest payment period so you defer the renewal rate hike.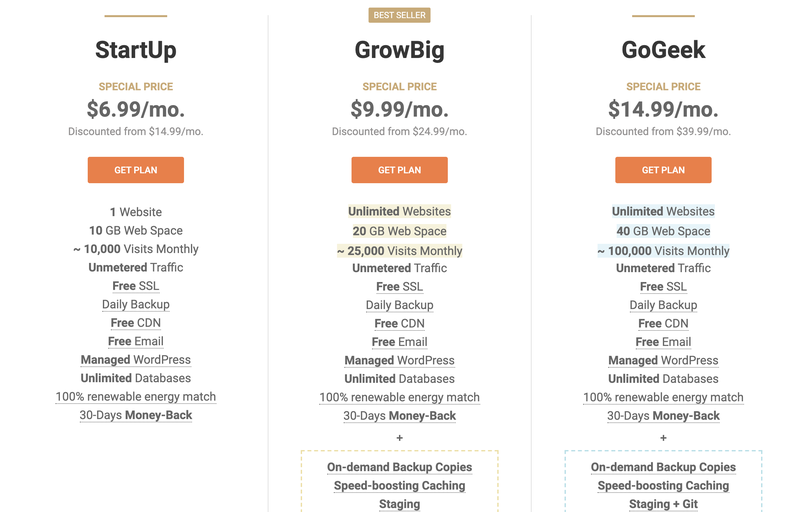 ---
SiteGround's support
SiteGround customer service is pretty darn good. Representatives are available 24/7 by phone or via SiteGround chat. Connections to actual people happen quickly — typically in under a minute — and those representatives are very well versed in all things SiteGround.
You might not even need to make it to contacting support, though, as their online library of resources is pretty comprehensive and easily searchable. They even have video tutorials and podcasts available.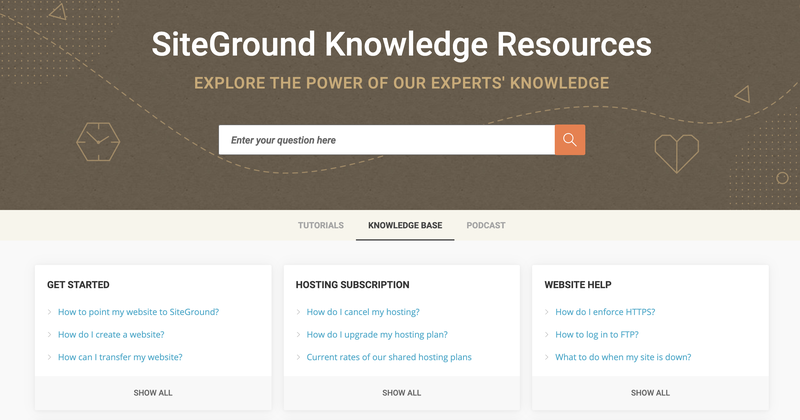 ---
Benefits of SiteGround
SiteGround makes a good case for doing its basic function extremely well: hosting. Since having your pages stay up and running is incredibly important, their 99.99% uptime guarantee is super valuable. That reliability is built into its service contract, too, so it's pretty much something you can swear by.
Site speed is also pretty solid, as it has its servers located in three different countries. Plus, you get free SSL with each site, and it includes website backups. These are managed individually, so you can back up in detail as needed, on schedule, or on-demand. Restoring a backed-up version of a site takes just a few clicks.

---
SiteGround is perfect for web hosting, site management, and creating email accounts
Though a little pricier than some other hosting options out there, SiteGround delivers in the reliability sector. Its efficiency comes into play in managing your site, domain, email, and multiple sites from one place. It's easy enough for newbies, but can be expanded to something greater for larger organizations.
---
Frequently Asked Questions for SiteGround
Can you get a free domain with SiteGround?
SiteGround does not offer free domains, so you will need to transfer your existing one or establish a new domain for $15.95/year.
Yes, it's super reliable. SiteGround has a 99.99% uptime guarantee included in their Service Level Agreement.
Yes! Every SiteGround site comes with a free, guaranteed SSL certificate.

If you're ready for a fast and reliable web hosting company that it's easy to use, has great support and offers tons of features, check out SiteGround to see if it's a fit.
If you're ready for a fast and reliable web hosting company that it's easy to use, has great support and offers tons of features, check out SiteGround to see if it's a fit.
The Motley Fool has a Disclosure Policy. The Author and/or The Motley Fool may have an interest in companies mentioned.