Can an employee be fired for social media posts about work? What if the posts aren't even work related? Are they protected speech, or are they fair game for employers looking to protect their brand?
The answer to all of those questions: "it depends." And that's why you don't have to search hard to find instances of employees being fired for ill-considered posts, or businesses being boycotted for the same.
On social media, judgment tends to be swift and severe. During protests in May, the owner of a boutique literary agent in Minneapolis tweeted about looting in her neighborhood. Within 48 hours, all her agents had quit, taking many of their clients along with them.
Amidst all this, it's no wonder employees and employers are uncertain about their rights to post, censure, or censor social content. Venturing online can be like crossing a busy intersection with no traffic lights or lane markers to clear the way.
Social media guidelines bring clarity to this free-for-all. Find out how to write a social media policy that respects employee rights, encourages best practices, and embodies your business's unique vision and values.
---
Overview: What is a social media policy?
A social media policy is a set of guidelines for employees and other representatives of a business regarding social media use. It includes official company media as well as employees' personal accounts. Obviously, you have greater latitude in controlling employee content created on your own channels and on company time.
---
4 benefits to having a social media policy for your business
Here are just a few of the benefits social media policies can provide.
1. Protect employees
Creating a social media policy for employees can help protect their personal brands and their careers by raising awareness of the potential hazards of careless posts. Often, employees who grew up sharing on social media carry those habits into their professional lives without thinking.
An example is student teacher Stacey Snyder, who was fired for posting a photo of herself at a party on her MySpace page, which she shared with students. The photo, captioned "Drunken Pirate," prevented her from entering the teaching profession.
It never hurts to remind employees that even private posts can end up in the public sphere, and once posted, online content never really disappears.
2. Protect your brand
A social media policy can encourage employees to be your brand's ambassadors at work and in their personal lives. To do so, your policy should go beyond your brand guidelines to reflect your vision and values.
This includes defining what your company doesn't stand for: hostile speech, harassment, defamatory speech, and other offensive conduct addressed in human resources (HR) policies.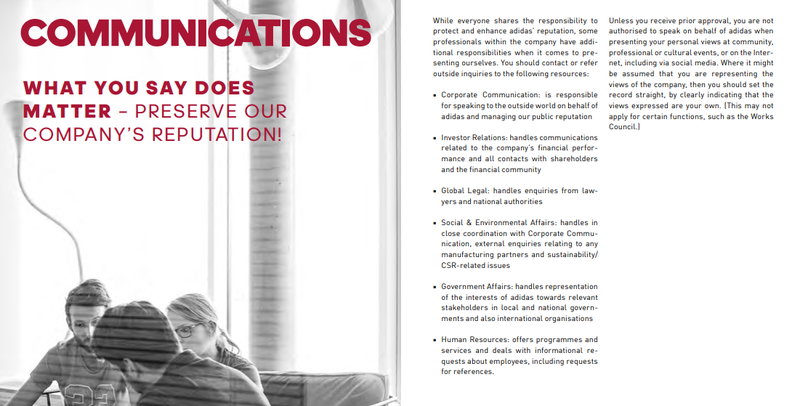 3. Reduce legal liability
While the First Amendment prevents the government from limiting free speech, those limits don't apply to private employers. So long as an employee's post is not protected by a specific law, employers have the right to discipline or fire employees for their social media content as part of their HR policies.
A corporate social media policy helps ensure compliance with laws such as these that protect employee speech.
Working conditions: Under the National Labor Relations Act (NLRA), employees have a right to complain about work — not just formally, but as in grouse and kvetch. Employers should give a wide berth to comments related to working conditions such as hours, pay, and workplace policies, as they may be considered union-related "concerted activities" under the NLRA.
Hostile, unprofessional, defamatory, or offensive posts, however, may be grounds for discipline or termination.
For example, say a woman posts on the first day of work: "Hour two and I'm already BORED TO DEATH." That's not related to working conditions, and it could legitimately lead to firing.
If the same woman posted, "Hour two and I just found out I make less than two guys in my orientation group," that would be protected. It would also be an opportunity to check into her claim and see if she has a point.
Whistleblowing and complaints: Employee complaints and related commentary may be protected under the federal Whistleblower Protection Act, Title VII of the Civil Rights Act of 1964 (Title VII), or other anti-discrimination laws.
Political speech: In most states, political speech is not protected for employees in private companies. However, roughly a dozen states and many cities have enacted laws protecting workers from retaliation for political activity, speech, or party affiliation. Consult the laws of your city and state before trying to restrict political speech.
Off-duty conduct: Many states have laws protecting employees' off-duty conduct. Most are limited to tobacco use or use of other products, but California, Colorado, New York, and North Dakota provide broad protections for lawful activities.
4. Protect your culture
In addition to protecting employees from their own thoughtless posts, a company social media policy can prevent them from hurting other employees and damaging your culture. A social media policy can create clear boundaries for acceptable employee conduct and measures for enforcing it.
---
What to include in a social media policy
Your social media policy should address these eight key areas.
1. Guidelines for company-owned media
Your policy should outline processes for managing company social media channels, including measures to:
Limit access to authorized users
Enforce brand guidelines
Establish security protocols
Provide guidelines for posting and responding to comments
Create protocols for comments that should be escalated for a higher-level response
2. Company brand and values
Ideally, your policy should embody your brand in its language and design. It should also:
Include a link to your full brand guidelines
Remind employees that they are valued brand ambassadors and their online comments reflect on your company
Connect those values to your expectations regarding posts about your company, fellow employees, customers, competitors, and public figures
Give detailed examples of language or conduct that is off-brand
Provide guidance for employees posting about the brand on public forums. Adidas, for example, encourages employees who want to post comments defending the company to instead forward a link to their Social & Environmental Affairs Department
3. Ownership
Direct employees to be transparent and take ownership of their comments by:
Encouraging employees to disclose their employee status when posting about the company
Requiring employees to state that their opinions are their own and do not necessarily reflect those of the company
4. Confidentiality and security
Another function of your social media policy is to protect sensitive information. Require employees to:
Refrain from posting trade secrets, company strategy, financial information, client data, and other proprietary information
Protect co-workers by keeping their information private
Safeguard company accounts with appropriate data security
5. Defamatory or offensive content
Your social media policy should clearly state unacceptable types of speech, including:
Offensive content such as racial, ethnic, sexual, religious, or disability-related slurs
Harassment of fellow employees
Content that evidences or encourages unlawful behavior
Comments that defame the company, competitors, employees, or other individuals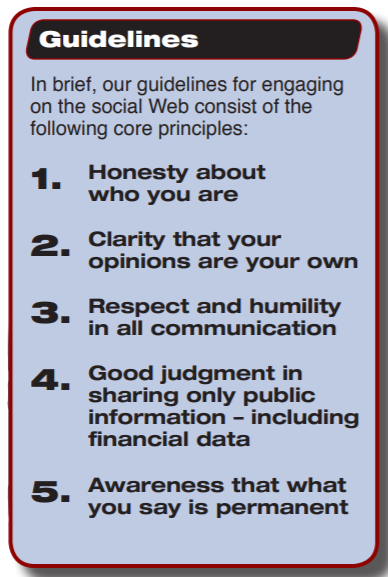 6. Protected speech
You may want to include a section highlighting protected speech, as outlined under legal protections above, or you may find that is adequately covered elsewhere and omit it.
7. Consequences
Your policy should define the potential consequences of violations. Simple oversights may be addressed by a conversation with HR and a request to remove the offending post. Other offenses might warrant a warning, while others may be grounds for immediate dismissal.
8. Questions
Include a specific place for employees to go with questions about social media, whether it's a dedicated email address, a human resources point person, or a chat group. See if your HR software can help keep everything related to your social media policy organized and in one place.
---
How to create a social media policy for your business
Follow these steps to create a policy that serves your needs.
Assemble a team with key players such as communications, marketing, sales, HR, and other stakeholders
Have team members search for sample policies online and bring examples to discuss what you like and dislike
Write in plain language that reflects your brand
Use examples to illustrate key concepts
Run your policy by a legal advisor
Include your policy in your employee handbook and employee portal
Revise your policy periodically to keep pace with the changing social media landscape
Roll out your policy with a brown bag lunch or other training to field questions
---
Social media policy examples
There's no need to create your policy from scratch. Working from social media policy examples can help you cover all the bases and assemble the ultimate guidelines for your business.
1. Dell
Dell opens its global social media policy with a call to "Be nice, have fun, and connect," and that sets the tone for the entire policy.
While comprehensive, it uses plain language to explain its concepts and boils them all down to five main principles: be nice, protect information, be transparent, follow the law, and be responsible.
2. Adidas
Adidas addresses social media behavior in a gorgeous, 79-page code of conduct, Fair Play. Questions about social media are answered throughout. For example, under a section on being respectful, an employee asks what to do about a post by a co-worker that offended him.
Should he respond, or take it to a manager? The company directs him to talk to a manager, who will ask the employee to take it down.
In addition to creating a positive, brand-oriented guide, Adidas really hits it out of the park by using real-world examples to illustrate what the policy means in simple, human terms.
3. Ford Motor Company
Ford has posted a short, public version of its digital participation guidelines on Pinterest and Twitter. In a single page, the company manages to cover everything from the long memory of the internet ("Search engines and other technologies make it virtually impossible to take something back.
Be sure you mean what you say"), to responding to customers with vehicle repair questions. And like Dell, they've boiled it all down to five main principles. Very tidy.
---
Lead the way
Social media is like a freeway running through the center of your brand, and your social media policy is the lighting and lane markers that keep traffic flowing without incident.
Brands that stay ahead of the social flow can capitalize on the upsides of that exposure: employees who champion your brand, customers who engage with it, and public infrastructure that reinforces who you are and what you stand for.