Whether you're a solopreneur or have a business with a full staff, streamlining your scheduling and customer management is a big deal.
The Square Appointments app is a reliable software to get your bookings in order, and it extends its reach to help out in various aspects of business management.
In the search for the best appointment scheduling software, Square Appointments certainly puts forward a strong case for itself.
---
Who is Square Appointments for?
Square Appointments is made for small to medium-sized businesses, including solo operations. Thanks to its free plan (except for a processing fee) at the individual level, it is almost a no-risk investment for sole proprietors.
Beyond that, it is well-suited to businesses with staff members with its personalized permissions, multiple staff calendars, time blocking, and more. It is also easy to set up and use, so you don't need to have a particularly "techy" group of employees.
---
Square Appointments' features
Square booking takes on the appointments world, thanks to a fleet of powerful features. While it starts as a scheduler, streamlining customer bookings and providing backend insight into appointments, it makes good use of the Square Appointments API to touch all corners of business management by integrating with operational software to maximize efficiency and usability.
Online booking and social sync
Make your services instantly bookable on a free booking website and other platforms such as Instagram, Facebook, Google, Quickbooks, and many other administrative tools.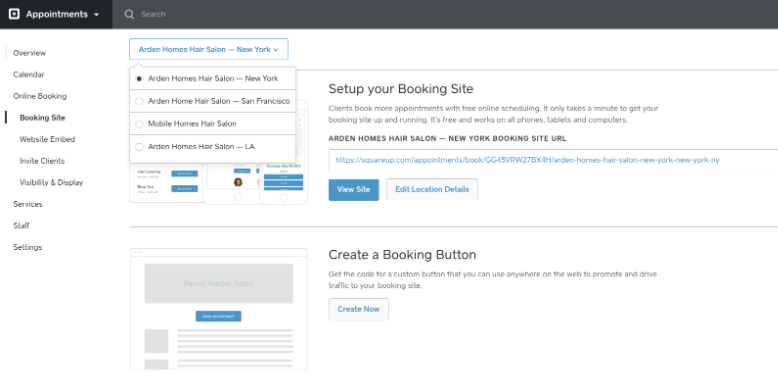 Customer history
Storing customer profiles and information makes for easier rebookings, and it also builds great relationships with your clients. Add notes such as birthday reminders, preferences, etc. You can also access customer booking history to view purchase trends, recommendations, and memberships.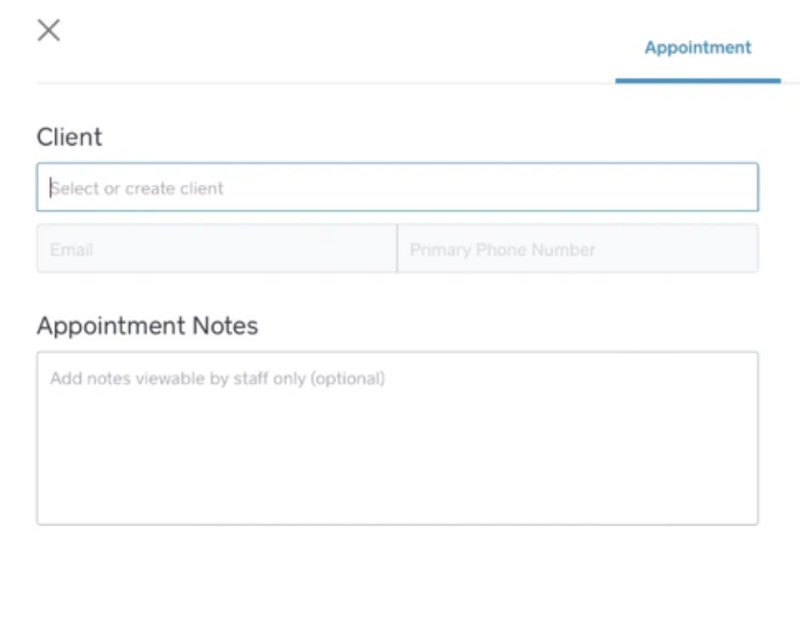 Payment history
Keeping customer cards on file makes for easier checkout. Customers are happy when they can check out faster. Your bottom line is also protected by having a known working card on file for appointments, subscriptions, and cancellation fees.
Policies and fees
Having the ability to create and customize your own policies and different fee types lets you protect your P&L in the event of no shows, rebookings, and such.
Automated reminders
From appointment reminders to instant confirmations at the time of booking, setting up automation goes a long way toward making sure clients show up.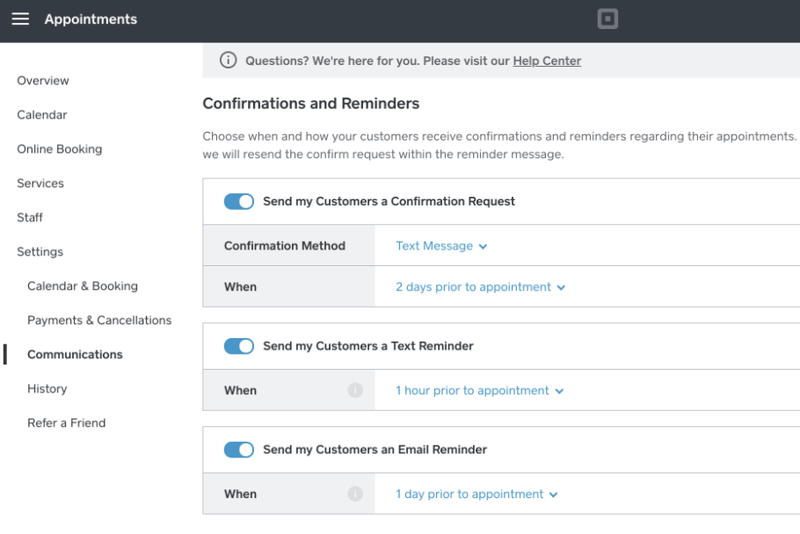 Sync goods and services
You can increase your bottom line by combining goods with your services and ring up product purchases (such as shampoo at a salon) in the same transaction.
Sales reporting
Data is the heart of any successful business. With Square Appointments, you can monitor reports for sales, inventory, revenue, and more from your POS.
Unique permissions
When you have multiple staff members performing varying levels of services and holding different seniority positions behind the scenes, diverse user permissions are needed. Square Appointments lets you create unlimited customized permission sets down to a user level.
Optimize profits
Keep that bottom line top of mind to protect your margins. You can set up various wage rates, analyze labor and sales, and dive into labor costs to adjust your scheduling.
File sharing
Sometimes you need more than an appointment submission from a customer. Attach and send contracts or waivers to clients, as well as files containing sensitive information, because of secure coding.
Calendar sync
Your Square calendar easily syncs with your Google calendar (and other calendars) to make sure your time is automatically blocked and to avoid double-booking.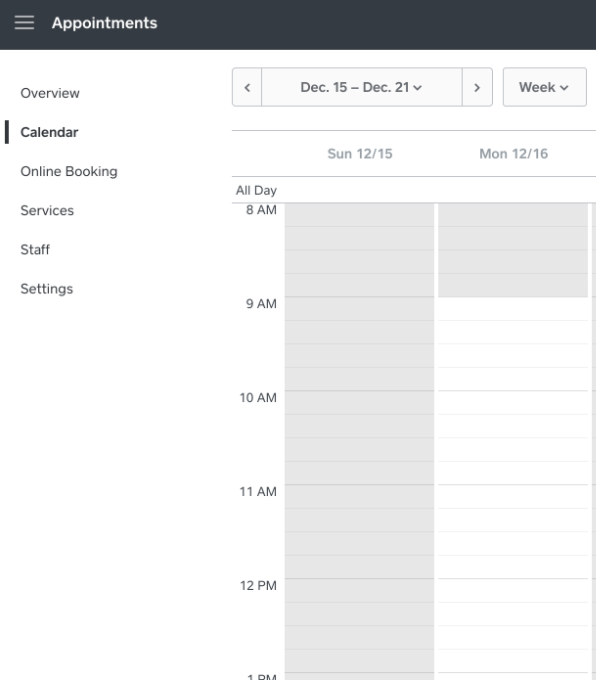 ---
Square Appointments' ease of use
Square Appointments is simple and easy to navigate, manage, and book. For customers, the booking screens are clean and clutter-free. With their payment information stored, the number of steps (and touchpoints) necessary to make bookings and transactions is reduced.
Also, it is easy to get started since Square Appointments integrates well with other apps and tools. On a day-to-day basis, the navigation is user-friendly, and updating permissions, adjusting appointments, pulling reports, etc., aren't difficult at all.
---
Square Appointments' pricing
The Square Appointments pricing is a little more complicated than other booking solutions. It uses both a base fee and a per-transaction fee, but that doesn't make it that expensive.
Pricing is broken down into three basic tiers based on the number of staff calendars. For just one individual, there is no monthly fee, but there is a 2.6% processing fee, plus $.10 per transaction.
At the next two levels — two to five staff calendars and six to 10 staff calendars — the processing fee goes down to 2.5%, plus $.10 per transaction, with the monthly fees set at $50 and $90, respectively.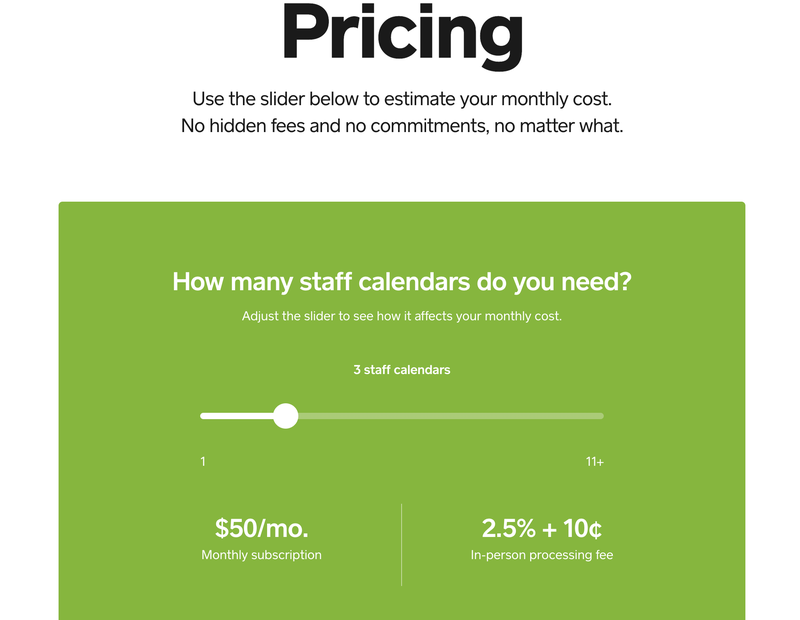 You can also sign up for a free trial instead of a Square Appointments demo to make sure it's the right fit for your business.
---
Square Appointments' support
Square Appointments has a knowledge base with an extensive library of resources, which is searchable by keyword or browseable by topic.
If you can't find the answer to your problem there, Square Appointments does have customer help available by phone, email, and live chat.
It can be a little hard to find the right number to call, but email support is very responsive, and the automated support chat is helpful.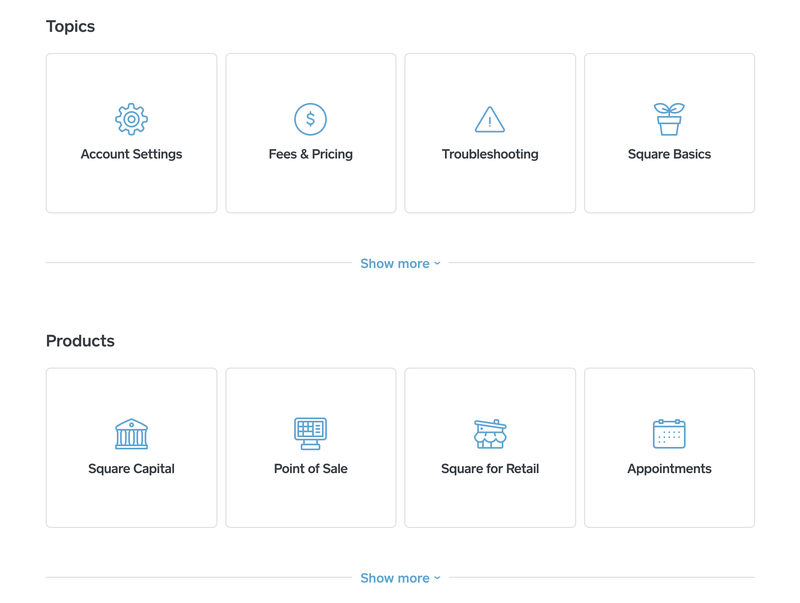 ---
Benefits of Square Appointments
From the start, Square Appointments makes things easier with fast onboarding and allowing integrations with other software and business tools.
You can get your business noticed where your customers hang out with a booking button that you can install on social media channels such as Facebook and Instagram, along with Google.
It also makes nurturing customer relationships easier because of its ability to save customer information and history. Reports are easy to access and help you analyze your business to make smart, revenue-based decisions.
---
Square Appointments is a scheduler that is easy to use and integrate
Square Appointments isn't overly complicated. Instead, it is a pretty efficiently designed scheduling system that does more than the name suggests.
Integrating with online and brick-and-mortar stores, it incorporates sales and bookings in a meaningful way. With an easy-to-use dashboard and helpful data, it is an affordable and useful booking and business management system.
---
Frequently Asked Questions for Square Appointments
Is Square Appointments free?
Square Appointments has a base plan with no monthly fee, but it does charge per transaction. Pricing tiers for two or more staff calendars have a monthly fee as well.
Can you send files with Square Appointments?
Yes. You can attach all kinds of files, from contracts to information decks, and much more.
Will Square Appointments sync with my existing platforms?
Yes. It integrates well with several software platforms, including Google, Quickbooks, etc.

Interested in a scheduling tool that focuses on business management, bookings, and sales reports? Check out a free trial of Square Appointments.
Interested in a scheduling tool that focuses on business management, bookings, and sales reports? Check out a free trial of Square Appointments.
---
How Square Appointments Compare
The Motley Fool has a Disclosure Policy. The Author and/or The Motley Fool may have an interest in companies mentioned.