People begin careers in nonprofit administration because they want to make a difference in people's lives and in their communities. These ideals may drive individuals to start a nonprofit, but a nonprofit strategic plan is what turns those dreams into a reality.
---
Why does my nonprofit need a strategic plan?
Similar to how those for-profits rely on a small business plan to ensure their growth, a nonprofit business plan is critical for your organization's fund development. Taking the time to create a strategic plan for your nonprofit provides your organization with several key benefits as you develop your mission.
1. Create clear steps to meet your goals
Let's say you're a newly formed nonprofit named Good Food for All that wants to provide healthy meals to families living in neighborhoods far from grocery stores. Addressing food deserts is a worthy cause, but how will you do it? What resources will you need? How long will it take? How will you measure success?
Strategic planning will let you answer these questions and establish clear next steps to making your vision a reality. As part of this process, you'll likely discuss fundraising for nonprofits. This element of your strategic planning can help your organization prioritize funding during its startup phase.
For example, you may have long-term goals of building your own food distribution center within one of the neighborhoods you serve, but your current budget may show that meal delivery is a better option for the short-term.
2. Work through specific challenges
Strategic plans are often broad looks at what your nonprofit's goals are for the next six months, one year, or five years. However, you can also create one that is specific to a challenge your nonprofit is facing.
For example, let's say your executive director has essentially also served as your development director for the three years since your nonprofit was founded. You're finding that their time is stretched too thin to effectively raise the money needed for an upcoming project. You could use a strategic planning process to create a development plan for how your nonprofit will establish a more sustainable fundraising team to reach your goals.
3. Deepen engagement with stakeholders
While the strategic planning process ends with a useful document that your team can reference moving forward, the process of getting to that final product is just as important as the document itself. Strategic plans involve board member, donor, staff, and other stakeholder input. The conversations that arise throughout the process can serve to bond your team to your shared mission and encourage their ongoing engagement.
---
3 things to include in a strategic plan for your nonprofit
Depending on your team's process and what is most important to your organization's culture, your strategic plan can include a variety of content. However, effective strategic plans share some similar topics.
1. Mission, vision, and values
A mission statement drives everything your nonprofit does. It's why you exist. You should include it in your strategic plan to set the tone for why the information that follows matters. Using the previous example, a mission statement could look like this:
The mission of Good Food for All is to provide healthy meals to families without access to food.
You should also include your nonprofit's vision. A nonprofit vision takes your mission a little further. It paints a picture of what the world will look like once you've fully realized your mission, and can help drive your longer-term strategic planning. It might look like this:
Our vision is a country where no one goes hungry simply because of where they live.
Finally, you'll want to include your nonprofit's values upfront with your mission and vision. These are the shared beliefs that drive how your staff and stakeholders implement your mission. They're important to remember when choosing your goals and the steps to achieving them.
For example, if one of your shared values is "community efforts create sustainable change," you'll want to make sure your strategic plan involves collaborative next steps rather than creating project silos.
2. SWOT analysis
SWOT stands for strengths, weaknesses, opportunities, and threats. A SWOT analysis looks at these different topics both within your nonprofit and in the environment in which you're operating.
Understanding strengths can help you focus on tasks where you can have the greatest impact. Knowing your weaknesses can show where you need to develop additional resources or otherwise shift your focus.
Opportunities are the things you identify as being able to accomplish, given your strengths and weaknesses. Thinking through threats helps you identify any barriers you might face in seeing those opportunities through.
Completing a broad SWOT analysis for your nonprofit can help uncover what you want to focus on in your strategic plan.
3. SMART goals
Creating business goals is the ultimate end product of your nonprofit strategic plan. An effective way to write these are as SMART goals:
Specific: Your goal should be detailed enough that it answers the who, what, when, where, and why of the goal.
Measurable: You should have a strategy in place to determine when you have met the goal, or how far you are from attaining it.
Attainable: You should consider what you'll need to have in place to ensure you can achieve your goal.
Relevant: Your goal should fit in with the broader vision of your organization.
Time-bound: You should know the timeframe in which you want to meet your goal.
For example, a SMART goal for Good Food for All could look like this:
Good Food for All's board of directors will spearhead a recruitment effort for a new development director. This hire will support our executive director in an extensive capital campaign to raise the money we need to open a new food distribution center. The board will use its current networks to identify five candidates to interview by May, will make an offer to the top candidate by July, and onboard the new hire by the end of August.
---
How to create a strategic plan for your nonprofit
Creating a strategic plan is a collaborative process that can take a few days or several months depending on your goals. There are six main steps to finalizing the plan.
1. Develop timeline and approach
First, you'll need to have a plan for your strategic plan. Before formally starting the process, consider each of the steps below, who you'll involve in them, the ways you'll approach them, and how long each will take. This will give you an overall timeline for completing your strategic plan and reserve time on key team members' calendars well in advance.
2. Review mission, vision, and values
The first task for your strategic planning team should be to review your mission, vision, and values. This process will help you validate them as driving forces for the process ahead, or uncover some areas where you may want to make updates to them. This first task helps bond your team and make sure your current mission, vision, and values are in line with your future goals.
3. Analyze current environment and needs
Next, you'll move into your SWOT analysis. A solid nonprofit strategy must operate within a strong understanding of available internal and external resources, challenges facing the organization, and opportunities for growth. Take time to gain a solid picture of your operational environment.
4. Set goals
Based on what you identify as strengths, weaknesses, opportunities, and threats, consider where your nonprofit can make the most impact and create goals around those areas. Remember to make your goals SMART. You may also want to break them into short-, medium-, and long-term goals.
5. Draft and review the plan
Your mission review, SWOT analysis, and SMART goals will give you a strategic plan outline. From there, designate a team member to be in charge of completing a full draft of the plan that incorporates all of the key elements from your planning and discussion sessions. Have a process in place for who will review the draft and provide feedback and know what your timeline will be for incorporating any of that feedback.
6. Approve the final plan
Once you have a final draft of your strategic plan ready, reconvene your group to approve it together. Doing so further solidifies everyone's shared commitment to seeing it to fruition. You'll also want to consider next steps for sharing the plan with stakeholders who may not have been part of the core strategic planning team.
---
Example of a nonprofit strategic plan
It can help to look at a strategy plan sample when first wrapping your head around what your nonprofit strategic plan might look like.
Taproot Foundation is a nonprofit that connects other nonprofits and social change organizations with working professionals willing to offer their services pro bono. In 2014, they created a nonprofit strategic plan covering their goals from 2015 to 2017.
Their strategic plan's table of contents shows the process of moving from validating their mission to analyzing their environment, and then finishing with their goals for the next three years.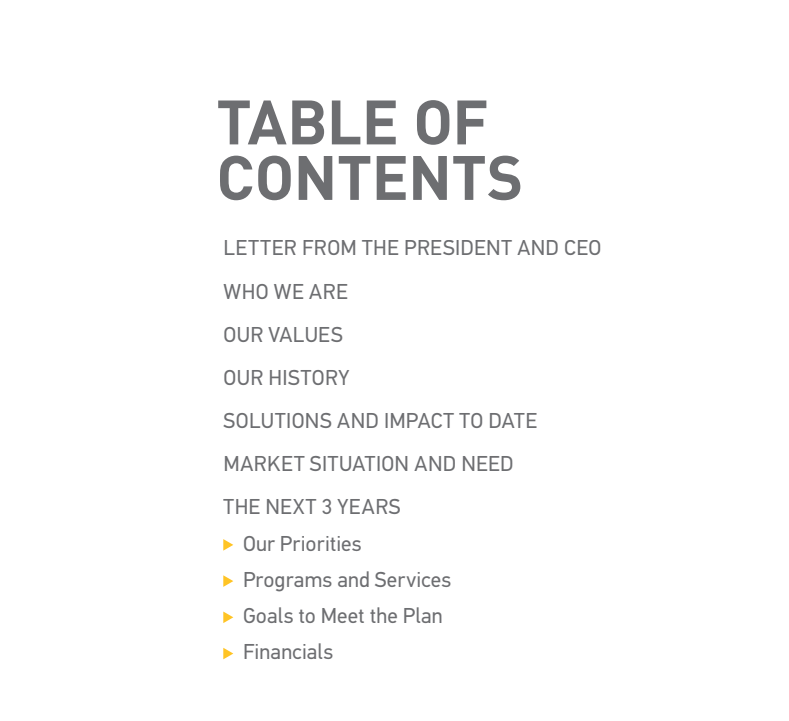 Taproot Foundation then includes a summary page with its mission and vision and some background on its services.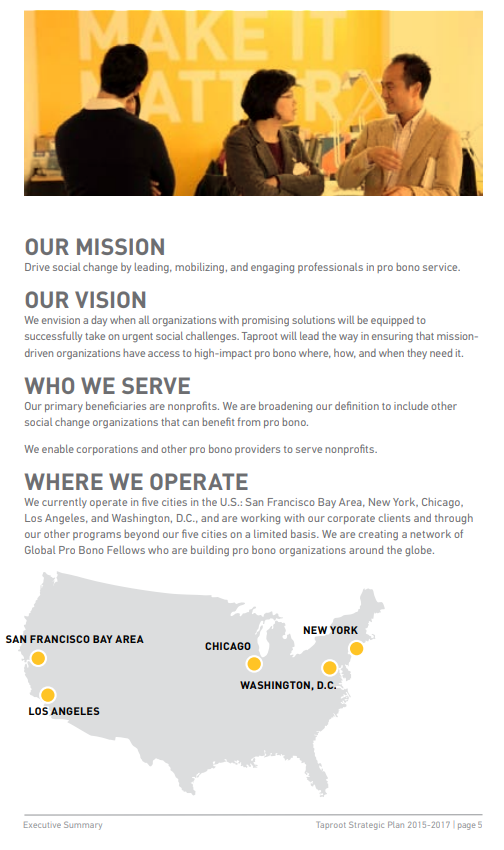 It then uses the summary of its values to move into a conversation on its strengths as an organization by highlighting the programs and services Taproot Foundation has achieved to date.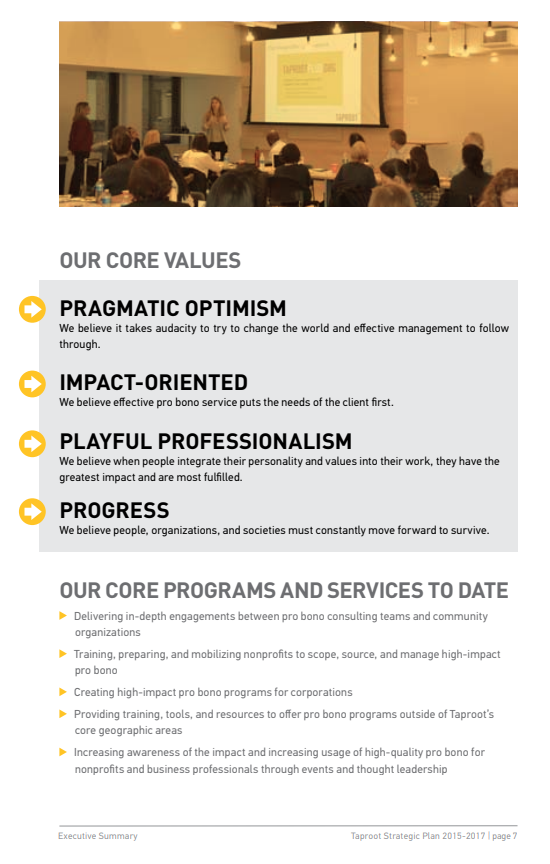 This transitions well into the strategic plan's broader SWOT analysis, where it summarizes data on the environment in which the organization is operating and then lists the strengths Taproot Foundation brings to meet those specific challenges.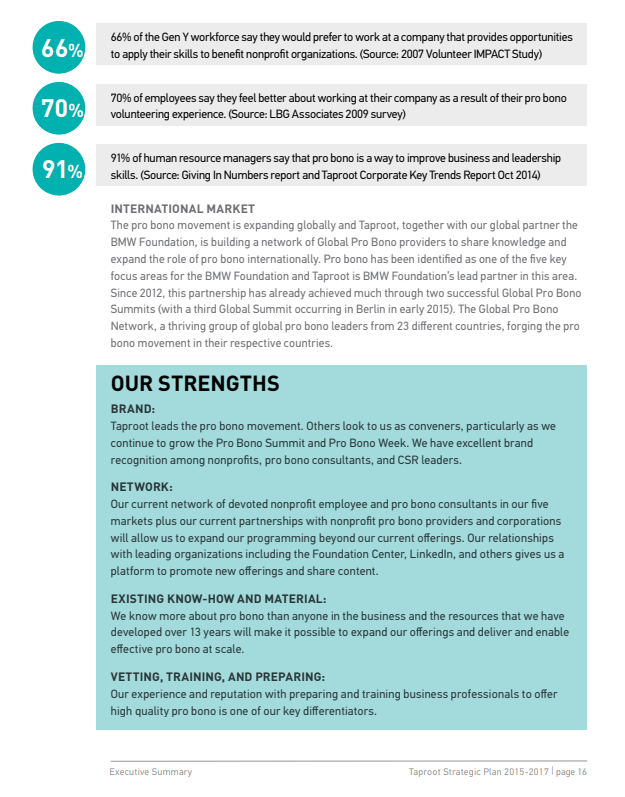 Finally, the strategic plan builds off its mission review and SWOT analysis to document specific goals for the next three years. For each, it explains what success will look like for that goal, showing how they'll measure their progress.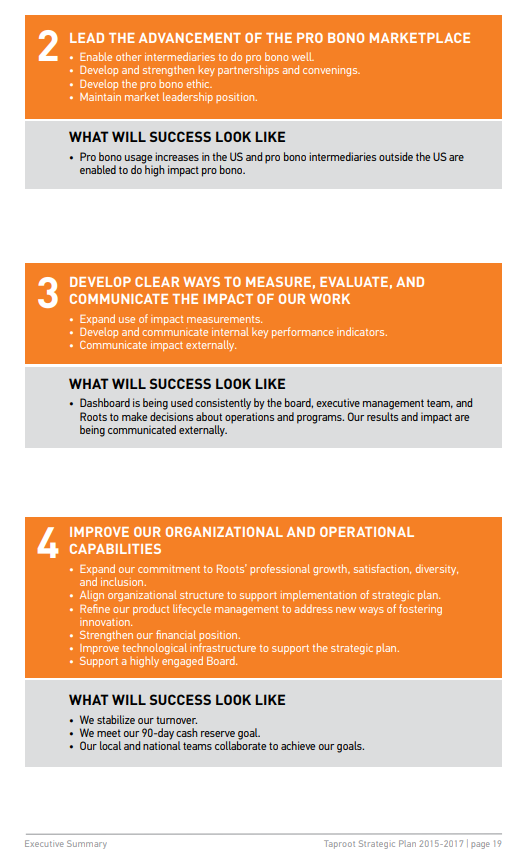 This example from Taproot Foundation shows how the strategic planning process builds on itself to create your end goals and provides a fairly standard template for how to organize your own. However, it also includes examples of ways your nonprofit can get creative with your strategic plan and foster a greater sense of shared ownership over the process.
Throughout each of the strategic plan's sections, Taproot Foundation incorporates quotes from its beneficiaries that are relevant to the topic covered in that section. This is a great way to weave your mission, vision, and values throughout each of the planning stages.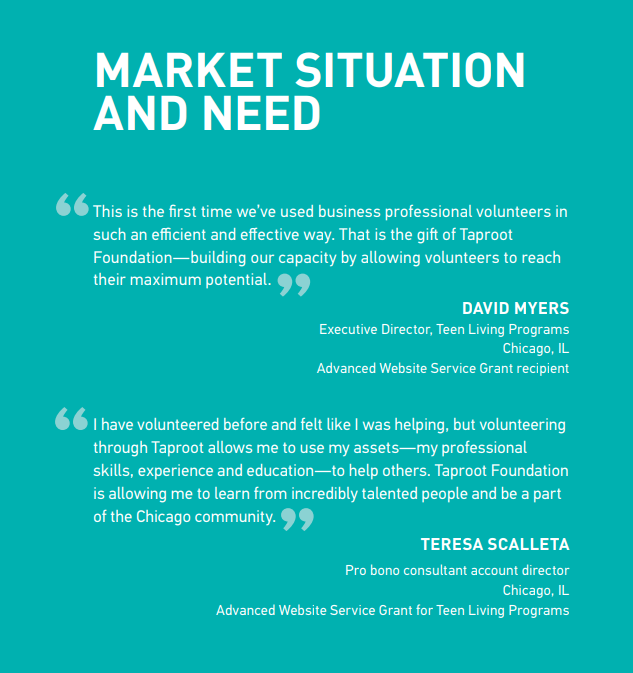 ---
Create a strategic plan to turn your nonprofit's vision into a reality
People start nonprofits to make a positive difference in the world. To ensure they do, nonprofit leaders should consider creating a strategic plan to outline measurable steps toward making their mission a reality.