While there is some truth in the statement that all tax preparation software applications offer the same features, what really sets the best tax software apart is how easy it is to access and navigate through those features.
Another thing that sets these applications apart is price, which is where TaxSlayer truly shines. Considerably less costly than its direct competitors, TaxSlayer offers free phone and email support for all plan levels, along with access to tax professionals and priority support in its more expensive plans.
One additional feature that sets TaxSlayer apart is that the application takes into account that some of its users may be experienced in tax preparation, offering those users program shortcuts.
---
Who is TaxSlayer Self-Employed for?
With four plans available, TaxSlayer is a good fit for just about everyone, from those with simple returns, to small business owners with multiple deductions and multiple income streams.
Probably not the best fit for the first-time filer, TaxSlayer is better suited for those familiar with the tax preparation process.
While the application does use the common interview process, it also gives you the option to skip the interview process and enter your information directly on the appropriate forms.
---
TaxSlayer Self-Employed's features
All TaxSlayer plans include complete tax preparation, printing, and e-filing, as well as free phone and email support.
TaxSlayer Classic, Premium, and Self-Employed plans all include an option to import W-2s, but you must enter your employer's EIN to see if your W-2 qualifies for import.
The plans also include credits and deductions capability, as well as the ability to enter adjustments.
Both the Premium and Self-Employed plans offer priority phone support and a live chat option for any technical issues.
Income management
TaxSlayer offers you two ways to enter your income, by using the guided interview process, or by simply locating the forms you need and entering the information there.
Again, if this is the first time preparing your tax return, the interview process is your best option, but it's nice that those who have been doing taxes for years are given the option to complete the tax forms directly.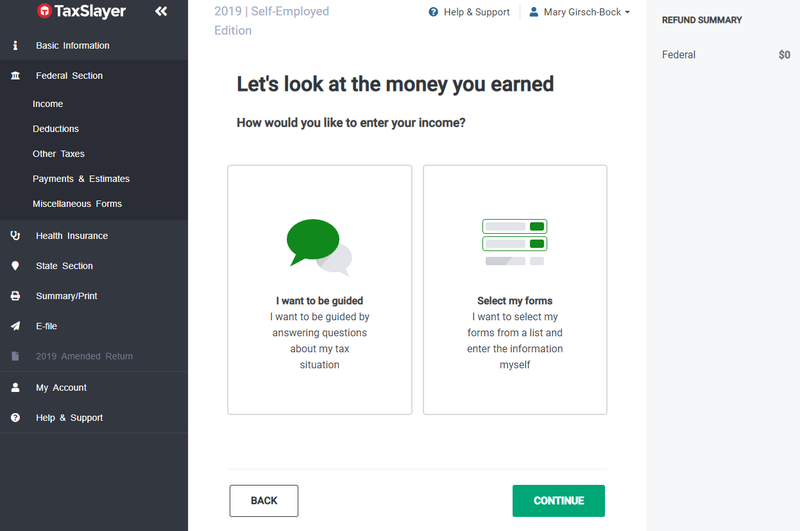 If you choose to fill out forms directly, you are then provided with a list of applicable forms, such as W-2s, 1098s, 1099s, and Schedule C, where you can choose the forms that you need to complete.
Deduction finder
The Deduction finder guides you through the process of finding possible credits and deductions for both your business as well as the personal portion of your tax return.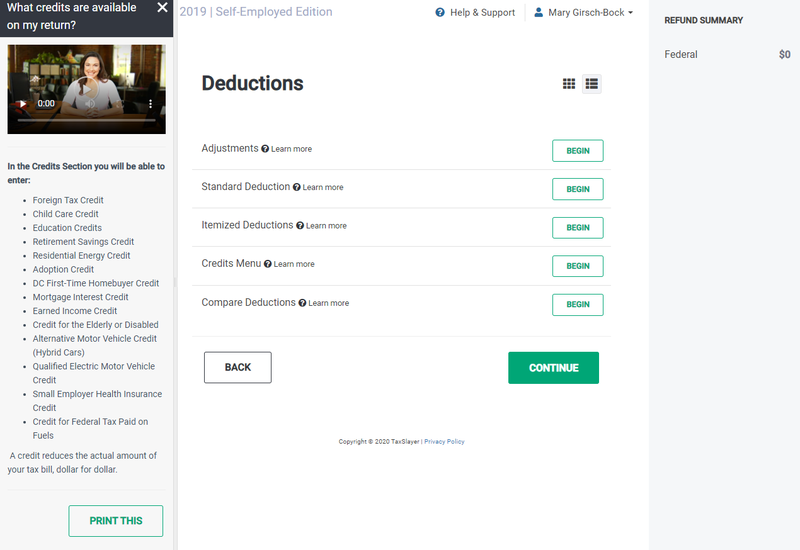 Along with the option to use the standard deduction or enter itemized deductions, you can also access the Credits section, where you can view common tax credits that you may be able to take on your return.
Compare Deductions
The Compare Deductions feature allows you to view both the standard deduction that you've taken along with any current itemized deductions that have been entered.
No need to choose, as TaxSlayer will automatically use the higher of the two deductions when preparing your return.
Tax payment reminders
This is one of my favorite features in TaxSlayer. While the application does a good job of guiding you through the process of entering your business income and deductions, it doesn't stop there.
If your current tax obligation indicates that you may incur a penalty next year unless you begin making quarterly tax payments, TaxSlayer will create payment vouchers and send you a reminder when your quarterly payments are due.
Multiple platforms supported
TaxSlayer is compatible with all major browsers and offers an option to check browser compatibility within the application. The application now also works on all iOS and Android devices, offering the same level of functionality that the online application offers, so you can prepare and file your taxes using your smartphone if desired.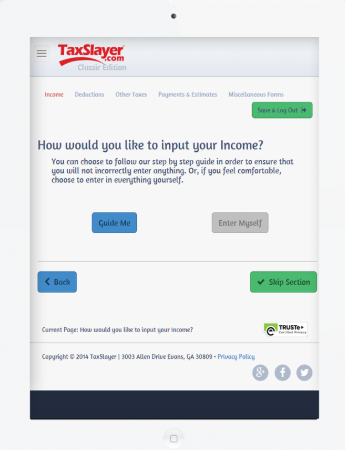 In addition, the application supports most Windows, Macintosh, and Linux-based operating systems.
---
TaxSlayer Self-Employed's ease of use
TaxSlayer offers an intuitive user interface, where you can quickly enter your personal information, including filing status and dependent information. You can use the interview process for easy navigation or jump to a particular section.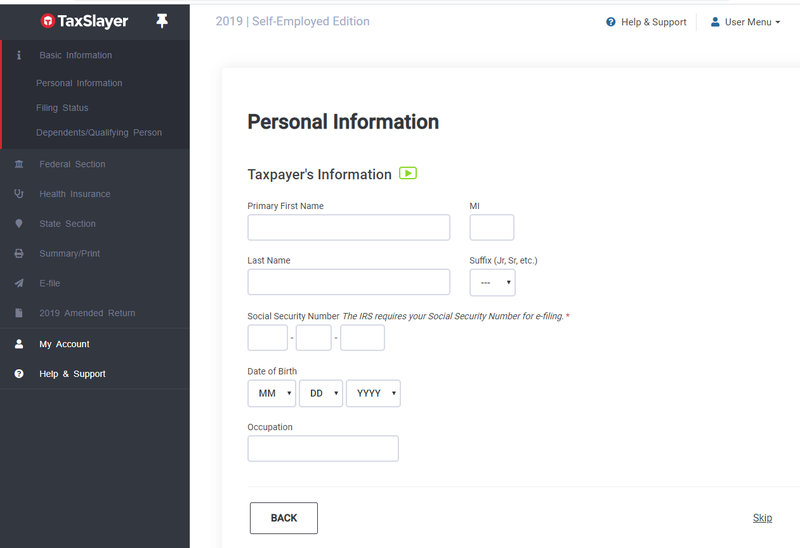 Jumping to another section can be particularly helpful if you wish to return to an area where you have already entered information, otherwise you'll likely receive an error message that other information needs to be added.
One of the nice things about TaxSlayer is that it combines multiple questions on a single page, such as address information with a state residency question, reducing the number of pages you need to access.
With a nod to first time filers, TaxSlayer also includes the Filing Status Wizard, which asks you a series of questions in order to determine what filing status is best for you.
Mentioned earlier, the application also gives you the choice to use the interview or guide process or jump to the appropriate forms that need to be completed.
If you're new to preparing taxes, stick with the guide process, but if you've been completing your taxes for years, feel free to jump ahead to the appropriate forms.
---
TaxSlayer Self-Employed's pricing
TaxSlayer cost tops out at $47 for the Self-Employed plan, though you will have to pay an extra $29 for state filing, which is considerably less than the competition. All TaxSlayer plans are online, with no installation or product download needed.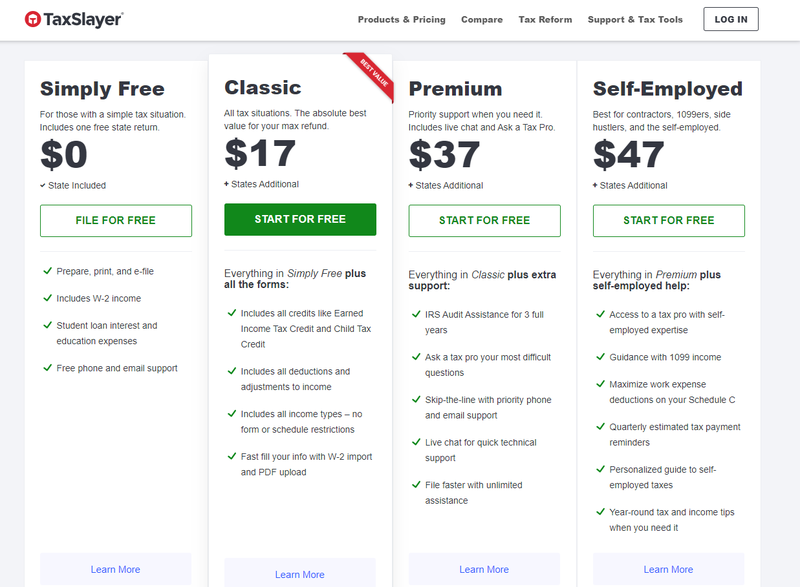 TaxSlayer currently offers four plans:
Simply Free: Good for those with an uncomplicated return
Classic: A true bargain, with access to all forms
Premium: Provides perks such as audit assistance, priority support, and live chat
Self-Employed: Best for small business owners, freelancers, and start-ups
---
TaxSlayer Self-Employed's support
TaxSlayer offers free email and phone support with all plans, even the Simply Free plan. They also include a searchable knowledge base that provides solutions to common issues.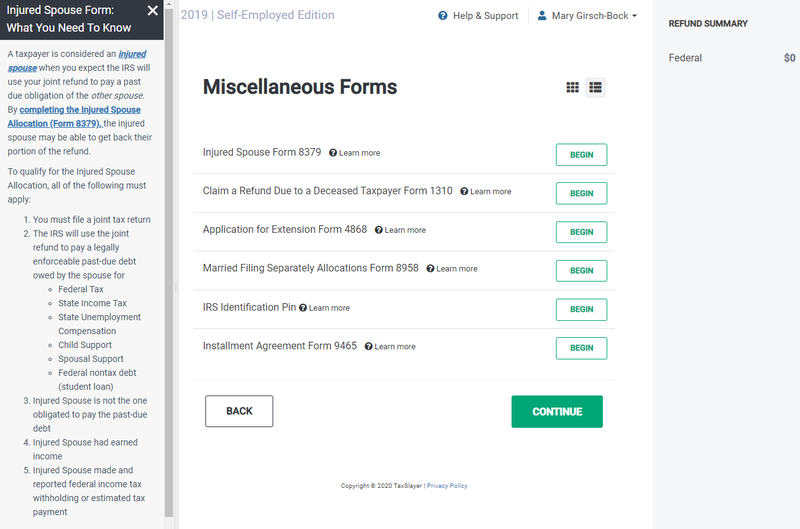 While entering information in TaxSlayer, if you don't understand exactly what an item or task means, just click on the question mark to the right of the topic to display a detailed explanation.
TaxSlayer also offers audit assistance and priority level email and phone support to both Premium plan and Self-Employed plan users.
Both the Premium plan and the Self-Employed plan also include the Ask a Tax Pro option, with Self-Employed plan users having access to a tax pro, an enrolled agent (EA) or CPA that has self-employment expertise.
A live chat option is also available.
---
Benefits of TaxSlayer Self-Employed
One of TaxSlayer's biggest benefits is its affordability, particularly in comparison to its competitors.
Though lower in cost, TaxSlayer provides all of the features and functions that you'll need to prepare your return, with handy tools and resources available to make the preparation process easier.
Another benefit is the availability of both phone and email support for all plans, even the free plan.
---
TaxSlayer is an affordably priced solution
We all have to do our taxes. But we don't have to pay a lot in order to have them accurately prepared and submitted.
TaxSlayer offers most of the features their competitors do, with better help and support options, all at a reasonable cost.
---
Frequently Asked Questions
Do I need to purchase the Self-Employed plan for my business?
Can I use my smartphone to prepare my return?
Yes. TaxSlayer works with both iOS and Android devices, so you can prepare and submit your taxes at your convenience wherever you are.
Do I need to know how to prepare taxes to use TaxSlayer?
No. TaxSlayer, like its competitors, uses an interview process that is designed to take you through the tax preparation process. However, there is also an option to skip the interview process if you desire.

Need an affordable, feature-packed software for filing your taxes? Be sure to try out TaxSlayer!
Need an affordable, feature-packed software for filing your taxes? Be sure to try out TaxSlayer!
---
How TaxSlayer Self-Employed Compares
The Motley Fool has a Disclosure Policy. The Author and/or The Motley Fool may have an interest in companies mentioned.