Poor communication is listed as one of the top reasons most relationships fail. But what does "poor communication" mean? Well, in most cases it means that either one or both parties in the relationship feel like they're not being heard by their partner.
Listening to your partner is one of the best ways to solve problems in your relationship and grow stronger together. I've experienced this firsthand — I learned quite a lot from my partner about the power of listening, and my relationship is a lot stronger because of it.
This principle applies to all kinds of relationships, whether we're talking about friendships, coworker relationships, teams, or even customer care. The easiest way to destroy relationships with your customers is by ignoring their feedback. If you want your business to survive, you have to become acquainted with the concept of "voice of the customer."
---
Overview: What is the voice of the customer (VOC)?
Voice of the customer (VOC) is the process of capturing feedback from your customers about their experiences and expectations, whether positive or negative. The VOC is meant to help you shape your business strategy around the desires and needs of your consumer base in order to drive customer retention, build higher-quality products or services, and reduce the cost of customer acquisition.
---
3 major benefits of using VOC strategies
Of course, one of the major benefits of embracing VOC is a continued relationship with your existing consumer base, but there's much more to it than that. These are the three major benefits of using voice of the customer methodologies.
1. Higher customer satisfaction
VOC is like a cheat sheet: It's a glimpse into the mind of your consumer base that allows you to tailor your products, services, and experiences to their wishes.
By listening to the VOC, you're bound to improve the customer experiences you provide, which in turn will lead to higher customer satisfaction. Like most relationships, the first step of showing customer appreciation and earning their satisfaction is through listening.
2. Higher customer retention
Higher satisfaction eventually leads to higher rates of customer retention. Think about some of your favorite brands; do you prefer a specific phone manufacturer, car manufacturer, or clothing brand? What keeps you coming back?
If you're anything like me, you return to those brands because they listen to their customers and provide products that appeal to you and your needs. Adhering to the VOC will lead to brand loyalty among your consumer base.
3. Better brand identity
When I think of brand identity, the first thing that comes to mind is Jeep and how it uses the voice of the customer to build a community around its products. With every new iteration of the Wrangler, Jeep gathers feedback from far and wide to produce a niche product that meets the needs of outdoor enthusiasts and offroaders. It's a harmonious relationship where the product influences the consumer and vice versa through VOC.
---
The 5 VOC techniques for improving customer relations
Obviously, the three benefits listed above have convinced you to keep reading. Glad to have you! VOC is all about listening, learning, and adapting, so I've put together a list of the five best VOC techniques for gathering feedback from your customers. Lucky for you, you might even be conducting some of these already.
1. Customer surveys
What better way to gather feedback from your customers than by asking them directly using controlled surveys? Not only are you able to find out what your customers think about your product, your brand, and your customer service, but you can also quantify these responses into actionable data.
This strategy is one of the most common voice of customer research methodologies you can implement into your overall customer analysis plan.
There are all kinds of data you can gather from your customers via surveys, such as:
Demographics
Product usage (how, when, why, etc.)
Customer service quality
Future product options
Once you've selected your survey type, here are several ways your business can gather responses from customers:
Post-purchase email surveys
Social media post surveys
Automated phone surveys
Website live chat surveys
Application-based surveys
Surveys are the most obvious methodology for utilizing the voice of the customer. No matter what other strategies you employ, surveys should always be included in your plan.
2. Social media interactions
When you call your credit card company, cable company, or any company for that matter, chances are you prefer talking to a live human being. Why? For one, it's a lot easier to work through nuanced problems, and two, because it shows that the business values you enough to actually speak with you.
Social media interactions work under similar logic. Engaging with your customers over social media, which is arguably the new town square, is a fantastic way to gather their point of view about your business.
Below is one of my favorite interactions I've ever had with a brand. I scrolled by an L.L. Bean ad on Facebook a few weeks ago, left this comment, and even received a response.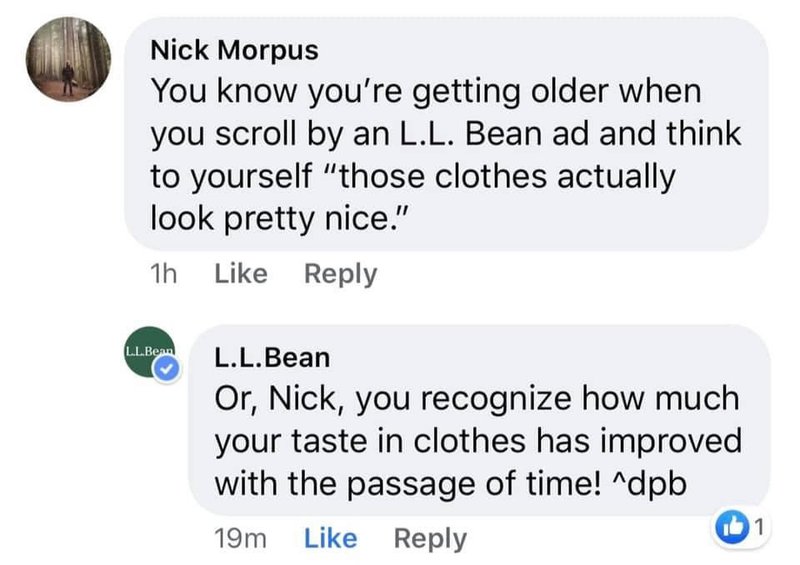 I wasn't sure if they were knocking on my clothes from way back when, but the response was fantastic and made me laugh. Just for that, I was inclined to purchase something from them, not only because I liked the clothes, but because they actually interacted with me.
Social media is a powerful and cost-effective tool for gathering feedback and engaging with your customer base. The only problem with these kinds of methods is the lack of quantifiable data you can gather from Facebook comments and Twitter tweets.
3. Customer reviews
Reviews are a great way to gather feedback, as they give your customers an open forum to express their satisfaction or concerns with your brand. Amazon is a fantastic example of customer reviews done right because it, along with its third-party vendors, is always soliciting feedback from customers in the form of reviews in order to better inform other buyers about the products.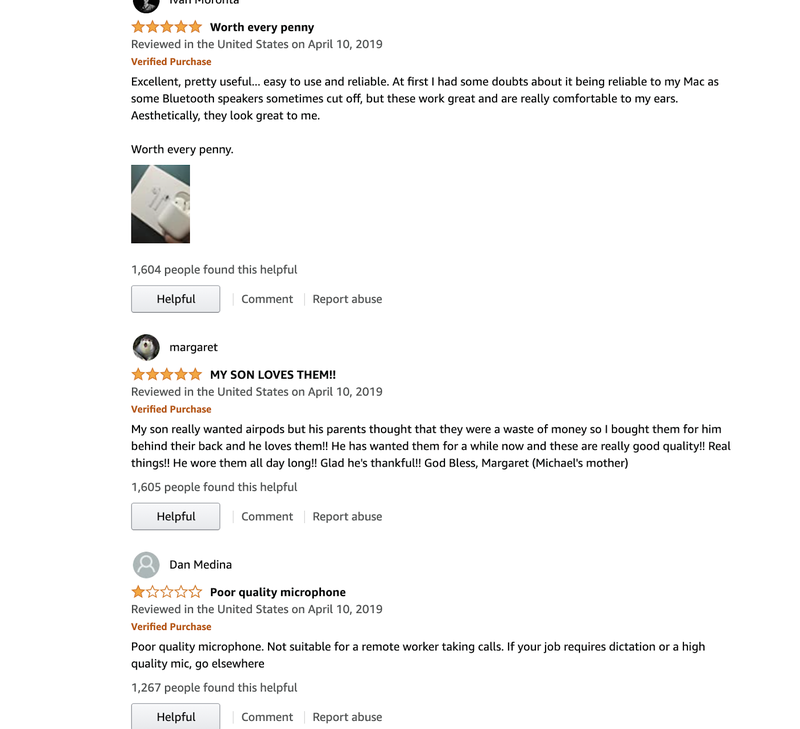 While much of the feedback provided by reviews includes a lot of qualitative information, including a star rating system allows you to quantify and contextualize the reviews. There are plenty of places you can host these reviews, whether it's on the sale page, general pages on your website, or even on social media. It all depends on the service you provide and which audience you're hoping to reach.
4. Recorded customer service calls
We've all heard the line, "This call is being recorded for quality assurance purposes" when we've reached out to a brand. These recordings are another example of using VOC to build rapport and understand your customer base in their own words.
Whether negative or positive, these calls give businesses a glimpse into the thought processes of their customers. For example, if customers are calling about issues with your website or your products, you can quantify that call percentage and decide whether or not the issue is pressing enough to make any changes.
Just be sure you notify your customers of these recordings so you aren't left explaining perceived privacy breaches down the line when someone learns that their call was being stored for later use.
5. Focus groups
Just like surveys, calls, and reviews, focus groups are yet another way to gather unfiltered information about your product or service from the perspective of the customer. Unlike the other methodologies, focus groups are usually conducted in a controlled environment without any outside influence, such as opinions from other vendors, friends, or family members.
HBO's "Silicon Valley" does a great job showing the benefits of a focus group:
These focus groups typically expose potential customers to your product or service and then collect immediate feedback. The absence of any vendor influence leads to more accurate and valuable feedback; in other words, your presence may influence their point of view and lead to tainted data, like so:
In this example, the CEO of the company that is seeking answers from the focus group walked into the room and started "educating" the users on his product, which taints the feedback results. This is inherently counterproductive since it leads to no progress being made on changing his product to suit the needs of his consumer base. He clearly had no interest in the voice of the customer and only his own.
If you care about the voice of the customer, then seek out their feedback and adjust accordingly wherever possible.
---
There are plenty of ways to connect with your customers
We're glad to see that you're taking your customer feedback seriously and we want to help you make the most of that relationship. That's why at The Blueprint, we're creating countless resources to help you build, foster, and expand that relationship through our many customer service software reviews, help desk best practices articles, and beginner's guides.
Make sure you keep up to date with all of our latest information by subscribing to our newsletter below.