---
An overview: Vtiger CRM
We like Vtiger's affordable pricing, variety of options, and smooth workflow. The quality seems to be trustworthy, and reviews are overall favorable. We couldn't give it full marks in pricing because of the lack of a free option, and some of the integrations that Vtiger lacks. However, for essential business needs, this is undoubtedly a CRM software to consider and one that could become a more significant player in the market.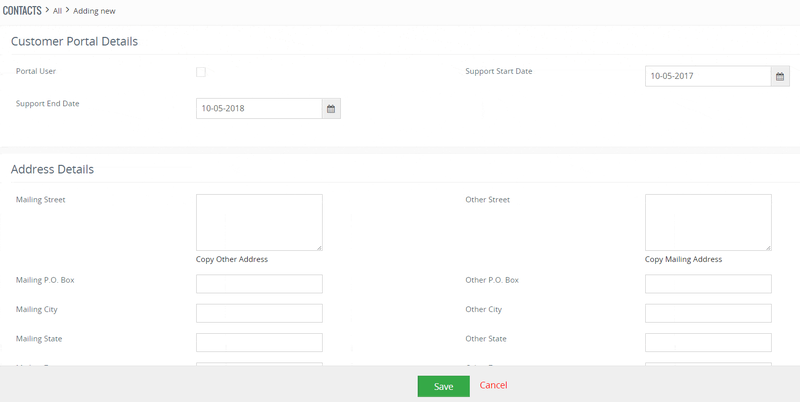 "Our efficiency has increased; we do more work in less time. It [Vtiger] helps us make better decisions with the reports. It is accessible from anywhere as long as we have access to the internet; it doesn't require any installations and can be accessed from a PC, tablet, smartphone, or laptop." – Cristian J., Information Technology and Services
MartyBostick Tweeted: At Freelance Marketing Group @fmgplan we are loving VTiger CRM @vtigercrm for managing our leads and opportunities.
ST Prasad Tweeted : A great #CRM #software for the #banking sector, capable of retaining #customers.
What is Vtiger CRM?
Vtiger started back in 2003/2004 with two offices, located in San Francisco, California, and Bangalore, India. In the last 15 years, the company has grown its portfolio to be used by over 300,000 businesses around the world. The company prides itself on being adaptable for both freelancers and startups all the way up to fortune 500 companies.
Vtiger is a CRM that helps streamline business operations within a single platform, helping to avoid duplicate information, assisting in project management, inventory, automated tasks, record keeping, and business processes. Essentially, it is a hub where you can organize, operate, and communicate from one single place.
---
Who is Vtiger for?
Vtiger CRM seems to be best for small to midsized companies that are big enough to have room in their budgets for a CRM system. While larger companies that operate entirely in English can also benefit from using Vtiger, it is better suited to those that don't need the global capabilities of other CRMs (such as foreign languages) offered on platforms such as Salesforce.
---
Features of Vtiger
Vtiger has a substantial number of features, which vary depending on the level/plan that works best for you. Since every business is slightly different, why pay for more than you need or pay for a service that doesn't offer enough? A perk of having access to so many features is that you can update your package as your business grows.
Vtiger offers three levels: Starter, Professional, and Enterprise. Let's take a closer look at some of the highlighted features and what you can expect of each level.
Starter level
As the name of the level suggests, the starter level is an ideal option for small businesses or startups that are looking for an easy-to-use and useful CRM. Here are some of the features you can expect with the starter level.
The contacts and organization feature is very useful, as it helps you to capture leads and contacts more easily and efficiently. You also have customizable fields, notes, and other options to get the most out of gathering and organizing contacts. Smart web forms save you time and issues with inaccuracy, as you can add forms directly to your company website and create instant records.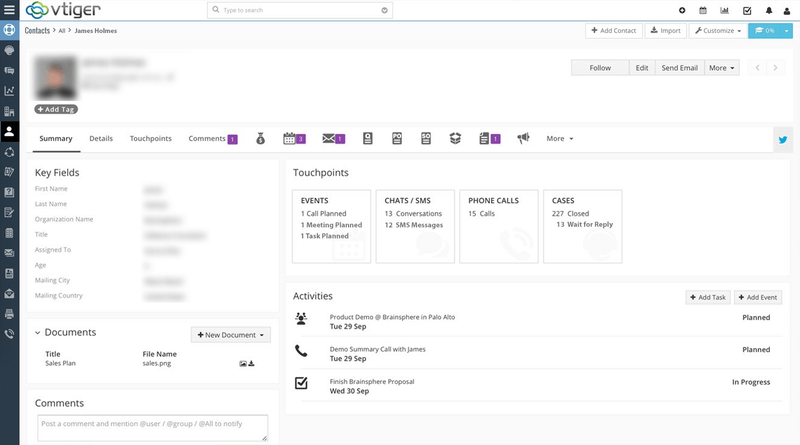 Document insights and scheduling options not only keep you and your team better organized, but also mean everyone stays on the same page through efficient scheduling and document sharing. Minimize your need for communication and reduce the worry about miscommunication.
Other key features of the starter level include notifications and task management. You can make, receive and record calls, do mass email campaigns, get reporting, and grant permissions on a user-by-user basis. It is compatible with iPhone and Android apps.
Professional level
Think your business needs a few more features? The professional level has a few more bells and whistles, but the same essential features as the starter level.
As your team grows, it's only natural that you'll need to streamline and organize tasks. Regardless of what type of business you own, the work automation feature helps your team stay on task and prioritize what matters most, making for an efficient and probably happier workplace.
With the quote builder feature, you can build quotes from products and services and apply complex tax rules. Automatic lead assignment allows you to automatically distribute your leads once they come in rather than manually assign or enter them into your system. Depending on how you prefer to handle and distribute your leads, the automation feature can be a huge time-saver.
Other notable features in the professional level include social media integration (which is a must if you want to bring in customers through social platforms), drip campaigns, revenue forecasts, and quotas. There's also invoicing and payment tracking, opportunity revenue line items, sales insights, bulk email credits, customizable record views, webhooks, and dynamic page layouts. Although there's currently no live customer chat feature, it's said to be coming soon.
Enterprise level
If you need (and want) it all, the enterprise level has all the features of the starter and professional level, as well as some exclusive ones that will help you get even more of Vtiger. The highlight features of this level include quote and deal approvals, time tracking, billing, and project management.
If you are a subscription-based company that's in need of a CRM that you can use and trust, the subscription management feature in the enterprise level is worth checking out. Other added features include multiple currencies, inventory management and privacy guard add-ons.
---
Benefits of Vtiger
As with any CRM, some of the significant benefits of Vtiger's software is streamlining the various tasks within your business so you can store them in one hub. This platform makes processes more efficient, secure, and organized, helping to maximize overall efficiency within your business.
Some of the specific benefits with Vtiger's features are the straightforward navigation of its dashboard with the ability to pin prebuilt widgets and customize charts on your homepage. The smart notifications future means you'll receive notifications when another user mentions you or even when a contact opens your email or a document that is shared.
Pipeline management is something that often comes with higher tiers in other CRMs. But even in Vtiger's starter pack, you can track deals and map them with pipeline management and create automated follow-up reminders.
We like that you can integrate with Gmail, Google contacts, calendar, Microsoft Outlook, and 365 all within the starter level. At professional and enterprise tiers, you can also integrate with QuickBooks and Xero.
For businesses that deal with customer service or frequent phone calls, all levels of Vtiger have a click-to-call option and can record calls and contacts. This feature helps if you need to go back to check service quality, as well as keeping up-to-date information on individual customers.
A few potential downsides
Every great CRM is prone to a few downsides. And a lot comes down to how much of the functionality you need and how familiar you are with CRM software. While Vtiger has a lot of automated features, it might still be a little overwhelming for the less-than-tech savvy individual.
It does offer great in-depth tutorials, which explain things step-by-step but you do sometimes need to dig to find what you need. Getting their customer chat up and running could be a potential game-changer for the company.
---
Vtiger pricing
Vtiger offers a discount when billed annually, with the starter level costing $10/month per user as part of an annual package and $14 on a month-by-month basis. The professional level comes in at $20/month per user on an annual basis ($28 monthly), and the enterprise-level carries a price tag of $30/month per user on the annual package ($42 monthly).
If you are not sure which package is right or you want to take it for a test ride, Vtiger provides a free trial before charging.
---
How easy is it to use?
It's a bit of a mixed bag — some of the features are very straightforward, while others (and arguably more the important ones) could be easier.
Take contacts, for example. Creating new contacts in Vtiger is really straightforward: in just a few clicks, you can add someone to your CRM, complete with email, contact number and their name. However, it is not that simple to import contacts. Finding the option isn't easy and, while the process itself is quick and simple, getting started takes longer than necessary. And let's face it, you are more likely to want to import your contacts than manually entering the details.
That sums up the user experience with Vtiger: a joy to use for some features, and unnecessarily difficult for others.
Getting started
Setting up a free trial with Vtiger is incredibly simple. You enter your email address and begin customizing straight away. Plenty of videos are available to help you through specific set up processes, as some of them can be a little confusing — especially when it comes time to customize your portal. It is definitely worth using the free trial period to see if it improves your efficiency and organization.
---
Frequently Asked Questions
Unfortunately, no, Vtiger does not offer a free option. Their pricing is relatively affordable, though, starting at $10/month per user for the basic package if you sign up for a whole year. It is a shame that Vtiger does not offer a free version, especially as they are not one of the most prominent players in the CRM world at the moment.
Overall reviews of Vtiger from hundreds of users are quite favorable. Some of the processes in certain regions can operate a bit slowly, and some of the areas of software can be a little clunky. In general, the number of options that come with Vtiger, as well as its affordable pricing and various tiers makes it a CRM to consider.
Vtiger claims to have 99.9% service uptime. Vtiger performs on-demand updates to fix bug issues monthly, and it has a 256-bit SSL encryption with a daily backup for every customer. It stores data on servers in the United States, Europe, Australia, Japan, and Singapore. Vtiger also states that they employ a security team to address vulnerabilities in their platform. Data gets deleted from paid account 90 days after cancellation.

Find out how this CRM helps you improve interactions with customers and it's an affordable option to optimize communication and keep your teams in sync.
Find out how this CRM helps you improve interactions with customers and it's an affordable option to optimize communication and keep your teams in sync.
---
How Vtiger Sales CRM Compares
The Motley Fool has a Disclosure Policy. The Author and/or The Motley Fool may have an interest in companies mentioned.