Webroot stands out from other IT (information technology) endpoint security software vendors by tailoring its solutions to the needs of small businesses. Many small business owners can't afford a large IT team to manage security, leaving them vulnerable to cybercriminals.
Adding to the challenge, IT security is inherently complex. Setting policy definitions, managing network access, and overseeing the myriad other technical details of your company's protection make security software a daunting solution for the uninitiated.
Webroot addresses this with its Business Endpoint Protection platform. Webroot understands small businesses possess limited time and resources. Implementing and managing IT security must not add to business burdens, so Webroot created a simple software solution even novice IT professionals can adopt.
The company has serviced home and small business security needs since 1997. It was an early adopter of artificial intelligence (AI) to prevent cyberattacks, introducing the technology in 2010. Carbonite acquired Webroot, which in turn, was acquired by OpenText in 2019.
---
Who is Webroot Endpoint Protection for?
Webroot Business Endpoint Protection is designed for small to midsize businesses. It's intended to protect your company's endpoints, an IT term describing the devices used on your computer network such as laptops, mobile phones, servers, and virtual environments.
The software works on both Mac and Windows personal computers (PCs). It also protects servers, virtual machines, and popular web browsers such as Google Chrome. Mobile devices are not part of the business endpoint protection product.
If your business has little IT support, this product is for you. It's designed for quick and easy installation and operation, making it one of the best security offerings for those with few IT resources.
Even if your organization boasts an IT team with a security operations center (SOC), Webroot offers speed and value. Its platform provides a central tool for IT personnel to efficiently oversee your organization's security needs.
---
Webroot Endpoint Protection's features
Business Endpoint Protection includes Webroot antivirus capabilities, web filtering, and more. It keeps critical systems, intellectual property, customer data, and other business information safe from cyberattacks such as ransomware, phishing, and malware.
Let's examine its functionality in more detail to help you determine if it's right for you.
Setup
One of Webroot's key strengths is its easy setup and installation process. After signing up for an account, log into Webroot's web-based management console and download the Webroot agent, which is software installed on endpoints to communicate with the console and take security actions.
Webroot Business Endpoint Protection leverages threat detection data and functionality stored in the cloud. The result? A lightweight software agent that requires just seconds to install and takes up little storage capacity on your device. The agent doesn't conflict with existing security, so deployment is fast and easy.
Once installed, the agent quickly scans your endpoint and reports results back to the console. You or your IT staff view the status of endpoints and manage them through the console, providing a simple, unified interface from which to act.
The platform comes with preconfigured settings to get your security up and running immediately. For example, Webroot supplies default endpoint policies, and a prebuilt warning message when staff attempt to visit a blocked webpage. This all adds to the platform's setup ease.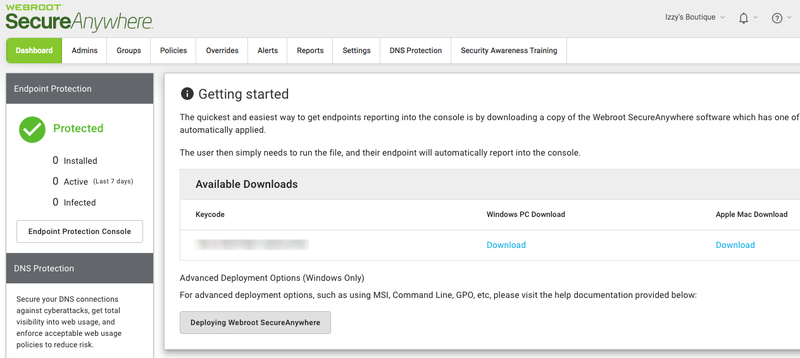 Threat detection and remediation
Webroot Business Endpoint Protection uses proprietary technology to identify and contain potential attacks. You're protected even when an endpoint is offline.
Webroot's approach preserves data and system changes. Its auto-remediation capabilities can automatically restore an infected computer's hard drive to its uninfected state without reimaging the endpoint and wiping out the computer's information.
The platform offers one of the fastest antivirus scans among the major endpoint software vendors. It can complete a check of your computer in a few minutes while competitor products can take hours.
Speed is a benefit, but can Webroot virus protection catch cyberattacks before malware infects your computer? An independent IT security testing organization, AV-Test Institute, ran Webroot Business Endpoint Protection through a series of tests to find out.
Malware protection: Tests involving more than 20,000 malware samples resulted in Webroot stopping 100% of them. It's an impressive and important result considering malware is one of the most common forms of cyberattack.
Zero-day threats: Another series of tests examined Webroot's effectiveness in countering zero-day attacks, which involve exploiting software vulnerabilities for which no fix is currently available. Against over 300 web and email threats, Webroot stopped 72.6% of them. The average across all endpoint security software was 97.6%.
False positives: Equally important is the platform's ability to differentiate between real threats and legitimate software installations. In tests using over one million samples, Webroot flagged authentic software as a threat more often than the average across the tested platforms. Consequently, AV-Test Institute rated Webroot Business Endpoint Protection a score of four out of six in the software's usability.
Webroot's testing performance proves it's extremely effective against malware. It didn't fare as well against zero-day threats, but these attacks are hard to prevent, which is why organizations are adopting threat-hunting techniques to catch security breaches.
Still, Webroot's performance against zero-day attacks along with its ability to distinguish between legitimate and dangerous software has room for improvement.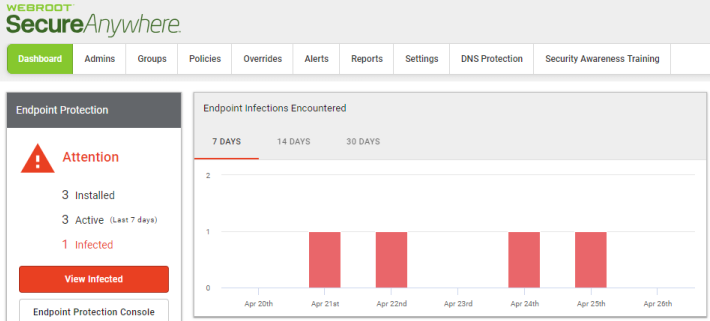 Reporting
Webroot Business Endpoint Protection comes with built-in reports and a dashboard providing visibility into your IT security.
The reporting options cover a wide range of insights into your company's security. Run reports on the status of endpoints, those managed by policies you created, and details such as the primary browser used by each endpoint.
Schedule frequently-used reports to run automatically and have them sent to you via email. Download report data or view charts in the Webroot management console.
The dashboard provides options to view the data most important to you. It allows you to edit or remove charts, create new ones, or drill down into the data behind a chart.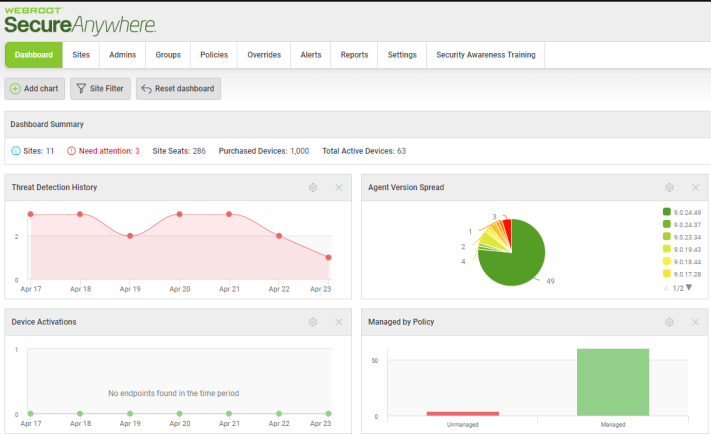 Additional security features
Webroot Business Endpoint Protection provides several security features. In addition to antivirus capabilities, the platform supports policies for endpoint management, blacklists and whitelists to control website access, and customizing security alerts.
Earlier this year, Webroot launched Evasion Shield, a new security layer to address evasive attacks. This form of cyber threat seeks to evade detection, making it particularly difficult to catch. Webroot's Evasion Shield looks for signs of this behavior and takes action.
Webroot also offers DNS protection. The domain name system (DNS) is the internet's phone book, directing you to the appropriate websites, but it's vulnerable to cyberattacks. DNS protection blocks threats targeting DNS protocols. This option is available as an add-on to endpoint protection for an additional fee.
Another security area is education. This is often overlooked in organizations, but a favorite cybercriminal tactic is to fool employees into clicking on malicious files sent via email.
Webroot's security awareness training educates your staff on how to spot and avoid cyberthreats. It also covers data privacy and regulatory compliance topics. Like DNS protection, this is an add-on feature available for an additional fee.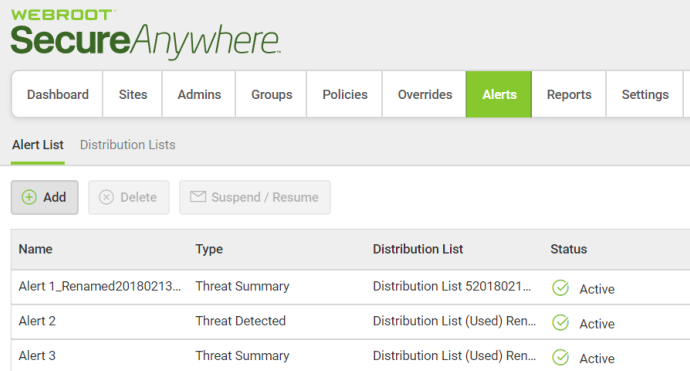 ---
Webroot Endpoint Protection's ease of use
Webroot's product shines when it comes to ease of use. Installation and setup is simply a matter of downloading the software agent onto endpoints, which takes seconds. The agent won't conflict with existing security software, making it a hassle-free experience to get up and running.
The management console provides one tool to obtain comprehensive visibility and oversight of your company's security. It offers intuitive and simple navigation, and all functionality is clearly labeled in the interface.
The system is set up with preconfigured settings, so your endpoints are protected from the start. You can customize as much or as little as you require to meet your needs.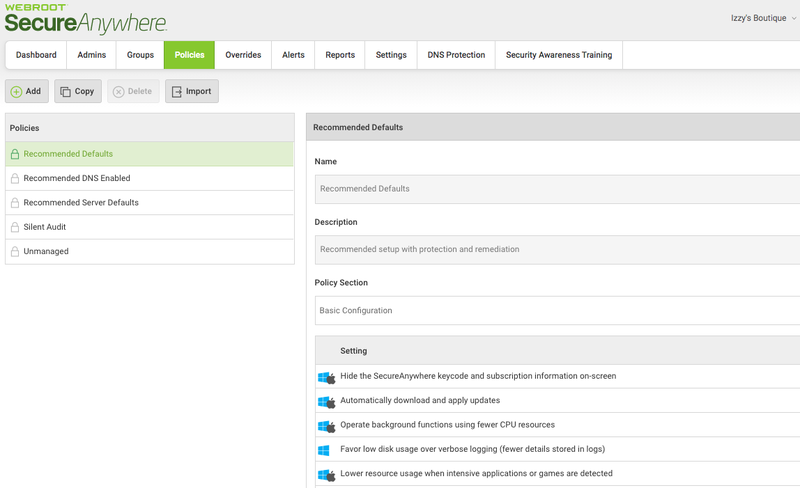 ---
Webroot Endpoint Protection's pricing
Webroot charges an annual subscription for its endpoint protection product based on the number of endpoints you want to protect. Webroot endpoint pricing starts at $30 per endpoint per year with a five-endpoint minimum.
The company offers discounts for multi-year subscriptions and volume endpoint purchases. For instance, protection for 15 endpoints costs $414 instead of $450.
You can add DNS protection and security training to your endpoint protection subscription. Each additional product costs $30 per endpoint.
Webroot offers the opportunity to try its platform before you buy. The Webroot free trial typically lasts for 30 days. Due to the COVID-19 pandemic, free trials are currently extended to 60 days.

---
Webroot Endpoint Protection's support
You can choose from several Webroot security support options. These include industry standards such as phone support and a self-serve knowledge portal to find how-to content including articles and videos.
A community forum provides an additional help resource. An IT ticketing system is also available to request help.
Access to 24-hour phone support is important. If your software runs into issues, you want to address it quickly to avoid security vulnerabilities. Webroot's phone support is available during standard business hours, which is limited coverage when it comes to IT security.
---
Benefits of Webroot Endpoint Protection
Webroot Business Endpoint Protection includes the necessary features to manage a small company's IT security. The platform delivers ease of use, and it makes IT security management straightforward and efficient.
The setup and installation process is quick. Its software agent is lightweight, taking up little room on devices and making for fast installation.
Its web-based management console is intuitive and simplifies endpoint oversight with several preconfigured security settings. Reports are comprehensive, offering easy analysis to uncover vulnerabilities.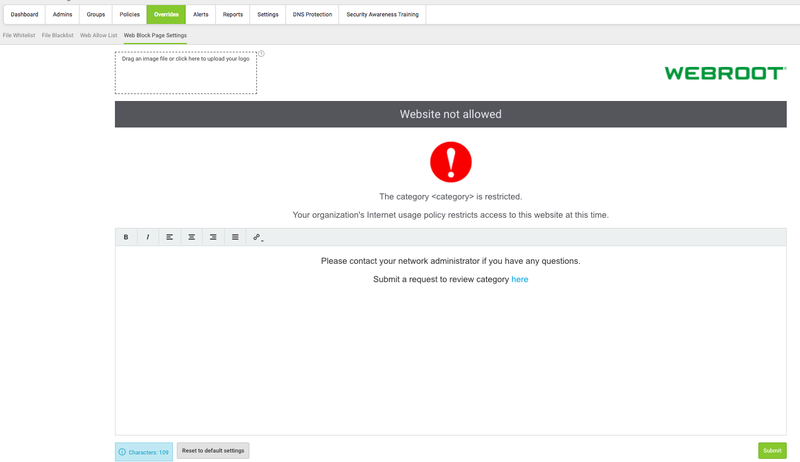 ---
A solution for small IT teams
Small businesses with limited IT staff will find Webroot Business Endpoint Protection a compelling offering. Its functionality covers endpoint protection basics, and its intuitive management console makes it quick and easy to administer the platform's functionality without investing lots of time.
Webroot's challenge lies primarily in its platform's mixed cyberthreat test results. The company also decided to discontinue mobile device endpoint protection for businesses this year as well.
These factors may be a deal breaker for some. But no security software will perfectly stop all threats. It's not feasible given the constant change in cybercriminal tactics and their persistence in finding security vulnerabilities.
To perform a proper evaluation, take advantage of Webroot's free trial. Obtain firsthand experience with the platform, and weigh all your security considerations from ease of use to cost. Then choose the best option for your business.
---
Frequently Asked Questions for Webroot Endpoint Protection
Does Webroot offer a free version?
Webroot does not provide a free version of its endpoint protection platform, but a free 30-day trial is available. The trial period is currently extended to 60 days due to the COVID-19 pandemic.
Free trials are also available for Webroot's add-on business products, DNS protection and security awareness training.
What if I already have antivirus software running?
Webroot Business Endpoint Protection won't conflict with existing security software. You can safely install the Webroot security agent without the hassle of working around existing security solutions.
Are my mobile devices protected?
Webroot offers tablet and smartphone protection for home use. However, the company decided to shut down its mobile device endpoint protection product for businesses earlier this year.
Use Webroot Business Endpoint Protection's free trial to get hands-on experience with the platform. This is the best way to accurately assess if it's the right security solution for your business.
Use Webroot Business Endpoint Protection's free trial to get hands-on experience with the platform. This is the best way to accurately assess if it's the right security solution for your business.
---
How Webroot Endpoint Protection Compares
The Motley Fool has a Disclosure Policy. The Author and/or The Motley Fool may have an interest in companies mentioned.