When Salesforce launched Work.com in June 2020, it had a specific purpose: to help businesses safely reopen during the COVID-19 pandemic. Work.com is a collection of different Salesforce tools and resources designed for businesses adapting to the new normal of working life.
However, as the pandemic continues, Salesforce has adapted Work.com to meet the needs of businesses that may never return to the previous version of a "normal" workplace. Some companies have closed their offices for good, some are working remotely for the foreseeable future, and others are adapting their workplace to keep their employees and customers safe.
Let's look closely at this unique solution.
---
Who is Work.com for?
When the COVID-19 pandemic hit, many offices around the world shut their doors and asked employees to work from home. Many expected this to be a temporary solution, envisioning a return to work within weeks or months.
But as the effects of the pandemic continue, businesses have realized they have to plan long term and work out when (or if) they can reopen again and how they will do that. Work.com supports companies as they reopen, navigating their path to what they describe as "the next normal," dealing with factors such as economic uncertainty and the importance of employee safety and wellness.
---
Work.com's features
Work.com's features aren't available as a standalone product. You need to be using Salesforce Sales Cloud, Service Cloud, or Salesforce's customer relationship management (CRM) solution. While the features are aimed at ensuring a business is ready to reopen, it has additional capabilities, such as online learning.
Command Center
The Workplace Command Center is the hub of Work.com's solution. It uses the same underlying technology the Salesforce CRM solution uses to communicate with customers.
The Command Center gathers all the relevant information on your workforce you need to make informed decisions about whether your business (and different departments) are ready to reopen. This data includes employee wellness status, guidelines by county, state and country, and contact tracing.
If you are onboarding a new employee, you can find out additional, pandemic-specific information, such as:
Whether they have been tested
How they're feeling
If they have any COVID-19 symptoms
If anyone they live with is sick
If they have spent time with anyone in the last 14 days who has tested positive
By collecting this data, you can get an overview of the health of your workforce overall and by location and department. You can also send out daily wellness surveys to get this data from existing employees.
The hub is customizable, so you can collect and display the information that is relevant to your business.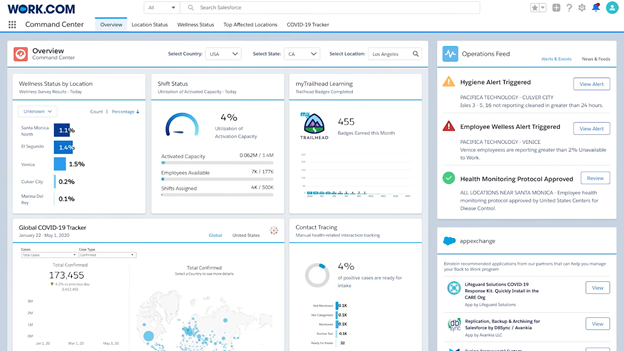 Building management
Work.com also looks at the logistics side of reopening your business. This includes working out how employees will enter and exit the building, and how they may move around when they're at work.
You can analyze data to work out the optimal staff level to have in the building at one time, considering factors such as elevator usage. You can set staggered start times and days to ensure you can meet the criteria.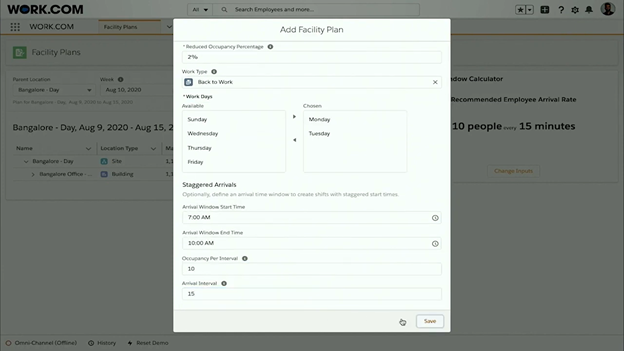 Shift management
Once you've worked out the occupancy level of your building, you can then generate a shift plan that considers the number of people you can have in the building and ensure they can get in and out safely.
Once you've generated shifts, you can assign them to members of the team based on their availability and preference. They receive details of the times and days they can go to the office and the window of time when they must arrive.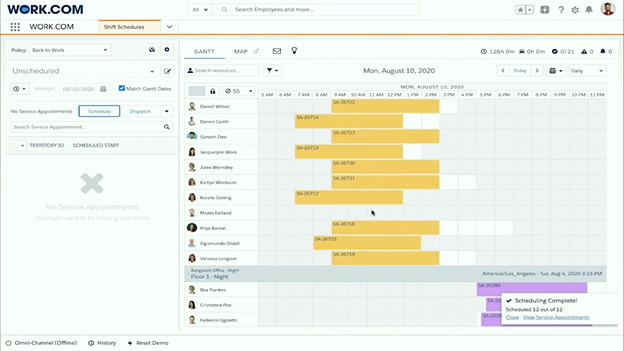 You can add fallback measures if, for example, one member of the team in the office has a high temperature. Here, you could initiate a procedure where the employee has to quarantine, and the people who are supposed to enter the building next are notified to stay at home while extra cleaning takes place.
The issue here is this doesn't consider all the other factors of shift management. What about breaks? Overtime — will it be worked in the office or will employees have to return home to do it? What about sick days or situations when people have to isolate themselves and must work from home?
This isn't a full shift management solution, so businesses have to decide whether to abandon all other rules and just focus solely on getting people in and out of the office.
Contact tracing
Work.com's artificial intelligence-powered bot communicates with employees while they're isolating, reminding them to do things such as take their temperature and order a COVID-19 test kit for use at home.
If an employee tests positive for COVID-19, the outbreak shows up in the Command Center and Work.com can carry out manual contact tracing for employees and customers that the worker has been in contact with and monitor their COVID-19 testing status.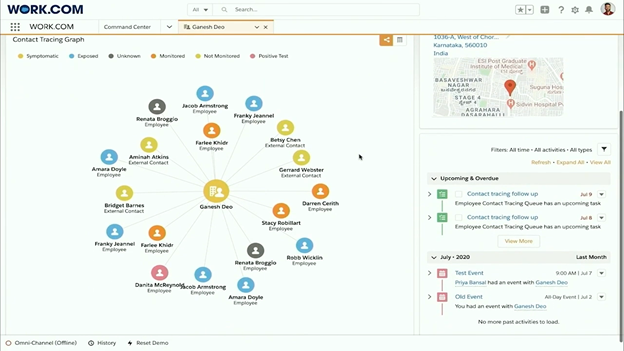 Online learning
The online learning feature, called myTrailhead, isn't strictly tied to reopening safely, although it can reduce the need for new employees to go into the office by helping them to onboard remotely. Work.com lets you set up quizzes, gamify learning, tie it to performance, and reward people for their hard work.
You can create your own branded content or use the platform's own educational content and build specific learning journeys for different roles.
---
Work.com's ease of use
If you've ever used Salesforce's CRM, you'll already be familiar with Work.com's solution as it uses the same platform, just in a different way. Since Salesforce is such a common platform among sales teams, it's likely you or your employees can get up and running quickly. This familiarity shortens the learning curve considerably.
But if you've never used Salesforce before, you should still be able to learn how to use Work.com quickly. It's built for a specific purpose, which means you only need to understand a set number of features. There aren't a lot of extraneous bells and whistles to deal with.
It's an intuitive, focused platform you can easily navigate.
---
Work.com's pricing
It's important to note: you need a Salesforce license to use Work.com. It's not available as a standalone product.
If you only implement Work.com's Workplace Command Center, then you pay $5/month, per user. According to Work.com, this is an introductory offer, but they haven't specified when it will end.
You can add additional modules at extra cost:
Shift Management at $5/month, per user
Contact Tracing at $200/month, per user
Online learning (myTrailhead) at $25/month, per user
This is a unique solution with a specific purpose, so it's hard to comment on its value for money. It's not an HR solution, so you can't compare it with the pricing of those platforms. Overall, $5/month, per user for the main functionality is affordable for all business sizes.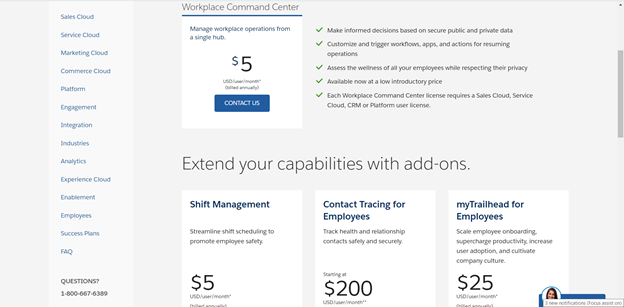 ---
Work.com's support
Work.com is a member of the Salesforce family and uses the same platform, so you get access to the same level of support. This includes:
A free phone number
Live chat
Email support
This is a new offering, and Salesforce has updated it several times since its launch in 2020, so it can take longer to resolve your problems. It's still a work in progress.
---
Benefits of Work.com
A lack of help and support has been one of the main problems for businesses dealing with the COVID-19 pandemic. Work.com steps in to provide that support with functionality specifically designed to help you navigate the constantly emerging challenges this pandemic creates. Everything helps you continue to grow your business while protecting and supporting your employees and customers.
---
HR platform or return-to-work solution?
Most companies need support with reopening their business and ensuring they can keep workers and customers safe. Work.com has all the functionality to help you do that.
The difficulty arises when you consider how to use this information with your HR system and whether there will be an overlap. For example, Work.com includes shift management functionality, but will this overlap with the functionality within your existing HR processes and solution? Will you store the same information in two places? The same goes for online learning.
Work.com has a purpose, but it should be a return-to-work solution or an all-in-one HR platform. Currently, it's a cross between the two.
---
Frequently Asked Questions for Work.com
How much does Work.com cost?
Work.com's Workplace Command Center costs $5/month, per user. You can add additional modules at extra cost:
Shift Management at $5/per month, per user
Contact Tracing at $200/month, per user
Online learning (myTrailhead) at $25/month, per user
Work.com helps businesses reopen in a safe and profitable manner while considering the unique conditions of the pandemic. Most functionality helps businesses reopen safely, but it also includes online learning to more effectively onboard and train employees remotely.
Does Work.com include performance management functionality?
No, Work.com cannot help you manage workplace performance. You either need to invest in a specific performance management solution or find out if your HR solution includes this functionality.

Find out if Work.com can help support you in adapting to the new (and ever-changing) working normal.
Find out if Work.com can help support you in adapting to the new (and ever-changing) working normal.