When I wrote my individual reviews for Wrike and Jira, I was dealing with an issue of presumptions.
It had been a few years since I had used either platform in a professional setting, so this definitely influenced my initial opinions for both of them.
Now that I've had ample time to test them out, review them, and see how they had improved, I can confidently report that my initial presumptions have changed about these project management softwares.
Find out how these two tools compare, and which is best for your needs, with our in-depth analysis.
---
Wrike vs. Jira: An overview
Who is Wrike for?
When taking into consideration the long list of features and task management options, Wrike seems to fit the bill for most teams and projects, so long as money isn't an object.
The first paid tier of Wrike isn't the most expensive plan I've seen, but $9.80/month per user adds up and even with a smaller team of five users, you're looking at least $588 a year. When considering companies that can afford it, Wrike has lots to offer larger teams with their advanced tiers.
Who is Jira for?
Atlassian's Jira started as an issue-tracking program for software developers and slowly built itself into a general project management system for all kinds of teams. Nowadays, Jira offers everything a team would need to track and complete internal tasks, such as task management, issue tracking, time tracking, and reporting.
The one area where Jira falls short is in the financial management features department, such as budgeting and invoicing. It doesn't offer any native budget management features or reporting without additional outside integrations.
Due to its lower starting price, this platform is fantastic alternative to Wrike for small collaborative teams no larger than 10 people. However, once you graduate beyond 10 users, the price becomes cost-prohibitive. The issue is that other project management software options offer more features for less money.
---
Wrike vs. Jira: Features
Each of these tools offers multiple forms of task management, reporting, and tracking, but only one offers the native budgetary features that make it a more comprehensive project management tool, rather than solely focusing on task management and collaboration.
What Wrike offers
Wrike has so much to offer project managers that it's hard to narrow down what really stands out.
I loved that Wrike gives its users multiple forms of task management tracking. If I want a Kanban system, I've got it. If I want Gantt charts, no problem. If I want a simple task list, it's all right there for me. I choose how my project is set up and tracked.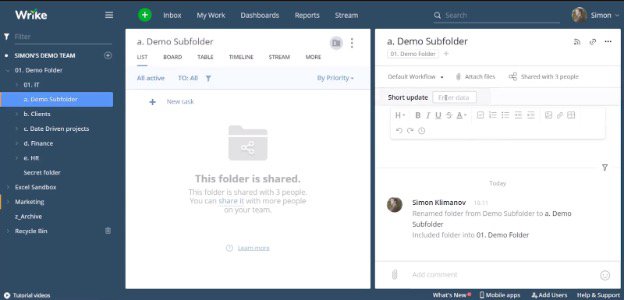 This kind of flexibility is important, especially if one method proves to be more effective than another while managing different projects and teams.
Wrike's task and project creation process was as simple as clicking the green "+" button in the top right-hand corner next to Inbox and then adding the relevant information, including:
Task name
Due date
Assigned team member
Task files
Task dependencies (what should be completed before this task)
Task description
Task comments
The process was very standard for task creation and tracking, which is indicative of Wrike's entire modus operandi. Nothing about the collaborative aspect of this software stands out from other project management tools. It offers task management, different visual options (lists, timelines, etc.), and the standard task creation process.
Where Wrike differs from the competition is the elaborate report building system that walks you through a step-by-step process.
Using this system, you can measure out task completion times, track project issues, and track project budgets in either table or column formats. This is something that I feel is left out by some project management systems that focus more on the collaboration aspect rather than tracking and measuring the success of projects.
What Jira offers
Years ago, I used Jira on a project that was focused on software development, so my only experience at the time was an older version based around issue tracking. While this platform functioned well, it was extremely unappealing to use.
Now, after a few years of updates and the freedom to use Jira how I wish, I found that it has plenty to offer project managers and a more appealing user interface to boot.
First off, its selection of task management options was very impressive from the start. I chose to build my test project using its Kanban system, especially since I am very familiar with this type of task management.
However, if you're looking for a different type of task management, Jira also offers task lists and Gantt timeline charts, all of which are customizable around your type of project.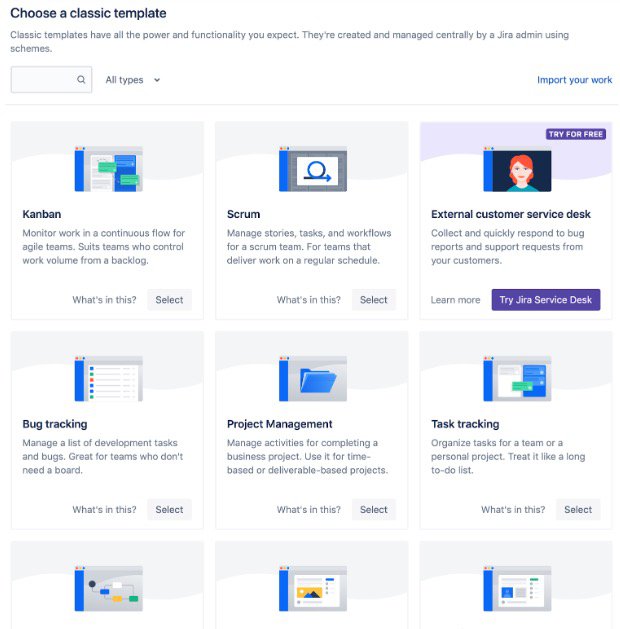 The task creation form in Jira was very standard, giving me the choice to assign tasks, attach files, add descriptions, mark the task priority level, attach project files, and set the due dates. All of these functions are exactly what I would expect from a project management platform with nothing particularly remarkable about them.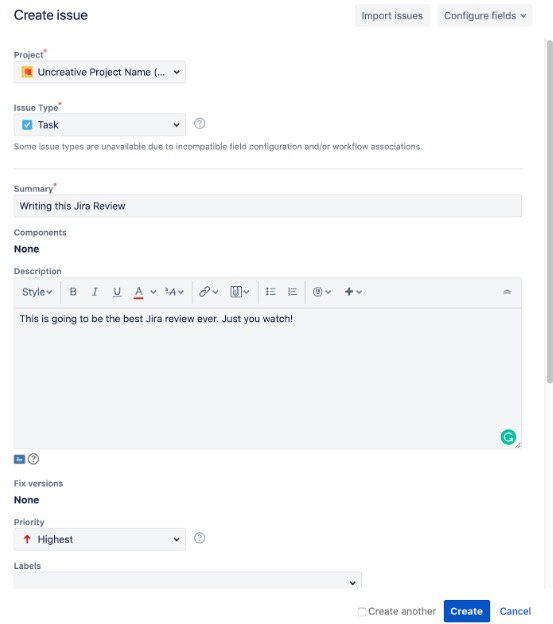 After setting up several tasks, moving tasks to the next step is as simple as clicking and dragging tasks from one board category to the next, just like most other Kanban systems. It was all very familiar.
However, what stood out to me about Jira was how easy it was to build reports. When I say easy, I mean easy. The tool lists all kinds of reporting options, including Agile reporting, time-tracking reports, workload reports, and many more.
Once you've selected your type of report, Jira builds it automatically for you to view and export.
Just like Wrike, where Jira falls short is its lack of budget management and task list features.
This lack of financial management isn't surprising since this was initially built as an issue tracking tool for software developers, but considering their current approach, this ought to be a focus Jira considers in the future.
Results
Winner: Wrike
Jira and Wrike are awfully similar when it comes to features and functions, but in my opinion, Wrike comes out ahead by offering some budgeting capabilities. While Jira has the upper hand in terms of an appealing user interface, Wrike takes the cake in terms of pure functionality.
---
Wrike vs. Jira: Support
These two tools come close in some categories, but when it comes to customer support, find out whether Wrike or Jira will be there for you when you need it most.
What Wrike offers
Wrike offers a whole variety of support options, including a phone support line, a contact form, and a help portal full of webinars, video tutorials, community forums, interactive training programs, and guides.
I was very pleased to see such a wide variety of avenues to take, especially since many project management platforms offer either a contact form or phone support instead of both.
As for response time, the wait to get in contact with a human at Wrike was very fast, only a minute or two to be exact. As for email support, the tool makes an immediate effort to establish a relationship with you through your very own customer specialist. This specialist walks you through anything you need to know if you ask for it.
What Jira offers
This is one area where I believe Jira could improve. As far as I could find, phone support is only available for premium users, whereas all other issues are resolved through support ticket forms, community forums, and help guides.
Sometimes users aren't 100% sure how to describe an issue in a support ticket and it helps to speak to a knowledgeable human being in order to work out an issue from the get-go.
Results
Winner: Wrike
There's no replacement for speaking to a real person. When it comes to support, I weigh phone support more heavily than any other form of support, and for that reason, I have to give this category to Wrike.
Their phone support number was easy to find, which really matters when you have a time-sensitive issue that can't wait for someone to get around to your contact form submission or support ticket.
---
Wrike vs. Jira: Ease of use
This was a hard area to compare. Both tools are easy to use and both prioritize convenient user experience, but only one is the clear winner in this category.
What Wrike offers
Wrike was particularly easy to learn and use during my test period for this comparison. Everything I needed was located either on the main menu at the top of the screen or on the left sidebar, making navigation a breeze.
All projects are listed on the left of the screen with a subfolder system for each function, team, and need.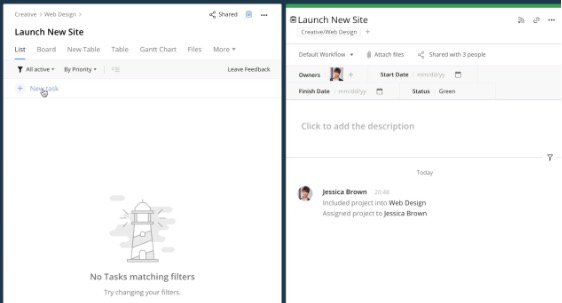 I was able to locate most major functions with very little instruction, which is a crucial point I look for in any software platform. If I'm not able to figure out the main functions of a platform (task creation, assigning tasks, moving tasks along a pipeline, etc.) in under three minutes, I categorize it as unnecessarily complicated.
I have extensive experience using all kinds of software, so it may take a newer user longer to figure these things out. So if it takes me even a minute over three minutes to understand how a platform works, imagine how long it might take someone with less experience.
Teams don't have all the time in the world to make their software their project.
Wrike succeeds in providing most functions a project manager would come to expect from a popular project management tool. I have access to all of the information and detail that I want without losing track of where I am or what I am trying to accomplish.
What Jira offers
Jira isn't a groundbreaking or revolutionary project management software. It offers many of the same functions you'll find in lots of other project management tools, such as Kanban boards, project reports, collaboration functions, and time tracking. Where Jira really shines is just how easy it is to set up and use.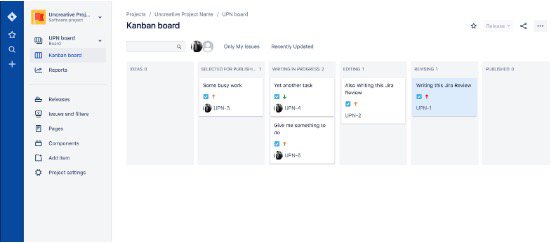 Jira helped me fit my system to my needs and gave me all of the instructions I would need to add my team, create tasks, move items along the task flow, communicate with my team, add files to my tasks, and create project reports.
Even without this instruction, figuring out how to use this tool was unbelievably easy.
If I wanted to view a progress report, I had a whole list of options to choose from and I was able to export all of these if I chose to. It was a by-the-numbers process and it was simple. No formulas to enter, no technical skills necessary. Jira did all of the heavy lifting for me.
Anyone with even a little project management software experience will have no trouble picking up this software and fitting it to their needs, so long as those needs aren't budgetary in nature.
Results
Winner: Jira
While both Wrike and Jira offer easy-to-use platforms with simple user-interfaces, I believe Jira has the upper hand, especially considering their onboarding process.
Jira walks you through every nook and cranny of their software until you fully understand what it is you're doing. Even the more technical features, such as reporting, are still done for you after you have a grasp on the software, and can be generated with one or two clicks.
---
Wrike vs. Jira: Pricing
In most cases, project management software isn't cheap, so it's important that you get the best experience and the most functionality for your money.
What Wrike offers
Wrike's pricing system is relatively more affordable considering all of the functionality that it provides; however, the one drawback I found was their reliance on the per-user pricing system.
After reviewing other project management tools that offer a set monthly rate based on the features tier you choose, it's hard to see a "per user" pricing system in a positive light.
The good thing is, Wrike does offer a free option, which is perfect for small teams, and their Professional tier is pretty affordable considering everything that comes with it.
Free: Up to 5 users, simple task lists
Professional: $9.80/month per user. Up to 15 users, full project planning and collaboration features
Business: $24.80/month per user. Up to 200 users, all previous features, additional customization abilities, detailed reporting
Marketers: Pricing negotiated with the client. Unlimited users, a tailor-made system for the client
Enterprise: Pricing negotiated with the client. Unlimited users, a tailor-made system with advanced security and control features
What Jira offers
Jira's pricing is both cheap and expensive at the same time — it all depends on what you need. With their standard option, all you have to pay is a flat rate of $10 a month, which is incredibly affordable.
This is perfect for small teams that require task management and reporting features.
Once you pass the 10 user mark is when the software starts digging into your bank account, and considering the lack of budgeting, invoicing, and task list features, it's hard to justify such a high price tag for fewer features.
Standard: $10/month flat fee for up to 10 users, $7/month per user beyond 10 users. All task planning and management features, 250GB file storage limit, 9–5 support window
Premium: $14/month per user. All task planning and management features, unlimited file storage limit, 24/7 support
Results
Winner: Wrike
When it comes to pricing, Wrike takes the cake since they offer a free option outside of a trial period and more pricing options with more variation on features, whereas Jira only offers Standard and Premium tiers.
---
Wrike vs. Jira: Integration with other software
It's important for your project management software to work well with other popular programs your team uses, like your office suite or email program.
What Wrike offers
Wrike has a long list of integrations with other popular applications that'll help you manage and execute your project management plan from every aspect.
These apps include:
Tableau
Microsoft Teams
Google Hangouts
Google Drive
Adobe Creative Cloud
Microsoft Outlook
Slack
What Jira offers
Jira does things a little differently from Wrike. While they do offer some integrations with popular programs, most of the apps that Jira integrates with are lesser known. However, Jira strives to justify the need and function of every application in its marketplace, such as:
Draw.io diagrams for Jira
Better Excel Exporter for Jira
Script Runner automation for Jira
Jira Workflow Toolbox
Insight Asset Management
Google Drive & Docs for Jira
Zapier for Jira
If you're looking for a list of all of Jira's integrations and applications, view them in their marketplace.
Results
Winner: Wrike
At first, I was inclined to give this one to Jira since it makes an effort to justify and provide reviews for their available apps and integrations.
However, many of these integrations are with lesser-known vendors that most teams probably aren't currently using. On the other hand, Wrike integrates with plenty of well-known applications, and chances are your team is using at least one of them.
---
Wrike vs. Jira: Getting started
Both Wrike and Jira have simple onboarding processes with lots of tutorial content to get you started. However, only one helps you shape your experience to your specific projects right from the start.
What Wrike offers
Wrike offers a very quick startup by entering your work email and some brief details about your team. Once you enter that information, you're taken to the main project dashboard and walked through a basic function tutorial with the Wrike Bot.
As for other onboarding materials, Wrike offers plenty of help guides, tutorials, and webinars, including a Wrike Deployment Guide, which will help you learn everything you need to know to get your project up and running.
What Jira offers
Jira's startup was similarly simple and gets you started with your free trial in a matter of minutes once you enter in your project information.
What really sets Jira apart from alternative options is how thorough the setup process is. Jira walks you through the type of project you're planning on managing and the management style you prefer.
Once you setup your project, Jira also offers tutorial guides explaining Kanban boards, agile project management, and scrum. These guides will help you realize Jira to its full potential, the way it was meant to be used.
Results
Winner: Jira
Both tools offer a simple startup, but the amount of detail and guidance put into Jira's setup process gives it a competitive edge. Rather than fitting my project to work with their project management software as Wrike does, Jira strives to mold their software to my work.
---
How They Compare: Wrike vs. Jira
| | Wrike | Jira |
| --- | --- | --- |
| Task Lists | | |
| Gantt Timeline Charts | | |
| Shared Team Calendar | | |
| File Sharing | | |
| Communication | | |
| Budgeting | | |
| Time Tracking | | |
| Invoicing | | |
| Outside Integrations | | |
| Resource Management | | |
---
Which software is better, Wrike or Jira?
I have to give this one to Wrike for a better long-term and more worthwhile experience. If you're looking for the easiest onboarding process and initial setup, as well as the most appealing user interface, Jira is the winner. However, Wrike really hits the right notes where it counts.
Wrike is the superior software when it comes to features, customer support, integrations, and pricing, and at the end of the day, that is really what will tip the scales for most project managers.