As a small business owner, one of the biggest decisions you will make is what accounting software application to use.
If you've read our software reviews and still can't make up your mind between ZipBooks and QuickBooks Online, we've put together a recap of both of these popular business accounting software applications that will hopefully point you in the direction of the application best suited for your business.
---
ZipBooks vs. QuickBooks Online: An Overview
Who is ZipBooks for?
On the market for around four years, ZipBooks is a relatively new accounting software package that is best suited for very small businesses, sole proprietors, freelancers, and consultants. New integration with Gusto Payroll also makes ZipBooks a good fit for small businesses with employees.
ZipBooks is better suited to service and consulting businesses, offering excellent time tracking capability. It's also a good choice for businesses with very tight budgets, because of its excellent free plan.
However, the lack of an inventory tracking feature would make ZipBooks a no-go for those selling products.
Who is QuickBooks Online for?
QuickBooks Online, like all QuickBooks applications, is designed for small businesses.
QuickBooks Online offers a degree of flexibility that small business owners will appreciate. It offers numerous plans and price points, starting with a self-employed plan and rising to an Advanced plan, which supports up to 25 users.
The application is constantly improving by adding new features and access to more apps on a regular basis, making it a good fit for both small and growing businesses alike.
---
ZipBooks vs. QuickBooks Online: Features
ZipBooks and QuickBooks Online include a good selection of features, with both offering double-entry bookkeeping, good reporting, and banking connectivity, along with solid invoicing and business expense tracking.
What ZipBooks Offers
ZipBooks offers a free plan that offers features such as customer and vendor tracking, as well as the ability to connect a single bank account. You'll also be able to easily track business expenses, manage sales, track 1099 contractor expenses, and manage your accounts receivable balance.
Moving up to one of ZipBooks paid plans will allow you to access features such as connecting to multiple bank accounts, an auto-billing option, and the ability to set up automated payment reminders.
ZipBooks also includes excellent invoicing options and offers online payment capability, accepting both credit card and PayPal payments. Invoices can be customized for each customer, and you can add a message on an invoice if you desire. An invoice template can also be created and used for future invoicing.
Though you can manage vendors in ZipBooks, no facility is available for paying vendors directly through the application.
The biggest drawback to ZipBooks is the lack of an Android app, though one is expected in the near future. An iOS app is available, but it doesn't offer access to all of the features available in ZipBooks.
What QuickBooks Online Offers
QuickBooks Online offers many of the same features found in ZipBooks such as bank connectivity, invoicing, customer and vendor management, time tracking, and accounts receivable.
However, QuickBooks Online also offers solid inventory management, the ability to pay vendors either electronically or by check, and a retainer management option, a great feature for consultants and legal and accounting professionals.
QuickBooks Online also includes budgeting capability and offers more extensive reporting options than those in ZipBooks.
QuickBooks Online features do vary from plan to plan, so when choosing a plan, make sure that the features you're looking for are available in that plan. Both ZipBooks and QuickBooks Online offer an Accountant version.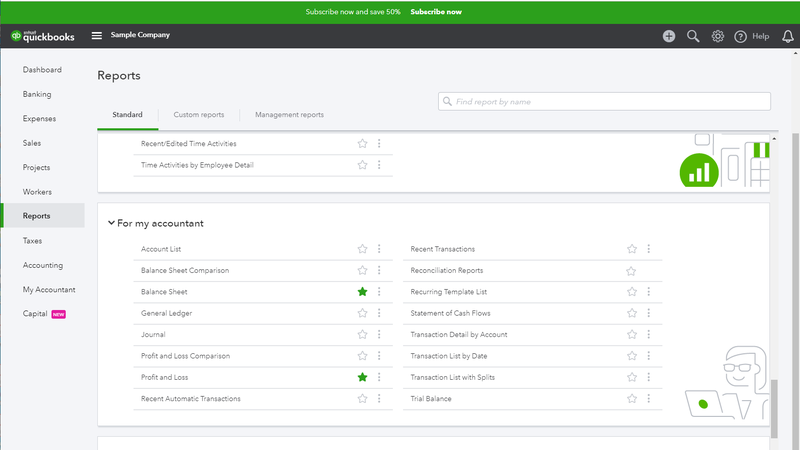 QuickBooks Online offers an excellent Sales feature, where you can track customers, create a new invoice, and post incoming payments. You can also send a payment reminder for late-paying accounts and provide customers with a link to pay their bill online.
Like ZipBooks, QuickBooks Online also tracks 1099 contractor expenses, making it a breeze to provide the necessary documentation at the end of the year.
Results
Winner: QuickBooks
QuickBooks is the winner, offering inventory management, budgeting capability, and better reporting options.
---
ZipBooks vs. QuickBooks Online: Support
What ZipBooks Offers
ZipBooks support is limited to chat support, which you can access from within the application or from the ZipBooks website. ZipBooks also includes a comprehensive knowledge base that is completely searchable, though you'll have to access it from the ZipBooks website.
What QuickBooks Online Offers
QuickBooks Online offers numerous support options for its users, including the following:
Telephone support
Email support
Messaging support
In-product help
Searchable knowledge base
User community
QuickBooks does encourage email and message support as first options, but for any issues that cannot be resolved in this manner, telephone support is available as well.
Results
Winner: QuickBooks
It's always better to have more support options than less, so with email, telephone, and message support options available, QuickBooks is the easy winner.
---
ZipBooks vs. QuickBooks Online: Ease of Use
Both ZipBooks and QuickBooks Online are designed for small business owners that typically don't have a lot of bookkeeping or accounting experience. Both do a good job with navigation, using intuitive data entry screens and easy navigation throughout.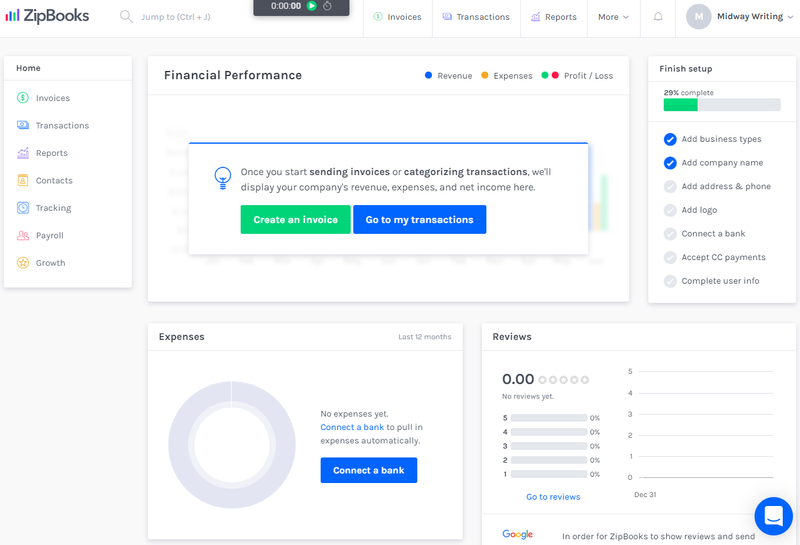 What ZipBooks Offers
ZipBooks offers a user-friendly interface screen, with a navigational menu featured on the left side of the main screen, which also functions as a dashboard, displaying business related vitals. System setup is quick and painless; even new users are able to complete the process in a few minutes.
Quick access to frequently used functions is found at the top of the screen. During the setup process, ZipBooks tracks setup completion, letting you know exactly how much you've completed.
Data entry screens are clean and uncluttered, and if you get stuck, you have immediate access to chat support from any screen, though you'll have to visit their website for access to the knowledge base.
One of the best features in ZipBooks is the timer at the top of the dashboard, which can be started at any time.
What QuickBooks Online Offers
Like ZipBooks, QuickBooks Online offers easy product setup, with an option to just enter vital information, leaving the rest until a later date. You can choose the tasks you'll be performing on a regular basis during the setup process, but no need to worry if you miss a few, because you can always go back and add them later.
QuickBooks Online has an intuitive user interface, with all navigation taking place from the QuickBooks Dashboard. The dashboard screen is a bit crowded and can seem a little intimidating, but you can choose what you wish to display, eliminating unnecessary items.
A vertical menu to the left of the screen offers access to all system features, and icons at the top of the screen offer access to company information and help options, which are available from any QuickBooks Online screen.
You can access the knowledge base from within QuickBooks Online as well.
Results
Winner: It's a tie.
Both ZipBooks and QuickBooks Online offer easy setup, intuitive navigation, and easy access to all system functions.
---
ZipBooks vs. QuickBooks Online: Pricing
Both ZipBooks and QuickBooks Online offer competitive pricing, though QuickBooks Online pricing goes as high as $75 per month, while top level pricing for ZipBook is $35 per month.
What ZipBooks Offers
ZipBooks offers three plans, plus a free plan, which is ideal for startups and freelancers. Their top plan, the Sophisticated plan, supports unlimited users and a customizable chart of accounts.
An Accountant plan, with custom pricing, is also available for accounting professionals who are handling bookkeeping or accounting for multiple clients.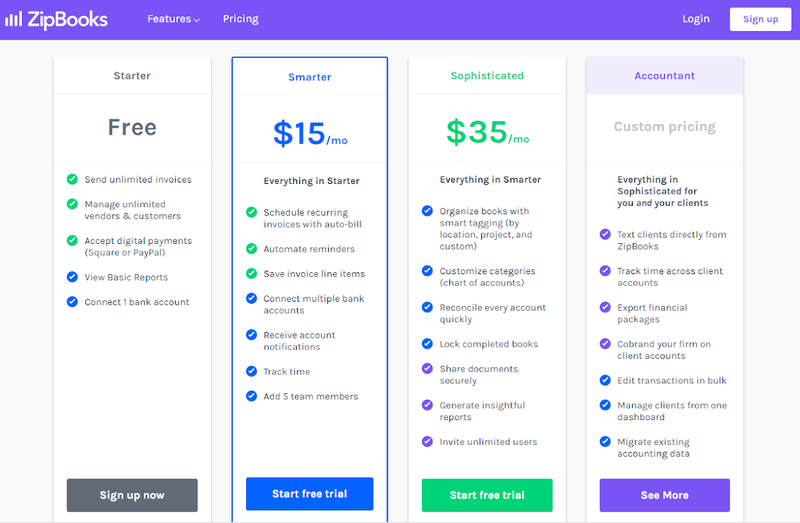 ZipBooks plans include:
Starter (free): The Starter plan is a single-user plan that supports unlimited customers and offers basic reporting.
Smarter: The Smarter plan supports up to five users and includes time tracking, automated reminders, and the ability to connect multiple bank accounts.
Sophisticated: The Sophisticated plan supports an unlimited number of users and includes all Starter and Smarter features along with a customizable chart of accounts, management reporting, and document sharing capability.
Accountant: The Accountant version is designed for accounting professionals that provide bookkeeping or accounting services to clients.
ZipBooks does not offer a payroll option, but does offer integration with Gusto for complete payroll services.
What QuickBooks Online Offers
QuickBooks Online is a scalable application with five plans available for everyone from the solo freelancer to the thriving small business owner. However, in most cases, QuickBooks Online pricing is only an introductory price, with monthly fees rising after the first three months.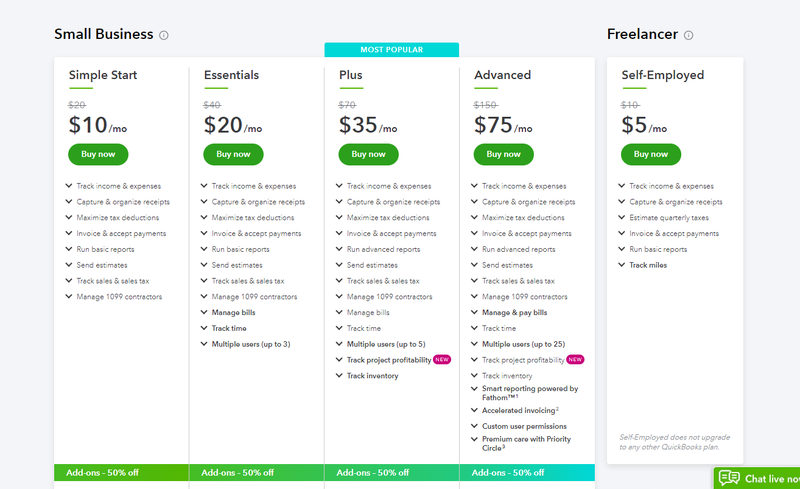 QuickBooks Online offers five plans:
Self-Employed: Designed for the freelancer, the Self-Employed plan is only $5 per month.
Simple Start: The Simple Start plan is a single-user plan that tracks income and expenses, organizes receipts, accepts payments, and offers basic reports.
Essentials: The Essentials plan supports up to 3 users and also offers bill management and time tracking capability.
Plus: The Plus plan supports up to 5 users and includes both inventory and project management capability.
Advanced: The Advanced plan supports up to 25 users and also includes advanced reporting, custom user permissions, and Premium Product Care.
QuickBooks Online does not offer payroll functionality, but does include an option to add payroll services on to the core plan at an additional price.
Results
Winner: ZipBooks
ZipBooks wins this one, offering pricing that is good for a year, along with a free plan, making it a better value overall.
---
ZipBooks vs. QuickBooks Online: Integration with Other Software
Integration options vary in ZipBooks and QuickBooks Online, and depending on the needs of your business, may or may not be important to you.
What ZipBooks Offers
ZipBooks offers limited integration options, though an API is available. It does integrate with PayPal, Square, and Stripe for easy online payment. The application also offers integration with Google Drive, Google Docs, Slack, and Asana.
For those of you that need to run payroll, ZipBooks offers integration with Gusto Payroll. You can also integrate ZipBooks with your banking institution if desired.
What QuickBooks Online Offers
QuickBooks Online offers more extensive integration capability, integrating with a variety of popular apps, including payment apps such as PayPal, Stripe, Square, Vend, CollBox, AR Collect, and various ACH options.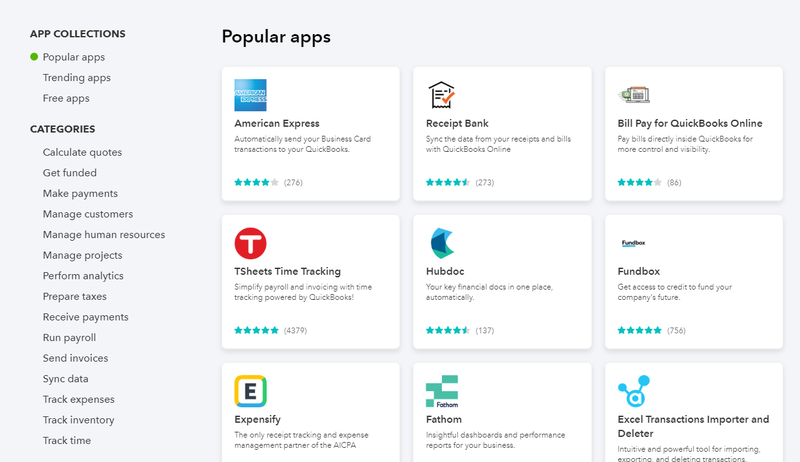 Other popular apps that QuickBooks Online integrates with include Fundbox, Expensify, Receipt Bank, Hubdoc, TSheets, Concur, and Shoeboxed. Payroll integration options include SurePayroll, RUN Powered by ADP, Patriot Payroll, along with their in-house QuickBooks Payroll option.
Results
While both applications offer a solid API, QuickBooks Online is the clear winner in the integration category, offering integration with hundreds of apps in a wide variety of categories.
---
ZipBooks vs. QuickBooks Online: Mobile apps
Let's face it, we use our phones for everything, which is why it's so important to have access to a good mobile app that integrates with our accounting software.
What ZipBooks Offers
ZipBooks offers an iOS app that allows you to create, edit and send invoices, view invoice history, capture business expense receipts, track time, and manage customers.
Unfortunately, ZipBooks does not offer a mobile app for Android devices at this time, though they say one is currently in the works.
What QuickBooks Online Offers
QuickBooks Online offers mobile apps for both iOS and Android devices, at no additional cost with a paid subscription to QuickBooks Online.
Both apps offer the ability to create and send invoices, accept electronic payments, snap photos of receipts, and bank reconciliation capability.
Results
Just the fact that QuickBooks Online also offers a mobile app for Android devices pushes them to the top, but their app does offer access to more product features as well.
---
How They Compare: ZipBooks vs. QuickBooks Online
| | ZipBooks | QuickBooks Online |
| --- | --- | --- |
| Free plan | | |
| Telephone support | | |
| Inventory management | | |
| Payroll | | |
| App integration | | |
| Mobile app for Android & iOS | | |
---
And the winner is…
QuickBooks Online. With plans ranging from Self-Employed to Advanced, QuickBooks Online can grow with your business. QuickBooks Online is also best for those selling products, offering good inventory management capability.
However, ZipBooks remains a good, affordable option for freelancers, sole proprietors, and small businesses, particularly those that need to track and bill hours.