Passwords are based on an oxymoron: They must be easy to remember but hard to guess. The result is that the ones you can remember — your birthday or 123456 — are easy for hackers to crack, and you can't remember the hard-to-guess ones five minutes after setting them up.
Don't rely solely on yourself for effective password management. Instead, it's time to use a secure password vault to create, store, and monitor your financial, shopping, social media, email, and other login credentials across all your devices.
Whether you need to protect passwords for personal use, your entire family, or your business, Zoho Vault is one of the best password managers available. We'll go over its newly redesigned interface, customer support, and pricing, so you can decide if it's a good fit for your needs.
---
Who is Zoho Vault for?
Zoho Vault is web-based identity and access management (IAM) software with single sign-on (SSO), two-factor authentication (2FA), and robust security features. Its free individual plan is suitable for personal use, while customers using the business plans include Amazon, Facebook, and Netflix.
Zoho Vault is one of more than 40 Zoho applications for sales, marketing, finance, email, project management, and business intelligence and analytics. Zoho offers multiple software packages and recently released Zoho One, a comprehensive suite of business applications that supports a wide range of company operations.
---
Zoho Vault's features
Zoho Vault uses AES 256-bit encryption that lets you store unlimited passwords and important documents such as medical records you can access from multiple devices. Add extra security with secondary authentication factors, including push notifications, one-time passwords (OTPs), and the Zoho OneAuth mobile app.
We'll take a close look at the revamped password vault, browser extensions, mobile apps, multi-factor authentication (MFA), and password security features.
Password vault
The Zoho Vault interface received a long-needed makeover in 2020 that updated its basic design and odd terminology. (It previously used "secrets" to refer to accounts and passwords and called folders of passwords "chambers.") The new interface employs more descriptive terms — a password is now a password — and a visually appealing graphical user interface (GUI).
Features in the new GUI include:
Easily managed password and document folders
Detailed security dashboard
Integration with popular security information and incident response applications
Faster access to technical support
Zoho Vault's single sign-on (SSO) lets you directly access websites and online applications after you log into it. View your stored passwords and organize them in folders such as finance, social, travel, and work. Open your account profile on the right to install browser extensions and download mobile apps.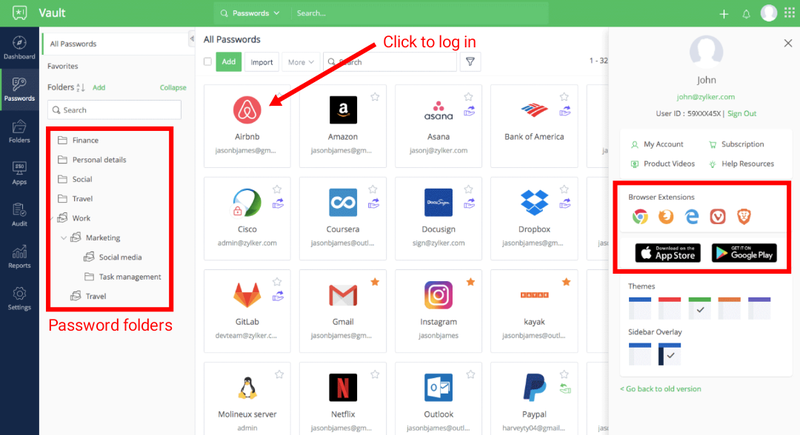 Depending on the login setup at individual websites for your stored passwords, selecting an application to launch, such as Airbnb above, will either take you to a login page with your credentials filled in or directly into the website portal.
Browser extensions
SSO via Zoho Vault's password vault is handy, but it's not convenient to go there every time you log into a site. Once your passwords are set up, the Zoho Vault free browser extension is more convenient to use.
Supported browsers include:
Chrome
Firefox
Edge
Safari
Vivaldi
Brave
The Zoho Chrome extension mirrors the password management functionality of Zoho Vault: Access passwords and folders, add passwords, and sync updated information with your password vault. In the screenshot below, I chose the bills folder from a pulldown menu and can log into the sites stored there.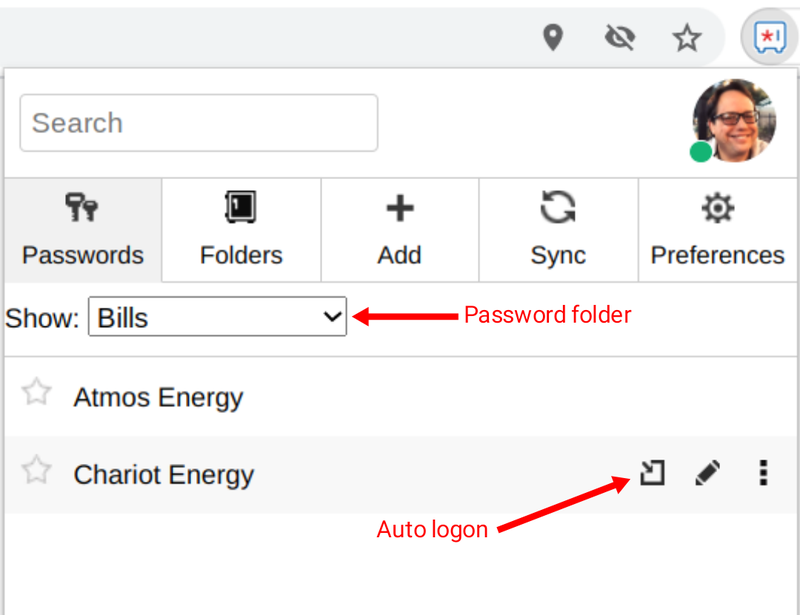 The default inactivity setting logs you out after 15 minutes, but you can reset this to the duration of your session or from one minute to up to a week.
Password manager app
If you're like most people and store passwords separately on your laptop or desktop browsers and smartphone, Zoho Vault's password manager app synchronizes your login credentials across multiple devices.
For example, I used to use Google's password manager in my laptop's Chrome browser but Apple's password manager on my iPhone. The problem was the lack of synchronization between the two when I added new logins or updated existing ones.
The Zoho Vault app is available for Apple, Android, and Windows mobile devices, and its features include:
Full password vault functionality
Biometric login security
Offline access to passwords
When you open an app such as Instagram on your smartphone, you're prompted to use credentials stored in Zoho Vault.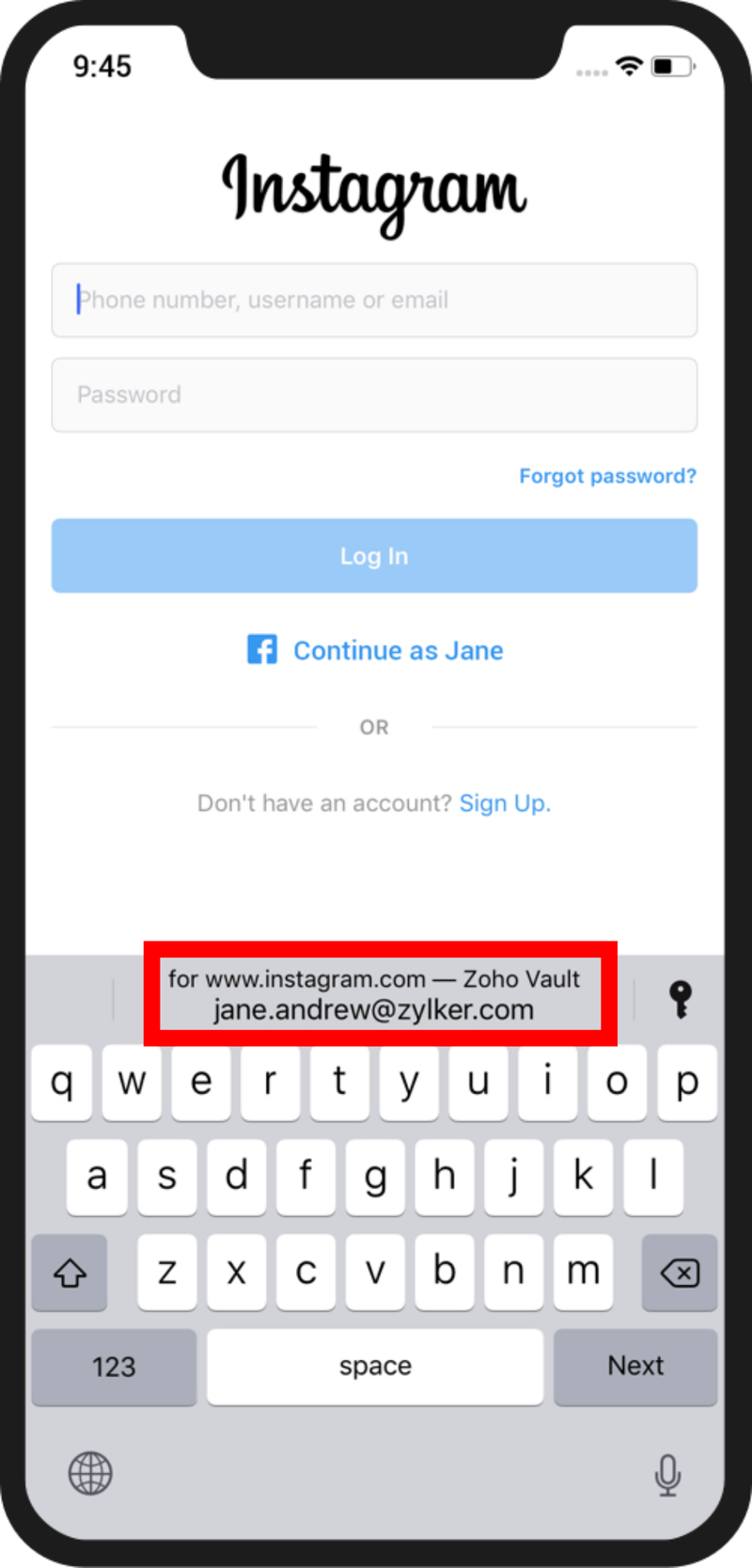 A standalone Zoho desktop app is available for Windows, and the Android mobile app is compatible with Chromebooks.
Multi-factor authentication
Passwords are the traditional method of login security, but they're also notoriously weak. With enough time and computing power, bad actors can crack any password. Multi-factor authentication (MFA) addresses this by adding a secondary identification factor. These include a fingerprint, the answer to a security question, or an externally provided one-time password (OTP).
Zoho security supports multiple MFA protocols for extra protection via texts, phone calls, QR codes, biometrics, push notifications, and mobile authenticator apps.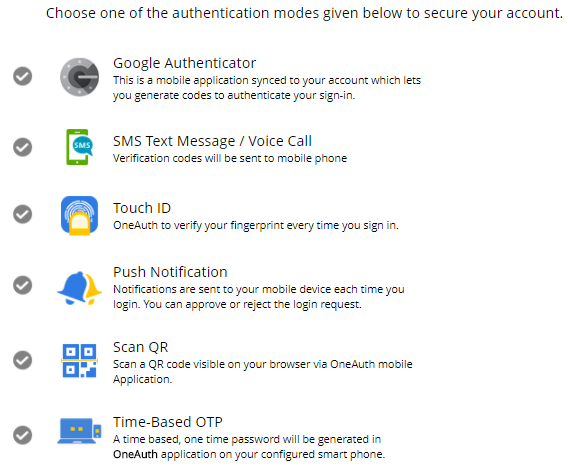 While you can use the third-party Google Authenticator mobile app, your best option is Zoho's free OneAuth app, which is separate from its password manager app. Choose your preferred MFA method, and you're good to go with increased security.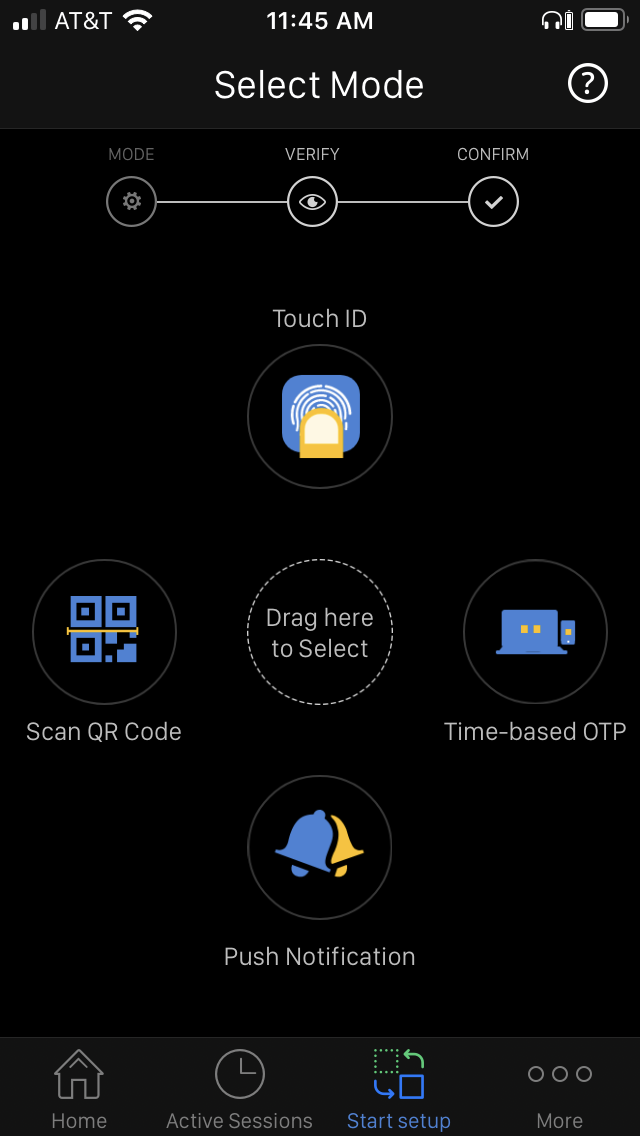 Install OneAuth on multiple devices, and if you use other Zoho apps, which include email, project management, and expense reports, it automatically logs you into them.
Password assessment
Continual password monitoring is important to make sure you don't employ weak, reused, or otherwise compromised ones. Every time you log into Zoho Vault, the main dashboard provides a thumbnail overview of your passwords.
When a problem is identified, such as the three out of four weak passwords in the screenshot below, click the circled number to see the passwords with issues to address.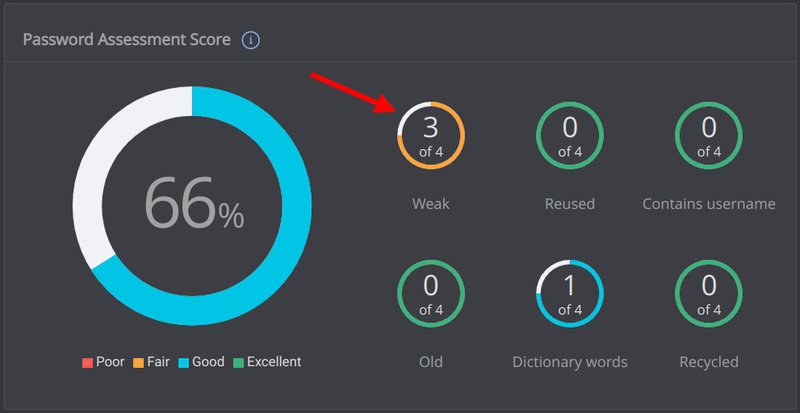 If you're using the Zoho Vault Standard plan for your family, the designated admin can run password assessment reports for all users instead of leaving password security to individual family members.
---
Zoho Vault's ease of use
In the past, users often had two basic issues: the clunky interface and peculiar terminology. Both concerns are addressed in the redesigned Zoho Vault: The sleek new interface has multiple display options with clearly labeled menu items.
Quickly add your accounts, thanks to Zoho's more than 400 pre-configured websites, but even manually adding them is pain-free. You and your family members, regardless of technical expertise, will like accessing synchronized passwords across multiple web browsers and devices. Some default security settings are annoying — you're logged out after short periods of inactivity, for example — but are easy to update.
The free personal plan is great for individuals, but Zoho Vault doesn't have a designated family plan separate from its business plans as does LastPass and other competitors. Instead, you must choose from the three paid business plans.
---
Zoho Vault's pricing
Zoho Vault's four plans include:
Free: Supports one user and includes unlimited passwords, automatic website logins, password generator, password assessment, multi-factor authentication, mobile apps, and browser extensions.
Standard: $1/month per user — Adds centralized admin controls, password expiration alerts, password sharing, cloud backup, integration with G Suite and Office 365, and priority technical support.
Professional: $4/month per user (minimum five users) — Adds user group creation and management, shared folders, and user access and activity reports.
For personal use, the Free plan is your best choice, while the Standard plan works well for families. All plans have a 15-day free trial.
---
Zoho Vault's support
Zoho Vault customer service uses help tickets, email, and 24/5 telephone support. Self-service resources include:
Knowledge base
Community forums
Webinars
E-book guides for users, admins, and developers
Customer case studies
Zoho's blog has the latest product updates and articles on more general topics such as teaching kids about cybersecurity and how to increase your cybersecurity when working from home.
---
Benefits of Zoho Vault
Almost everyone uses weak or reused passwords because nobody can remember dozens of unique, strong ones, but Zoho Vault provides a secure, centralized storage location for your login credentials.
Its password assessment report, which appears on the main dashboard of the new Zoho Vault interface, keeps password security front and center and lets you update problematic passwords. For families, the account admin can check the strength of all passwords to ensure everyone is following best practices.
For families, shared login credentials streamline the online experience for joint accounts and applications such as Netflix. You can also access key information if someone is out of touch or incapacitated. This could be critical during an unexpected crisis. When my grandfather died, my grandmother didn't even know which bank they used, much less any other important financial information.
Zoho Vault's Free plan is a good option for personal password management, and the Standard plan, which is $1/month per user, doesn't make families pay for extra licenses they're not using.
---
Protect you and yours with Zoho Vault
Thanks to the proliferation of online accounts, applications, and linked digital devices, robust password management is a necessity and not a luxury. Don't wait until your login credentials are compromised to make the move to Zoho Vault. Instead, head trouble off at the pass with its free individual plan or affordably priced group plans.
---
Frequently Asked Questions for Zoho Vault
Who should use Zoho Vault?
Zoho Vault is suitable for personal use by individuals, families, and businesses small and large. Zoho Vault is also a good choice for businesses using other Zoho applications because it's integrated with them.
Zoho Vault pricing includes a free personal plan, and the Standard plan for $1/month per user is the best option for families. The Professional ($4/month per user) and Enterprise ($7/month per user) plans, which require a minimum of five users, are better choices for businesses.
How much support can I expect?
Get help via email, help tickets, and 24/5 telephone support. Self-service resources include a knowledge base, community forums, webinars, and guides for users, admins, and developers.
If you think you know Zoho Vault, think again: Its redesigned interface addresses long-standing user issues and provides a streamlined password management experience. From the electronic password vault to mobile apps and browser extensions, Zoho Vault's features are suitable for individuals, families, and businesses. Get $200 in Zoho Wallet Credits valid for 30 days when you sign-up using a business email. These wallet credits can be used to purchase any Zoho app or edition upgrade. T&C Apply
If you think you know Zoho Vault, think again: Its redesigned interface addresses long-standing user issues and provides a streamlined password management experience. From the electronic password vault to mobile apps and browser extensions, Zoho Vault's features are suitable for individuals, families, and businesses.
The Motley Fool has a Disclosure Policy. The Author and/or The Motley Fool may have an interest in companies mentioned.