When it comes to sales, having the right CRM software tool to help you get to the next level is a very important decision to make.
While it may be natural to gravitate toward Salesforce software since it is perhaps the best-known name in the CRM world, you may be wondering what else is out there. And that's a good instinct to have, because it's true that Salesforce might not be for you.
As an alternative to Salesforce, Zoho CRM is another solid consideration. Zoho CRM and Salesforce CRM have many similarities, but in reviewing the two products, we've found some key differences between them that may help you choose.
---
Zoho CRM vs. Salesforce CRM: An overview
Zoho CRM and Salesforce are both great options with a lot of great features.
However, they do have a number of key differences you should take into account as you make your selection.
Who is Zoho CRM for?
Zoho CRM is a web-based platform ideal for small- to mid-sized businesses, or even sole proprietorships who don't want a platform that's too techy.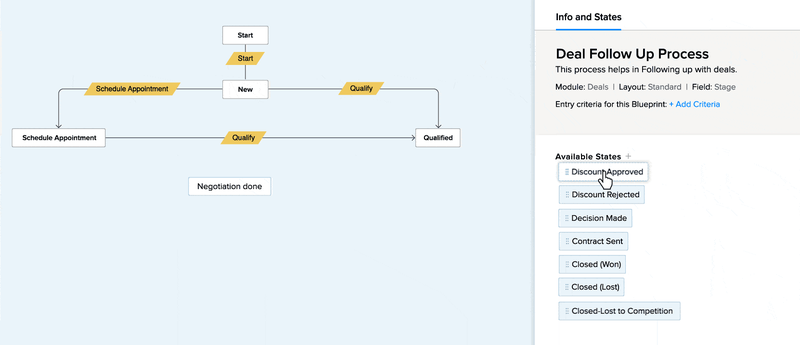 It has an intuitive design and integration capabilities while still offering a lot of features, making it a great choice for salespeople who just want a straightforward CRM solution.
Who is Salesforce CRM for?
Salesforce caters to a bit broader of an audience, so it offers solutions for major enterprises, but Salesforce for small business is certainly a viable option.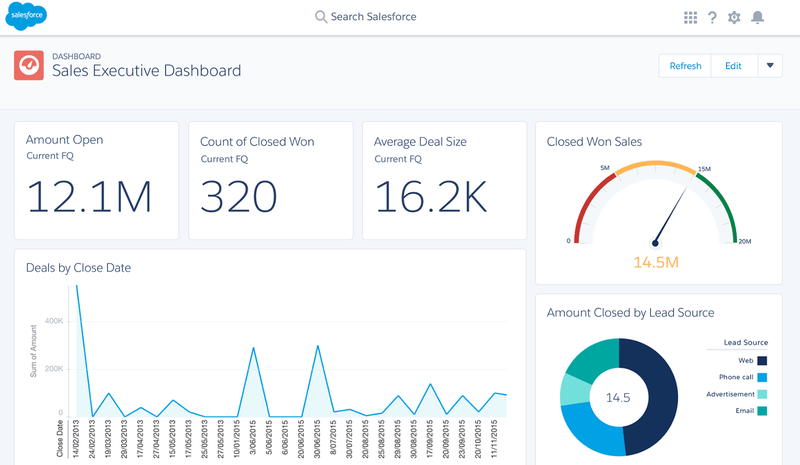 The software has a wide range of customization options, and that makes it good for businesses that need an established and well-support CRM solution with a powerful set of features.
However, the learning curve is steeper, and getting support can be expensive.
---
Zoho CRM vs. Salesforce CRM: Features
When you commit to new CRM software, few things are more important than what features it offers.
Here's how these two solutions compare in this category.
What Zoho CRM offers
Zoho CRM offers its software in tiers based on how much you're willing to spend, and each tier includes different features.
If you want the free version of Zoho, you'll get access to features such as sales tasks, events, call logs and notes, and integration with social media.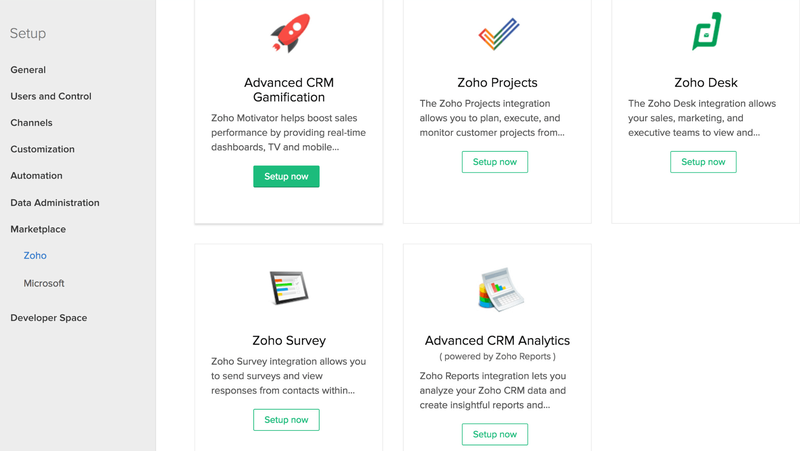 The Standard tier gives you all of that plus sales forecasting and visitor live tracking, and the Professional tier adds the ability to generate leads from social media accounts and use the software for Google Adwords campaigns.
Upgrading to Enterprise will get you customer support and custom modules, and Plus gets you Zoho reports, enhanced storage, and even more customization.
What Salesforce CRM offers
Salesforce offers a number of features, such as opportunity management, which allows you to more easily track and funnel leads through your sales pipeline, then use data and analytics to improve your close rate.
Task management helps you manage tasks and assign dates and schedules to the rest of your team.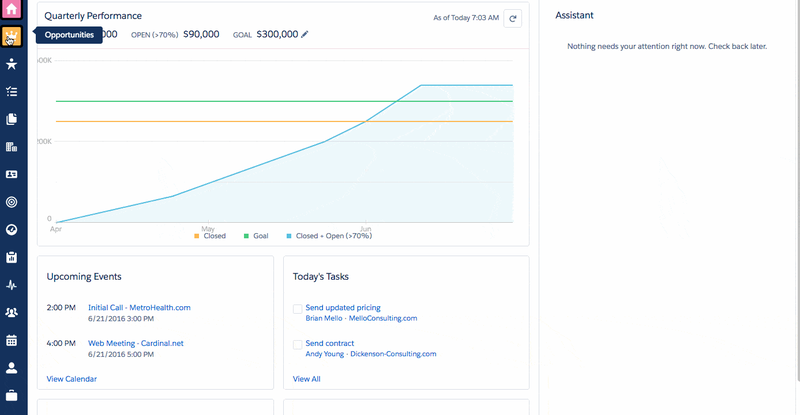 Account management enables you to share customer information with the team, creating an organized list of contacts to improve efficiency. And you can keep all contracts, documents, and product information organized with contract and product management tools.
Salesforce case management will help you improve your customer service by managing cases not just through phone or in-person contact, but via social media as well.
Results
Winner: Salesforce
Salesforce simply has more features to offer than Zoho. That's not to say Zoho doesn't offer a robust feature list, but if you're looking for the absolute maximum in terms of tools, Salesforce is a better choice.
---
Zoho CRM vs. Salesforce CRM: Support
Both products have good support options, if you can afford it.
However, each solution requires you to pay for an upgraded version of the software in order to receive personalized support.
What Zoho CRM offers
Like many CRM options, Zoho has a robust database of articles to help you find the answers you need for technical support.
But like many businesses, that may not be enough for you. Zoho does have a customer support number, but it's limited to business hours and to customers of the Enterprise and Plus tiers.
If you're a free customer or subscribe to the lower tiers, you may be stuck trying to figure things out on your own. Fortunately, Zoho aims to be user friendly, but sometimes you need a helping hand anyway.
What Salesforce CRM offers
Salesforce offers a lot of self-help options online, and it also offers training and certification from Salesforce University, albeit with a somewhat steep price tag.
You can get one-on-one help over the phone, but like with Zoho, you need to be a higher-tier subscriber — at least at the Premier or Partner Premier level — to get help with "standard" issues.
Otherwise, only "severity one" problems will get you phone support. Salesforce defines a "severity one" issue as a "critical" problem that affects all users and includes "system unavailability and data integrity issues with no workaround available."
Results
Winner: Salesforce
Salesforce gets a slight edge because while both platforms offer support for a price, Salesforce has more online resources and it also has Salesforce University.
---
Zoho CRM vs. Salesforce CRM: Ease of use
Both score solid points in ease of use. They're powerful tools with a lot of features, but they're also user friendly.
What Zoho CRM offers
Zoho benefits from having an intuitive design, and it's particularly good for businesses that want to do a better job of integrating with social media but find it difficult to accomplish that with most existing CRM software.
The layout is pretty easy to grasp, and while it may not be the flashiest solution, it may be all you need for your business.
The main downside when it comes to Zoho's usability has to do with the fact that it needs a good bit of customization and initial setup before it's ready to go.
What Salesforce CRM offers
Salesforce is easy to use once you get it up and running, but like Zoho, it takes some time to set up and also has a learning curve that can be intimidating for novices. It has a tremendous amount of features that make it a powerful CRM tool, but that can also mean it's a little more difficult to use or get up to speed.
As mentioned above, Salesforce University can help you get the most out of this software, but it requires taking some time out of your schedule and a few hundred dollars out of your budget.
Results
Winner: Zoho CRM
These two are practically in a dead heat when it comes to ease of use, but I found Zoho a bit more straightforward and easier to pick up. However, it all comes down to what your individual needs are, so your results may vary.
---
Zoho CRM vs. Salesforce CRM: Pricing
Both CRM options are priced on a per-user, per-month basis and offer varying tiers based on what features you want.
What Zoho CRM offers
Zoho pricing includes the following options:
Standard: $12/month/user
Professional: $20/month/user
Enterprise: $35/month/user
Ultimate Edition: $45/month/user
What Salesforce CRM offers
Salesforce pricing includes the following options:
Essentials: $25/month per user
Professional: $75/month per user
Enterprise: $150/month per user
Unlimited: $300/month per user
Results
Winner: Zoho CRM
Considering that Zoho offers a 100% free version of the software as well as pricing significantly below that of Salesforce, it's the clear winner in this category.
---
Zoho CRM vs. Salesforce CRM: Integration with other software
Totally changing how your business operates with new software can be a shock, which is why integration with other platforms is so important. Both CRM solutions offer some help to customers in this department.
What Zoho CRM offers
Zoho integrates with Google as well as Zoho's other software offerings. One of its big selling points is how well it integrates with social media.
Other third-party integrations are available with tools like Mailchimp and Quickbooks.
It has Microsoft Outlook plug-ins for both Windows and Mac users, and you can sync all of your info in Outlook.
What Salesforce CRM offers
Salesforce integrates with other business apps like G Suite, Quickbooks, and Mailchimp.
As a result, businesses that use tools like this can quickly and seamlessly transition to Salesforce without disrupting their day-to-day operations.
Results
Winner: Zoho CRM
Both options offer great integration options, but Zoho is a step above in terms of the range of integrations it offers and the simplicity with which it does it. I found its Microsoft Outlook plug-in capabilities particularly helpful.
---
How They Compare: Zoho CRM vs. Salesforce CRM
| | Zoho CRM | Salesforce |
| --- | --- | --- |
| Free version | | |
| Fast onboarding | | |
| User forum | | |
| In-person training | | |
| Flat rate pricing | | |
---
Too close to call, but opinions may differ
This head-to-head matchup shakes out to a tie. While the results were close, remember that your needs as a salesperson or business owner may differ from someone else's.
Salesforce scores big points with its extensive list of features and great — albeit costly — support, but Zoho gets the edge when it comes to ease of use and integration with third-party platforms.
If you care more about powerful features than price, for example, you might opt for Salesforce.
In any event, your best bet is to give both software options a try before settling on one.