Coronavirus and Childcare Resources
by Maurie Backman | Updated July 17, 2021 - First published on March 18, 2020
Many or all of the products here are from our partners that pay us a commission. It's how we make money. But our editorial integrity ensures our experts' opinions aren't influenced by compensation. Terms may apply to offers listed on this page.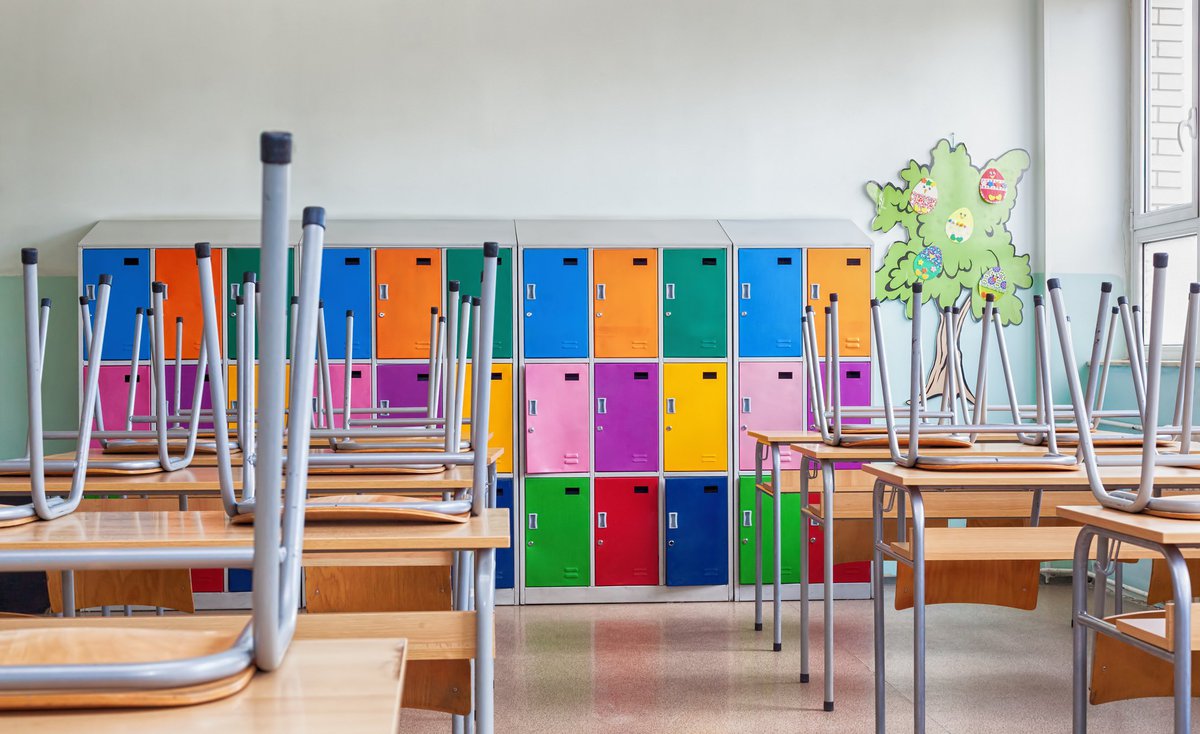 Struggling with childcare now that school is canceled? Here's what you need to know.
Struggling with childcare now that school is canceled? Here's what you need to know. 
Not only is COVID-19, more commonly known as the novel coronavirus, making Americans ill, but it's also making them scared. And that fear has caused life as we know it to grind to a halt. In the past week, we've seen countless events canceled, restaurants shut down, and schools close their doors.
It's the latter that's causing huge hardships for working parents who now find themselves without childcare. If you're in that boat, you're in good company. Not only are public schools closing, but so are private schools and daycare centers, largely and rightfully out of an abundance of caution.  
1. Explore your options for free childcare
You may not have a family member or neighbor who can watch your children day in, day out while you go to work. But if you're in a crunch now that school is canceled or your daycare is closed, it's time to call in a favor. Ask your retired mother-in-law to provide free childcare for a week or so, or see if your stay-at-home-parent neighbor can pitch in. Of course, keep in mind that the CDC recommends limiting the number of people you come into contact with, so if you're going to enlist help from a loved one or friend, make sure that person is free and clear of symptoms and is otherwise self-isolating. 
In fact, a good bet is to wait until you and your potential caregiver have been isolated for 14 days, and then ensure that the person helping you will be traveling to your home only and nowhere else. And on the flip side, remember that older people are most likely to suffer severe illness from COVID-19, so if you have someone like a grandparent helping out, make sure you're not putting that person in harm's way -- namely, by completing a full 14 days of isolation yourself before enlisting that help, and ensuring that you remain isolated while that person is helping you. It could also pay to have an older relative ask his or her doctor if it's advisable to take care of the kids. 
2. Find a sitter
With a large number of colleges and universities closing their campuses due to COVID-19, now may be a good time to find a babysitter who can watch your children in your home while you work. Sites like Care.com can connect you to local sitters with availability. Again, you'll grapple with the same concerns everyone has right now -- where has your sitter been in the past week or so, and have they been exposed to COVID-19? As such, you may want to wait until a potential sitter has been in self-isolation for 14 days before hiring that person to come to your home. 
3. Find an electronic sitter
If you're able to do your job from home, you don't necessarily need another human to watch your children while you work -- you just need them adequately entertained so they're out of your hair long enough to be productive. The good news? Many schools are transitioning to online learning, so if you have an older child, there's a good chance they will have a four-hour school day or longer to keep them busy. And if you have younger children, companies such as Scholastic are offering free online learning content to engage kids who aren't responsible for schoolwork. 
Is relief around the corner?
Of course, the above suggestions won't work for everyone. Some people don't have family members who can drop what they're doing and provide childcare, and many understandably won't be comfortable with the idea of hiring a new sitter in the midst of a major health crisis. 
Unfortunately, if your job isn't one that can be done from home, in the absence of childcare, you risk losing your paycheck. And if you don't have savings, you risk falling dangerously behind on your bills. 
The good news? The House just passed the Families First Coronavirus Response Act. If it's approved by the Senate and signed by President Trump, it will provide relief for parents who aren't able to keep working or receive paid leave during the current crisis. 
Specifically, this bill seeks to grant up to two weeks of paid sick leave at 100% of impacted workers' salaries, up to $511 per day, and up to three months of paid family and medical leave at 67% of workers' regular salaries, up to $200 per day. 
However, these measures apply mostly to mid-sized companies. Those with fewer than 50 or more than 500 employees may be exempt. Meanwhile, employees will be eligible for these benefits if they or a family member fall ill due to COVID-19, are forced to quarantine due to the virus, or are forced out of work due to school closures. Furthermore, the bill extends to side-gig workers, such as Uber drivers, who work for another company. 
While the bill has not yet been voted in, lawmakers are aware that millions of working Americans will struggle to make ends meet if there isn't some form of relief. So if you're a working parent who's concerned about your financial decisions in these crazy coronavirus times, you can take comfort in the fact that there are people advocating for you. 
These savings accounts are FDIC insured and could earn you up to 12x your bank
Many people are missing out on guaranteed returns as their money languishes in a big bank savings account earning next to no interest. Our picks of the best online savings accounts can earn you more than 12x the national average savings account rate. Click here to uncover the best-in-class picks that landed a spot on our shortlist of the best savings accounts for 2022.
Two top online savings account picks
We're firm believers in the Golden Rule, which is why editorial opinions are ours alone and have not been previously reviewed, approved, or endorsed by included advertisers. The Ascent does not cover all offers on the market. Editorial content from The Ascent is separate from The Motley Fool editorial content and is created by a different analyst team.