Published in: Banks | May 4, 2020
4 Ways You Can Save Money by Working From Home
Doing your job from the comfort of home isn't just convenient -- it can be a money-saver, too. 
Some people don't do well working from home -- they need the stimulation of being in an office, and they crave the company of coworkers to get through the day. But if you're the type who can thrive in a work-from-home arrangement, and your employer is flexible enough to let you do so on a full-time or partial basis, then it pays to consider it. Here's a few ways that set up can save you money.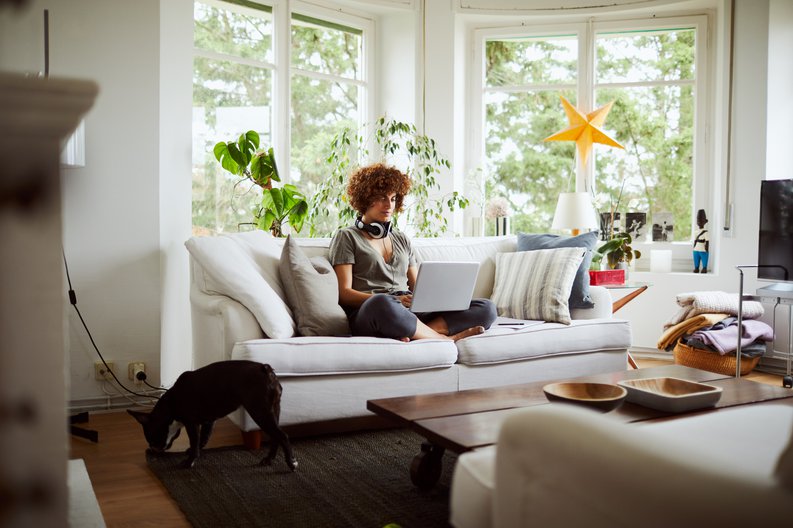 1. You'll spend less (or nothing) to commute
Whether you drive to work or pay for a public transit pass, you're looking at spending some amount of money. If you work from home, your commuting costs will either go down or become nonexistent. And that means you'll have more of your earnings left over each month to put into your savings account or spend on other things. 
2. Child care may be less expensive
Child care is a huge expense for working parents, but working from home could ease the pressure. If you currently have school-aged kids who need before- and after-care, your at-home arrangement may make it possible to skip either the "before" or "after" portion and only pay for the other. And if your children are too young to attend public school and instead go to daycare, you might get away with paying a reduced rate if you don't need the extended hours that many of these centers provide. 
3. You'll avoid the temptation to buy lunch every day
When you work in an office and have colleagues who go out to lunch regularly, it's easy to be tempted to go with them. But buying a mid-day meal at $10 to $15 a pop really adds up in the course of a year. On the other hand, when you work from home, there's no one around to lure you into spending extra on food. And since you'll have access to your entire pantry and fridge, the desire to buy a prepared lunch will probably be minimal. 
4. You'll spend less to maintain a work wardrobe
These days, working from home doesn't necessarily mean doing your job in pajamas. With remote meetings growing in popularity, you might still need to make yourself look presentable, even if you're miles away from the people you work with. That said, you can probably get away with fewer wardrobe changes when you work remotely, which could save you money on new clothing and dry cleaning. 
What can extra money do for you?
The less you spend on commuting, child care, lunches, and work attire, the more money you'll have available to save, pay off debt, or use for other purposes. Of course, saving money is just one perk of working from home. You might also save time by not having to commute, and enjoy the flexibility of being home for deliveries. 
If you're not sure if working from home is right for you, ask your employer to do a trial run. Do your job remotely for a few weeks and see how it impacts your productivity (if at all). And also, see if you like it. If it's not the right arrangement from an efficiency or social standpoint, so be it. But if you give it a shot, you may find that it's actually a great setup on more than one level. 
These savings accounts are FDIC insured and can earn you 20x your bank
Many people are missing out on guaranteed returns as their money languishes in a big bank savings account earning next to no interest. Our picks of the best online savings accounts can earn you more than 20x the national average savings account rate. Click here to uncover the best-in-class picks that landed a spot on our shortlist of the best savings accounts for 2020.
Two top online savings account picks