28% of Americans Rely on Their Credit Cards When They Run Out of Money
by Christy Bieber | Updated July 21, 2021 - First published on June 18, 2019
Many or all of the products here are from our partners that pay us a commission. It's how we make money. But our editorial integrity ensures our experts' opinions aren't influenced by compensation. Terms may apply to offers listed on this page.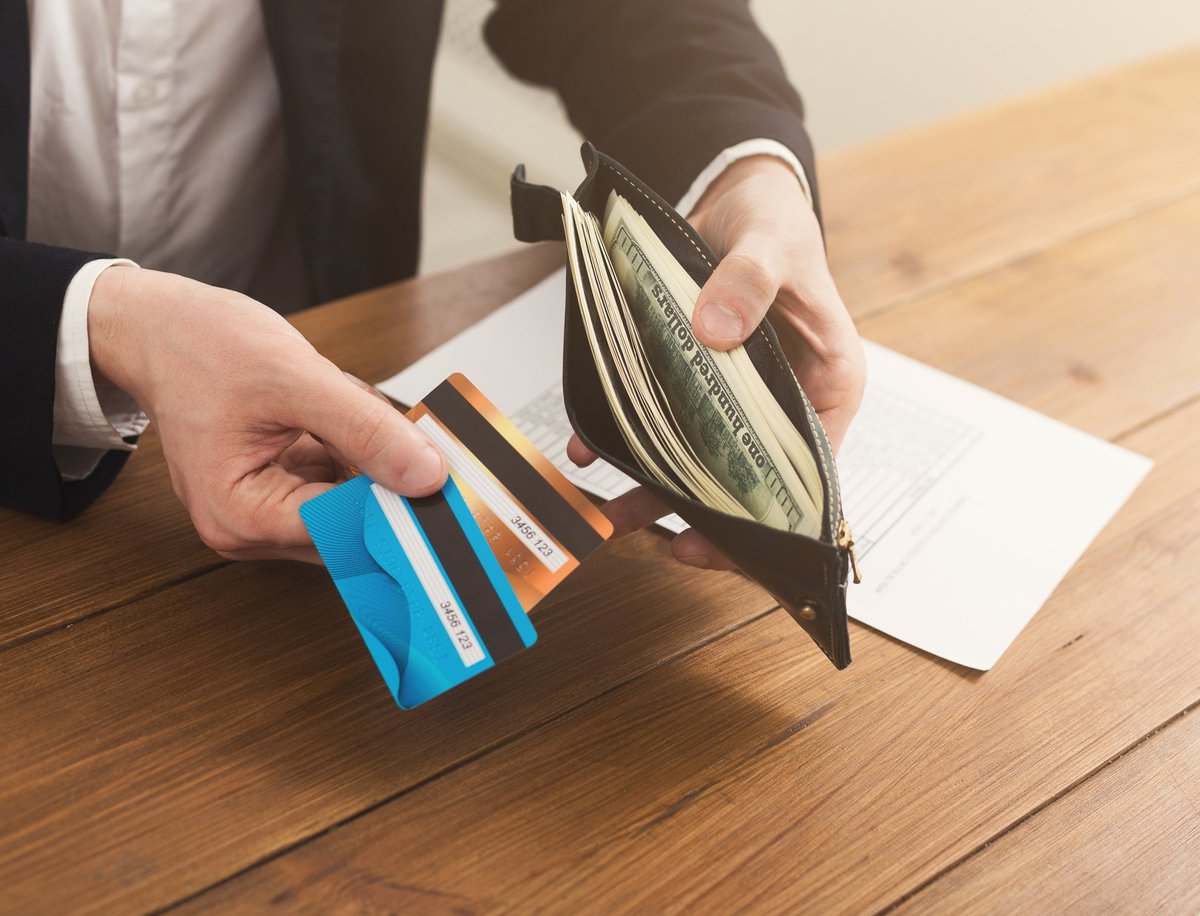 Do you use your credit card to cover expenses when you run out of cash? You're not alone . . . but you should try to avoid it.Image source: Getty Images.
When you earn a paycheck, the hope is that the money you have coming in will provide for your needs. Unfortunately, for the majority of families in the U.S., this isn't always the case. In fact, 56% of Americans either occasionally or frequently run out of money at the end of the pay period, new research from ING reveals.
When Americans run out of money, they often turn to credit cards to get by, with around 28% of Americans indicating they start spending on the plastic as opposed to reducing spending or borrowing from friends or family.
While charging what you need may seem like an easy solution, it can quickly lead to financial disaster if it becomes a habit. Here's how this can lead to major financial hardship -- and how you can avoid using your credit cards as crutches.
Putting everyday expenses on credit cards can trap you in debt
When you face a financial shortfall and use your credit card to fill the gap, you'll have to pay for the amount you borrowed. If you put $100 on your card today, you'll start next month $100 in the hole. When you get those paychecks that don't stretch far enough already, you'll have to use $100 of that money to pay off your credit card.
If you can't pay off the card in full, your outstanding balance will carry into the next month, and interest charges will also be tacked on -- making it even harder to pay what you owe.
The consequences of this are obvious. As more and more of your future paychecks are eaten up by what you owe from past shortfalls, you'll fall further behind and be forced to borrow continually. You could easily run up a big credit card balance in a matter of months, and becoming debt-free could begin to feel impossible.
What can you do instead of relying on your cards?
The best way to make sure you don't end up trapped in credit card debt is to make sure your expenses don't exceed your income in the first place. To achieve this goal, you'll have to live on a budget. Start by figuring out how much income you have available, then allocate your cash first to necessities, next to saving for the future, and then finally to wants.
If your income isn't high enough to cover all the monthly expenses you have to pay, you'll either need to start making cuts or find ways to raise your income. Once your income exceeds your expenses, stick to your budget carefully by tracking your spending and making sure you don't exceed the amount you've allowed yourself.
Of course, unexpected expenses will inevitably crop up and blow your budget. To avoid getting buried in debt by these costs, try to leave a little wiggle room in your monthly budget. And more importantly, work on saving an emergency fund.
While the ideal goal for an emergency fund is to have three to six months' worth of expenses set aside, it's OK to start with a smaller fund. Put some money into your budget to set aside in an emergency savings account so you'll have this cash to draw from when you need it.
If you don't yet have an emergency fund saved and you face a shortfall, stop spending on all but the essentials to avoid using your cards. Consider picking up some extra work or selling unnecessary items around the house so you can avoid falling into the credit card debt trap.
If you're relying on your cards, you aren't alone
As the ING data shows, relying on credit cards to cover financial gaps is an extremely common habit. But you don't have to let yourself become one of the 3 in 10 Americans who use their cards when they've run short on funds.
With a balanced budget and an emergency fund, you'll have the cash you need to cover your bills, and credit card interest won't become something you have to worry about.
Top credit card wipes out interest until 2023
If you have credit card debt, transferring it to this top balance transfer card secures you a 0% intro APR into 2023! Plus, you'll pay no annual fee. Those are just a few reasons why our experts rate this card as a top pick to help get control of your debt. Read our full review for free and apply in just 2 minutes.
We're firm believers in the Golden Rule, which is why editorial opinions are ours alone and have not been previously reviewed, approved, or endorsed by included advertisers. The Ascent does not cover all offers on the market. Editorial content from The Ascent is separate from The Motley Fool editorial content and is created by a different analyst team.