loanDepot Mortgage Review
loanDepot Mortgage Review
Kimberly has been a personal finance writer/editor, consumer credit expert, and financial literacy advocate since 2001. Tweet her @rotterwrites.
We are committed to full transparency in our mission to make the world smarter, happier, & richer. Offers on The Ascent may be from our partners - it's how we make money - and we have not reviewed all available products and offers. That transparency to you is core to our editorial integrity, which isn't influenced by compensation.
loanDepot is a pioneer in digital mortgages, and a great choice for anyone looking for a short time-to-close. Since loanDepot is also one of the largest VA mortgage lenders by volume, borrowers who qualify for this low down payment mortgage program should find themselves in good hands here.
Importantly, loanDepot offers both the versatility of fixed- and adjustable-rate purchase and refinance loans to borrowers in all 50 states, as well as high customer satisfaction.
It ranked eighth on the JD Power U.S. Primary Mortgage Origination Customer Satisfaction study for 2019. loanDepot also has an A+ rating with the Better Business Bureau, which means it is highly responsive to customer complaints there. Consumer reviews on the BBB site and on Trustpilot both average 4 out of 5 stars.
Our loanDepot mortgage review will cover the lender in more detail to help you decide whether it's the right one for you.
Ratings Methodology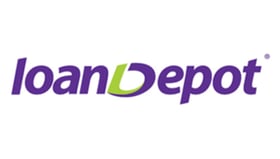 Best for: Online application process
Loan Depot
Why Apply
Among the most popular refinance and FHA/VA lenders in the market. Its Mello Smartloan platform eases the refinance process by digitally hooking up to confirm your assets, employment, and income.
Min. Credit Score
Min. Down Payment
Key Features
Wide array of loan terms
Branch network compliments online experience
Refinance and FHA/VA specialist
Loan Types
FHA
VA
Jumbo
Conventional
Fixed Rate Terms
30 year, 20 year, 15 year, 10 year
Adjustable Rate Terms
All digital application process: The mello smartloan™ is loanDepot's proprietary end-to-end digital home loan platform. The software digitally verifies income, assets, and employment. Then it identifies the loan options that save the most money and/or time. Other savings are immediate.
For example, loanDepot will waive the appraisal on properties where there are enough recent comparable sales to automate the valuation. loanDepot says that for some properties, title clearance and home value approval can be ready in minutes. Borrowers can close on their loans up to 17 days faster than with a comparable loan made without the benefit of the mello smartloan™ technology.
"No steering" policy: loanDepot's loan officers are not brokers earning commissions. The lender has a strict "no steering" policy in place ensuring that borrowers are put in the right loan, not the loan that will earn the broker the highest commission. This offers some comfort to consumers who do not trust financial institutions to look out for their best interests.
Robust online calculators: A nice selection of mortgage calculators can be found on the loanDepot website. Without revealing any information about yourself, you can play around with the numbers. The financial calculators are well-built and responsive. One helps you determine whether it's more cost-effective to rent or buy in your area.
Another helps you evaluate the potential savings you could gain from refinancing. A special VA loan calculator has the funding fee built into the calculated payment. Links to the online calculators can be found in the footer on loanDepot's website.
Relationship perk: loanDepot makes a standing offer to permanently waive future lender and appraisal fees after your first loanDepot refinance. This lifetime guarantee is limited to subsequent refinances on the same property. Typical lender fees can easily be in the $1,250-$1,500 range and higher, so this offer can lead to significant potential savings.
USDA loans: With such a large variety already, it would be nice if loanDepot offered a fuller menu of government-backed loans, much like the best mortgage lenders. Some borrowers will qualify for multiple programs and may want to compare advantages. For example, since the USDA loan does not require a down payment and has lower mortgage insurance premiums than the FHA loan, it could be preferable for borrowers who meet eligibility criteria for both programs.
Transparency: loanDepot does not publish its mortgage rates. This is disappointing, especially since some of the links on the website are worded in a way that could very possibly lead you to believe you're about to discover loanDepot's actual current rates (such as "compare mortgage rates" and "30-year fixed-rate mortgage rates"). Unfortunately, no real rates are listed. You have to complete a lengthy application to get any details. That's a very big drawback, because revealing personal information is all but guaranteed to land you on loanDepot's call or email list (the application even requires checking a box to acknowledge your consent to allow such contact).
To apply for a loanDepot mortgage, you'll enter information about yourself and the property you want to buy (if you know) on the website. The mello smartloan™ platform will attempt to digitally verify your income and assets. If your details can't be verified, you'll be invited later on to upload the relevant documents.
The required down payment will depend on the loan program you qualify for. If you are a first-time homebuyer (or have not owned a home in the past three years), you might qualify for a 3% down payment loan, and the money can come from gifts, grants, or a down payment assistance loan. For most loanDepot conventional loans, you'll need a 5% down payment. However, the FHA loan requires only 3.5% down, and the VA loan requires no down payment at all.
Most jumbo borrowers will need to make a down payment of at least 10%, but in some cases, loanDepot will offer a piggyback second mortgage to keep qualified borrowers under the federal loan limits on the first loan. You'll also need six months' cash reserves if you're buying or refinancing a primary residence (more if you're buying a second home or investment property).
Your FICO® Score must be at least 580 for an FHA loan with a 3.5% down payment. If you can make a down payment of at least 10%, you can qualify for an FHA loan with a credit score as low as 500. For other loans, your score should be at least 620.
The majority of applicants need to have a debt-to-income (DTI) ratio that does not exceed 45%. However, like most major lenders, loanDepot offers loan products that have higher and lower DTI limits. Generally speaking, the higher your down payment, the more flexible lenders can be with your DTI. For loanDepot, the upper DTI limit under special circumstances is 50%.
Finally, if you're planning to buy a fixer-upper on a renovation loan, you'll need to satisfy a few additional requirements. Your renovations cannot exceed 75% of the projected value of the home after the renovations are complete, and your plans must be approved in advance. Your down payment will be based on the projected finished value, and you'll need to work with a lender-approved contractor if the renovations account for more than 10% of the completed appraised value (otherwise you can do the work yourself).
Bank of America publishes its current mortgage rates right on its website, and loan officers are happy to answer general questions by phone. The application process is digital. Eligible current customers get discounts off their mortgage origination fee or the interest rate on their home equity line of credit. Bank of America offers affordable low down payment loans, FHA and VA loans, and many other options.
New American Funding offers an even wider variety of loan options, including the USDA loan. On some loans, New American offers a 14-day guaranteed closing, which is considerably shorter than the 42-45 days most studies cite as the industry average. Unfortunately, you do have to reveal at least your contact information to find out rates.
loanDepot mortgage is right for you if:
If you're a veteran, loanDepot might be the right lender for you. VA loans are one of loanDepot's top specialties. Consider applying, if only to compare offers.
People in a hurry to close may also be great candidates for loanDepot. Its high-tech digital application, which automates many parts of the process, shaves days, even weeks, off the time it takes for the loan to close. According to loanDepot, some borrowers close in as few as eight days.