Want to Be a Digital Nomad? Here's Your 2022 How-To Guide
Many or all of the products here are from our partners that pay us a commission. It's how we make money. But our editorial integrity ensures our experts' opinions aren't influenced by compensation. Terms may apply to offers listed on this page.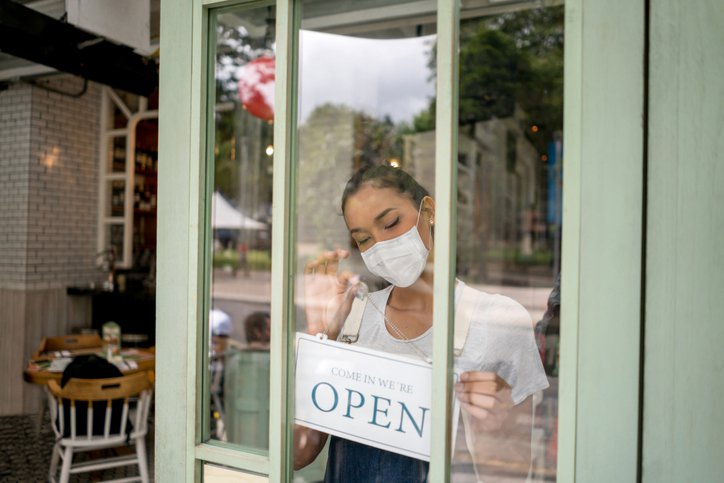 If traveling the world and working remotely intrigues you, you might be interested in becoming a digital nomad. Find out the pros and cons of this lifestyle and how to get started in this guide.
Remote work has been on the rise since the mid-2000s, thanks to advances in technology which have made it possible for employees to successfully perform their jobs from anywhere. The coronavirus pandemic of 2020 has also shifted the way many of us are working, with more than half of the workforce working remotely last spring.
When you can work from anywhere, traveling while working is much more possible and achievable. In fact, as of 2020, there are more than 10.9 million American digital nomads working remotely and independently across the world.
What exactly are digital nomads and how can you adopt a digital nomad lifestyle while maintaining your current job? I'll walk you through everything you need to know below.
Overview: What is a digital nomad?
A digital nomad or tech nomad is a person who works remotely while traveling from place to place. Being a digital nomad is unique because not only will you have adopted a style of working that differs from the norm, you also won't belong to any one age group or socioeconomic class. Digital nomads come from diverse backgrounds and use digital means to stay connected and make money.
Digital nomadism is often an ideal lifestyle for many types of entrepreneurs because it pushes you to pursue professional development while inspiring you with easy access to new places, ideas, cultures, and people.
Advantages and challenges of becoming a digital nomad
The online nomad life isn't ideal for everyone and comes along with some key advantages and disadvantages. Let's take a look at what you should be aware of before deciding if this lifestyle is right for you.
Advantages of becoming a digital nomad
Flexible work schedule: One of the key perks to becoming a digital nomad is the ability to set your own schedule and work flexibly. Many digital nomads work as independent contractors or freelancers, while some are entrepreneurs who pursue their own business ventures. There are also other digital nomads who work as employees for companies that are supportive of this lifestyle and allow them to work varied schedules.
Ability to visit and experience new places: Digital nomads are able to travel anywhere in the world (as long as they have a Wi-Fi connection) while maintaining their jobs. Living in different time zones generally does not impact their daily lives. Some digital nomads will travel to a new country every month, while others might stay and explore a country or city for a longer period of time.
Increased work productivity: Many digital nomads are inspired and motivated by the places they visit and the people they meet, leading to increased productivity and better work quality. In fact, this lifestyle may be the best way to develop an entrepreneurial mindset, as it challenges you to become more resourceful and efficient with your time.
Access to more opportunities: When you're traveling, you're able to network with a larger number of people, including professionals in your own areas of interest. You'll also likely be interacting with other digital nomads. Having access to a wide net of entrepreneurs, creatives, and other business professionals can bring about new opportunities, collaborations, and partnerships.
More affordable living expenses: Traveling and staying in hotel rooms or Airbnb rentals might sound expensive, but when traveling to areas like South America, Bali, and Thailand, you'll find that your dollar goes much further. You'll be able to save more money while living on the beach and enjoying warm weather.
Challenges faced by digital nomads
No home base: Constant traveling can be exciting, but many digital nomads can begin to feel untethered after spending long periods of time traveling. While some might find a country or city that begins to feel like a new home to them, others might become nostalgic for a place that feels like home.
Loneliness: Digital nomads can experience loneliness on a scale that most people connected to society do not. If you're traveling on your own to a new country where you don't know a single person, there's a chance you won't have meaningful interactions or conversations the entire time you're there, especially if you don't speak the native language. While many countries have coworking spaces where you can meet other digital nomads, it can still be hard for some to form connections and feel less isolated.
Managing schedules: Some people thrive on a flexible schedule, but time management is a skill that requires development and commitment and can be a major challenge for all entrepreneurs. Making sure you create and follow a schedule to turn in all work on time and ensure you're not overworked or procrastinating will be entirely your responsibility.
Dating: Maintaining a relationship while traveling can be tricky, though not impossible for digital nomads. If you're looking to date while traveling, apps can make it easier, but it can still be challenging, particularly if there are language barriers.
Missing milestones with family and friends: While traveling can be fulfilling in itself, it can be hard for many digital nomads to miss out on key events and milestones at home. Missing nieces' and nephews' birthdays, not being able to fly in for weddings, and even not being around to experience regular nights out with your friends and family can lessen the attraction of constant travel.
How to become a digital nomad
Despite the downsides, becoming a digital nomad can be a rewarding experience that you'll remember for the rest of your life. The good news is that with many companies offering remote work in view of the pandemic, your dreams of traveling the world can more easily become a reality.
Some international borders are currently open; while others have closed, as COVID-19 vaccines roll out, more are expected to begin allowing travelers in once again.
If you plan on traveling the world while working this year, here's how to get started:
1. Secure the right job
First, you'll want to make sure your employer is on board with you traveling and working from different time zones. If they aren't, seek out freelance opportunities or remote positions, so you can secure your income before moving abroad. Alternatively, you can save for a year of travel and work freelance gigs when needed.
2. Figure out travel and living arrangements
Next, you'll want to make sure your expenses at home are minimized. Sublet your apartment, don't renew your lease, and sell your car if you won't be needing it. Next, it's time to plan out your itinerary and start booking flights and rooms or apartments. You might decide to join a digital nomad group or program that arranges travel and accommodations for a flat monthly fee, but it can be cheaper to do this legwork on your own.
If you're interested in remote programs, Remote Year, WiFi Tribe, and Unsettled are great options. They'll even connect you with communities of travelers visiting the same countries as you.
3. Consider health and travel insurance
You never know what might happen when traveling, so having insurance to protect your belongings and health is a sound investment. With the pandemic still underway, making sure you have affordable access to medical care is key. If your current insurance provider offers travel insurance, you might be set, but in most cases, you'll want to buy additional traveler's insurance packages.
4. Create your travel plan and schedule
Before leaving, be sure to organize your travel plans so you know exactly where you'll be at all times. Decide when you want to work (mornings, afternoons, evenings, nights) and try to design a schedule. You can be a little flexible with this exercise, but maintaining a routine in a new country is important to keep yourself on track professionally.
Traveling the world is easier than ever
While the coronavirus might have halted some international travel, it's still easier than ever to work remotely and see new places. If exploring new countries and cities is high on your priority list, find out if your work is open to allowing you to work while traveling.
If not, start searching for remote opportunities with flexible schedules -- or start your own business. There are thousands of freelance jobs available that can help you turn your digital nomad dreams into reality.
We're firm believers in the Golden Rule, which is why editorial opinions are ours alone and have not been previously reviewed, approved, or endorsed by included advertisers. The Ascent does not cover all offers on the market. Editorial content from The Ascent is separate from The Motley Fool editorial content and is created by a different analyst team.
Citigroup is an advertising partner of The Ascent, a Motley Fool company. The Motley Fool has no position in any of the stocks mentioned. The Motley Fool has a
disclosure policy
.