7 Best Wix Alternatives for Creating a Website
Many or all of the products here are from our partners that pay us a commission. It's how we make money. But our editorial integrity ensures our experts' opinions aren't influenced by compensation. Terms may apply to offers listed on this page.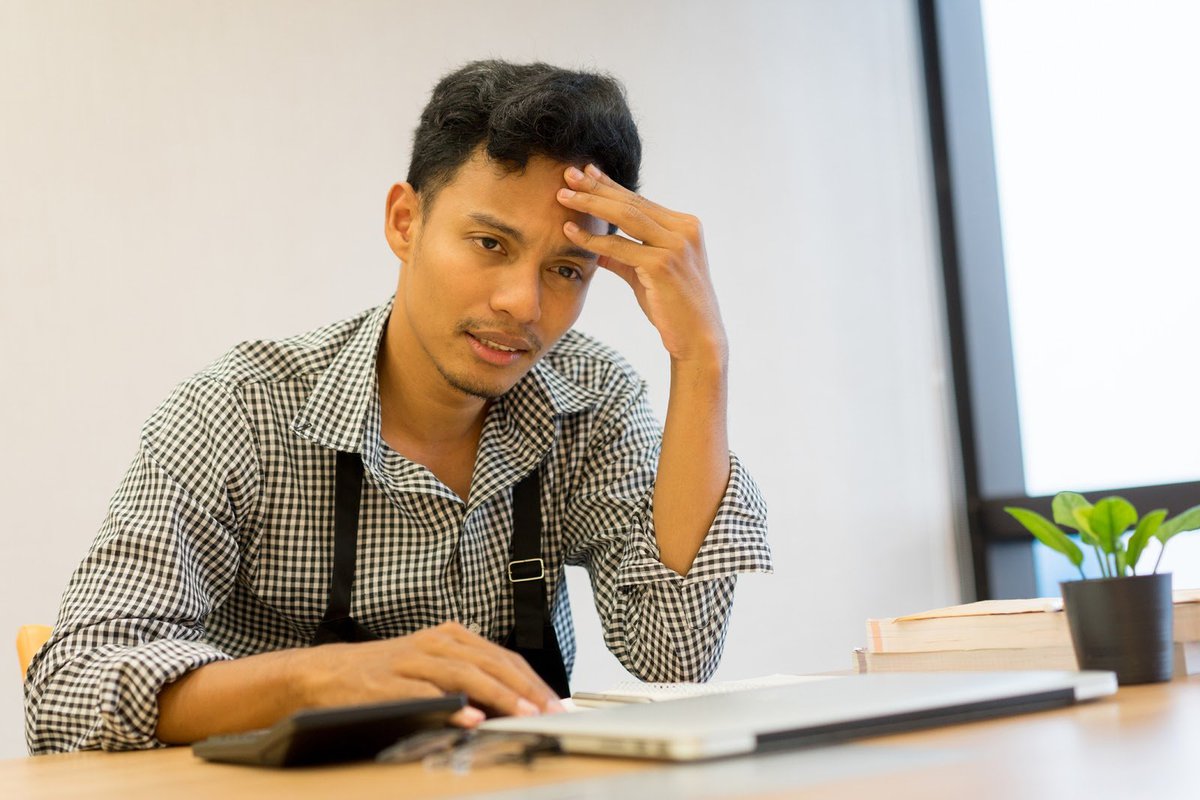 If you're considering building a website with Wix, but you're still curious about what else is out there, here are several Wix alternatives to help you select what's best for your particular needs.
Wix is the top website builder among all the CMS software platforms The Ascent has reviewed so far. With a user base of more than 160 million, it allows anyone, regardless of their coding background, to build a website from scratch.
Beginner-friendly and easily customizable, it is, without a doubt, an excellent option for non-developers looking to build stunning, professional-looking websites without touching a line of code.
However, despite all that Wix has to offer, we're the first to admit that it's not for everyone. If you're looking for more backend control and a better way to create larger, more complex websites, there are numerous alternatives to Wix that are worth exploring.
Here the top alternatives to Wix as a CMS software:
Best for value:
Best for large websites: Kentico CMS
Best for extensibility: WordPress CMS
Best for simplicity: Bolt CMS
Best for enterprises: Magnolia CMS
Best for design: Squarespace
Best for e-commerce:
What to look for in a great Wix alternative
When deciding which Wix competitor to go with, it makes sense to look at options with features that Wix doesn't offer or support, or areas where other platforms are simply better than Wix.
Below, we've identified certain factors to consider when looking at sites like Wix to build your website with.
1. Theme flexibility
No matter the industry you're in, with Wix, you get numerous design templates that can be customized down to the pixel level. Once you've chosen your theme, however, there's no going back to change it. You'll either have to manually redesign your site or start over. Many users prefer some level of control over how their website looks without having to start again from scratch.
2. Multi-level navigation
Good navigation is essential for website marketing conversions. Currently, Wix's menu options are limited. It doesn't support multi-level dropdown menus.
Plus, Wix sites cannot have more than one menu -- the second menu will be an exact copy of the existing one. So for bigger websites with complex site structures, Wix is not the best option.
3. Adequate e-commerce features
You can create all types of websites with Wix, including e-commerce sites. However, dedicated e-commerce website builders such as Shopify and BigCommerce offer better inventory management, targeted e-commerce apps, and more ways for customers to pay. Also, Wix currently does not support selling products in multiple currencies.
Our top 7 picks for Wix alternatives
Before we start digging in, allow us to emphasize that Wix is a great, solid website-building platform.
But for those of you looking for more choices, here are some of the top CMS tools and website builders that are better than Wix when it comes to certain specific aspects.
1. Best for value: Weebly
Weebly is one of those basic website builders like Wix that have been designed for the novice user. No coding is necessary, and with Weebly's simple drag-and-drop templates, you can launch a professional, aesthetically pleasing website within hours. Weebly templates are customizable and mobile-responsive.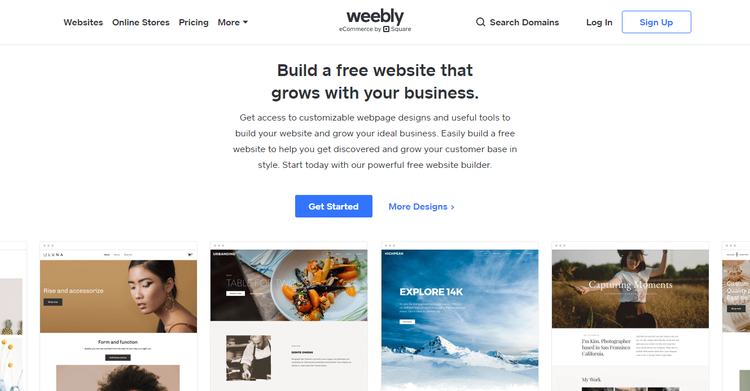 With Weebly, you can transfer data from one template to another. Many features are also built-in, so you don't have to purchase them as add-ons.
Plus, if you're just "shopping around" or not yet sold to the idea of having a website, Weebly lets you create a site it will host completely free. The only catch is that Weebly will run ads on your website and your URL will have the Weebly branding. If you want a custom domain, pricing starts at $5 per month.
One major drawback that has been frustrating many Weebly users is the grid-based interface. It only lets you place elements within the designated grid spaces. Meaning, you can't customize to the exact pixel like you can with Wix.
However, if that's not an issue, Weebly is a free Wix alternative that stands out as one of the most user-friendly website builders on the market.
Read The Ascent's full Weebly review
2. Best for large websites: Kentico CMS
Kentico is best suited for enterprises with multiple websites or smaller organizations with very particular needs. Its portal engine uses web parts and page templates in a browser-based interface to create web pages. Once your templates are set up, building new pages can be done in no time.
If you're an advanced user and have programming knowledge, Kentico supports website development using ASPX templates and the MVC model.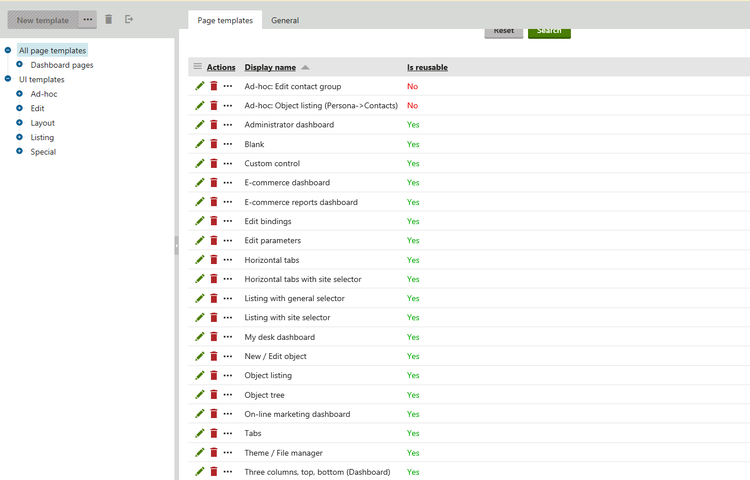 The back end is accessible by multiple users with varying levels of access and permissions. For example, only the administrator can edit the source code.
Unlike other sites like Wix that are specifically designed for users with limited website-building experience, Kentico requires more technical understanding and effort to set up. But once you get it right, managing and organizing large amounts of content becomes easier.
Kentico is a robust platform that offers a lot in terms of features and functionalities, but it also comes at a price point that most small business owners may not be able to afford. To get started with Kentico, subscription begins at $7,999 per year.
Read The Ascent's full Kentico review
3. Best for extensibility: WordPress CMS
When it comes to building websites, the first name that comes to mind for many people is WordPress. It's popular, relatively easy to use, and supports countless features and customizations that make it the platform of choice for more than one-third of the world's websites. (For reference, there are about 1.7 billion websites around the world as of this writing.)

One primary difference between Wix and WordPress is that Wix is an all-in-one website builder geared towards novice users, while WordPress is an open-source CMS that, while free to use, you'll have to self-host.
WordPress is a good alternative option for tech-savvy users and, if you want to maximize its full potential, coding knowledge is definitely a plus.
WordPress was initially built as a blogging platform, but with the range of plug-ins and themes you can now use for free or for a fee, you can create all types of websites with all sorts of features and functionalities.
Another noteworthy WordPress benefit is its blogging feature. With WordPress, you get all the basic blogging features most website builders offer, such as a text editor, tags, categories, archives, and a photo/video library -- plus so much more when you use plug-ins for SEO, forms, spam filtering, analytics, user registration, automatic backups, social media sharing, photo galleries, etc.
As for pricing, while WordPress is free for all, there are other costs to keep in mind, such as hosting, a domain name, and premium themes or plug-ins.
Read The Ascent's full WordPress CMS review
4. Best for simplicity: Bolt CMS
Built by developers for other developers, Bolt CMS is an intuitive, open-source content management system that aims to make the management of your website as straightforward as possible. It requires coding knowledge to get started, so it's not for beginners.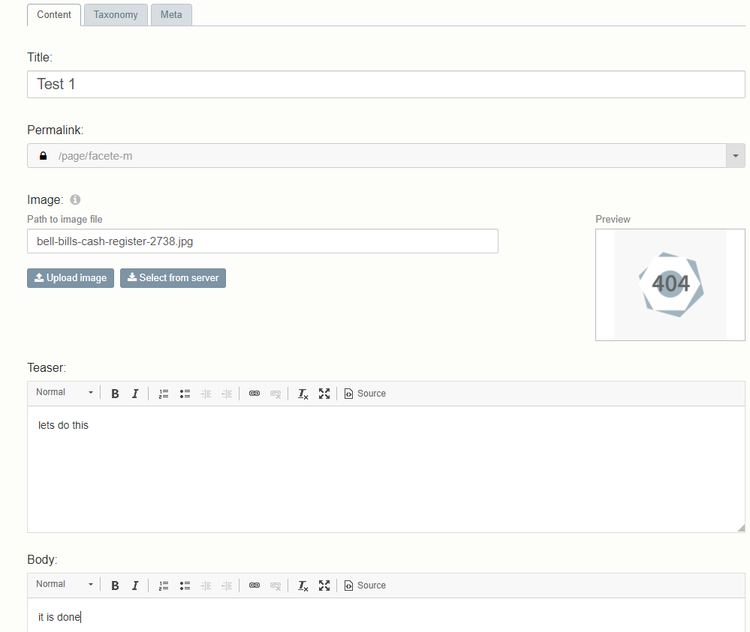 If you're looking for a solution that's pretty much like Wix in every respect -- i.e., drag-and-drop WYSIWYG editor to design your landing pages -- then Bolt is likely not a good fit.
However, if you're looking for alternatives to other CMS options like WordPress or Drupal, for example, then Bolt is worth checking out.
The beauty of Bolt CMS is that it's lightweight, not feature-heavy, and allows you to start small and then add what you need from its extensions library until you're fully satisfied with what you've built. If the extension you're looking for is not available, you can always write your own extensions.
For content editors, the dashboard is fully responsive, which means you can create or edit content on the go, from whichever device you choose. If you have a team of editors helping you manage content, user access permissions can be customized.
Because Bolt CMS is open-source, the platform is free to use.
Read The Ascent's full Bolt CMS review
5. Best for enterprises: Magnolia CMS
Magnolia CMS is an open-source platform geared towards websites that need a lot of functionality, customizations, and integrations.
Although created for all types of organizations, if you're a small business owner or startup looking to build a site that's simple and straightforward, Magnolia CMS may not be the right option for you. It's packed with features, so the vast range of available customization options can leave you feeling overwhelmed.

One key thing about Magnolia CMS that's worth mentioning is that it's a headless CMS, which means that unlike traditional CMSs like WordPress, it's a system that functions as a content repository and then uses a separate front-end framework to display the content. It only takes care of the backend portion of a website -- the "body" -- and uses an API to display the content -- the front end or the "head."
This is an advantage because with Magnolia CMS, you can manage all your content in one place and then publish to any channel you use, such as mobile sites, apps, traditional websites, digital displays, and so on.
To learn more about Magnolia CMS, book a free demo.
Read The Ascent's full Magnolia CMS review
6. Best for design: Squarespace Commerce
Squarespace is one of Wix's largest competitors. Just like Wix, it's built for non-developers and comes with customizable drag-and-drop templates.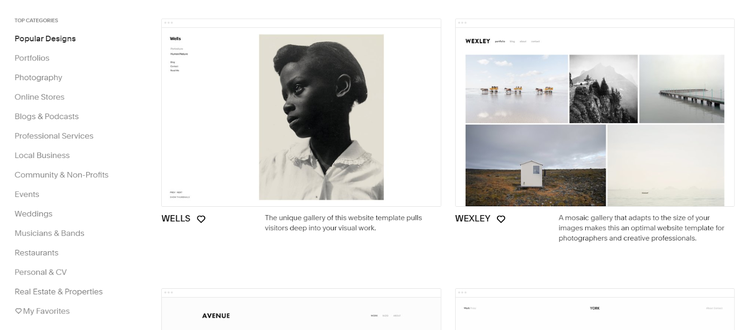 Wix offers significantly more templates than Squarespace, but Squarespace templates have a slight edge. They've been carefully built, reviewed, and curated by Squarespace's award-winning design team. As such, only the best templates in terms of visual aesthetics and functionality are available in their templates library.
Squarespace's themes are great for showcasing photos, which makes Squarespace a clear winner for creatives looking to launch their portfolio sites.
Although Wix allows users more customization control than Squarespace, Squarespace's limits ensure even beginners can choose and customize a theme without worrying about their website looking wonky.
Also, you can easily switch out templates without losing data or having to start all over again. Subscription starts at $12 per month when you pay annually. Take advantage of the 14-day free trial to see if Squarespace is the website builder for your needs.
Read The Ascent's full Squarespace Commerce review
7. Best for e-commerce: Shopify
Shopify is a name synonymous with e-commerce. It's the go-to platform for e-commerce merchants and offers a lot in terms of features and flexibility.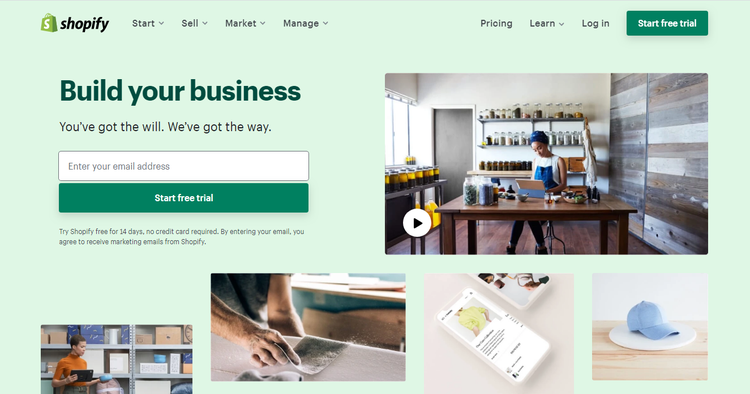 Similar to websites like Wix, Shopify is a one-stop online store builder, meaning you don't need a separate domain registrar or web host to launch a website.
Everything you need in an e-commerce store, Shopify readily provides. It offers built-in marketing tools, integrations with third-party apps, and a user-friendly dashboard to manage your store's orders, invoices, shipping labels, and payments.
As for payment gateways, aside from Shopify Payments, Shopify integrates with 100+ payment providers worldwide.
Shopify offers three subscription tiers: Basic Shopify for $13 per month, Shopify for $54 per month, and Advanced Shopify for $107 per month. It offers a free 14-day trial, so take it for a spin to see if it's the e-commerce website builder for you.
Read The Ascent's full Shopify review
Build stunning, professional-looking websites
Your website plays a key role in your company's brand positioning. And with the range of website-building options available today, there's never been a better time to build your own website.
Wix is one such option, but if you're looking for a worthy alternative, we hope that the above list can help you narrow down your search.
We're firm believers in the Golden Rule, which is why editorial opinions are ours alone and have not been previously reviewed, approved, or endorsed by included advertisers. The Ascent does not cover all offers on the market. Editorial content from The Ascent is separate from The Motley Fool editorial content and is created by a different analyst team.