Top 10 Must-Have CRM Features
Many or all of the products here are from our partners that pay us a commission. It's how we make money. But our editorial integrity ensures our experts' opinions aren't influenced by compensation. Terms may apply to offers listed on this page.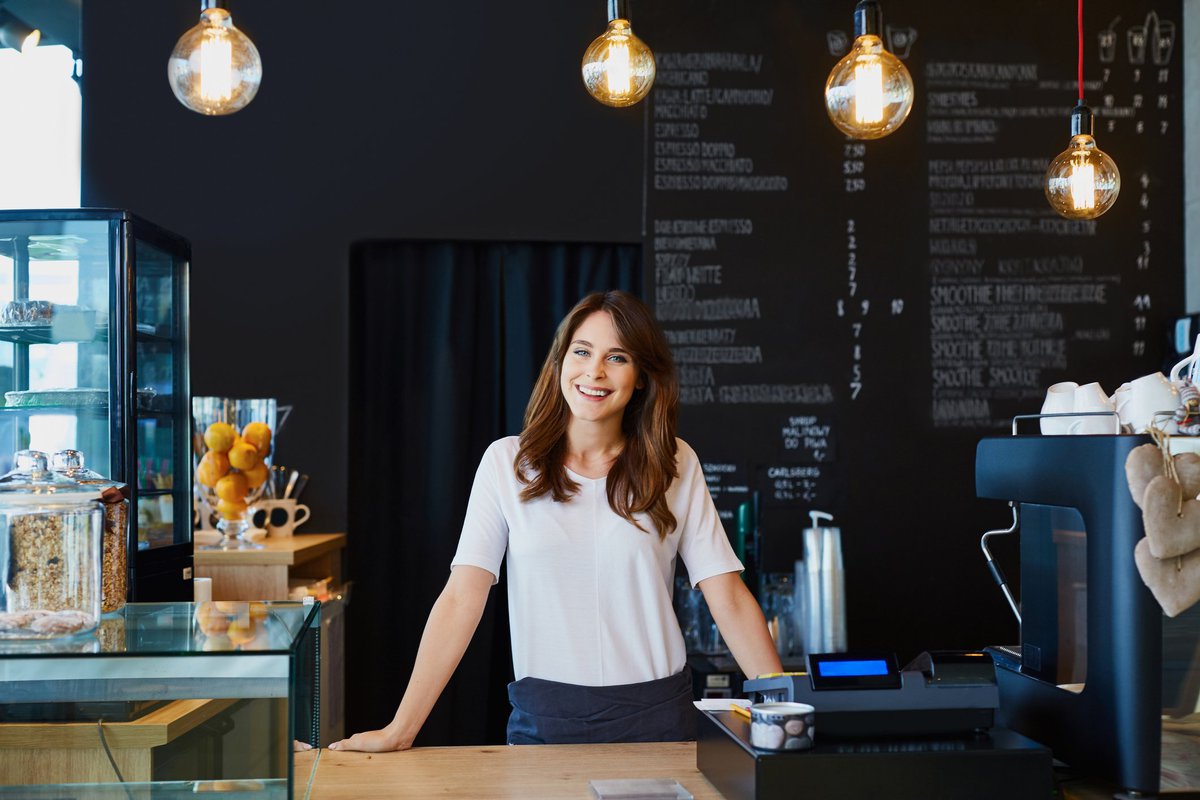 There are a variety of CRM software options on the market for small businesses. Make sure to check out our must-have features before making a commitment.
Customer relationship management (CRM) software typically include the same basic CRM functions: some type of customer data collection and reporting. But for most businesses shopping for a CRM, the basics are not going to cut it.
The CRM features that go beyond the basics are where your business can reap the rewards of the software.
Among the numerous types of CRM solutions available, every business can benefit from specific, must-have features. Here, we examine these features and explain why it's important for your CRM to have them.
At a glance: Top features your CRM should have
Unified view of your customers
Data insights
Progress toward business goals
Documentation library
Automation tools
Cross-device support
Template library
Customization capabilities
The 10 most important features of a CRM
Selecting a CRM with these important features can propel a business to higher degrees of success, both in terms of sales growth and customer satisfaction. These functions help all types of businesses because they are designed around improving client relationships, sales processes, and marketing tactics while meeting the unique needs of each organization.
1. Unified view of customers
This is the heart of a CRM and why a business should invest in CRM software. A unified view of your customer means the CRM database serves as the repository for all customer data in your company.
Every CRM houses basic contact information for each customer. Beyond that, the CRM should also capture the following data about your clients:
All instances of contact the customer has made with the company. This includes calls initiated by the customer as well as by the business, any email communication, and status or outcome of each contact. With this customer history readily in hand, employees can provide customers with a seamless experience in every interaction.
The level of engagement to various marketing tactics taken by each customer, from opening direct marketing emails to the number of pages visited on the company's website. This data informs customer segmentation, lead nurturing, sales and marketing effectiveness, and other business opportunities.
Where each client lives in the sales cycle. For instance, the CRM should make clear which potential customers transitioned into leads.
The purchase history of each customer.
By centralizing all customer data, CRMs, like Salesforce, make it easy to analyze and understand your client base. This also opens up the opportunity to segment your customers to more effectively move them through the sales cycle and communicate with them.
2. Customer life cycle and segmentation
The best CRM software automatically tracks and segments your clients as they travel through the customer life cycle.
This capability allows you to evaluate the effectiveness of your sales and marketing strategies in converting prospective customers into leads, closing a sale, and then deepening the client relationship post-sale.
In addition, the CRM's customer segmentation functionality enables your business to bucket clients into groups based on shared characteristics.
For instance, CRM data can be used to segment according to demographic information or customer actions, like those who opened a marketing email versus those who clicked through to the company's website, to categorize each client as, say, a potential lead.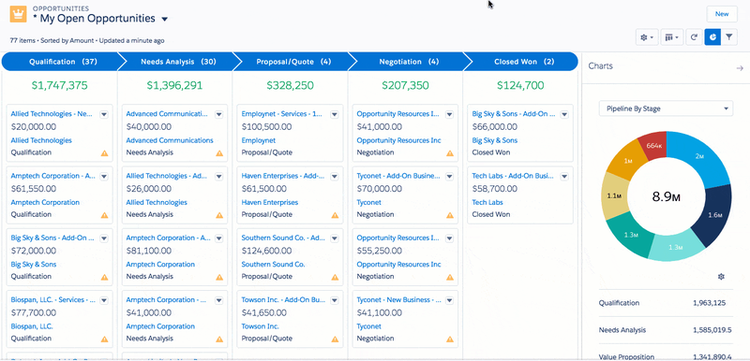 Consequently, the CRM improves a company's sales techniques, particularly prospecting skills, by identifying those customer segments most likely to convert. This is further enhanced by combining segmentation and life cycle management with other CRM abilities like lead scoring.
3. Data insights
Every CRM comes with reporting capabilities, but you'll want one that goes beyond simple reports to one that provides unique business understanding through customer data.
For example, a CRM can inform your organization on insights like which customer segments are the most profitable.
These insights also uncover sales and marketing tactics that work best, as well as deliver information critical to sales management systems, such as average close ratios and number of leads in your sales pipeline.
Some CRMs, like Zoho CRM, even possess the ability to identify trends and make recommendations like the best time to contact a customer.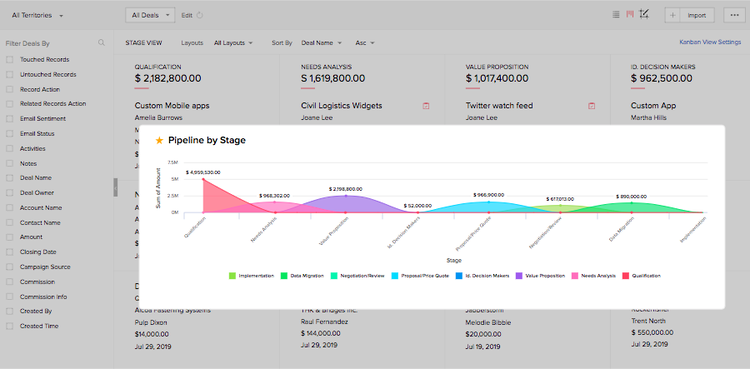 This kind of data sapience can even instruct sales team members on how to be a good salesperson by facilitating customer relationships via outreach reminders, automated emails, and to-do lists, and identifying the prospects with the highest likelihood to convert into a sale.
4. Progress toward business goals
Another must-have feature of a CRM application is the ability to track progress towards business goals. This is necessary to determine if your strategies are doing well or need an adjustment to hit your objectives.
Through the use of sales dashboards or reports, a CRM serves as a sales tracking software, illustrating where you stand at any given time with metrics like momentum toward achieving revenue targets for the quarter or the number of opportunities generated by your sales team.
Since goals vary by organization, a CRM like Insightly allows you to customize its dashboards to reflect the goals that matter most for your business.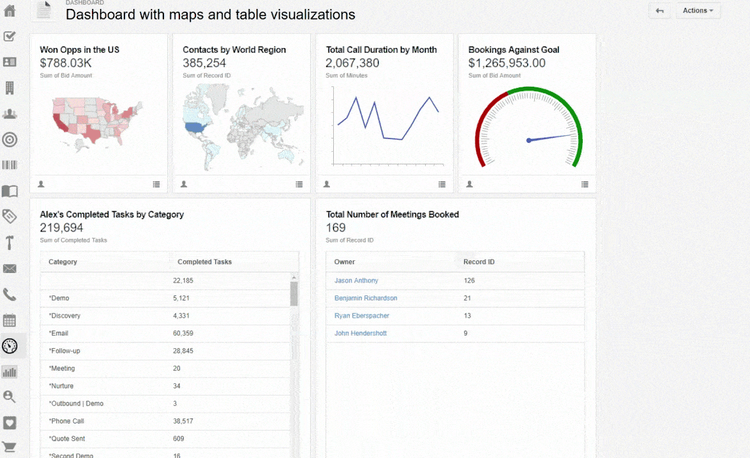 If, for example, it's important that each sales rep achieves a certain number of client calls each month to hit their numbers, this metric should appear in the CRM dashboard.
In this way, you ensure the team is on the same page about what's important and progress towards your company's goals.
5. Communication and collaboration tools
By leveraging the contact history of all your customers housed in the CRM, your business can deliver better client communication and follow-up.
This allows you to tailor customer outreach based on factors like whether or not this is the first interaction with a client or if the customer called previously with a complaint.
Moreover, combining a CRM's communication tools with its segmentation and customer life cycle capabilities enables the delivery of personalized messaging to customers.
Instead of a one-size-fits-all message, your business can send an email customized to where the client lives in the customer life cycle.
Personalized messaging results in improved response rates, so this functionality is key to lifting performance of sales and marketing tactics such as lead nurturing.
Tools to facilitate customer communication are included in the best CRMs. For example, HubSpot allows you to send emails to clients and provides email templates to streamline this process.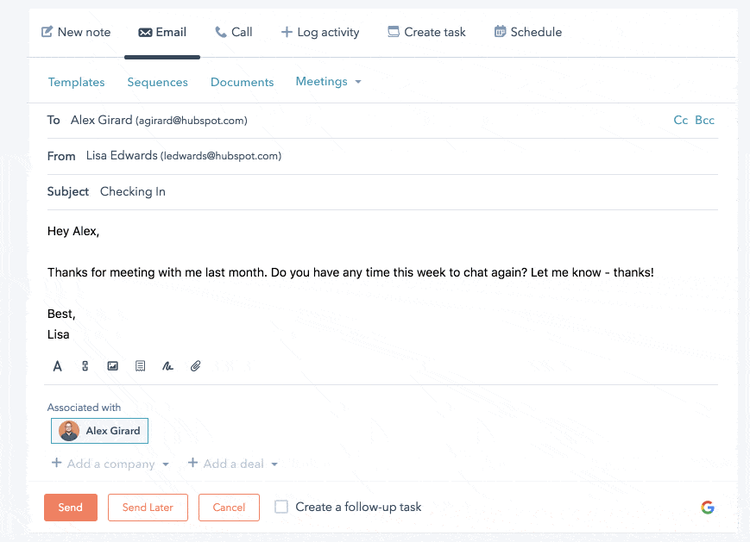 In addition, you can find functionality that aids in team collaboration, such as built-in chat features, team dashboards, and the ability to share documents easily by uploading them to an online document library.
6. Documentation library
An online document library provides the ability to upload content to a centralized storage location in the cloud. This allows employees to easily access sales presentations, training documentation, marketing collateral, and other business materials.
It also facilitates the sharing of these materials without the need to store them on every device an employee might be using, or running up against file size limitations when trying to send a document via email.
With a centralized repository of company information, your organization also ensures each staff member is using the latest documentation. This can help your team avoid pitfalls like a sales representative using an outdated presentation.
7. Automation tools
To scale your company's operations as your business grows, a CRM must have the ability to automate repetitive tasks, such as scoring leads to determine those that should be prioritized, and sending out regular emails to clients.
It also allows those emails to be personalized without much manual effort. This kind of personalization deepens customer relationships.
In fact, automation capabilities are the only way to facilitate the degree of customization necessary in client communications.
For example, you can build unique email templates for every stage of the customer life cycle. When a client enters a new stage, the event can automatically trigger CRM processes to send the appropriate email.
8. Cross-device support
Today's business teams perform work across multiple devices. For instance, a sales rep spends most of their time visiting clients, so their lifeline to the office is their mobile phone. Therefore, access to the CRM on mobile phones and tablets, in addition to desktop computers, is a must.
If sales reps have to be in the office to enter every customer contact and update their sales activities, it reduces the likelihood that these updates happen in a timely manner.
Even if the CRM doesn't include a mobile app, it should still be accessible via a mobile web browser to allow updates to happen in real time.
9. Template library
Templates are pre-built content that helps you kickstart tasks like an email or blog post. Using the template library included in a CRM streamlines your work and accelerates task completion. And the templates are customizable to meet your specific needs.
Templates address a wide range of scenarios as well. Some CRMs can even become project management tools through the use of templates.
As a result, templates can not only accelerate task completion, but they can replace the need to purchase additional software.
10. Customization capabilities
Most CRMs allow for a degree of customization. Look for this customization ability to extend beyond simple dashboard or template tweaks, and into making changes to the abilities inherent in the CRM. This includes the option to integrate software you are currently using, like Mailchimp for email marketing.
And if your company is tech-savvy or includes a team of software developers, you should be able to add custom tools, features, or workflows built by your team into the CRM.
This degree of customization allows your company to tailor the CRM to meet the specific needs of your organization or business model.
Getting the most from your CRM investment
Today's CRM applications contain a vast array of capabilities beyond those reviewed here. Some may prove essential to your business operations.
Therefore, to choose the right CRM for your company, start by examining your business needs. Then contrast those needs against the capabilities of the CRM to find a match. For instance, if the ability to manage advertising campaigns is important to your business, select a CRM that supports this, like Zoho.
Because CRM software is so extensive, the time spent researching options now will ensure you get the most out of your CRM investment.
We're firm believers in the Golden Rule, which is why editorial opinions are ours alone and have not been previously reviewed, approved, or endorsed by included advertisers. The Ascent does not cover all offers on the market. Editorial content from The Ascent is separate from The Motley Fool editorial content and is created by a different analyst team.